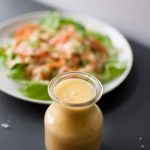 Print
Artichoke Salad Dressing
This artichoke salad dressing is deliciously tangy. It's made from marinated artichoke hearts that you can pick up at the grocery store, and it only takes about 5 minutes to make a batch!
Mix all ingredients together in a blender until smooth. Give it a taste and adjust seasonings as needed. 

Store dressing in refrigerator for up to a week.
Recipe makes enough for a few salads (serves at least 6-8 people).