Salt & Lavender is all about wholesome recipes that are made from scratch and easy to prepare. Making delicious recipes from good quality, real, fresh ingredients doesn't need to be complicated or overly time-consuming. My blog is generally focused on savory dishes that are either quick (I have plenty of 30 minute meals) or simple to make (e.g. slow cooker or Instant Pot).
I try to make my recipes approachable for the average cook; i.e., ingredients are easy to find, the ingredients list isn't a mile long, and the recipe doesn't take forever to cook. You will find plenty of garlic and fresh herbs on my blog, along with a sprinkle of self-deprecating humor.
I don't subscribe to any particular diet, and I strongly believe in moderation, portion control, and not depriving myself. In my "real" life I eat pretty healthy (I lost over 30 pounds a few years ago), but you will also find more decadent meals on here, along with the occasional sweet treat, because I believe that life is about balance. I am not a "food is fuel" type person. I think meals should be enjoyed regardless of whether they're a healthy vegan recipe or something like my many pastas in cream sauces. I have plenty of both types of recipes on here, by the way. 😉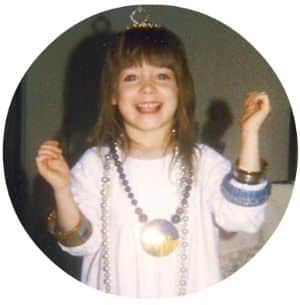 I live in Edmonton, Canada. I share some behind-the-scenes snippets on Instagram if you want to follow along. You can also find me on Facebook, Pinterest, and Twitter.
A few of my favorite things: palm trees, my mini trampoline, tea, truffle salt, and I watch The Young and the Restless every. single. weekday. I also enjoy keeping up with my favorite sports (Edmonton Oilers, Denver Broncos, and NASCAR).
I can do without early mornings and cold weather (yup, I live in a winter wonderland).
Thanks for visiting my website! Take a look around, bookmark it if you like what you see, and let me know if you've made one of my recipes. 🙂
Are you a brand or have a product you'd like to see featured on Salt & Lavender? I'd love to hear from you!
I've been featured on