This one pan creamy gnocchi with sausage recipe is an easy, quick, and incredibly delicious comfort food meal. Ready in 30 minutes!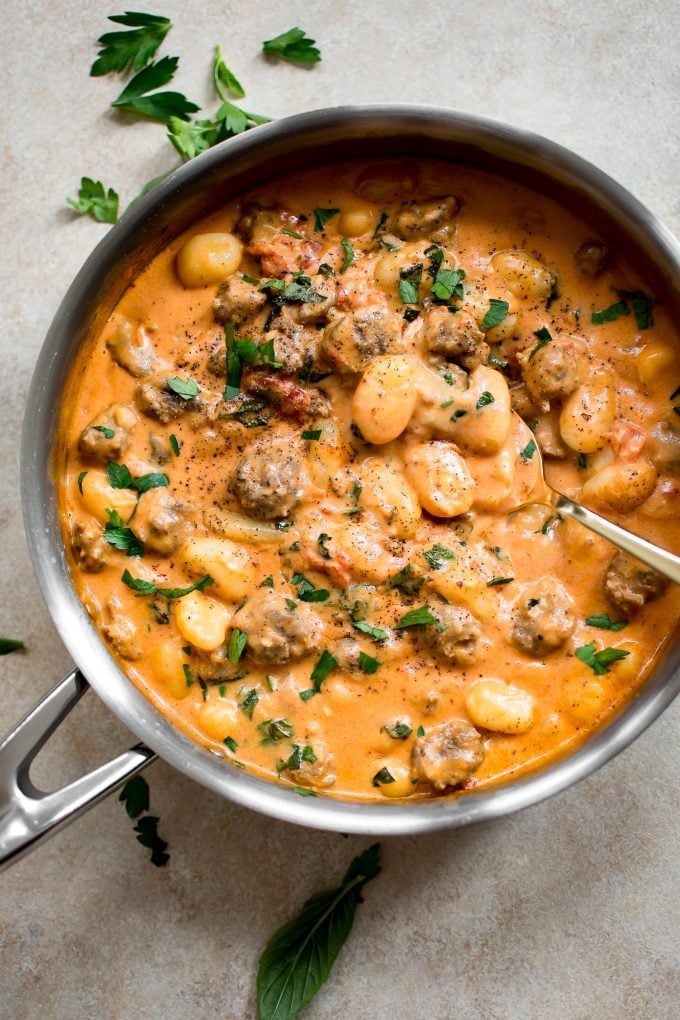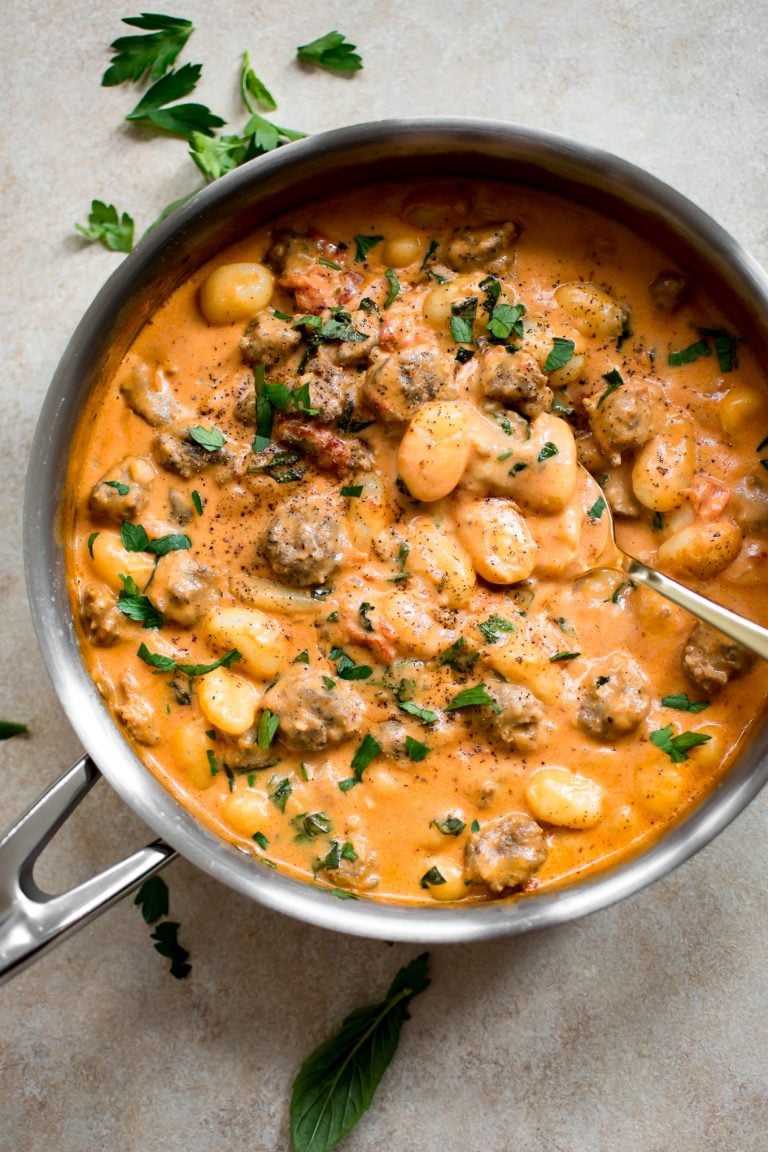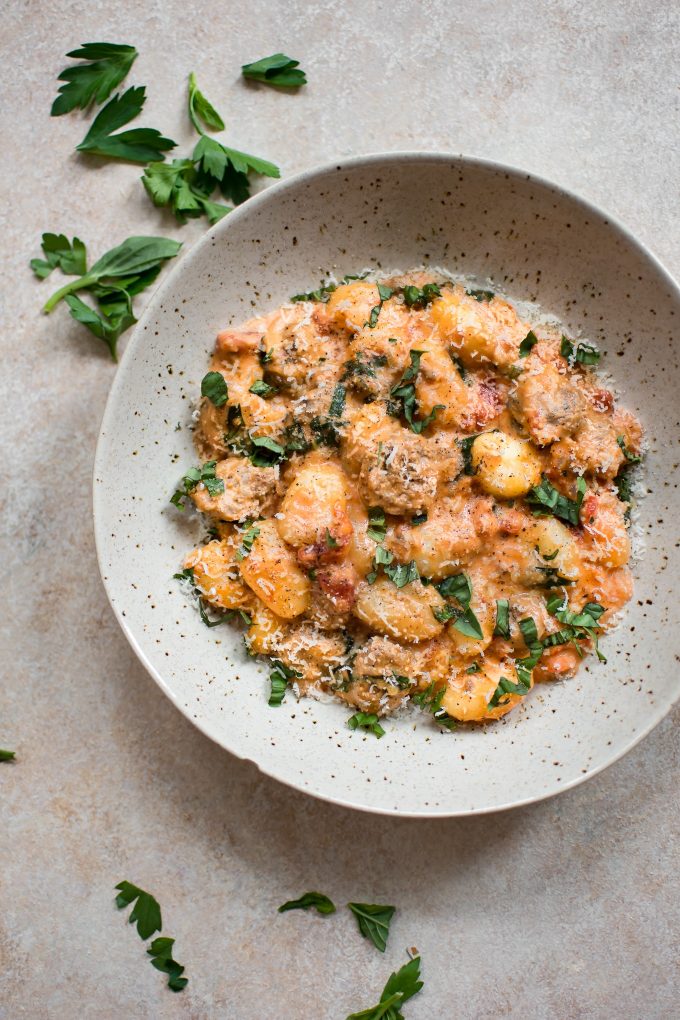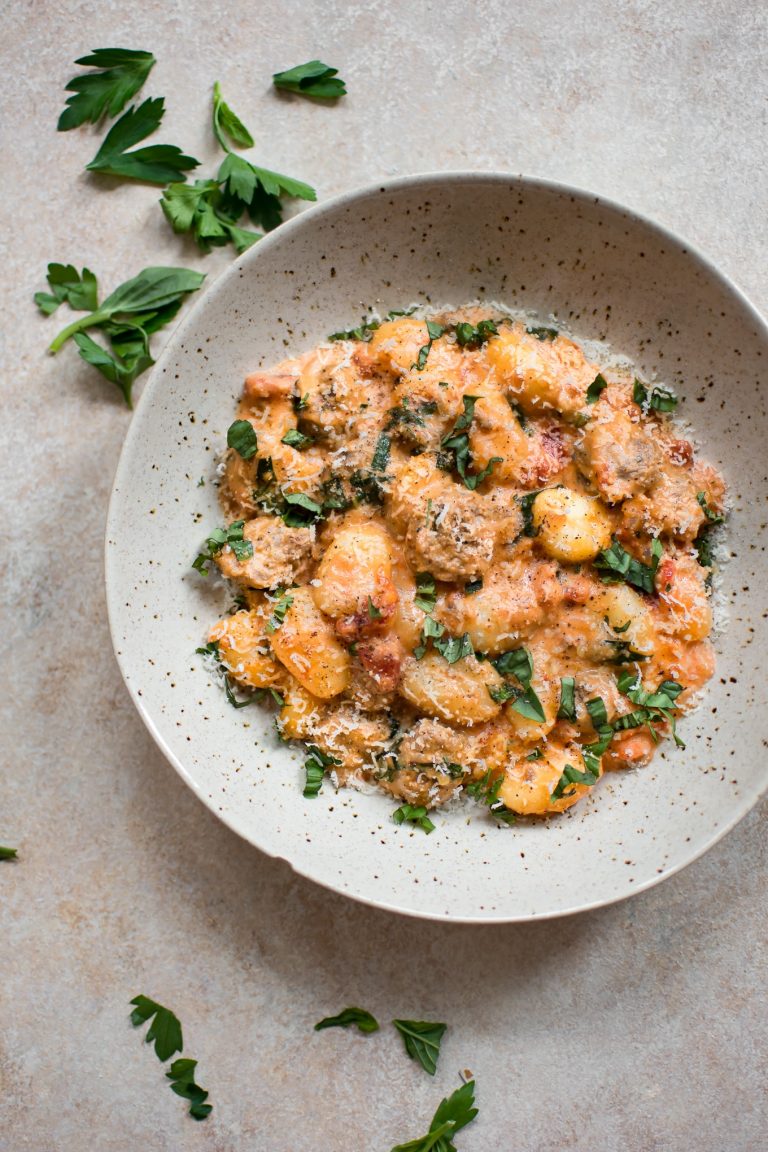 It's time for another simple gnocchi recipe! My creamy spinach and mushroom gnocchi recipe has been doing really well (it is delicious), so I made a creamy tomato gnocchi recipe recently as well. Those two recipes are vegetarian, so I decided to make one for the meat lovers out there. I'm super excited about this one too!
Like the other gnocchi recipes, this sausage gnocchi is a one pan wonder as well. No need to boil the gnocchi in a separate pan because it all cooks in the sauce. Fewer dishes! And this sauce is lip-smackingly good. It's tomato-based, creamy, garlicky, and the pieces of Italian sausage take the flavor to the next level. Total comfort food. You know me… I love me some creamy sauces every now and then.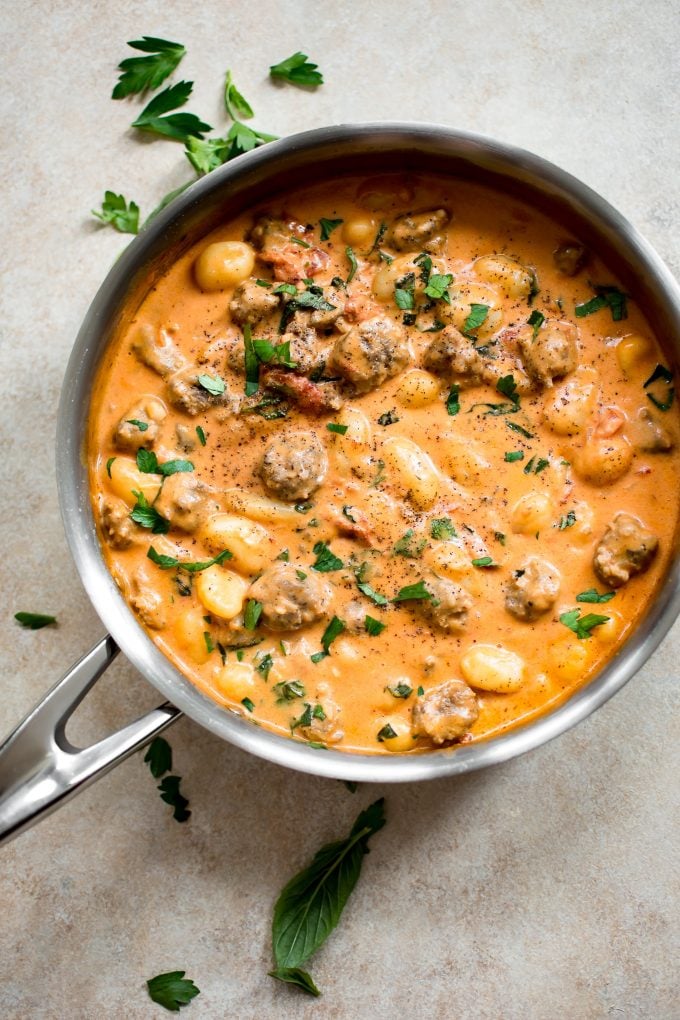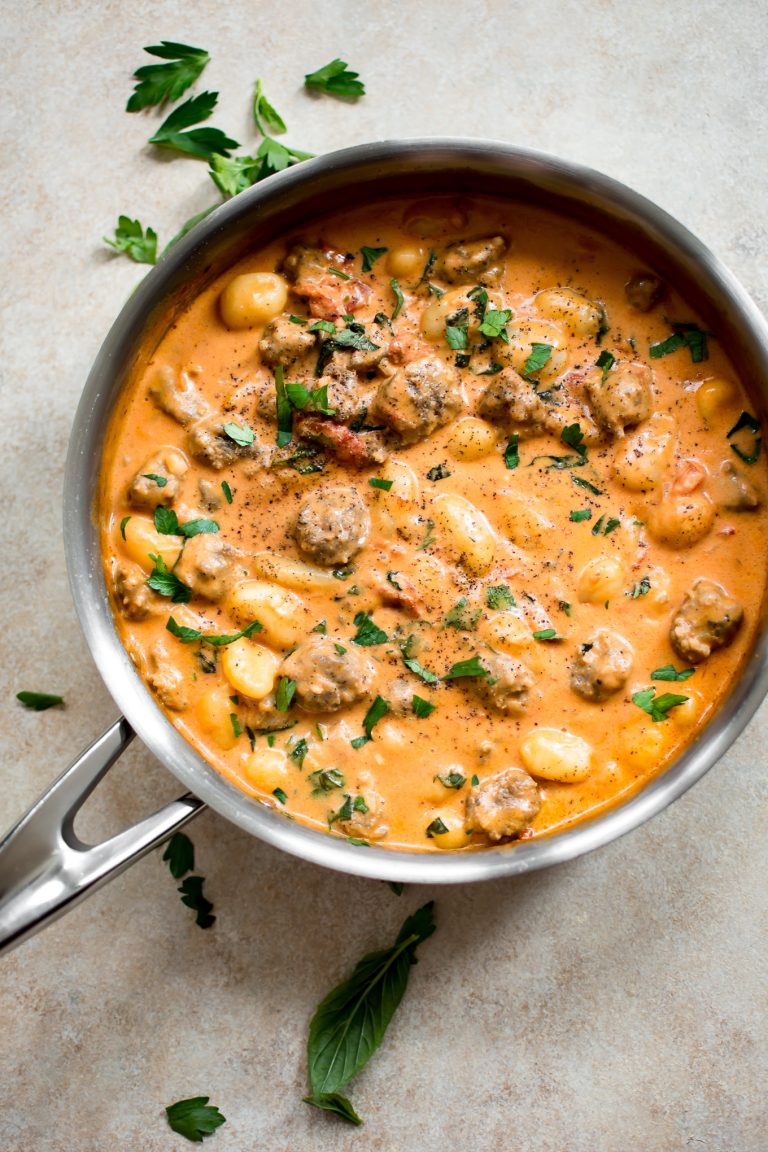 This creamy gnocchi recipe also marks the last recipe I will be posting before Christmas. I will be back with a new one on Tuesday.
This Italian sausage gnocchi recipe is also the last decadent recipe I will be posting for a while as well. I am definitely all about having a healthy January, so stay tuned for some healthy (but delicious) recipes. Hope you have a great Christmas if you celebrate. If you don't, I hope you enjoy some time off work at least. 🙂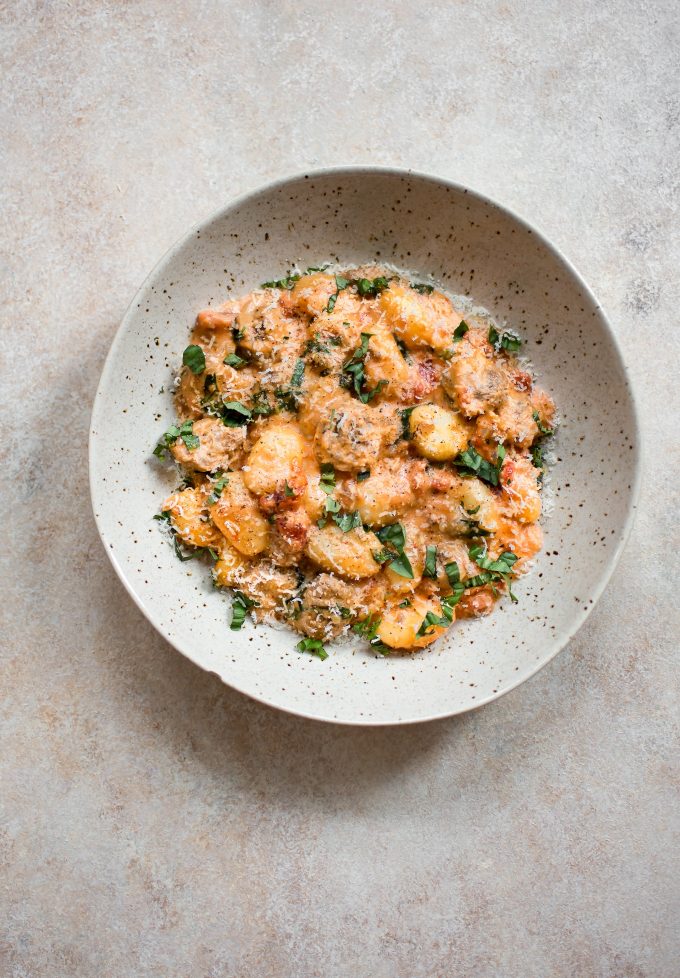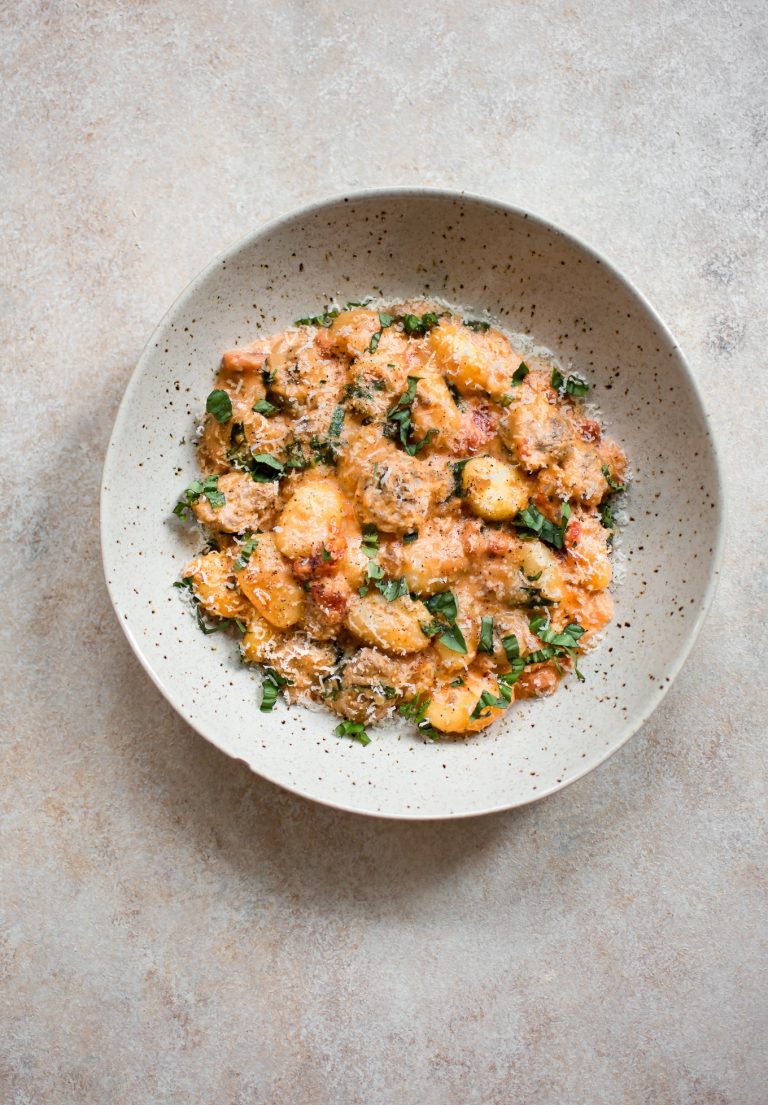 Hope you love this easy gnocchi recipe!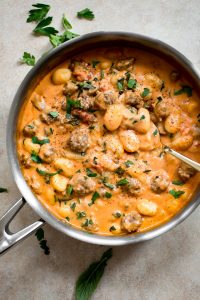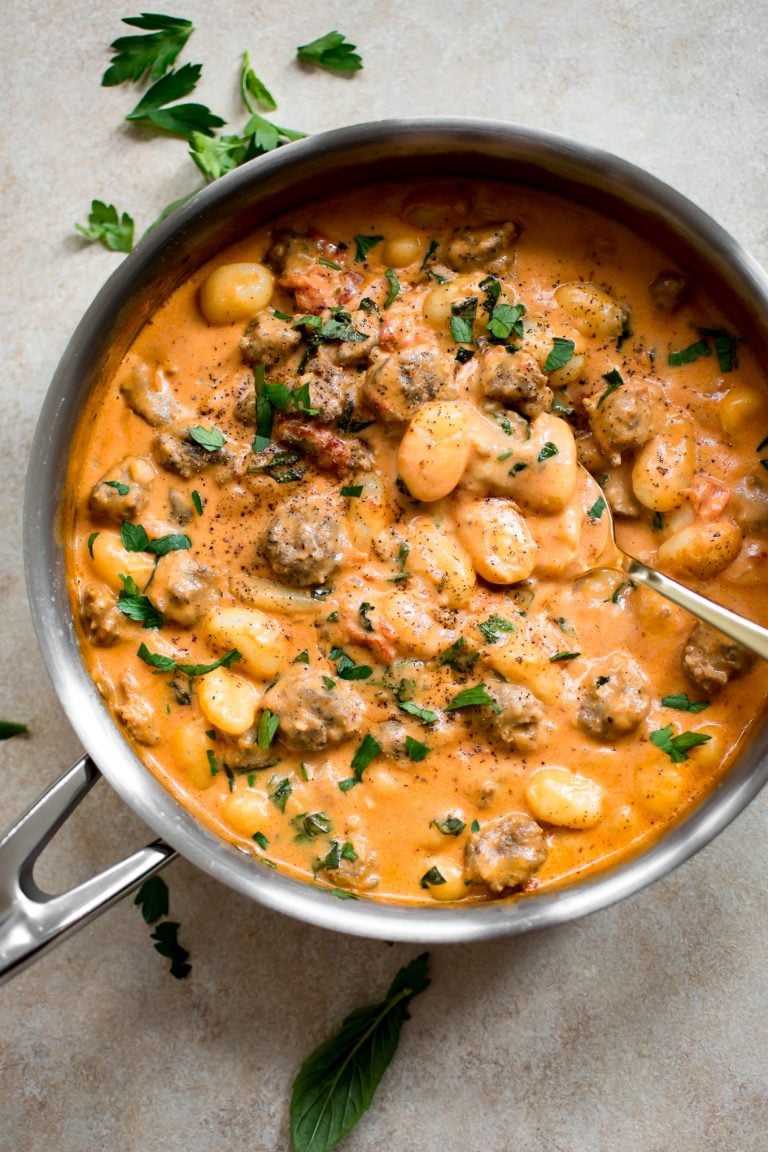 Print
One Pan Creamy Gnocchi with Sausage
Yield 4
This one pan creamy gnocchi with sausage recipe is an easy, quick, and incredibly delicious comfort food meal. Ready in 30 minutes!
Ingredients
1 (8.8 ounce) package Italian sausages, cut into bite-size pieces
1/2 small onion, chopped finely
4 cloves garlic, minced
1/3 cup dry white wine (e.g. sauvignon blanc)
1 (14 fluid ounce) can diced tomatoes
1 cup heavy/whipping cream
1 pound uncooked potato gnocchi
1/2 cup freshly grated parmesan cheese
Handful fresh basil, torn
Salt & pepper, to taste
Instructions
Prep your sausage and onion. 
Sauté the sausage pieces and onion in a skillet on on medium-high heat for 7-10 minutes, or until the sausage and onions are lightly browned.
Add the garlic to the pan and sauté for 30 seconds, or until fragrant. 
Add the wine and let it cook for about a minute.
Stir in the diced tomatoes, cream, and gnocchi. Once the sauce starts to bubble again, cover the pan and reduce the heat to medium. Cook for 5 minutes. 
Uncover the pan, give it a good stir, and let it cook for another few minutes, or until the gnocchi has cooked through and is nice and soft and the sauce has thickened to your liking.
Stir in the parmesan cheese, basil, and salt & pepper, to taste. Serve immediately. 
Notes
There is no need to pre-cook the gnocchi. It'll cook right in the sauce. 
I bought a pack of 5 mild Italian sausages that totaled 8.8 ounces. Anything around that mark would work. Feel free to substitute with spicy Italian or another similar variety of sausage. 
Courses Main Course
Cuisine Italian
Try more of my tasty recipes: