This creamy tomato gnocchi recipe is comfort food at its best! It's easy and convenient (it's all cooked in one pan), fast (ready in less than 30 minutes), and absolutely delicious.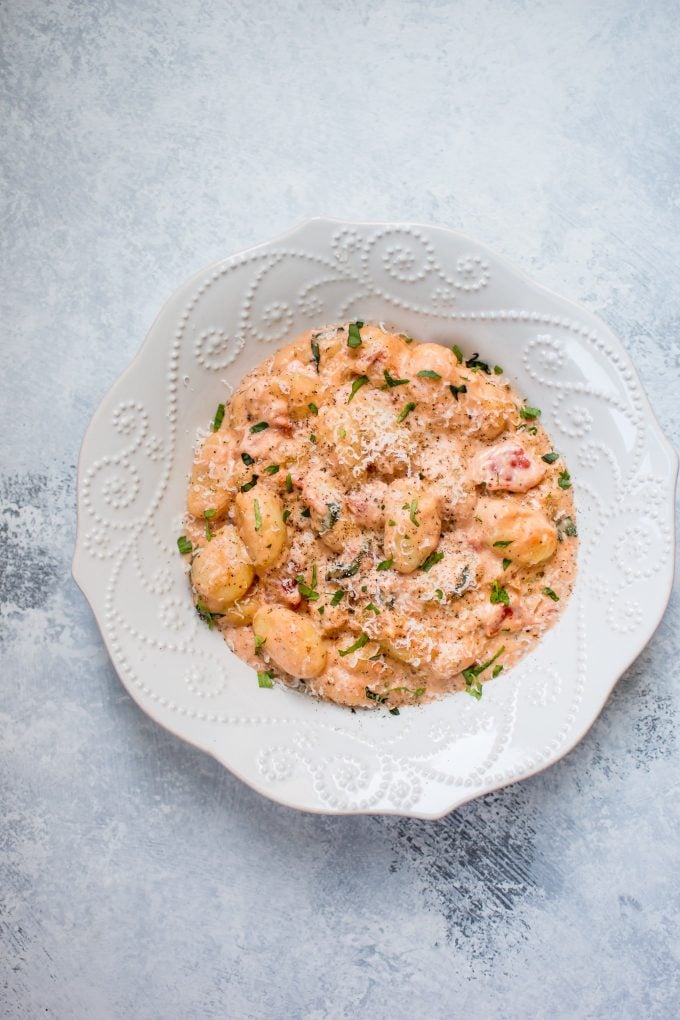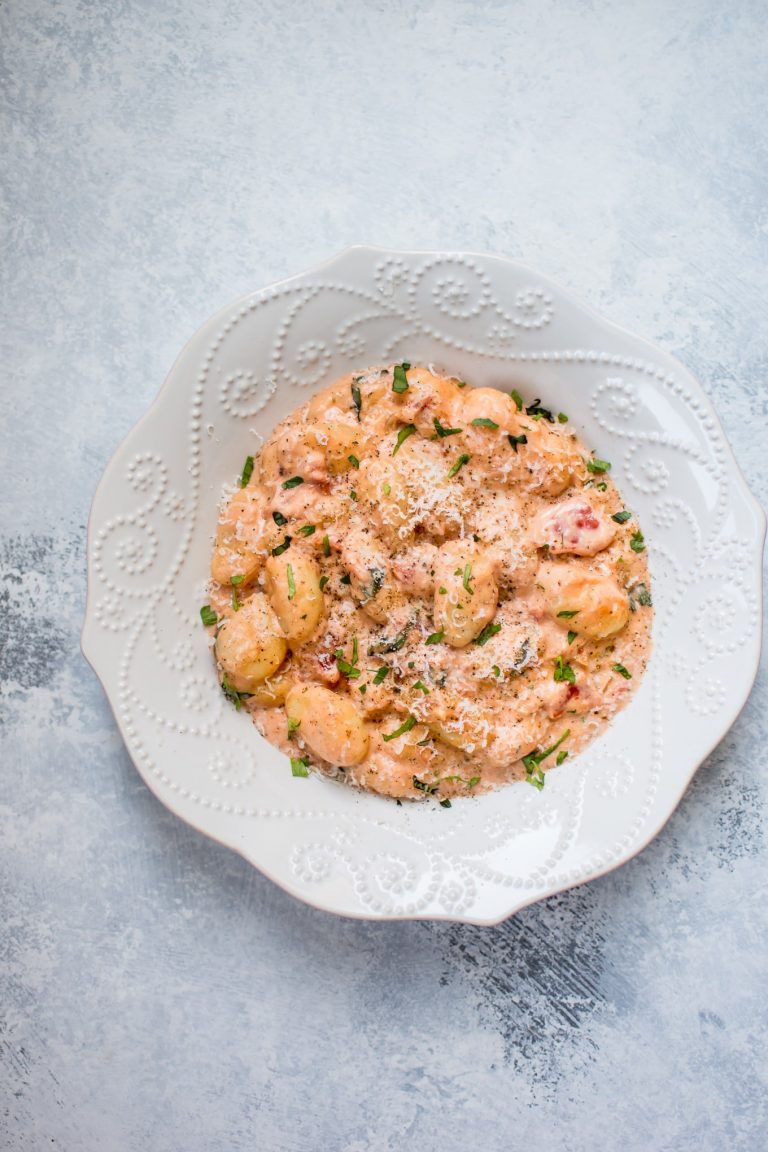 Gnocchi is quickly becoming one of my favorite comfort foods. It's not something I eat too often, but when I do, I sure enjoy it!
The plump, pillowy potato dumplings smothered in a creamy tomato sauce are irresistible.
I've been wanting to make another gnocchi recipe after the ongoing success of my creamy mushroom and spinach gnocchi. People seem to LOVE it, and I've been tagged in a lot of Instagram posts from happy readers.
I hope that you find this gnocchi with tomato sauce just as pleasing!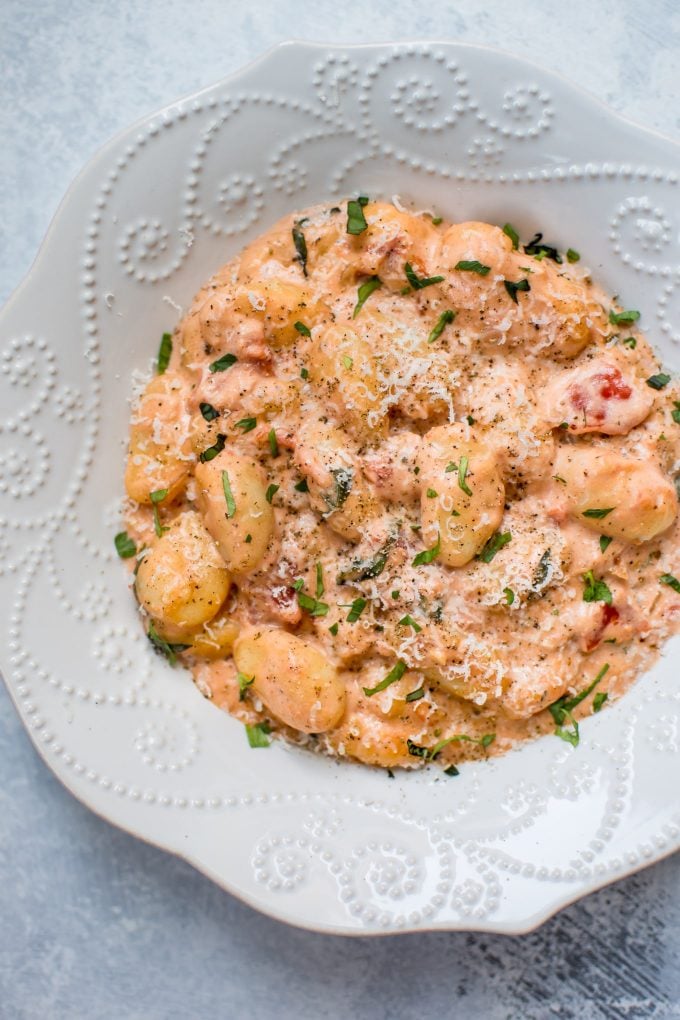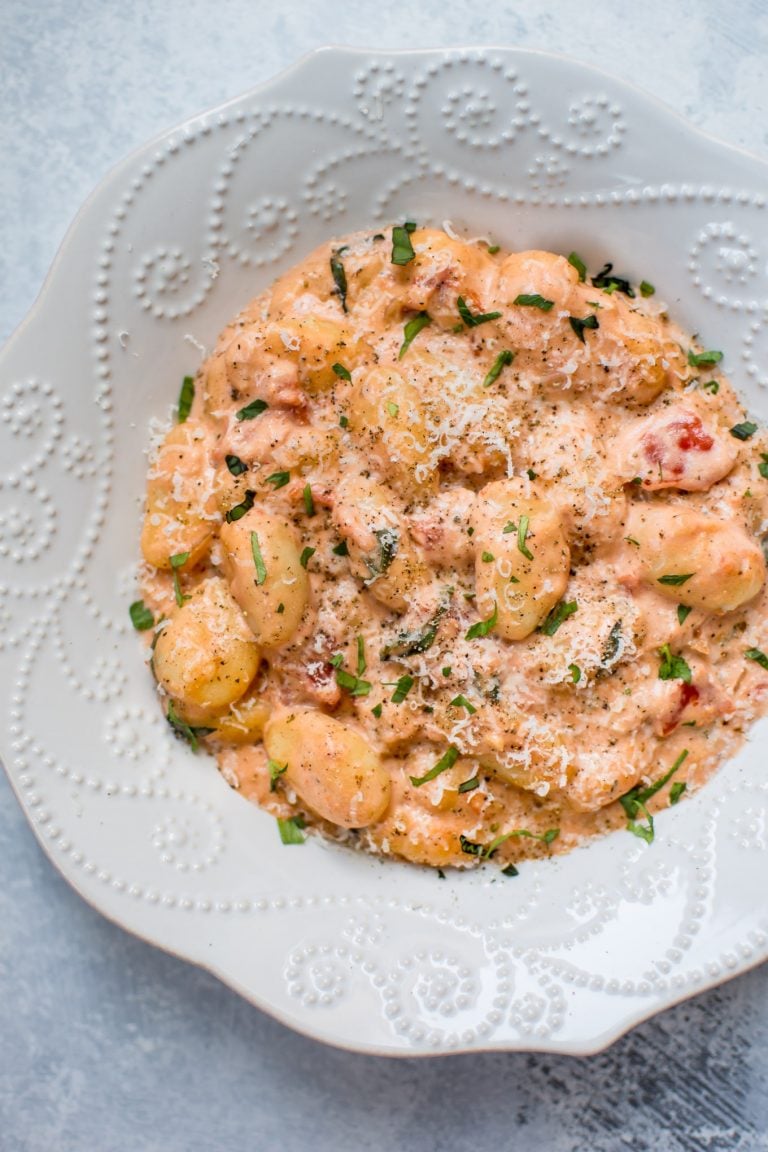 If you've been a regular reader of this blog (thank you!) for any length of time, you will have noticed that I've been focusing on healthier recipes for the past number of months.
A major part of the reason for that is because I have lost quite a bit of weight in the past couple of years, and I want the blog to reflect my general style of eating these days.
With that said, I am a firm believer in moderation, and the occasional creamy carb-laden recipe ain't gonna kill me.
In fact, I consider this type of food necessary because I won't stay on track otherwise. As much as I do like eating healthy most of the time, the occasional indulgence is totally worth it. 🙂
If you want a similar recipe without cream, try my Gnocchi with Tomato Sauce.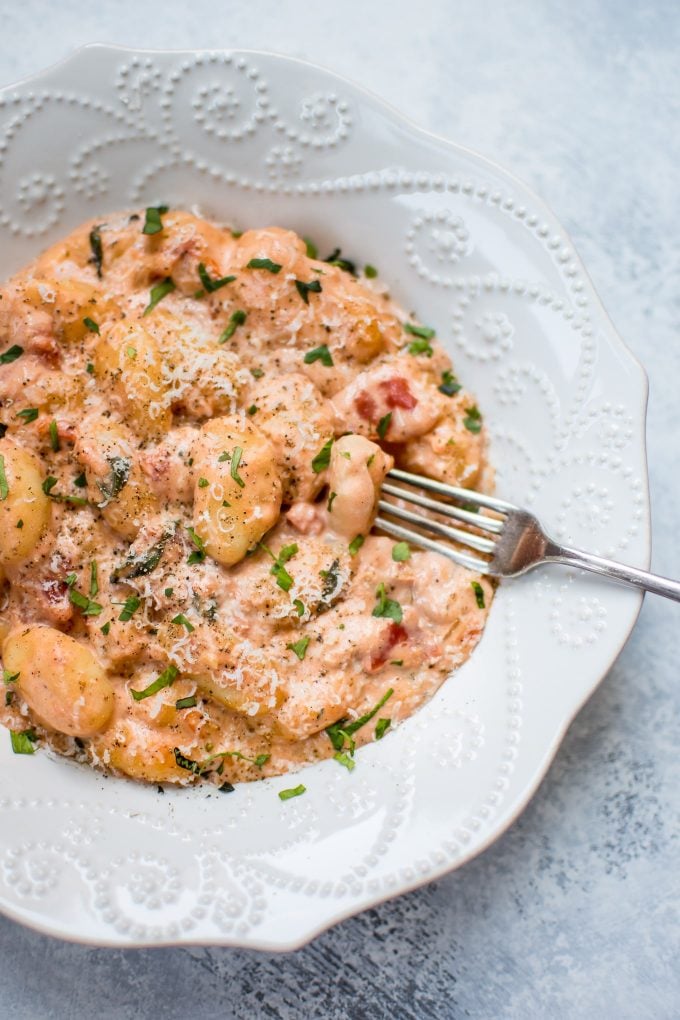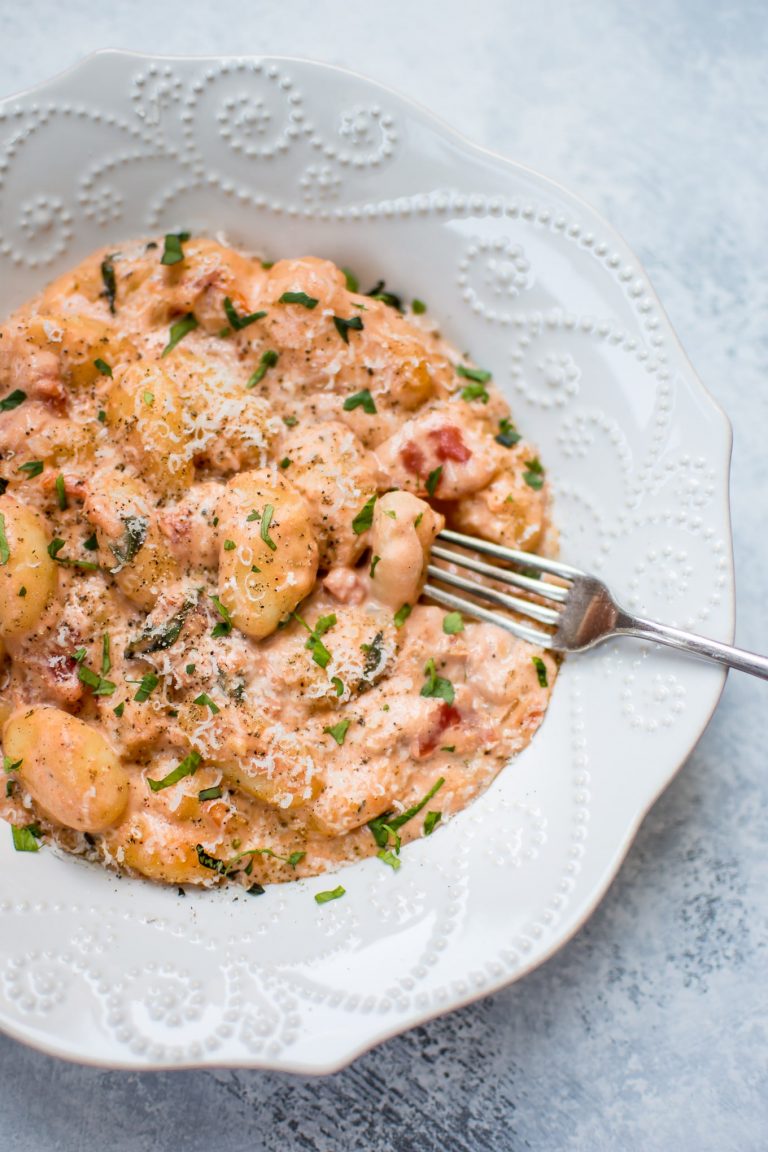 Back to this easy gnocchi recipe! I use shelf-stable pre-packaged gnocchi for this dish (find it in the pasta aisle). Of course, homemade gnocchi is the best, but I don't always want to put the time and effort in... so store-bought it is.
You could turn this 30-minute meal into a total labor of love, but I think the sauce definitely makes up for any shortcomings that store-bought gnocchi may have.
The gnocchi cooks right in the sauce, so you don't have to mess about with separate pots. This really is an awesome easy weeknight dinner.
It has plenty of garlic (naturally... this is my recipe), and feel free to add a generous amount of parmesan cheese too (totally optional) to kick it up another notch.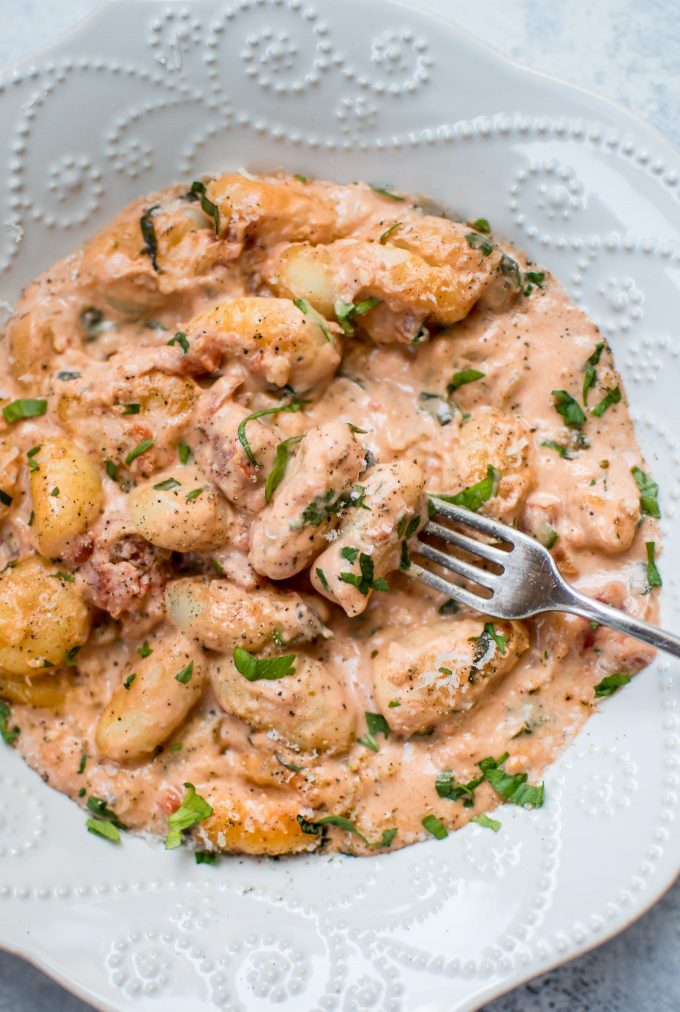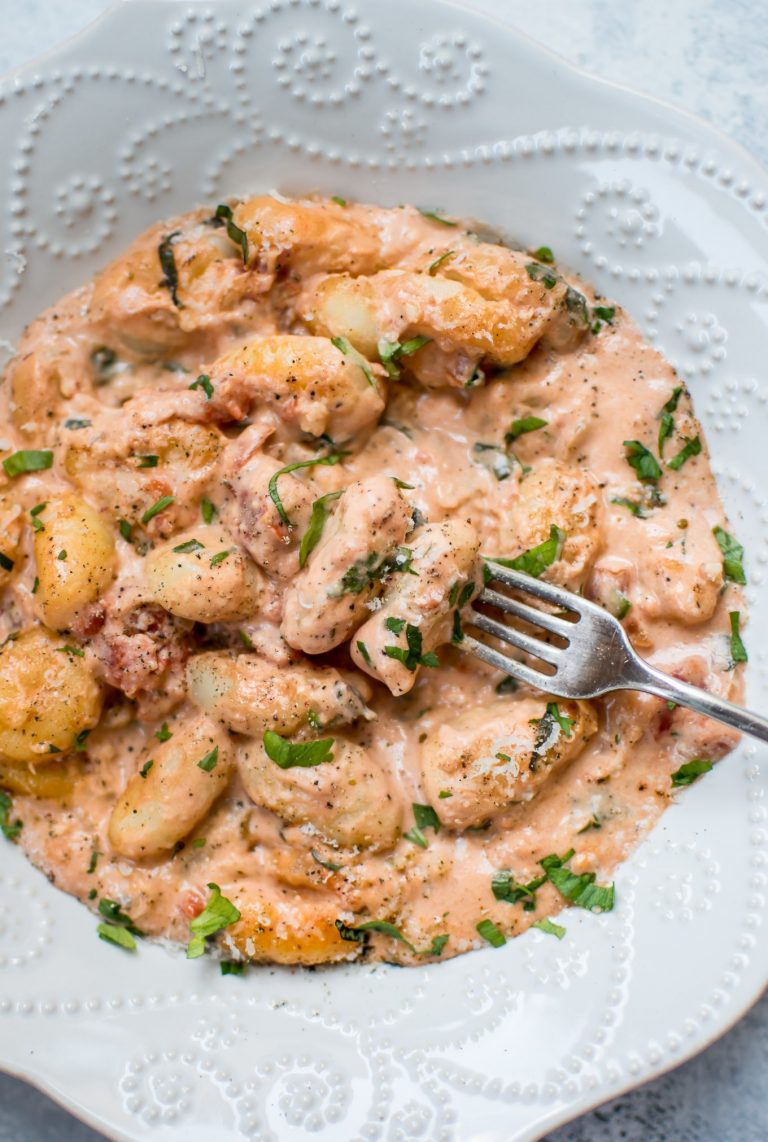 I hope you love this creamy gnocchi recipe as much as I do!!
Made it? Let me know in the comments below!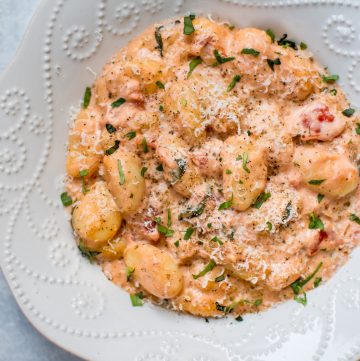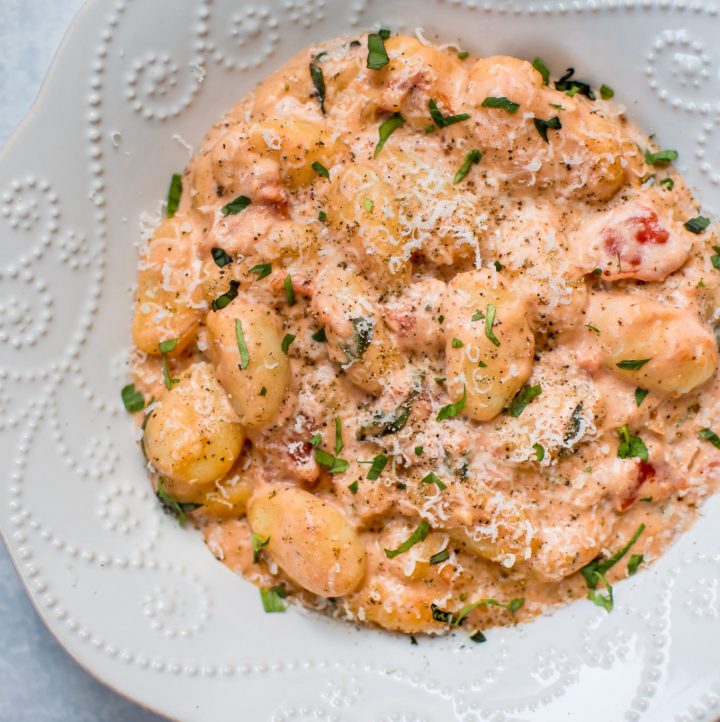 Creamy Tomato Gnocchi
This vegetarian gnocchi recipe is comfort food at its best! It's easy and convenient (it's all cooked in one pan), fast (ready in less than 30 minutes), and absolutely delicious.
Ingredients
1

tablespoon

olive oil

1/2

medium onion

chopped finely

1/4

cup

dry white wine

1

heaping tablespoon Dijon mustard

3-4

cloves

garlic

minced

4

dashes Italian seasoning

1

(14 fluid ounce) can diced tomatoes

with juices

1

cup

heavy/whipping cream

1

pound

uncooked potato gnocchi

1

small handful fresh basil

torn or chopped

Salt & pepper

to taste

Freshly grated parmesan cheese (optional)

to taste
Instructions
Add the olive oil to a skillet on medium-high heat. Sauté the onion for about 5 minutes (ok if it's lightly browned).

Add the white wine, Dijon mustard, garlic, and Italian seasoning. Stir until you've got a smooth mixture and let it cook for about a minute.

Add the diced tomatoes, cream, and gnocchi. Wait until it starts to lightly bubble again, then reduce the heat to medium and cover for 5 minutes.

Give it a good stir, and add the basil and season with salt & pepper. Let it cook for another couple minutes to ensure the gnocchi is fully cooked and the starch thickens the sauce up a bit more.

Stir in parmesan (optional) or sprinkle it on top. Serve immediately.
Notes
The gnocchi will cook right in the sauce - no need to cook it beforehand.
This makes 4 reasonably sized portions. If you're feeding extra hungry people, I recommend serving this with a salad, garlic bread, and/or something else. It would also make a great side dish.
The leftovers are delicious.