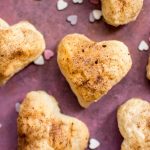 Print
Valentine's Day Puff Pastry Hearts
These puff pastry hearts are easy, fun, and the perfect heart-shaped treat for Valentine's Day!
Preheat oven to 400F and place the rack in the middle position. Line a baking sheet with parchment paper. Melt the butter.

If using puff pastry that comes in a brick, thaw according to package directions then roll it out on a floured surface. Use a heart cookie cutter to cut out heart shapes (my cookie cutter makes about 3" hearts). 

Transfer the hearts carefully to the baking sheet. Using the tip of a sharp knife (or a fork), make dots along the edges of the pastry so that the heart shapes don't puff out and warp when you bake them. Gently brush the melted butter onto each heart and then sprinkle each heart with some cinnamon sugar.

Bake until the pastry is lightly golden. This can take anywhere from 7-10 minutes. I would definitely check them after 8 minutes. 
Recipe easily doubles, and the amount of hearts you get depends on the size of your cookie cutter.  I used a relatively large cookie cutter.