These cinnamon sugar puff pastry hearts are easy, fun, and the perfect heart-shaped treat for Valentine's Day!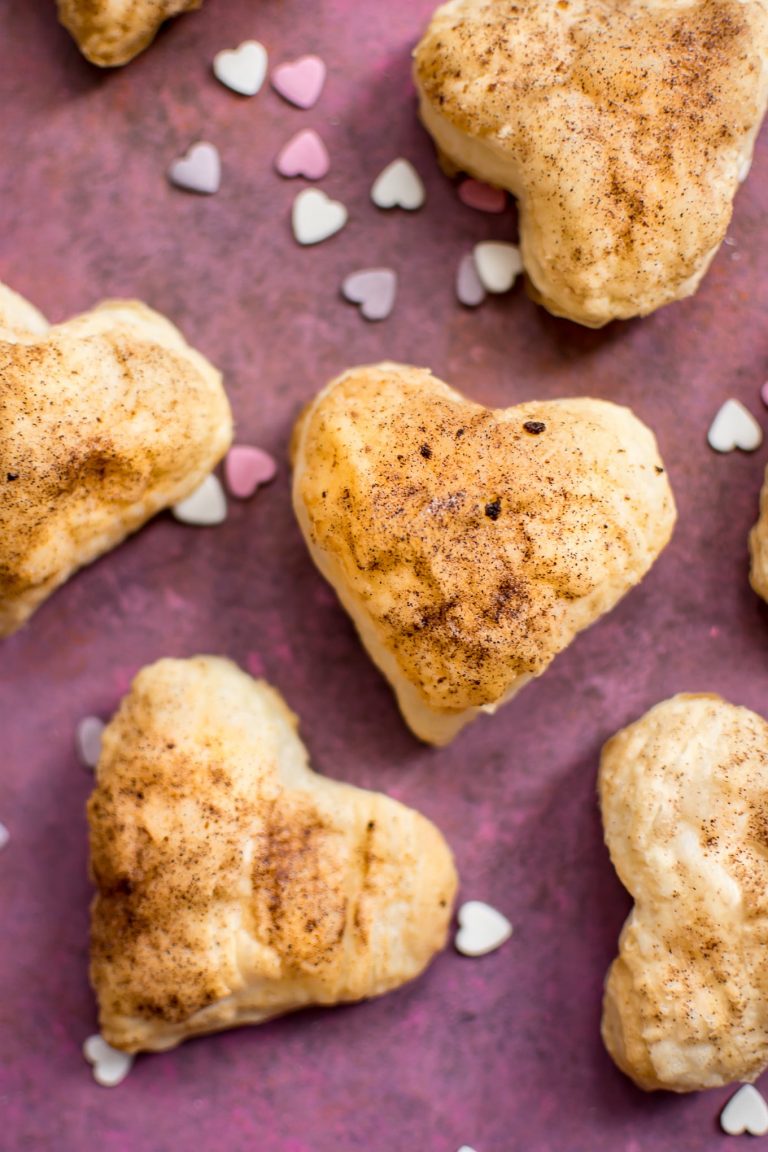 I'm not always the best at creating timely recipes for the various holidays. I'm trying to do better, so here's something for Valentine's Day if you're into that sorta thing. Honestly, usually my husband and I use Love Day as an excuse to get burgers or something equally inexpensive and bad for us.
I also do Galentine's Day with my sister, which is an excuse to buy each other some fun little presents and go for a drink. So I have nothing against the holiday per se, but you won't find me at a marked-up restaurant anytime soon, or taking it too seriously.
These puff pastry hearts would be a fun thing to throw together for your Valentine's Day dessert, a Valentine's Day party, or even if you want a quick and easy baking activity to do with the kids. These little puff pastry bites are the perfect size to pop right into your mouth.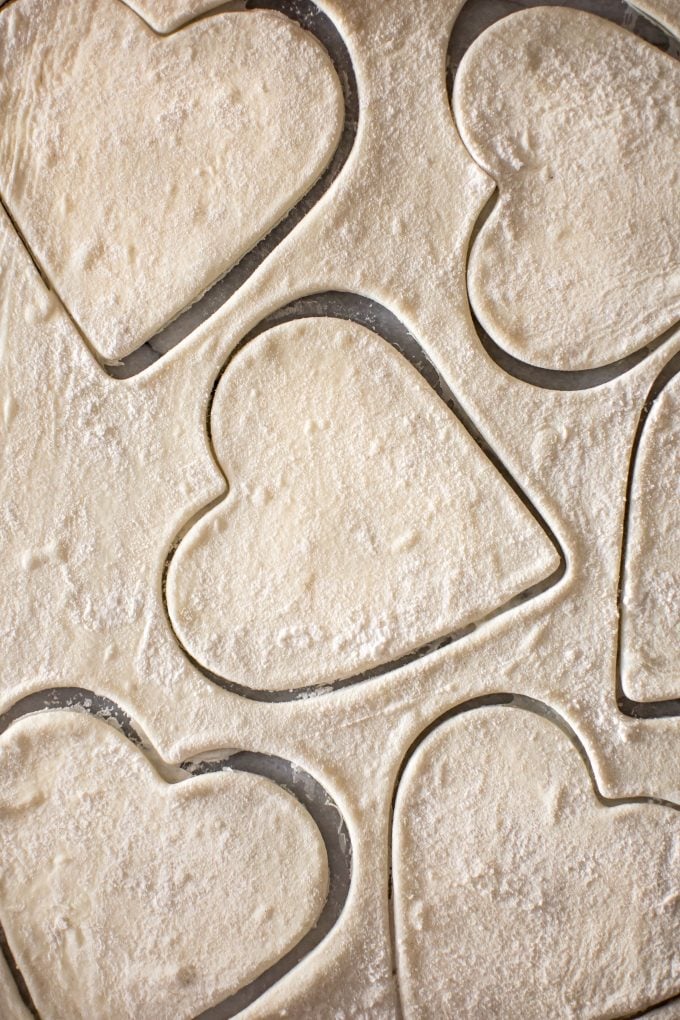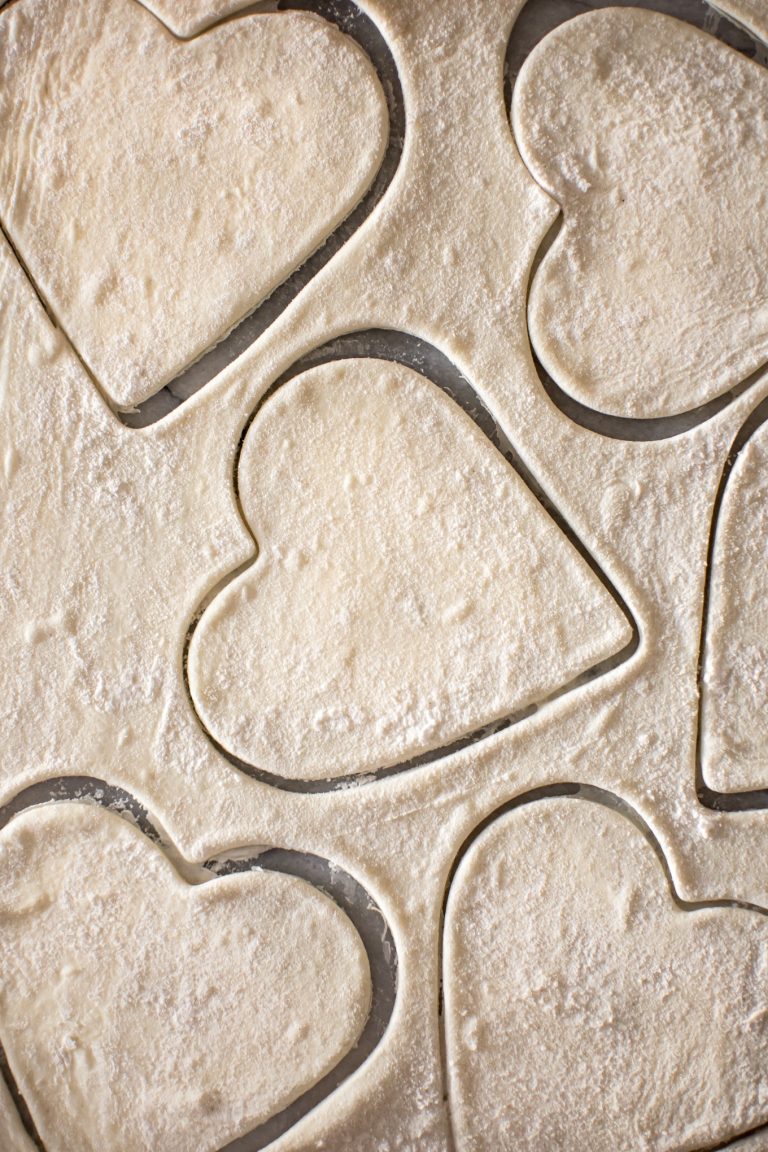 I wanted to do something cute and relatively easy. I have a heart cookie cutter, and pre-made puff pastry is something I always like to keep in my freezer just in case, so that's how these came to be.
I think the exact idea came to me when I was flying back from Vegas and needed some recipes to make this weekend.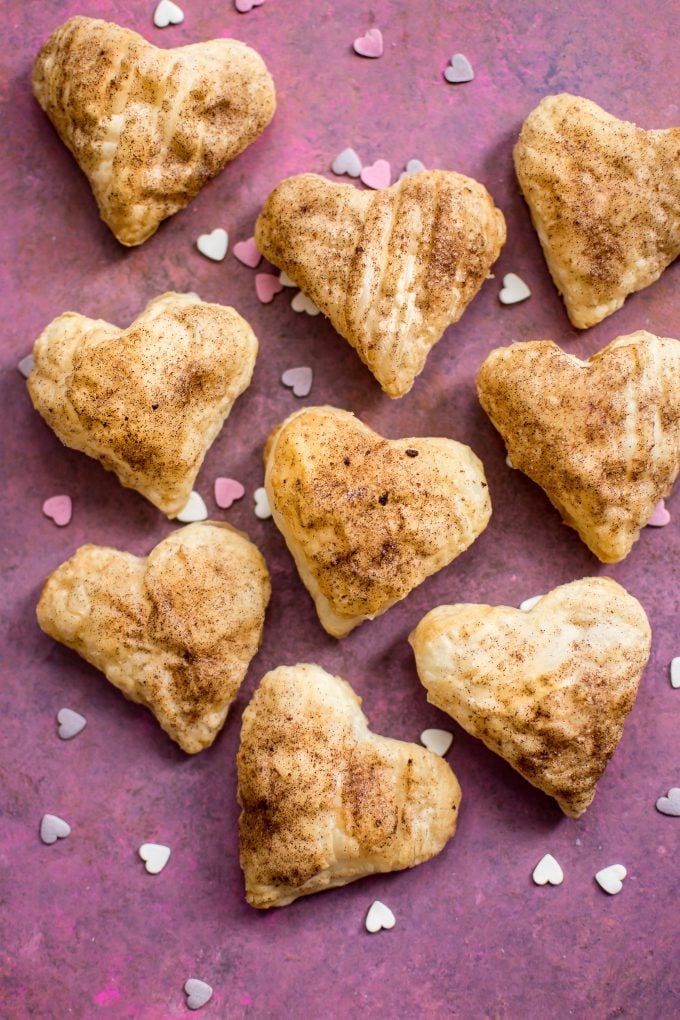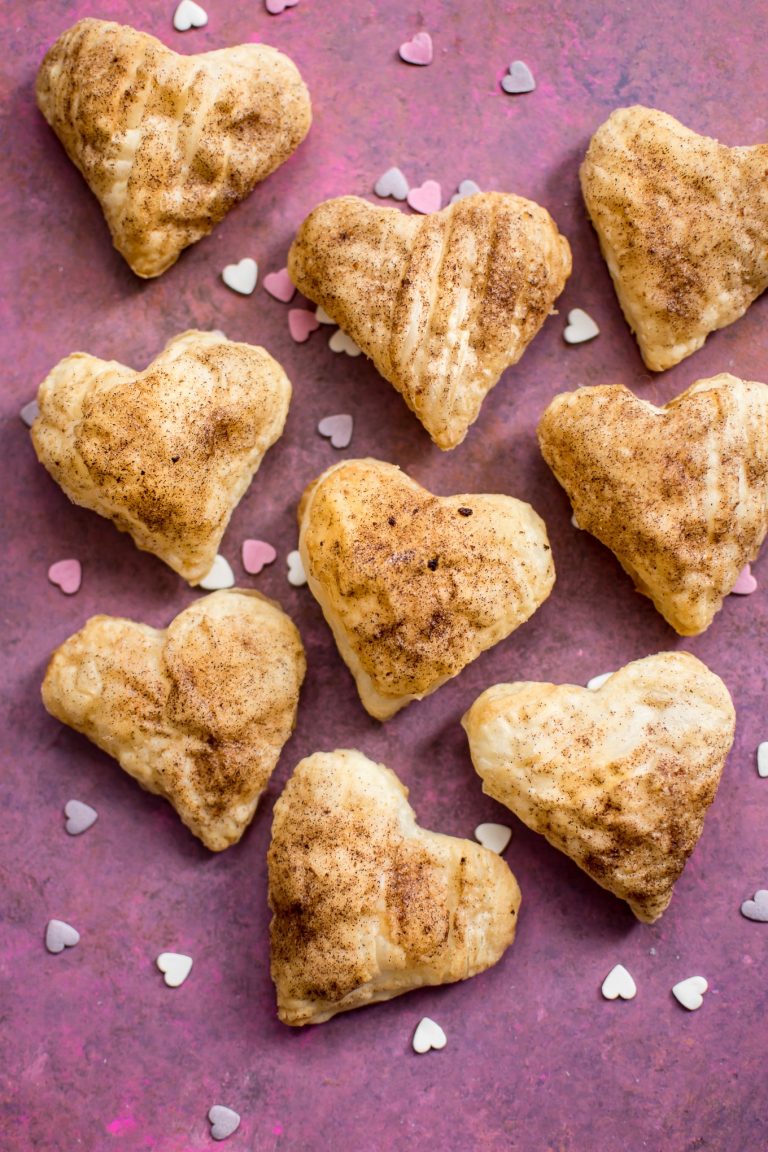 For some reason, here in Canada I can't ever seem to find the already rolled out sheets of puff pastry. I'm pretty sure they're readily available in the US, so I would definitely use those for this recipe if you can get your hands on them. Rolling out the block of puff pastry is an extra step, but it's not exactly time-consuming if that's the only option you have.
My top tip for making these is to ensure that you score the edges. I went along the hearts with a sharp knife and basically put a ton of little dots around the border so that they would keep the heart shape.
I probably could've done it more easily with a fork, though. I then baked them for 10 minutes. I checked them twice, so I would suggest checking around 8 minutes if you don't open the oven and let the heat out before then. 😛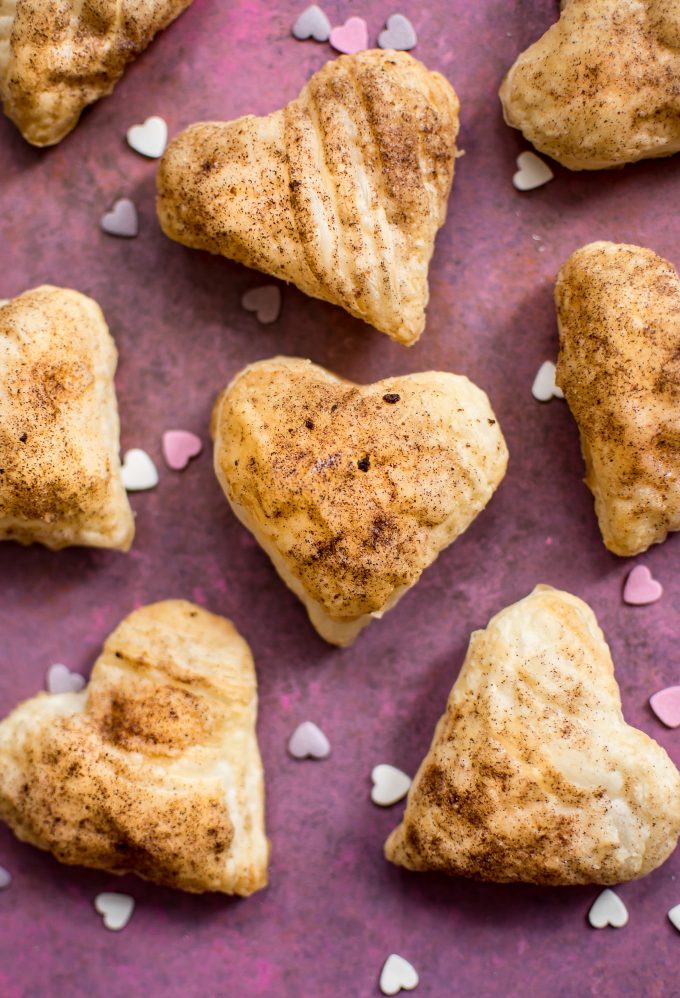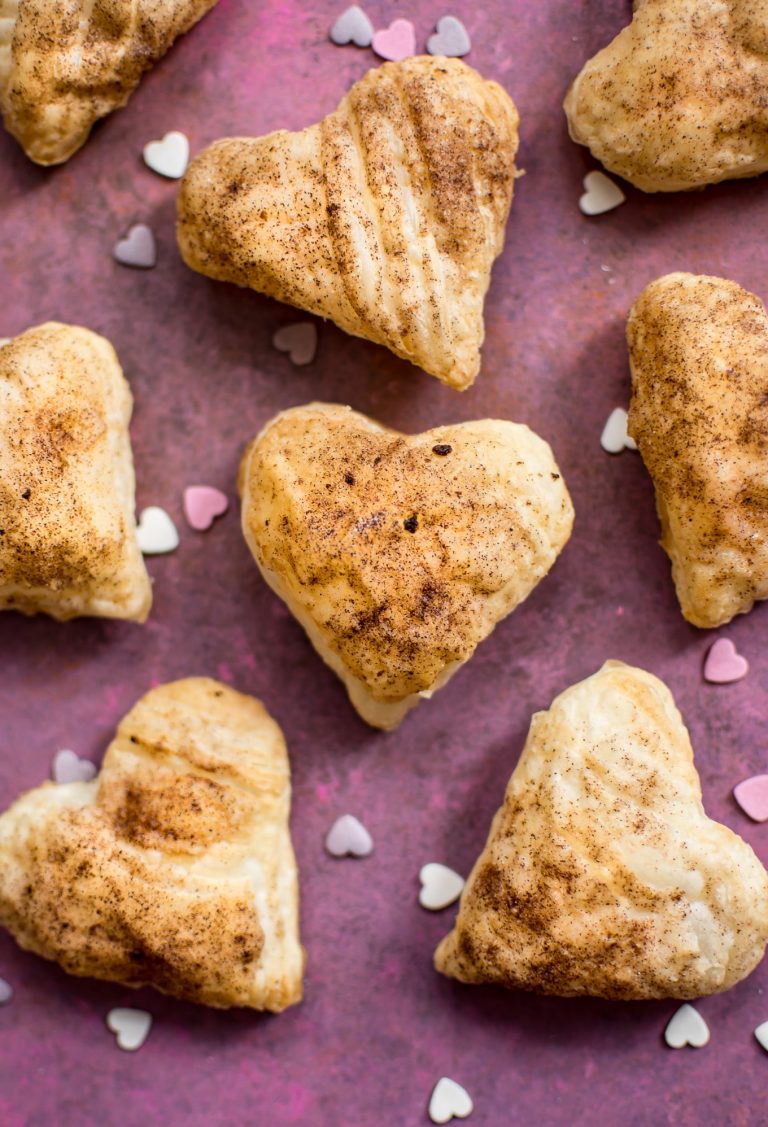 Hope you love these Valentine's Day mini pastries!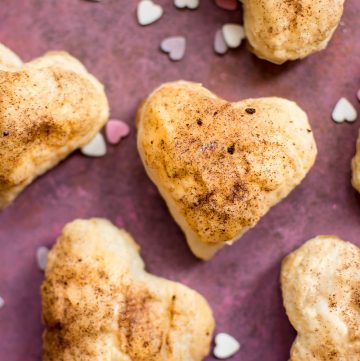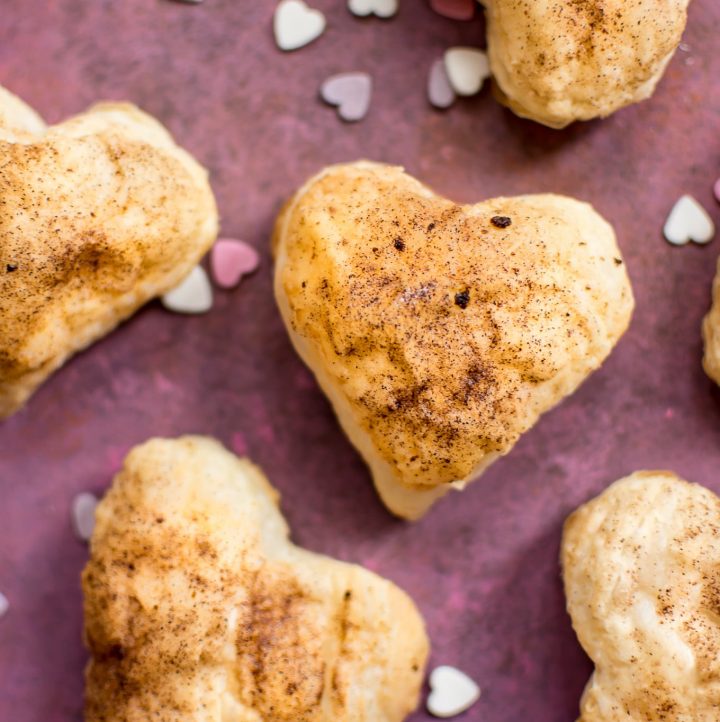 Valentine's Day Puff Pastry Hearts
These puff pastry hearts are easy, fun, and the perfect heart-shaped treat for Valentine's Day!
Ingredients
1

sheet puff pastry

1

tablespoon

butter

melted (melt more if needed)

Cinnamon sugar

to taste
Instructions
Preheat oven to 400F and place the rack in the middle position. Line a baking sheet with parchment paper. Melt the butter.

If using puff pastry that comes in a brick, thaw according to package directions then roll it out on a floured surface. Use a heart cookie cutter to cut out heart shapes (my cookie cutter makes about 3" hearts).

Transfer the hearts carefully to the baking sheet. Using the tip of a sharp knife (or a fork), make dots along the edges of the pastry so that the heart shapes don't puff out and warp when you bake them. Gently brush the melted butter onto each heart and then sprinkle each heart with some cinnamon sugar.

Bake until the pastry is lightly golden. This can take anywhere from 7-10 minutes. I would definitely check them after 8 minutes.
Notes
Recipe easily doubles, and the amount of hearts you get depends on the size of your cookie cutter. I used a relatively large cookie cutter.
If you're looking for more Valentine's Day recipes, check out this roundup that I put together.