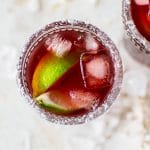 Print
Pomegranate Margarita Recipe
This pomegranate margarita is fast, easy to throw together, refreshing, and delicious! It uses pomegranate juice, so this drink can be enjoyed year-round.
Run the lime along the rim of the glass and then press the glass into the salt to create a salt rim.

Add the ice cubes to the glass, followed by the triple sec, tequila, and a squeeze of lime. Top the glasses up with the pomegranate juice.
This recipe is for a 6 ounce glass. If you're using a 9 ounce glass, use 1.5 ounces each of triple sec and tequila.
I used crushed Maldon sea salt for the rims in the photos, but you can also use specialty flavored margarita salt.