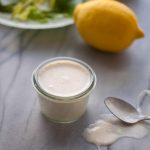 Print
Creamy Lemon Salad Dressing
This creamy lemon salad dressing is tangy, smooth, and perfect on summer salads. Whip up a batch in 5 minutes!
Add all ingredients to a small bowl and whisk together. 

Adjust quantities as needed (e.g. if you want it to be more tangy or sweet). 

Drizzle over salad liberally. Will keep in the fridge in a sealed container for a day or two (shake before using).