How to stay clutter-free during the holiday season
I love buying and receiving Christmas gifts as much as the next person. As someone who is obsessed with decluttering, however, part of me gets a little nervous when the holiday season rolls around.
Luckily, my family knows me well and understands that I do not want a lot of excess "stuff".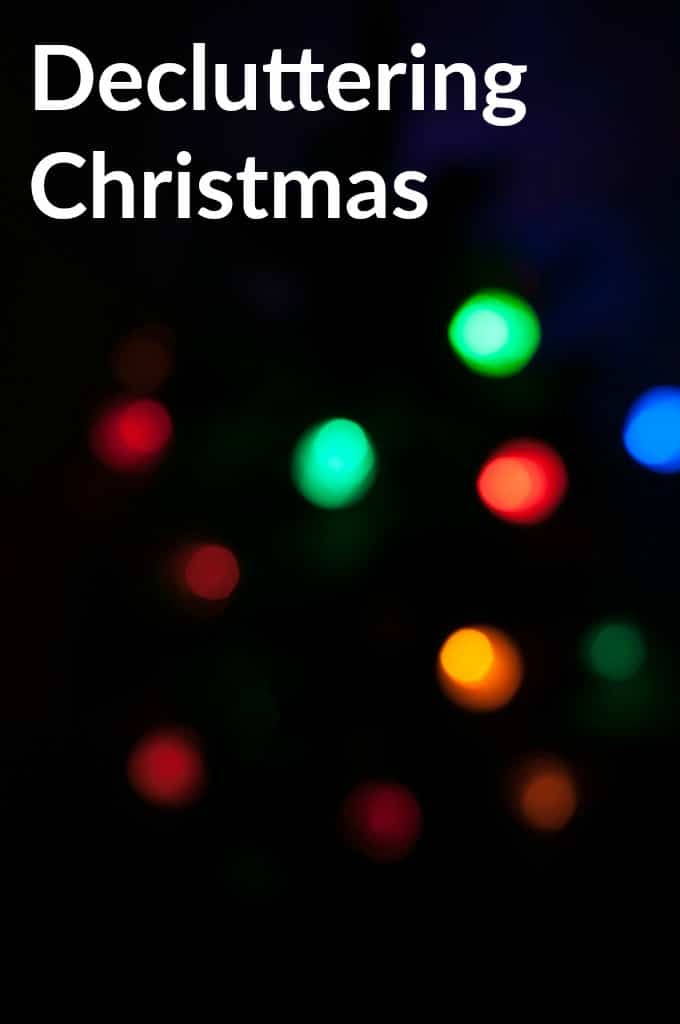 Here are some ideas to keep your decluttering on track during Christmastime:
-Let your family and friends know that you'd prefer mostly consumable gifts. Of course it's best to do this in a tactful way (like drop it into conversation well before Xmas) and not to beat a dead horse, but mentioning your preferences will likely ensure you have fewer knick knacks to re-gift or donate.
-When giving gifts, use that same lens - am I giving people what they really want or just adding to their household clutter? I still buy some non-consumable gifts (especially if it's on the person's wish list), but I try to think these gifts out a bit more and mix them with things that people will use up. Also, just ask them if there's something specific they want. Sounds obvious, but lots of people don't do this. I'd rather not surprise the person but get them what they really want. It's also good to not wait til the last minute to shop because you're less likely to be pressured into buying something you/the recipient doesn't want or need.
-For kids, let them know you will be getting them ONE main present (I remember there was always one thing I really really wanted) and a few smaller ones. Keep their expectations in check and don't go crazy. Kids get bored with toys really fast and appreciate them more when they have a smaller selection to choose from, anyway. It's easier to do this if you know your child will also receive presents from relatives, but I think that anyone can limit presents (within reason) without causing your kid to have a meltdown.
-Set a spending limit (this works within relationships and close family). This will prevent you from trying to outdo yourself by simply spending more, and may make you think a bit harder about what to get the person so you make the most of the budget.
-In the weeks leading up to Christmas, go on a decluttering spree. Get the whole family involved. Knowing you will soon have more stuff in your home may motivate you to get rid of a few more things (not to mention having less to clean up if you're going to have guests arrive!). As always, consider what you want to donate (anything in good condition) and what you can trash/recycle (anything that's worn/used past its prime). I will be taking my donation box to my favorite donation center the week before Christmas. Hopefully some of the items I will be donating will be Christmas gifts for someone and make them happy!
-Go through your Christmas decoration box(es) and get rid of anything that's broken or you don't like or never use. It'll make your decorating experience a lot better if you're not overwhelmed with a tangled mess of old lights, 3,000 bent ornament hooks and 20 broken ornaments.
Some ideas for consumable gifts:
-Gift cards for consumable products and/or experiences such as: restaurants, going to the movies, the spa, Sephora or Bath & Body Works, Starbucks, iTunes, etc. Gift cards exist for practically every store you can imagine. Some people say gift cards are impersonal, but I disagree. When done right, you're ensuring the gift recipient can get what they really want!
-If you know the person well, buy them bath and body products/makeup/nail polish etc. My sister and I do this for each other.
-Agree to go out for a nice meal vs. exchanging gifts. My one friend and I do this every year. It also takes the gift selection pressure off!
-Go on a trip together instead of doing presents.
-Subscription services such as a wine of the month club, Carnivore Club for the meat lover, etc. The gift that keeps on giving!
-Tickets to a sporting event, play, ballet, opera, concert, etc. that the person would be interested in attending.
-A nice bottle of their favorite alcoholic beverage
-Fancy chocolate.
-Treats for your pets.
-Scented candles (you can find many luxurious ones these days).
-"Coupons" they can cash in throughout the year for things like a meal at their favorite restaurant. My husband has done this for me and I think it's great. My sister made me a "coupon" last year where she would cook her specialty for me (it's super labor intensive so not an everyday thing) and it really gave me something to look forward to.
-Food items the person wouldn't normally buy for themselves such as fancy salts, hot sauces, mustards and spreads, Hickory Farms gift baskets, etc. Most good kitchen stores have a section where you can find these sort of gourmet treats.
-Tea. Harney and Sons make my favorite teas and always have some cute gift sets.
-Stocking stuffers like chocolate, liquor minis, nuts, candy, individual packs of hot chocolate, lip balm, scratch tickets, etc.
Decluttering doesn't mean you need to take the fun out of the holidays. On the contrary, it can help you appreciate what you do have and enjoy your gifts in a guilt-free way 🙂
You can read more of my articles on decluttering here.