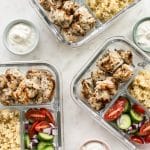 Print
Chicken Souvlaki Meal Prep Bowls
These grilled Greek chicken meal prep bowls are easy to make, healthy, delicious, and filling! You will love the fresh Mediterranean flavors, quinoa, and veggies.
Prep your chicken and add it to large bowl or ZipLoc along with the oil, oregano, lemon, garlic, and salt & pepper. Marinate for at least 30 minutes (keep it in the fridge, especially if you go longer than 30 min). 

Prep your other ingredients and cook the quinoa according to package directions, and set it aside to cool when it's done.

To grill the chicken, grease the grate and pre-heat your grill to high. Thread the chicken on wooden or metal skewers (it's a good idea to soak wood ones first so they don't splinter and burn as easily). Reduce heat to medium-high. Cook the chicken for about 15 minutes total time (or until it's cooked through), turning every few minutes. I used a gas BBQ, cooking the chicken with the lid down. A grill pan would work too (adjust cooking time as needed). 

Assemble bowls and refrigerate for up to 5 days. 
You can use any/all of my other ingredient suggestions - use what works for you. You could definitely swap the quinoa for rice or skip it altogether. 
I served tzatziki on the side because it tends to dry out if you spoon some over the chicken, for example. I suggest keeping it in a sealed container(s) and adding it to the bowl before serving.
I use these meal prep containers.