Now that we've talked about what clutter is and why it's bad, and why it's so tough to declutter, let's get right into how to do this! As they say, getting started is the toughest part. Wonder no more... here is how to start decluttering!
How do I start decluttering my life?
Keep three categories in mind - trash/recycle (for those items that can't be donated), donate (nothing broken, dirty, worn out etc.), and keep. You can label some boxes if that makes it easier for you, and then put the items in the different boxes as you go along. If you're unsure about something, put it in the 'donate' box and if you miss it after a week, take it out. Chances are that you won't. Some people like to get rid of the 'donate' box as soon as it's full. Whatever works for you. The idea is to not create more clutter! You can try to sell some items too, if you think it would be worthwhile.
There are many ways you can start. The key for me, anyway, is starting off small and with some no-brainers (think expired fridge items) so you don't get discouraged. You want to feel motivated... not like giving up!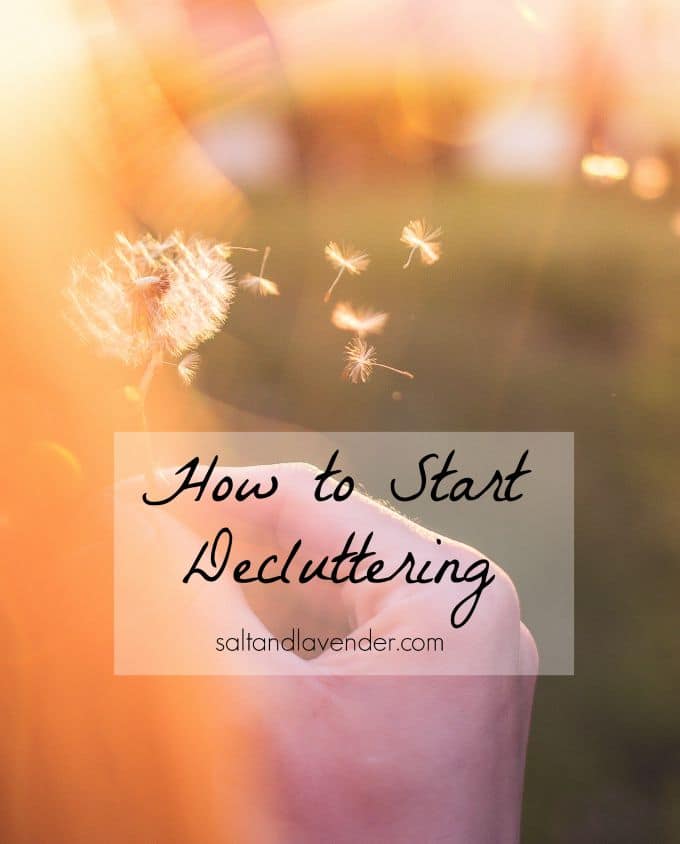 Here are a few more ideas to get you started decluttering:
-Go through your home and get rid of "surface" clutter - the crap that is living on your tables, counters, nightstands, etc.
-Spend a couple minutes thinking about what items in your possession annoy you. Maybe it's the vase that's always in the way. Maybe it's the shoe rack no one uses. Maybe it's those pants you can't quite bring yourself to hate because they were expensive (but they don't fit properly and you never wear them). Get rid of these items. It will make you feel good!
-I mentioned this before and I think it's worth mentioning again: get a timer for 15 minutes and commit to decluttering for that time. If you're still motivated after the time has lapsed, do another 15 minutes.
-Pick a certain item to declutter and go through your entire home. For example, if you decide to declutter clothes, go through every closet until you're satisfied. If you decide to declutter consumable products you will realistically never use up, you can probably remove things from half the home (anything from cosmetics to cleaning supplies to foodstuffs).
-If you google decluttering (or look on Pinterest!), sooo much comes up. There are lots of decluttering challenges out there as well, like getting rid of one item per day for a whole year, a 30 day challenge etc. These aren't my thing because I like to declutter gradually and at my own pace, but if you think one of these would work for you, then I say go for it. Set yourself decluttering targets - maybe one item a day or one room per week. Whatever you think is reasonable.
-Don't spend too much time pondering whether to get rid of an item or not. If you're unsure after about 30 seconds, come back to it later. The idea is to move quickly and not relive every memory associated with the item.
And if you're feeling particularly motivated:
-Identify the spot that drives you absolutely bonkers and tackle it. For me, this was the bookshelf in my old apartment that was used as a dumping ground for anything and everything.
-Pick one room and declutter it. I would suggest that closets are their own rooms!
-Go on a decluttering spree. See how much you can get rid of in X amount of time. See if you can beat your record next time.
Once you get started, you'll think of more things to get rid of and you'll have created a lovely snowball of decluttering magic. Keep in mind that this is not a one-time process and you should regularly declutter as most of us have a constant influx of STUFF. And remember, don't start spending money on organization systems until you've gotten rid of stuff. Organized clutter is still clutter.
You can read more of my articles on decluttering here.
Need some motivation? I have a whole post on decluttering motivation.