Why drink bourbon when you can use it to make this amazing BBQ bourbon burger?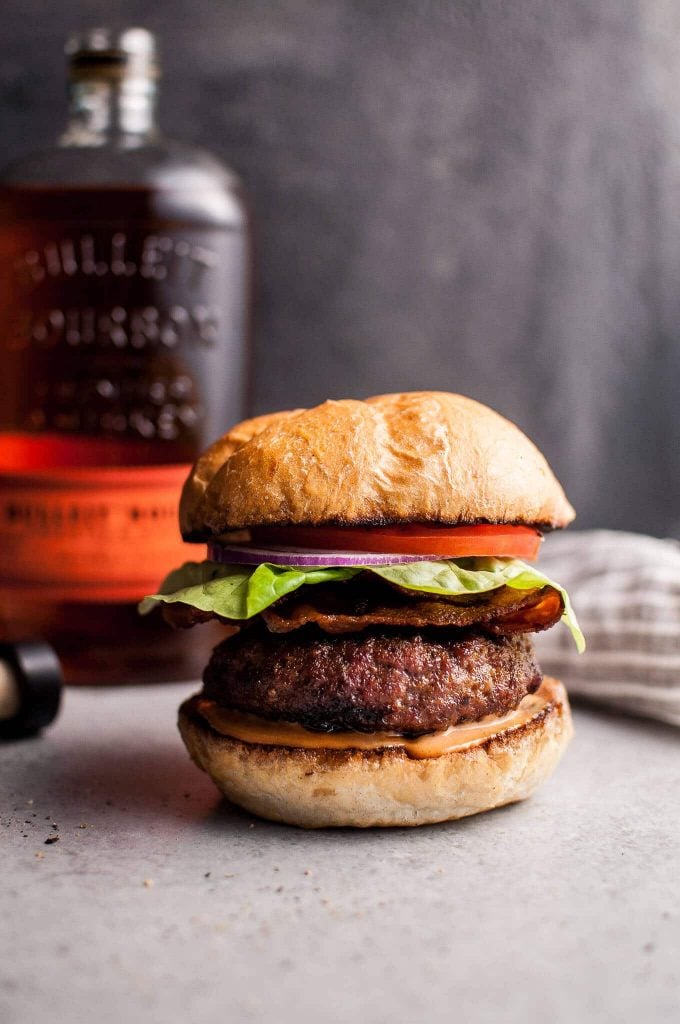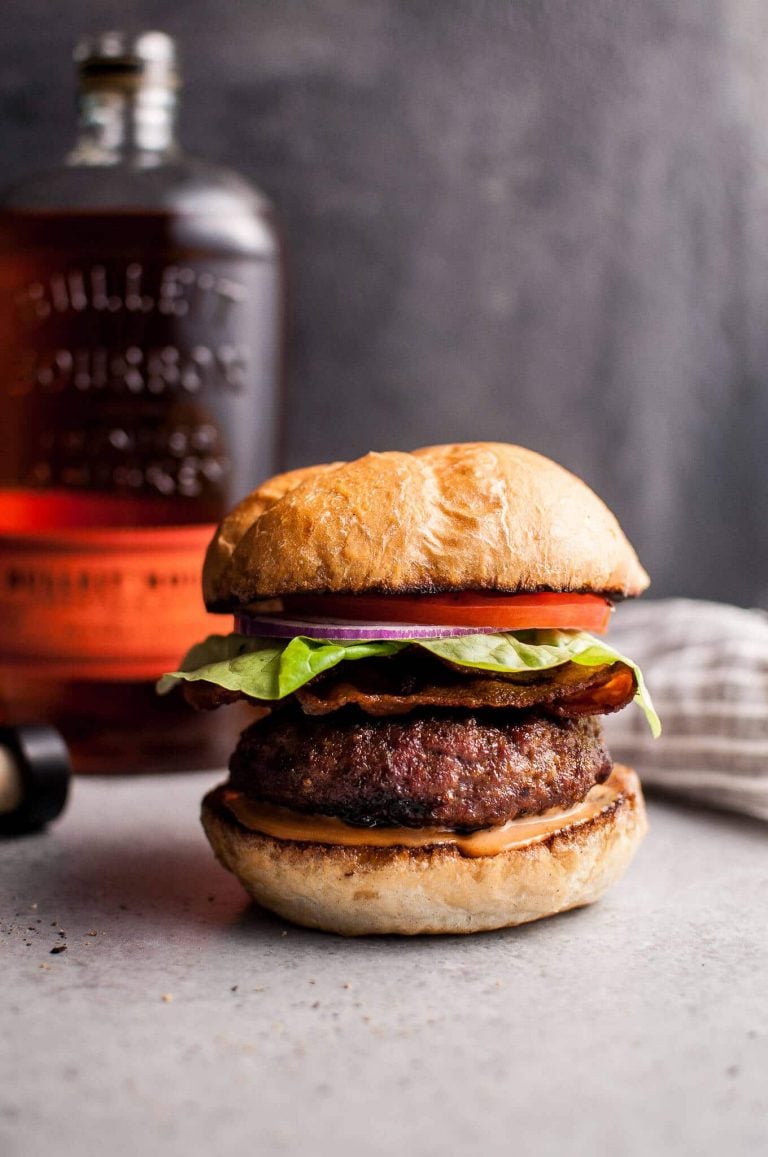 This has to be my favorite burger that I've made for the blog so far. The bourbon adds amazing flavor! The BBQ mayo is smoky and delicious. And crispy bacon... oh yeah! It's just the complete burger package.
I was so hungry (hANGRY) that I devoured my burger when it was right off the BBQ, and I ended up burning the inside of my mouth and bottom lip. I am seriously suffering here typing this and reflecting on what an idiot I am.
What's next for me, you ask? A Darwin Award? I hope not.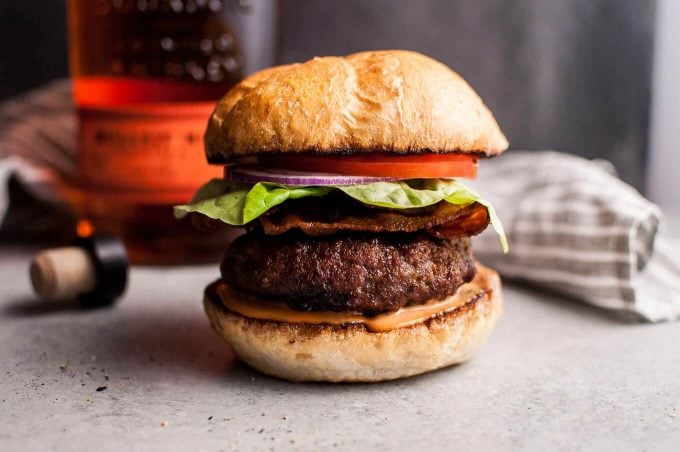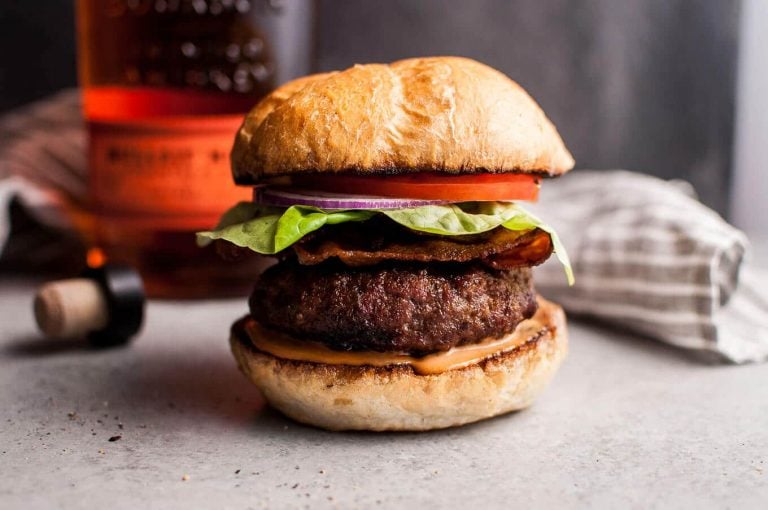 You may notice there's no cheese on this one. You'll probably think I'm nuts, but I just don't like cheese on my burgers. I sometimes like to photograph melty cheese, though... so some of the burgers on the blog have it. Now you know why.
Because I know you were wondering and totally care. Cheese, of course, can be added to this burger if it's your thing.
I used regular ground beef for this burger, not lean ground beef because the fattier meat makes for a more juicy burger. One of the downsides to using ground beef is that you really need to cook it properly (i.e. well done). If you prefer a less well-done burger, I suggest using ground chuck instead. I didn't make it to the butcher, so ground beef it was.
Rest assured that this burger still tasted great.
Questions? Let me know!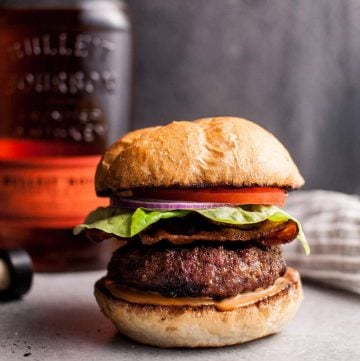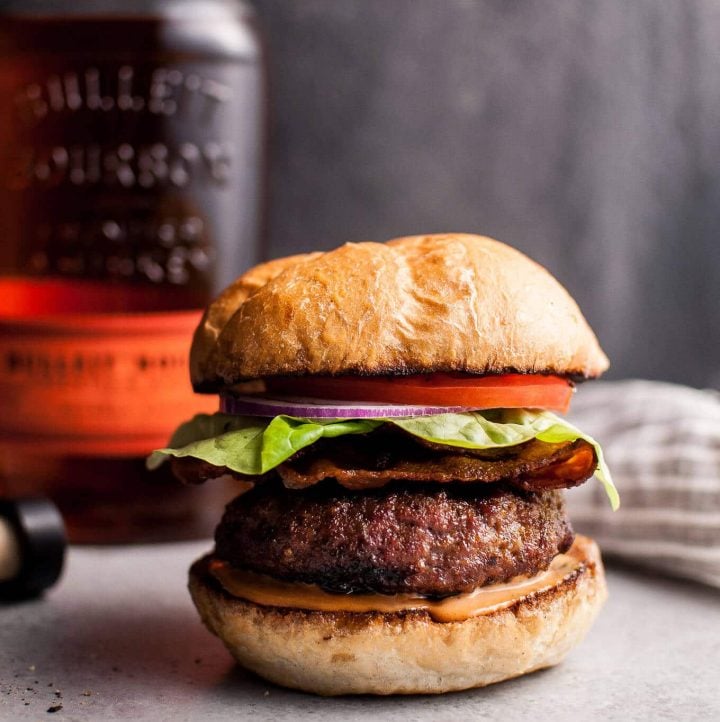 BBQ Bourbon Burger
Why drink bourbon when you can make these delicious burgers instead?!
Ingredients
Sauce:
6

tablespoons

mayo

2

tablespoons

BBQ sauce

1

teaspoon

cider vinegar

Salt & pepper

to taste
Bourbon glaze:
6

tablespoons

bourbon

1/4

cup

brown sugar

2

tablespoons

Worcestershire sauce

2

tablespoons

olive oil
Hamburgers:
1

pound

ground beef

2

cloves

garlic

minced

1/3

cup

Italian breadcrumbs

1

egg

Salt & pepper

to taste
Other/toppings:
4-6

strips bacon (optional)

4

burger buns

Butter (if toasting insides of buns)

Lettuce

to taste

Tomato

to taste

Red onion

to taste
Instructions
Prepare the burger sauce by combining the ingredients (I just used a spoon and a small bowl). Refrigerate until needed.

Prepare the glaze by combining the ingredients (I just used a spoon and a small bowl). Ensure the sugar is dissolved. Set aside.

Fry the bacon until it's crispy (about 10-15 minutes).

Pre-heat grill to high heat.

Prepare the burgers. Using your hands, combine the burger ingredients, taking care not to over-handle them. I am quite generous with the salt and pepper. Form into four patties and make a divot in the middle of the burgers so they cook evenly.

Turn the grill down to medium-high heat. Place the burgers on the grill and then baste with the bourbon glaze. Cook for about six minutes (depends on thickness of burgers and the grill/BBQ you're using), then flip and add glaze on the other side and cook for another six minutes or until they're cooked through.

My preferred method for toasting the insides of hamburger buns is to pre-heat a skillet on medium-high heat (on the stove) and then add the cut and buttered bun halves to the pan until they're toasted (takes a few minutes). You could also toast them on your grill.

Assemble burgers by adding the sauce, burger patties, and preferred toppings. Enjoy!
Notes
If you're using standard ground beef, I strongly suggest cooking the burgers until they're well-done and reach 165F inside (for safety reasons). If you're using something like ground chuck, they do not have to be cooked as well.
Use a fattier ground beef (e.g. chuck) or one that's NOT lean. It makes for better burgers.
I used a gas BBQ to make this recipe. Keep in mind that these directions are only a guideline as every BBQ or grill is different, so adjust cooking time accordingly.