Enjoy these beer oven fries as a healthier alternative to deep frying. The beer soak prepares the potatoes so they're crispy on the outside and soft and fluffy on the inside.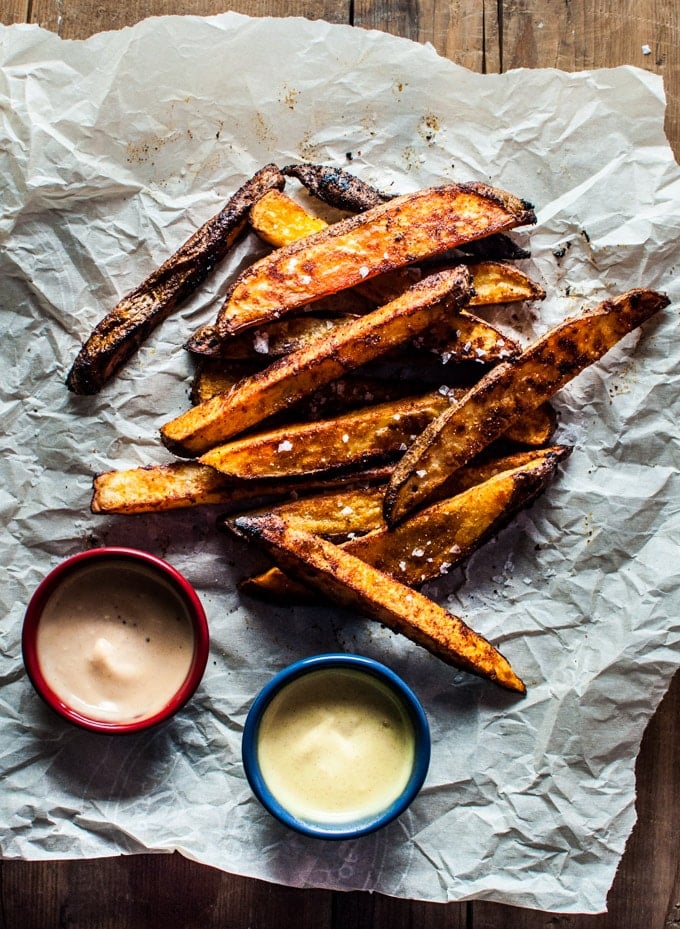 I'll be honest here. There are a few things that I've never really been tempted to make at home. Fries are one of them. You can get fries practically everywhere, they don't cost much, and you don't have to lift a finger.
I don't own a deep fryer, and baking fries always seemed to me like a waste of time that would produce a cheap knock-off. That is until I stumbled on the concept of beer soaked oven fries. Several food blogs have covered them, so I was tempted to see what all the fuss was about.
I experimented with my own seasonings (hello smoked paprika!) and beer soaking time and produced a good result. I have to confess that I did a quick job of slicing the potatoes so they weren't perfectly even, but it wasn't a big deal. I probably enjoy the almost burned crispy smaller pieces more than I should 🙂
I still think that the best fries in the world are deep fried, but all the grease definitely leaves something to be desired. I rather enjoyed these beer oven fries, especially with the two ways I served them. I used russet (baking) potatoes, but I also threw in a red potato to see how they would taste. I think they both work but I prefer the taste/texture of the russets.
The first way: with two quick dipping sauces. One dip is the same one I use for my fried chicken tenders, and the second one is a Dijon honey mustard. Both are super simple to make with ingredients you probably already have on hand and really complement the fries.
The second way: topped with sour cream, chopped tomatoes, and chives. This brings me back to my university days where I used to indulge on campus at the NY Fries (a Canadian fast food restaurant). I used to get their veggie fries (without cheese), and that's what they were topped with if I recall properly 🙂
The fries are generously seasoned before they're baked, but I added some lovely Maldon salt on top after they were finished baking.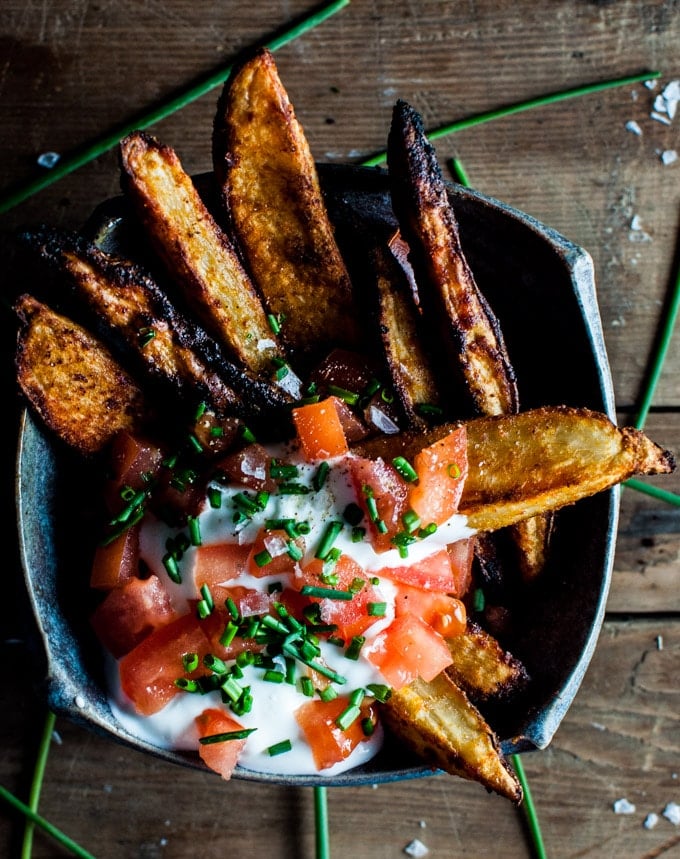 Will you try making these beer oven fries?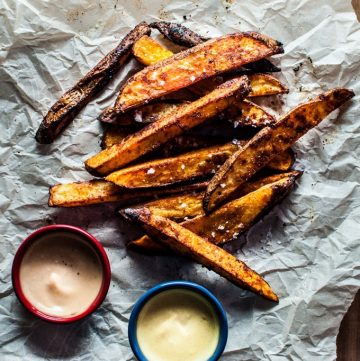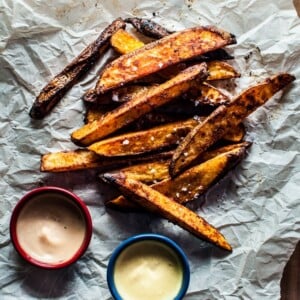 Beer Oven Fries
Beer oven fries - a healthier alternative to deep frying!
Ingredients
Beer soak:
2

large russet potatoes

cut into strips/fries (I didn't peel them)

1

bottle beer (I used what we had on hand - Pilsner Urquell)

1

tablespoon

salt

Water

if needed
Fry seasoning:
1

teaspoon

smoked paprika

1

teaspoon

garlic powder

1

teaspoon

onion powder

2

tablespoons

olive oil

1/2

teaspoon

chili powder (optional)

Salt & pepper

to taste
BBQ mayo dipping sauce:
3

tablespoons

mayo

1

tablespoon

BBQ sauce

1/2

teaspoon

red wine vinegar
Honey Dijon dipping sauce:
2

tablespoons

Dijon mustard

1.5

tablespoons

mayo

1

tablespoon

liquid honey
Garnish for veggie fries:
Dollop of sour cream (to taste)

Handful of chives

chopped

1

tomato

chopped
Instructions
Cut the potatoes into fries. If you err on the thinner side, you'll want to adjust cooking time accordingly. Mine were cut quite roughly, into about 3/4-1 inch strips/wedges.

Add fries to a fairly large bowl and then pour the beer over top. Add in a tablespoon of salt and then top the bowl up with water so the fries are just covered. Give it a quick stir so the salt dissolves. Cover (I used cling wrap) and place in the fridge for at least an hour. I kept mine in the fridge for about an hour and a half. You can soak them for up to 12 hours.

Meanwhile, prepare the dipping sauces if you want to use those. You can play with the quantities to ensure you're getting the taste you want. If you're making the veggie fries, chop the chives and tomato. Set aside.

When fries are nearly done soaking, pre-heat oven to 425F and put the fry seasoning in a bowl. Line a baking sheet with foil for easy clean-up.

Remove fries from soak and dry them off with paper towel. Place them into the seasoning bowl and mix with your hands until they're evenly coated. Place fries in an even layer on your baking sheet.

Bake for 20-25 minutes and then flip half way through. Bake for an additional 20-25 minutes or until they're as golden/brown as you like. Keep in mind that thinner fries will cook faster, so it's a good idea to watch them as they're nearing the end of cooking time. The fries pictured were baked for 50 minutes.

When fries are done, season with Maldon salt if desired. If you're making the veggie fries, top with sour cream, tomatoes, and chives.
Notes
Recipe adapted from The Beeroness. I would double the recipe (dipping sauces too) if you're making these into entrees for two people. For side dishes or appetizers, the quantities listed will work.
© Salt & Lavender Inc. Content and photographs are copyrighted. Sharing this blog post is much appreciated, but copying and pasting full recipes without authorization to social media is strictly prohibited.
Leave a star rating and comment below!