This Cajun chicken Caesar salad recipe will be the star of your next BBQ or cookout! It's loaded with bold Cajun flavors, and you'll be eating this zesty salad all summer long.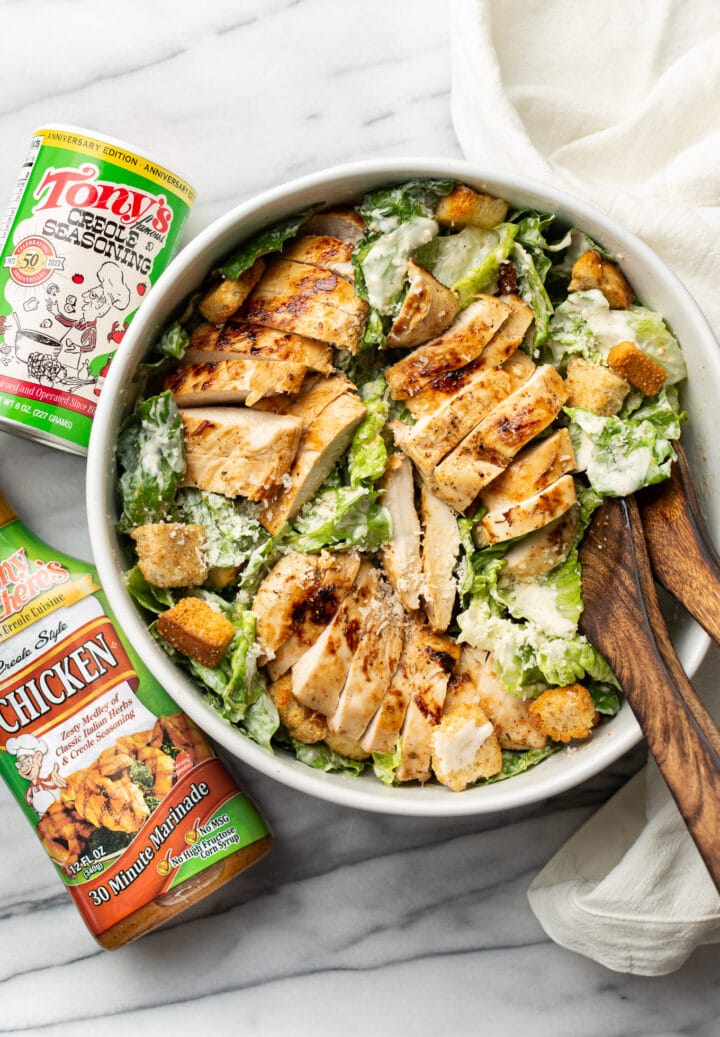 This post is sponsored by our long-term partner Tony Chachere's – thank you for supporting the brands that keep Salt & Lavender cooking! I only work with brands whose products I love. All opinions are my own.
Why you'll love it
Nobody can resist a crisp Caesar salad with tender chicken, and that's why it's forever popular. I've taken it to another level by adding a Cajun twist to it! It's the ultimate summer salad, and you may never go back to regular Caesar salad.
I used Tony Chachere's Chicken Marinade for the juicy pan-fried chicken and their classic Original Creole Seasoning in the homemade Caesar dressing for an all-out Cajun infused experience. It's great on everything, and Caesar salad is no exception!
Did you know?
This year is the 50th anniversary of Tony Chachere's, and we couldn't be more excited about it! Learn more about Tony's roots in Louisiana.
In 1972 Tony's started manufacturing its signature Cajun seasoning, and they've since expanded to include salad dressings, rice mixes, and so much more.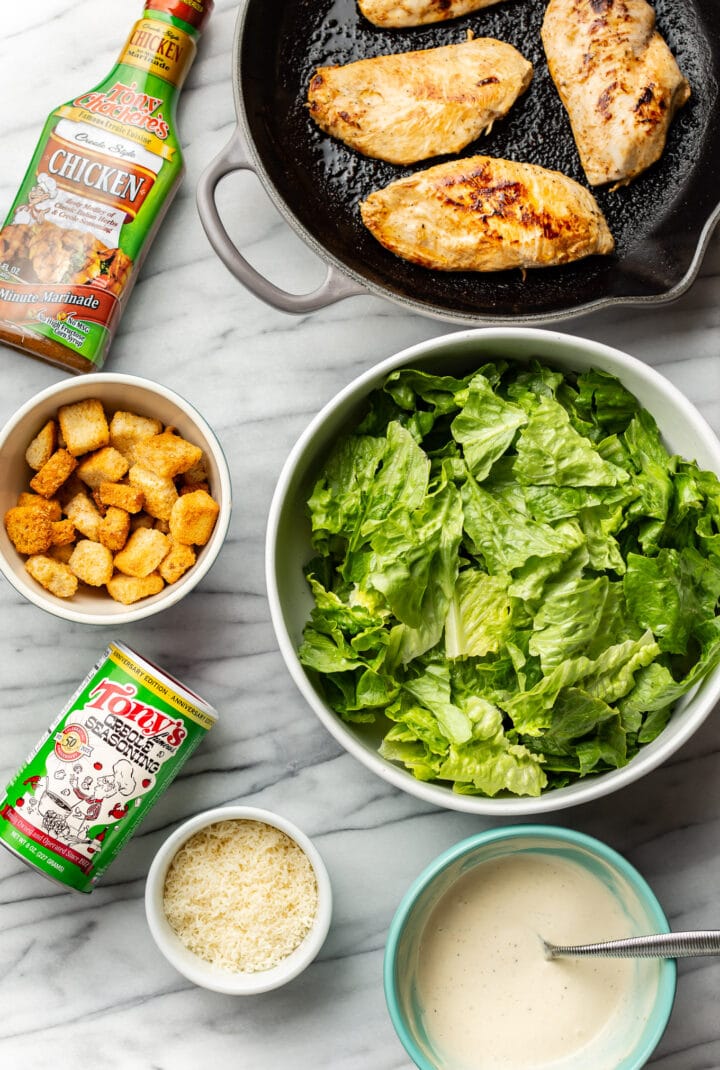 Ingredients for it
For the salad
Chicken - we're using two chicken breasts cut into 4 thinner cutlets
Tony Chachere's 30-Minute Chicken Marinade - it's a Creole-style pourable marinade that has Italian herbs and Creole seasoning. It makes the chicken super juicy!
Olive oil - for pan frying the chicken
Romaine lettuce - it's the traditional variety for Caesar salad since it's sturdy and holds all that delicious Cajun Caesar dressing
Parmesan cheese - I always keep a block in my fridge and freshly grate it
Croutons - use your favorite store-bought kind, or try making my homemade croutons
For the dressing
Mayo and sour cream - the rich base for the dressing. I use full fat versions.
Lemon juice - for a bright touch. Always use freshly squeezed.
Worcestershire sauce - it's for a savory, umami quality to get that signature Caesar flavor
Tony Chachere's Original Creole Seasoning - this blend of Cajun spices is prized by home chefs for good reason, and it replaces salt in all your recipes!
Garlic - for all that garlicky goodness in a good Caesar dressing
Pro tip
The chicken only needs 30 minutes to marinate with Tony's chicken marinade, so there's absolutely no need to worry about marinating it overnight like with other marinades! It makes it juicy and infuses Cajun flavors in such a short time.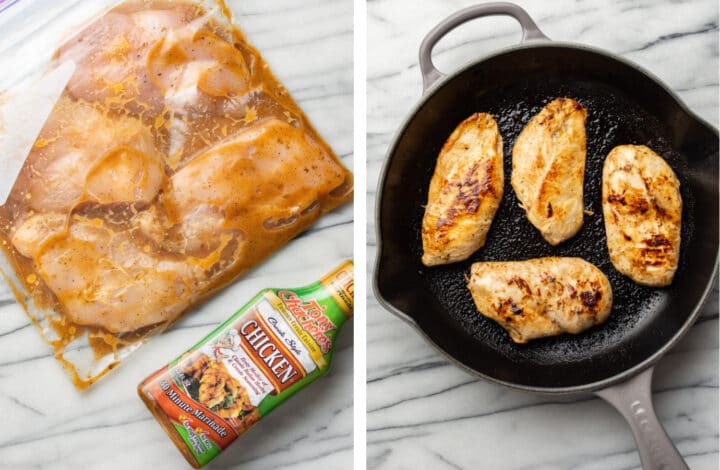 How to make Cajun chicken Caesar salad
This is an overview, and full ingredients & instructions are in the recipe card below.
Cut the chicken in half to make 4 cutlets. Add the chicken and Tony's marinade to a zip top bag, and marinate for half an hour.
Whisk the dressing ingredients together in a small bowl and refrigerate.
Prep the lettuce, grate the parmesan, and measure out the croutons.
Heat the oil in a skillet over medium-high heat. Discard the marinade, and pan fry the chicken until golden and it's reached 165F.
Assemble the salad, and top with the sliced chicken. Enjoy right away!
How to make it ahead
You can easily prep this salad ahead of time. Simply wash and tear up the lettuce and keep it in a large zip top bag and prep the other ingredients separately as well.
Store the dressing in a mason jar in the fridge. When you're ready, assemble the salad!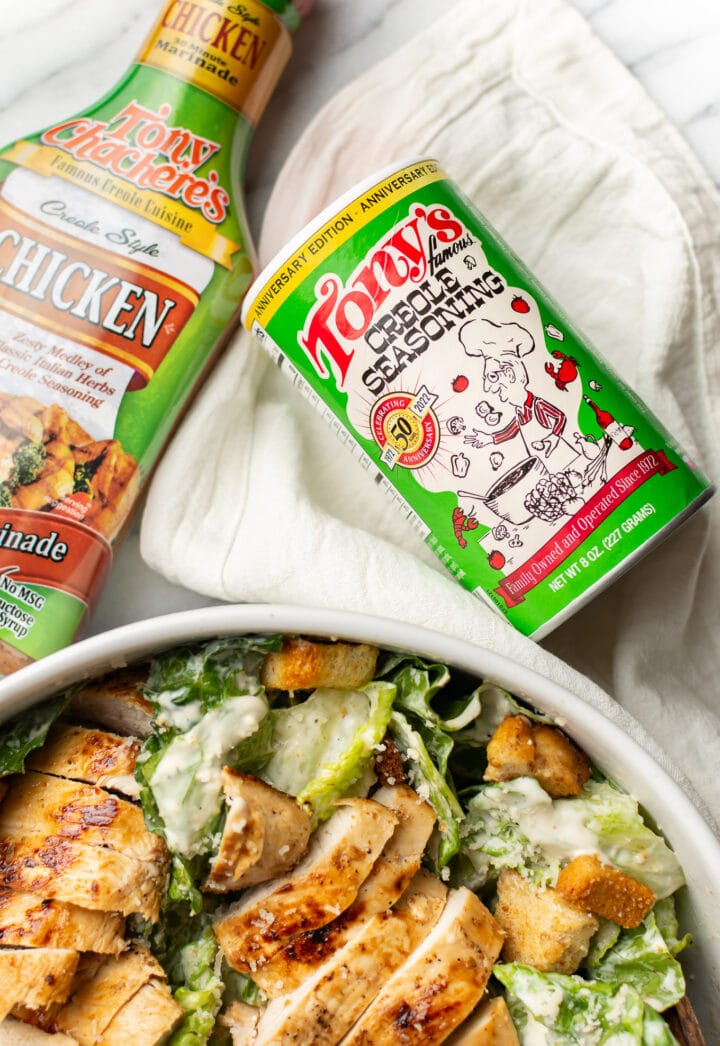 Substitutions and variations
You can swap the chicken breasts for chicken thighs, but you may need to cook them for a bit longer.
Feel free to throw the chicken on the grill if you prefer that to pan searing it.
Tony's Original Seasoning is salted, so there's no need to add extra salt to the dressing. If you're sensitive to salt, we recommend using Tony's No Salt Seasoning!
Leftovers and storage
The dressing will last 3-4 in the fridge in a covered container. I recommend storing it separately from the lettuce and other salad ingredients for leftovers since the lettuce will wilt quite quickly.
If you have leftover cooked chicken, it'll last 3-4 days in the fridge in an airtight container.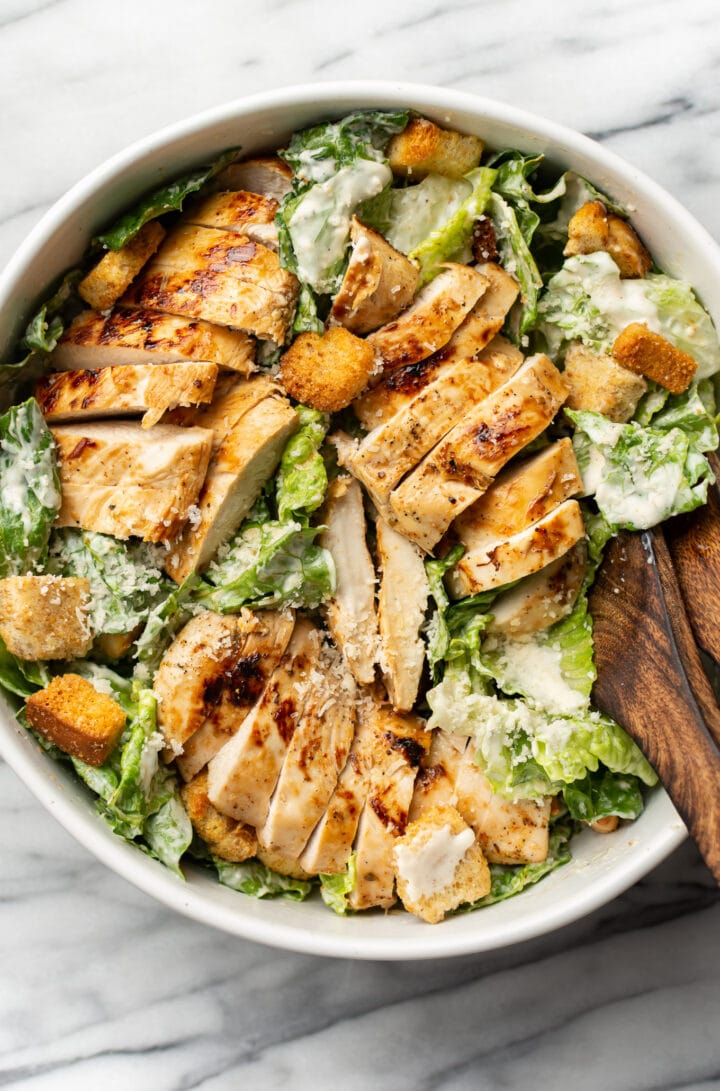 Did you make this Caesar salad with a Cajun kick? I'd love to hear from you in the comments below!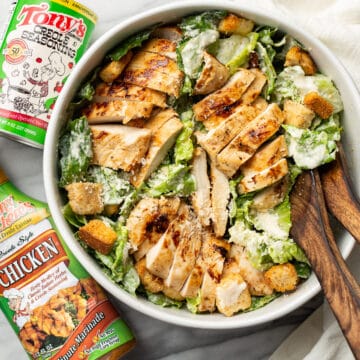 Cajun Chicken Caesar Salad
This Cajun chicken Caesar salad recipe will be the star of your next BBQ or cookout! It's loaded with bold Cajun flavors, and you'll be eating this zesty salad all summer long.
Ingredients
Salad:
2

large

chicken breasts

cut in half lengthwise

1

tablespoon

olive oil

for frying

1

head

romaine lettuce

(about 7 ounces if using pre-cut lettuce)

1/4

cup

freshly grated parmesan cheese

or to taste

1

handful

croutons

to taste
Instructions
Cut the chicken breasts in half lengthwise to make 4 thinner cutlets. Add them to a large zip top bag along with Tony's chicken marinade. Turn the bag a few times so the chicken is fully coated, and let it sit for 30 minutes.

Meanwhile, add the dressing ingredients to a medium bowl and stir/whisk together until smooth. Taste and adjust as needed (e.g. add more lemon juice, Tony's seasoning, or garlic).

Prepare the salad ingredients (tear lettuce into bite-size pieces and add it to a large salad bowl, grate the parmesan cheese, and measure out the croutons).

Once the chicken has finished marinating, heat the olive oil in a large skillet over medium-high heat. Once the pan is hot, add the chicken pieces (remove the chicken from the bag and discard the leftover marinade) - this will ensure the chicken gets a nice sear. Cook for about 5 minutes/side or until the chicken is cooked through, then transfer to a plate.

While the chicken cools a bit, assemble the salad. Gradually drizzle on the dressing to taste. Toss and then top with the cooked chicken (slice it into strips first). If you have any dressing left over, it'll be good in the fridge in a covered container for a few days. Serve the salad immediately.
Notes
Serves 4-6 depending on portion size/what else it's served with.
Tony Chachere's Original Creole Seasoning and 30-Minute Chicken Marinade contain salt, so there is no need to add extra salt to this recipe.