Hello cheesy baked meatball skillet of your dreams! Tender and flavorful meatballs, a rich tomato sauce, and plenty of melted cheese make this skillet recipe a winner.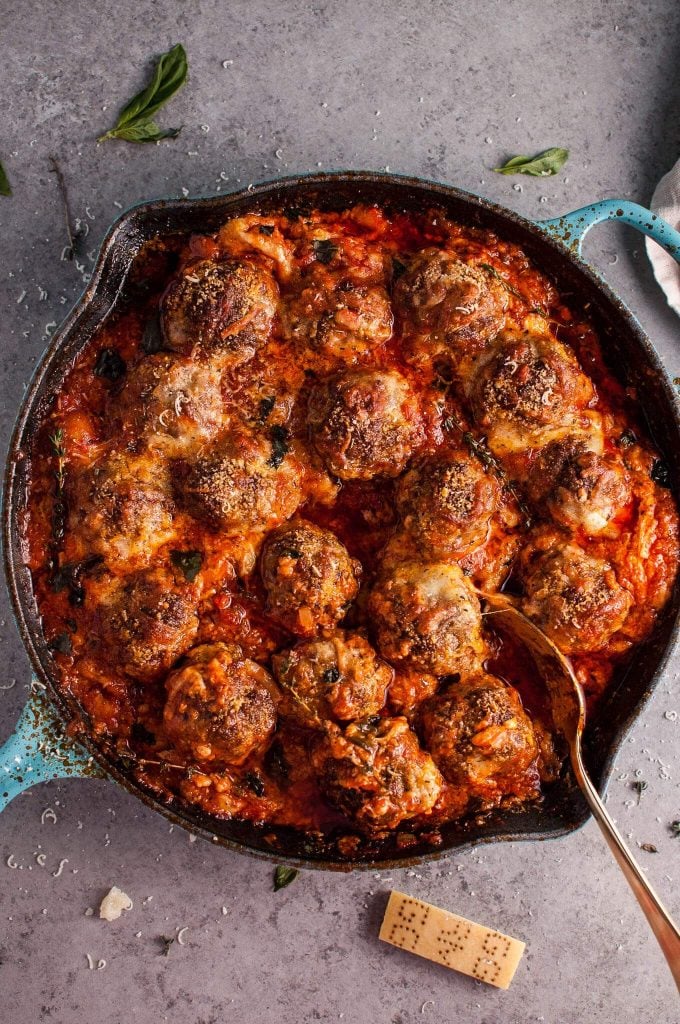 What we have here is unapologetic calorie-laden comfort food, and there's nothing wrong with that. I was just getting over a cold on the weekend that I made this. I wanted something warm, comforting, TASTY, and I didn't care if it was healthy or not.
I really like making meatballs (get a life?), so I had fun making this. I also enjoyed peeking in the oven window and watching the cheese melt. My Saturday night, folks. That's ok, though.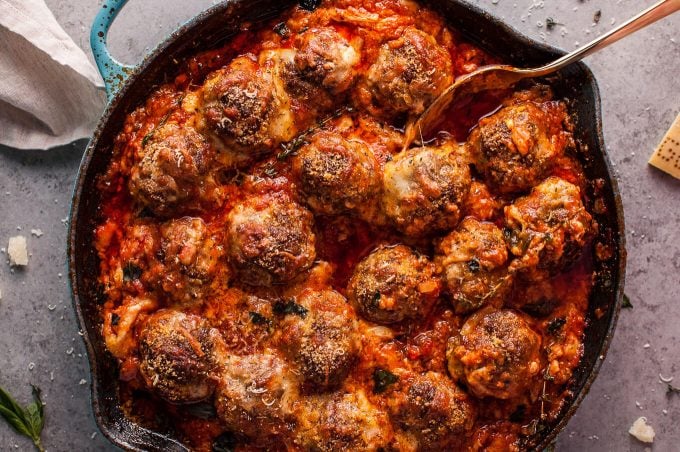 If you don't own an oven-proof skillet, don't fret. You can still make this. You'll just need to transfer everything into a deep baking dish once you've made the sauce and do a few more dishes.  It's worth it.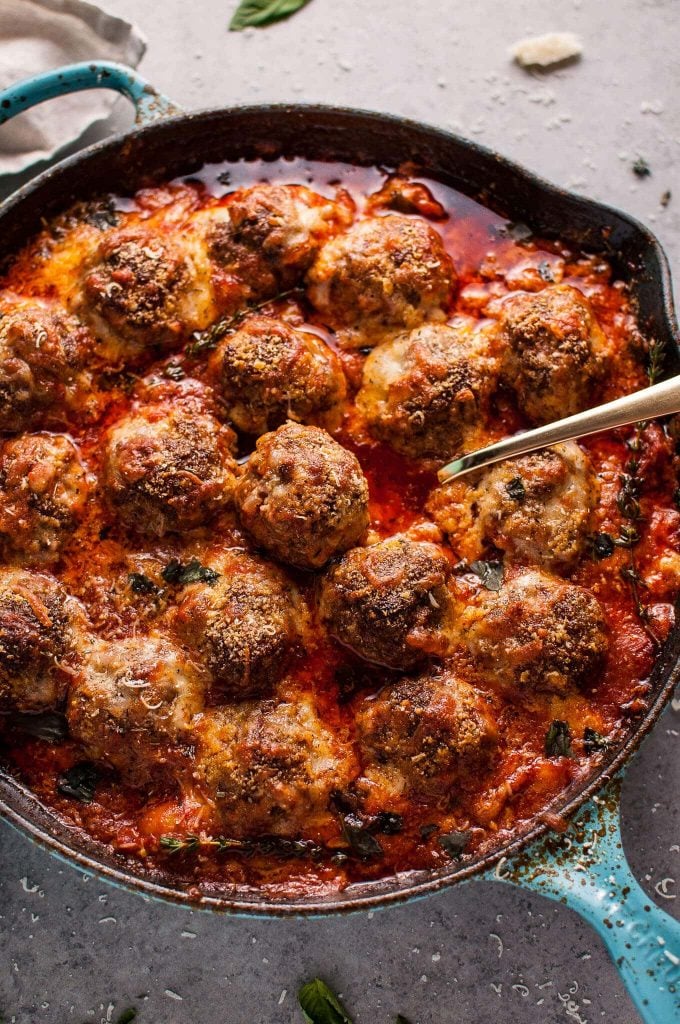 You can serve the meatballs and sauce with the pasta of your choice, crusty bread (or garlic bread!), or do as I did and just devour the meatballs and sauce by themselves (I did it over a few days if you were wondering). 😉
Cheesy baked meatball skillet – yay or nay?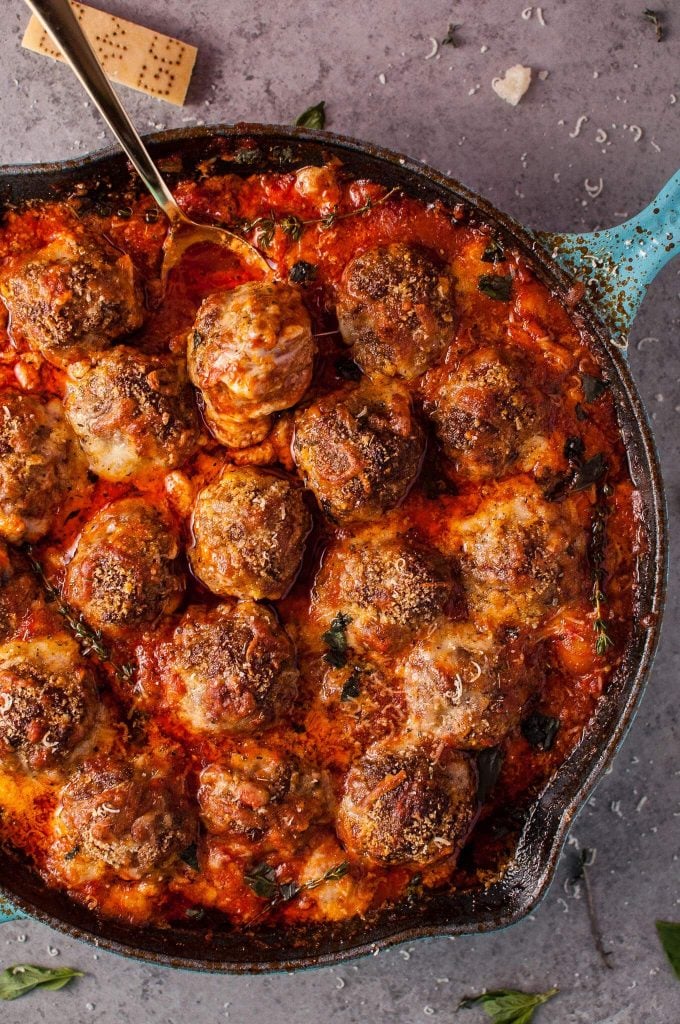 Cheesy skillet meatballs can be yours with this recipe: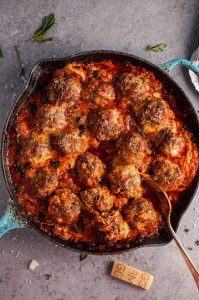 Print
Cheesy Baked Meatball Skillet
Yield 4-6
Tender and flavorful meatballs, a rich tomato sauce, and plenty of melted cheese make this skillet recipe a winner.
Ingredients
Meatballs:
1 pound lean ground beef
1 pound lean ground pork
1/2 teaspoon dried oregano
1/2 teaspoon ground sage
1/2 teaspoon onion powder
1/4 teaspoon ground nutmeg
5 cloves garlic, minced
1 egg
1/3 cup breadcrumbs (I used Italian flavor)
1 cup grated parmesan cheese
Salt & pepper, to taste
Sauce:
1 tablespoon olive oil
1 medium onion, chopped
4 sprigs fresh thyme (remove leaves)
8 leaves fresh basil, torn
1 (13.5 fluid ounce) can chunky tomatoes
1 (13.5 fluid ounce) can tomato sauce
Pinch Italian seasoning
1 tablespoon Worcestershire sauce
1 clove garlic, minced
Salt & pepper, to taste
To top skillet:
1 cup grated mozzarella
1 cup grated parmesan cheese
Instructions
Grate the parmesan cheese (grate the two cups needed, and divide it in half). Grate the mozzarella if you didn't buy an already shredded variety.
Preheat oven to 375F and move the rack to the top third of the oven. Line a baking sheet with tin foil.
Prepare the meatballs by adding all the meatball ingredients to a large bowl and gently mixing it with your hands and forming it into 2" meatballs. I made 18 meatballs. Place the meatballs on the baking sheet and bake them for 20 minutes.
Meanwhile, make the sauce in a deep, oven-proof skillet. Chop the onion and then sauté it in the oil for about 5 minutes on medium-high heat. Add the remaining sauce ingredients and simmer for another 5 minutes.
Take the meatballs out of the oven and add them to the skillet in an even layer. Place the skillet in the oven for 20 minutes to ensure the meatballs are cooked through and that the sauce thickens a bit more.
Remove the skillet from the oven and sprinkle the mozzarella and parmesan cheeses over top. Place it back in the oven for another 10 minutes. If desired, broil for an additional few minutes to brown the cheese.
Serve immediately with pasta, bread, a salad, or devour the meatballs by themselves.
Notes
Can be made without an oven-proof skillet. Just transfer meatballs and sauce to a large, deep baking dish after step 4.
This is my trusty skillet (pictured). It's 2" deep. Make sure your skillet is deep so it doesn't overflow in the oven.
Courses Main Course
Cuisine Italian
If you like meatballs, you'll love my recipe for sausage meatballs in a roasted tomato sauce too. 🙂