Crispy lemon herb chicken and potatoes is an easy to make and flavorful one pan meal!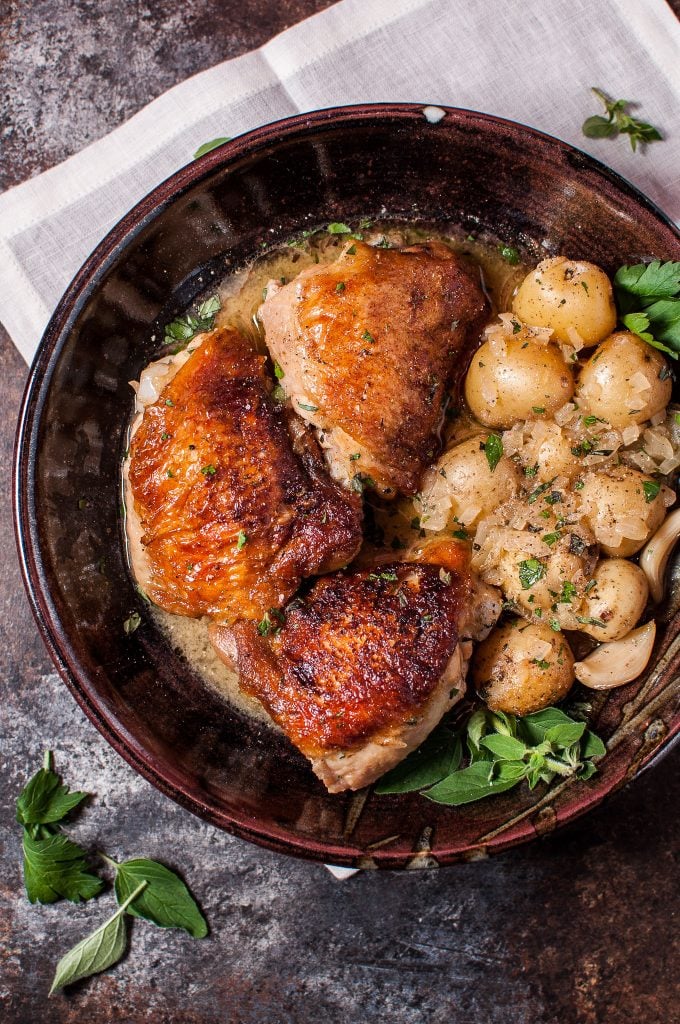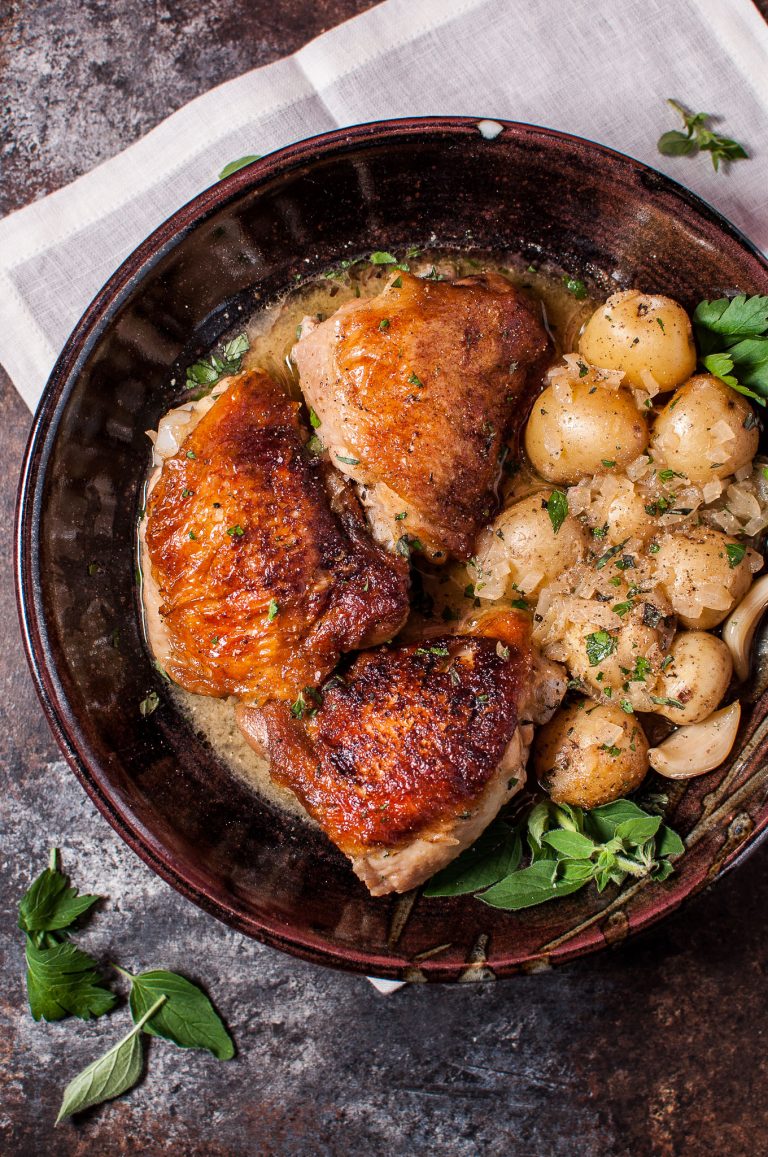 Sorry for the delay in getting this post up! I've been having some technical difficulties and I don't think they're quite sorted out yet.
Hopefully we'll be back to normal soon... but if you're seeing anything weird on the site, that's why!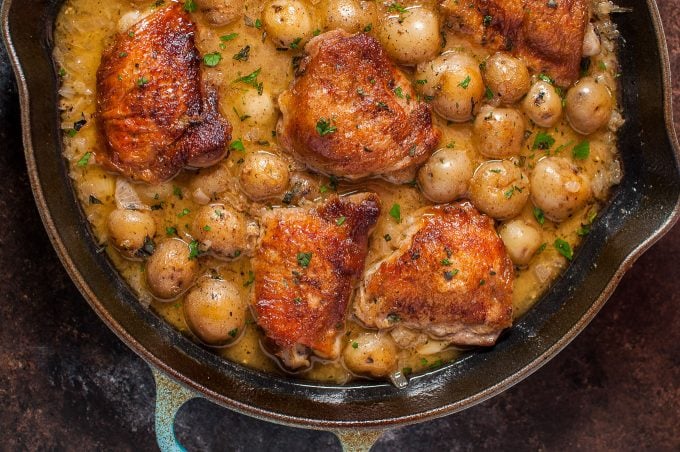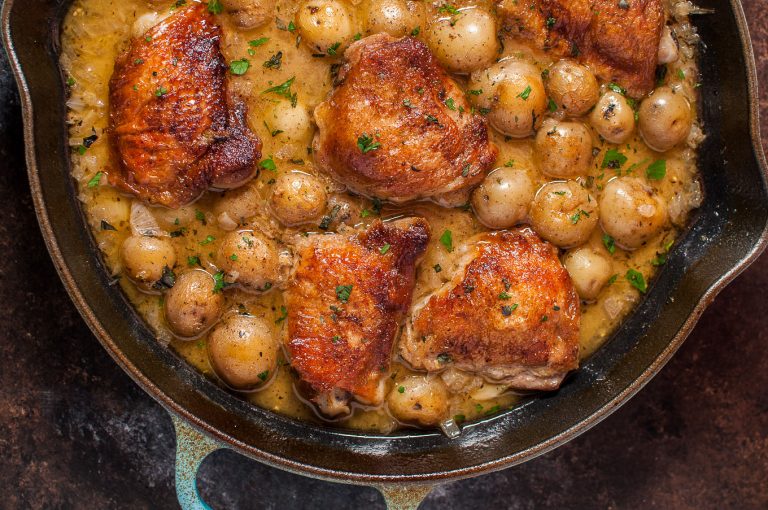 This is quite possibly my favorite one pan creation! We had some little potatoes left over and I just threw them in. It worked out well.
I'm really liking crispy skin chicken lately. Not that I ever disliked it... I've just cooked it more in the last few weeks than I have in a looong time. I tend to default to boneless, skinless chicken breasts when I make chicken recipes. They have their uses, but chicken thighs are the best for cooking in the oven as they don't dry out as easily.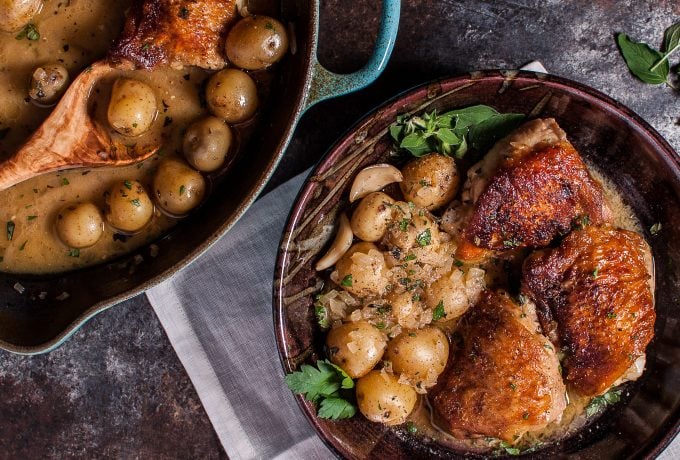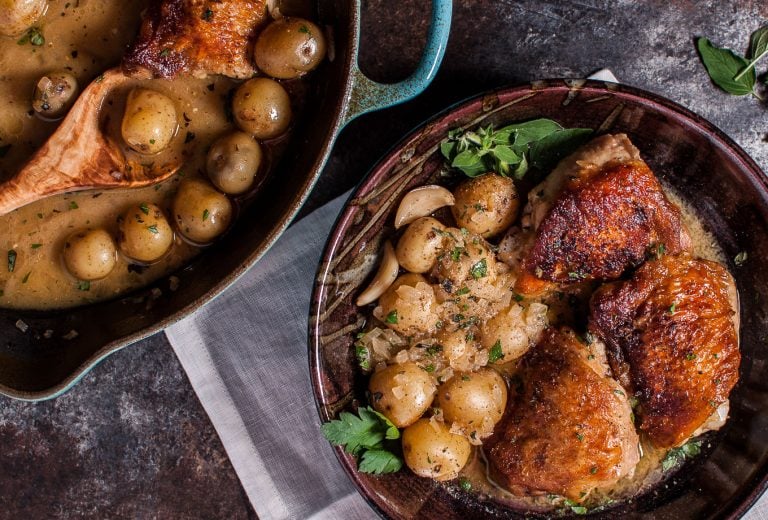 The whole garlic cloves become these melt-in-your-mouth treats when you bite into them. The oven really works its magic in this recipe. 🙂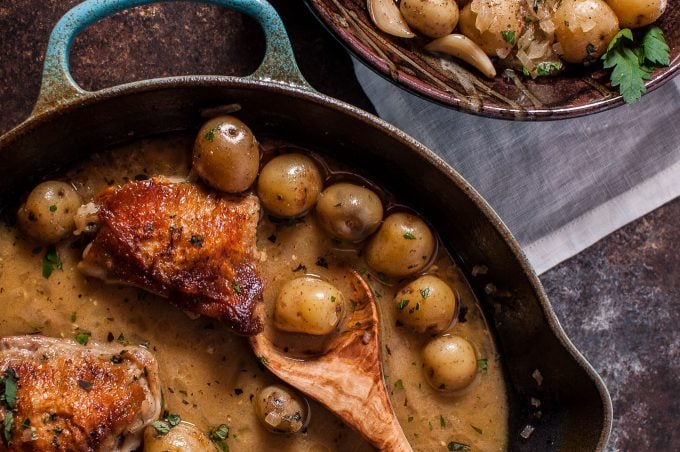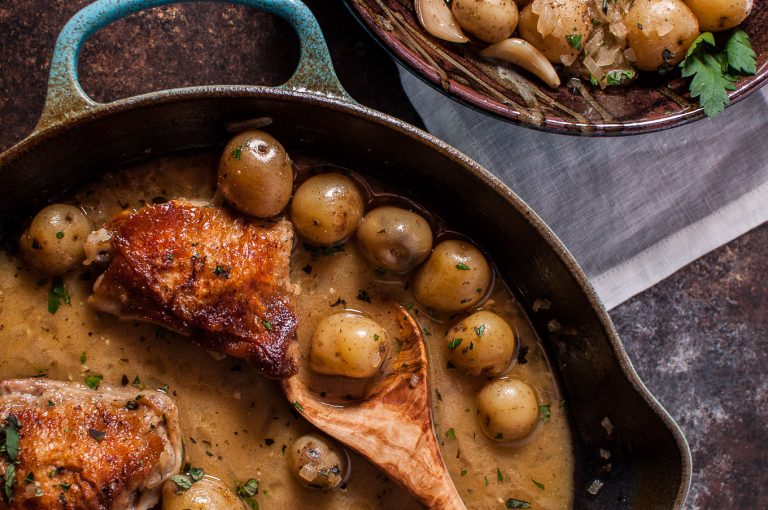 This chicken recipe is hot and comforting, but the fresh herbs and lemon make it suitably summery. This week has been pretty bleh weather-wise, but I guess we need the rain. It's supposed to pick up this weekend, however, so I will hopefully get outside for some nature walks. I like living on the edge.
Will you make this one pan crispy lemon herb chicken and potatoes dish?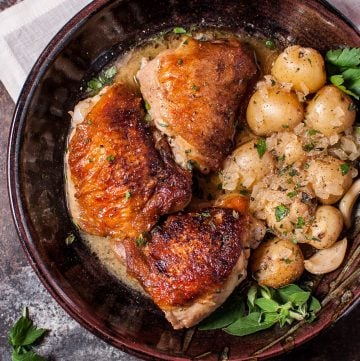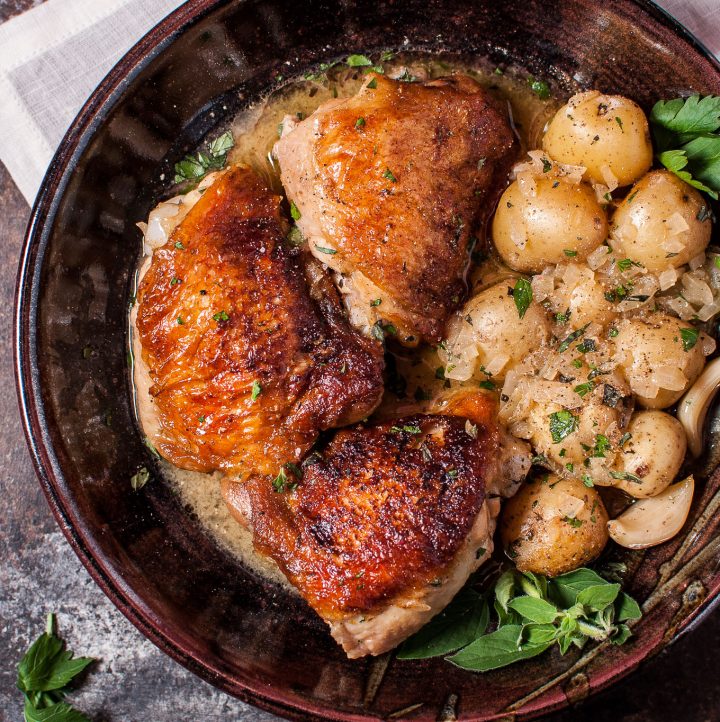 Crispy Lemon Herb Chicken and Potatoes
Delicious crispy skin lemon herb chicken with little potatoes. All done in one skillet.
Ingredients
6

chicken thighs (skin on)

1

tablespoon

olive oil

1/2

medium onion

chopped

2

(10 fluid ounce) cans chicken broth

Juice from 1 lemon

1

teaspoon

honey

1

tablespoon

Dijon mustard

6

garlic cloves (whole, peeled)

Pinch

of Italian seasoning

3/4

pound

little potatoes

Salt & pepper

to taste

1

tablespoon

(or to taste) fresh parsley

chopped

1

tablespoon

(or to taste) fresh oregano

chopped
Instructions
Pre-heat oven to 350F and place the rack in the middle of the oven.

Season chicken with salt & pepper on both sides.

Add the olive oil to a large, deep skillet (mine is 2" deep) on medium-high heat. Once the oil is hot, add the chicken pieces (skin down) to the skillet. Cook for 8-10 minutes until the skin is crispy. You may need to turn down the heat a bit if the oil is splattering a lot, but you still want to make sure the pan is hot. Turn the chicken and cook for an additional 3-4 minutes.

Meanwhile, chop the onion.

Once the chicken is done frying, take it out of the pan and set it aside.

Add the onion to the pan and cook it for about five minutes or until it's lightly browned.

Add the chicken broth, lemon juice, honey, mustard, garlic cloves, Italian seasoning, and salt & pepper (if desired) to the pan. Stir until the mustard is dissolved.

Add the chicken back into the pan and place the little potatoes around the chicken. Put the pan in the oven and cook for 45 minutes.

Chop the parsley and oregano and set aside.

Prior to serving, sprinkle the chopped herbs on top and serve immediately.
Notes
If you don't have an oven proof skillet, you can transfer everything from your pan into a baking dish after step 7.
Serves 4-6.
This is the skillet I used to make this recipe.