This easy baked beans recipe with bacon is warm, comforting, sweet, a little smoky, and totally delicious.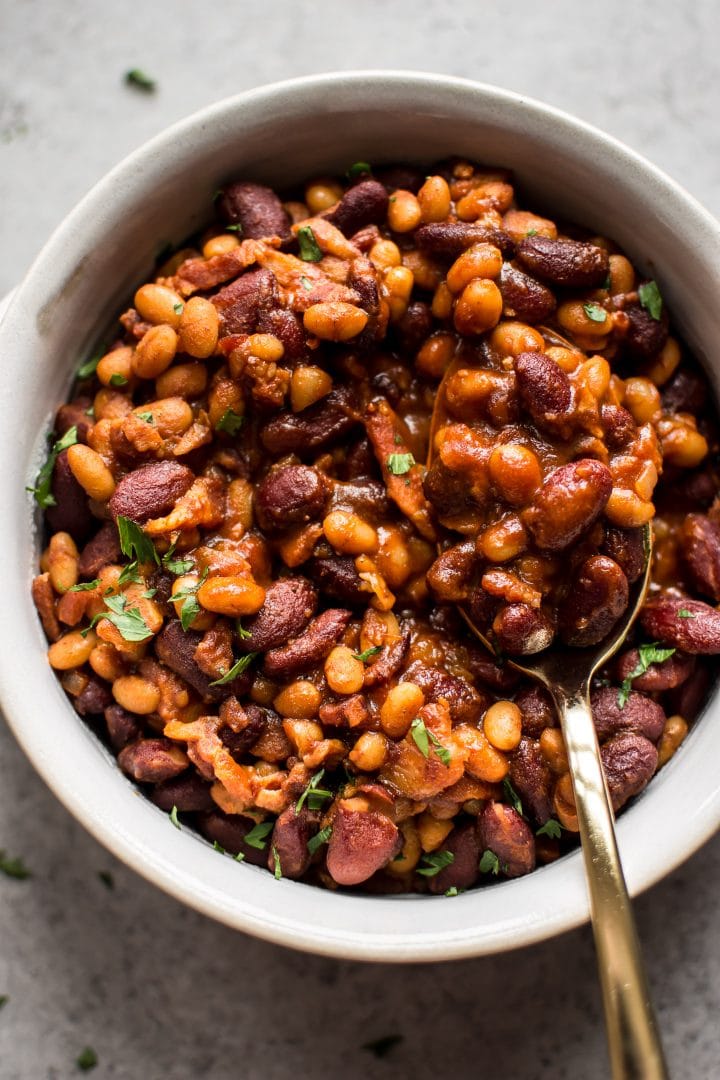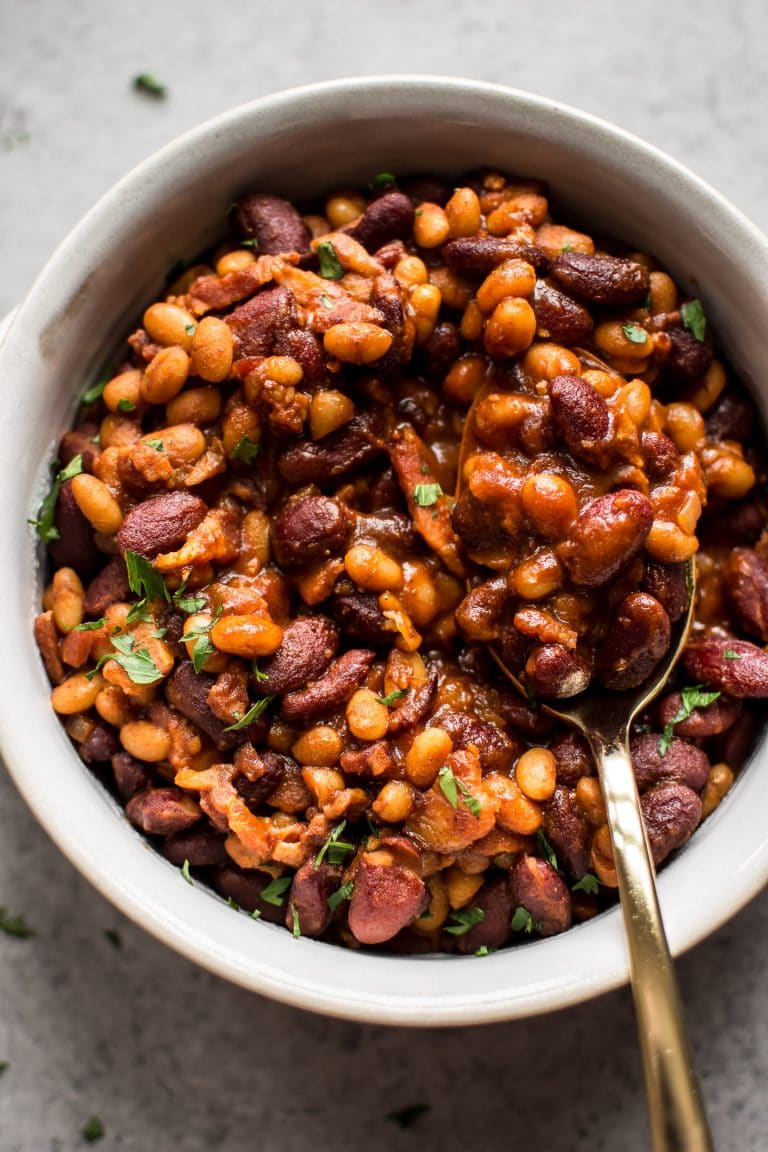 I originally intended this homemade baked beans recipe to be cooked in the Crockpot with dried navy beans, but I could not get it to work. With dried beans (even when you soak them overnight), you can't predict if they'll still be a bit hard, unfortunately. When you buy dried beans from a store, you have no idea how old they are.
So, I decided to not give up (the flavors were awesome) and use canned navy and kidney beans to ensure this baked beans recipe had deliciously soft and creamy beans. The bonus with the oven method is that it speeds the recipe up by quite a few hours!
These Boston baked beans are delicious. I love beans in general, but somehow I've never really been a baked beans kinda gal. That changed with this recipe. Making baked beans from scratch makes them a whole lot more tasty.
These are great served as a cold weather side dish, a main meal, or as a part of a summer cookout or BBQ. What I'm saying really is that there's no wrong time for these baked beans with bacon. 😉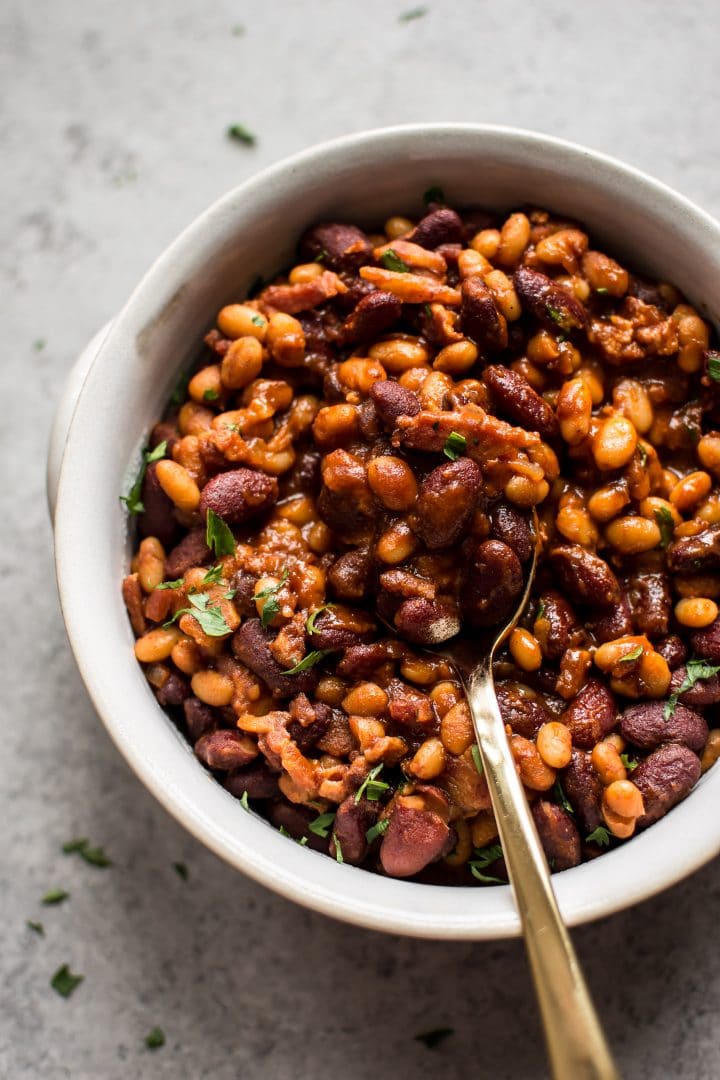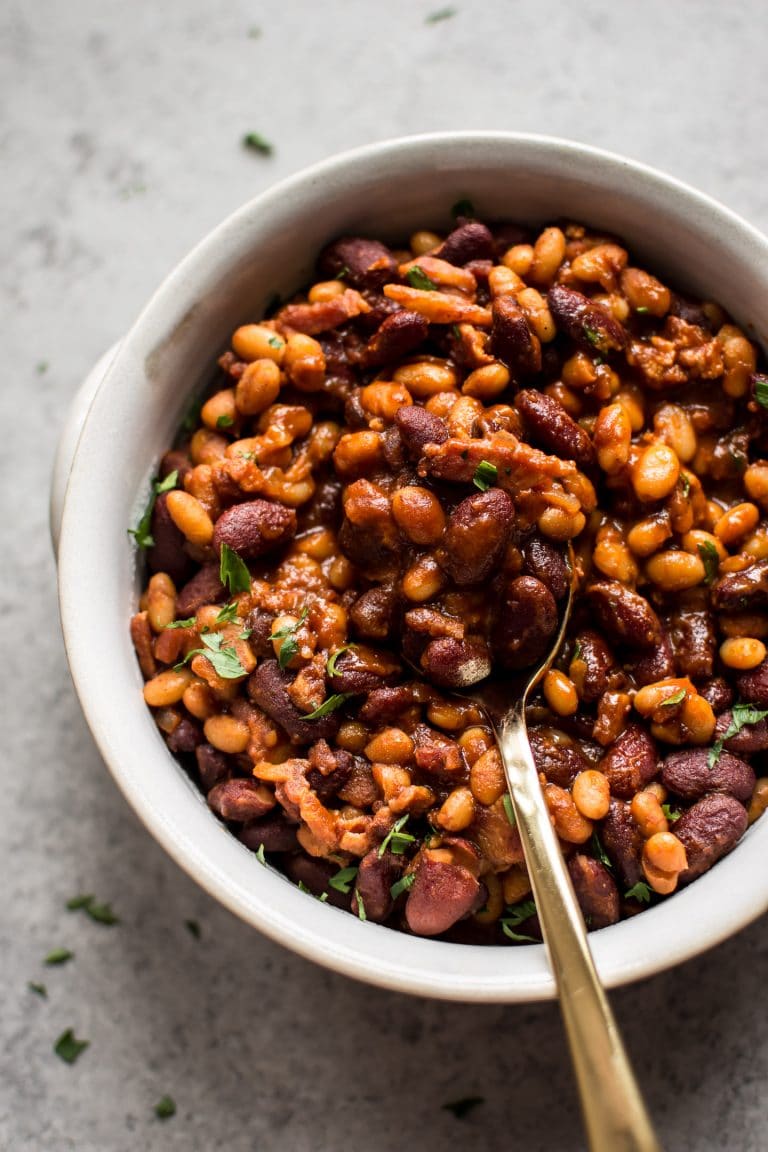 How to make baked beans in the oven
Fry up the bacon;
Whisk the sauce ingredients together;
Drain some of the bacon fat;
Cook onion in the remaining bacon grease;
Add the beans and sauce;
Bake for 45 minutes.
I like using a Dutch oven because you can make the entire recipe in there from start to finish. You don't need a Dutch oven, though. You can always use a baking dish once you've reached the point where it's time to bake the beans.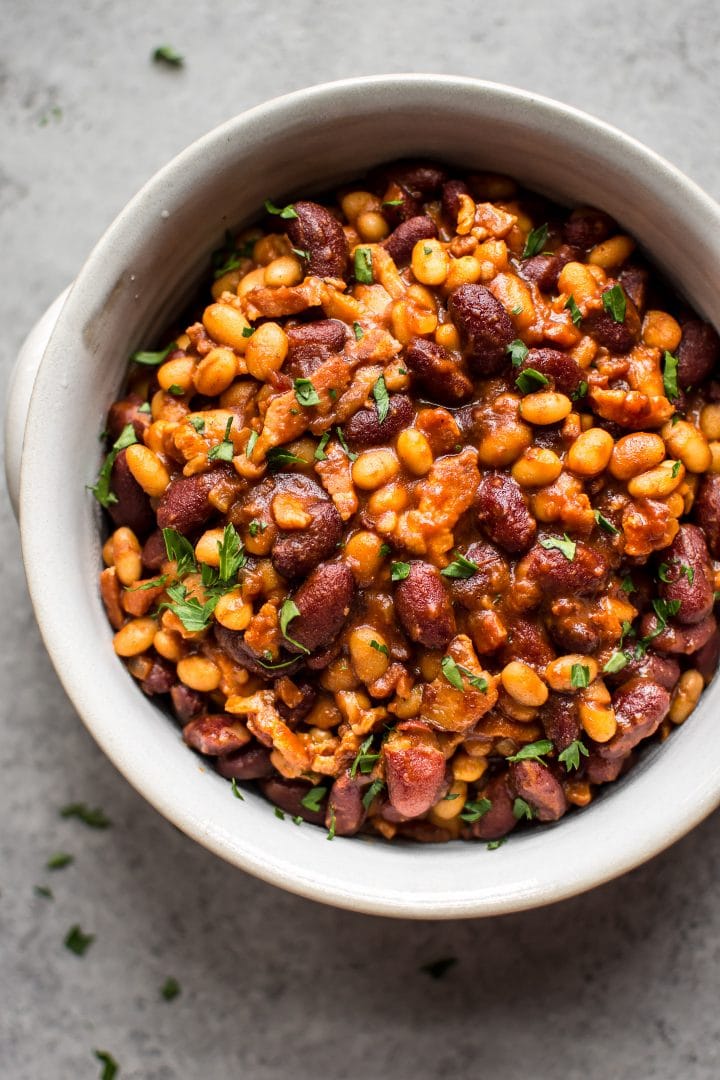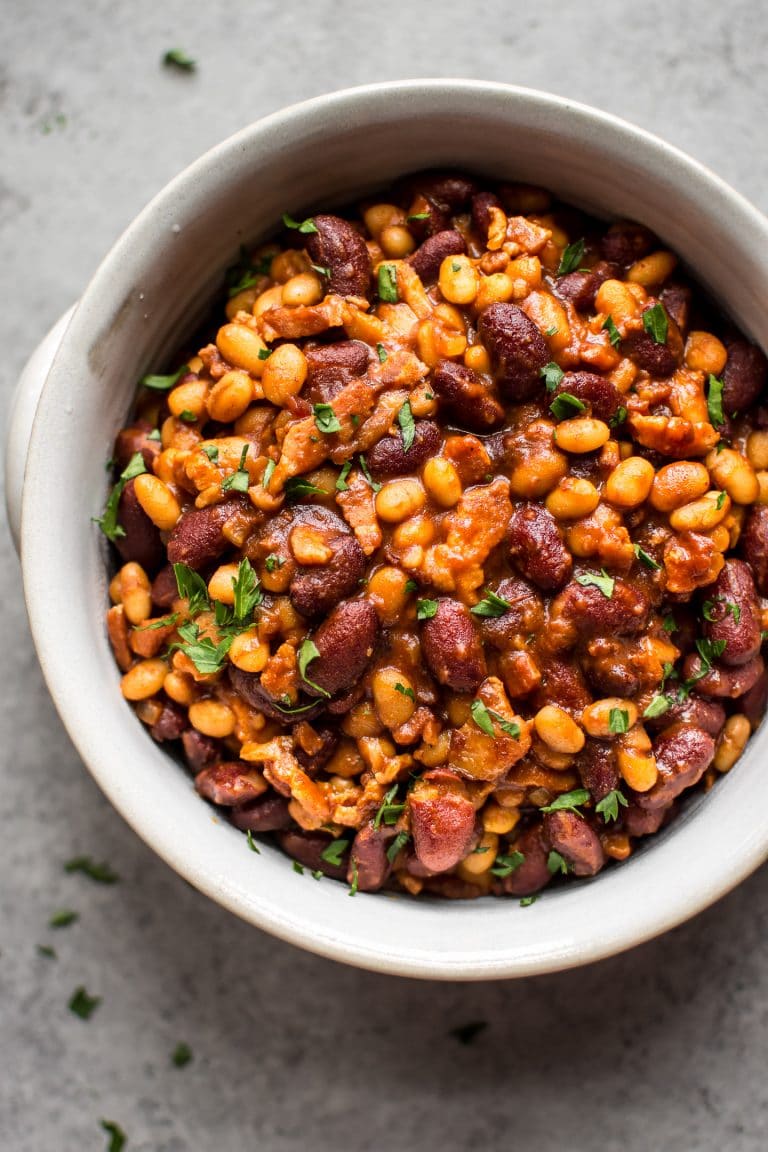 Hope you will enjoy this easy baked beans recipe!
Let me know in the comments below if you have any questions.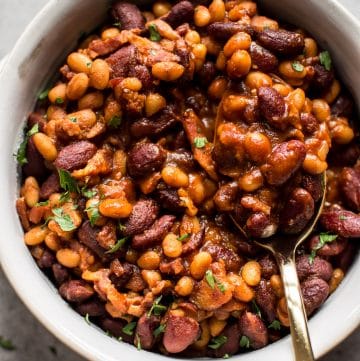 Easy Baked Beans with Bacon
This easy baked beans recipe with bacon is warm, comforting, sweet, a little smoky, and totally delicious.
Ingredients
1

pound

bacon

cut into small pieces

1/2

medium onion

chopped

2

(15 fluid ounce)

cans navy beans

drained

2

(15 fluid ounce)

cans red kidney beans

drained
Sauce Ingredients:
1/4

cup

molasses

1/4

cup

brown sugar

packed

1

tablespoon

Dijon mustard

1/2

teaspoon

liquid smoke

1

tablespoon

Worcestershire sauce

1

tablespoon

cider vinegar

1

teaspoon

smoked paprika

1/2

teaspoon

garlic powder

pepper

to taste

1

(5.5 ounce)

can tomato paste

1

cup

water

Salt

to taste
Instructions
Preheat oven to 375F and move the rack to the middle position.

Cut up bacon into small pieces (I use kitchen shears) and add to a fairly large pot (I recommend a Dutch oven because it's oven-safe). Fry bacon over medium-high heat until it's about crispy (approx. 20 minutes).

Meanwhile, add the sauce ingredients to a medium bowl and whisk together until smooth.

Once the bacon is about ready, drain most of the fat, leaving some for flavor.

Add the onion to the pot and cook it for a few minutes, until softened.

Add the drained beans and the sauce to the pot. Give it a good stir.

Assuming you're using a Dutch oven, place it in the preheated oven uncovered, and cook the beans for 45 minutes. If you're not using a Dutch oven, transfer the beans to a large baking dish/pan and cook for 45 minutes.

Give the beans a taste and season with salt & pepper as needed.
Notes
You can use slightly larger or smaller cans of beans (like I usually buy 19 fl. oz. cans of beans) - it won't make too much of a difference to overall taste.
I did give the beans a stir about halfway through their 45 minutes in the oven, but I wouldn't say this is necessary.
Serves 6+ depending on how much people eat.