Tender fried chicken sliders with spicy mayo are a tasty little treat! Perfect anytime.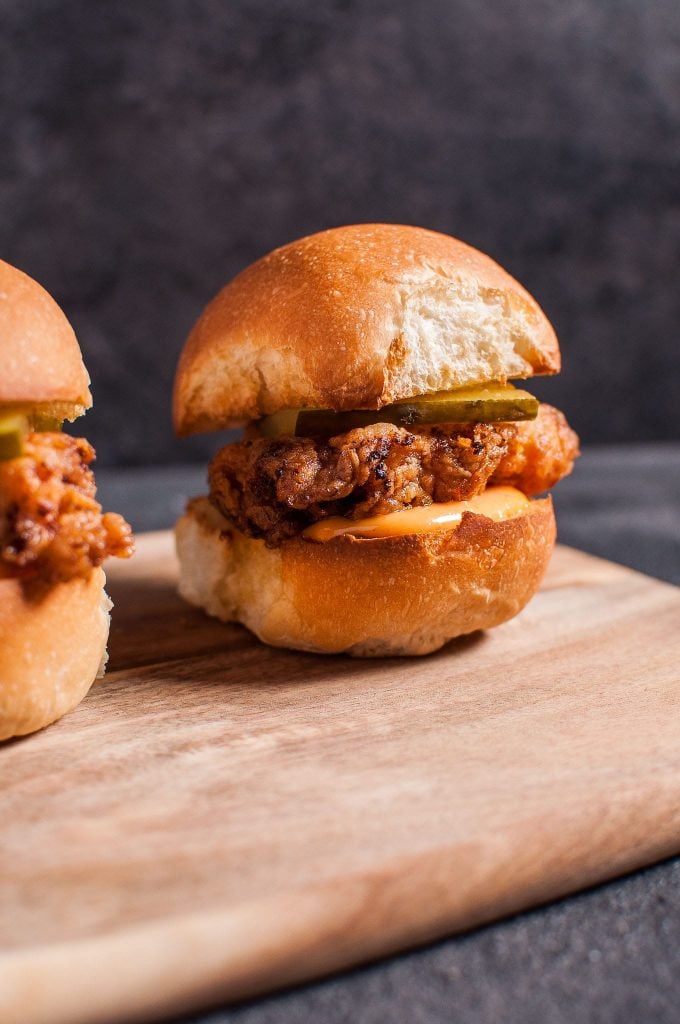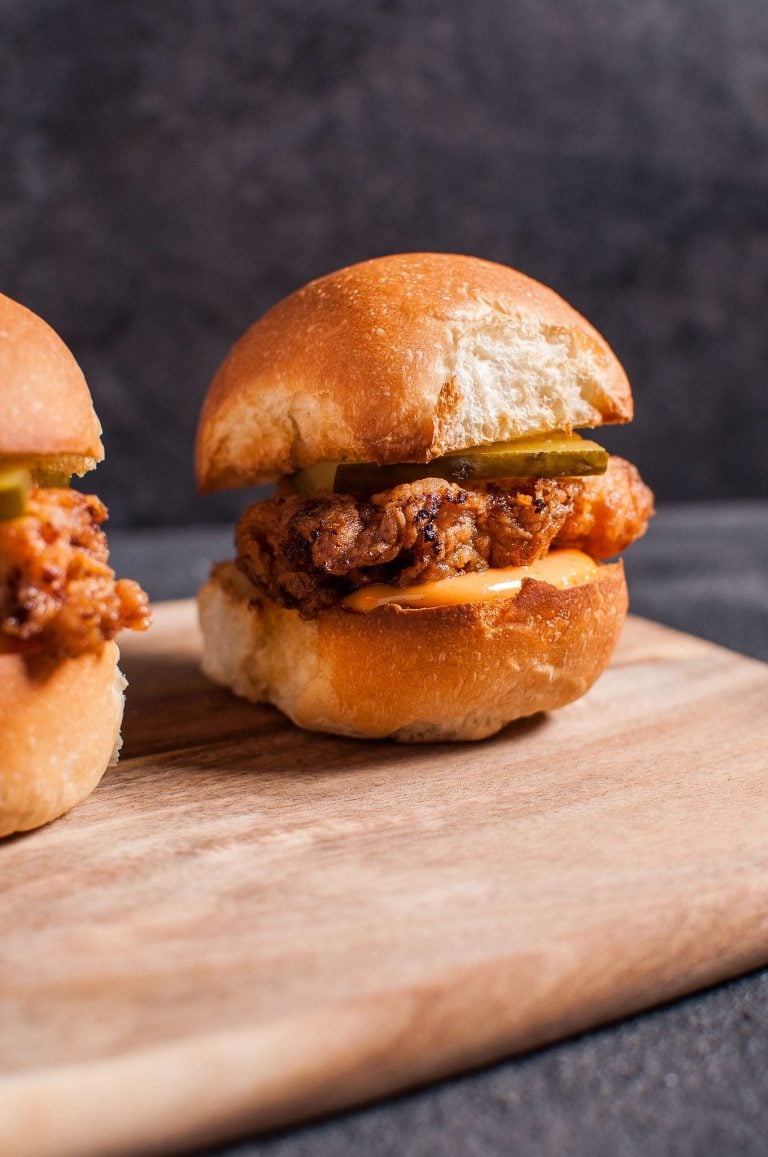 With Canada Day (I get Friday off work woo!) and the 4th of July coming up soon, why not make these and impress your friends? Or eat them all by yourself if you feel like being antisocial. I would.
These sliders are really cute! Little foodstuffs just are. Teeny burgers, big taste. Bet you can't eat just one.
The buttermilk marinade tenderizes the chicken, and peanut oil is THE oil to fry chicken in. I like how fast these cook. I sliced the chicken breasts in half lengthwise to make them thinner so they're slider-sized. It only took about five minutes per side to fry these to golden perfection.
The spicy sauce is just mayo, sriracha sauce, honey, vinegar, and garlic powder. Super simple, but definitely addictive. Fried chicken doesn't need bells and whistles.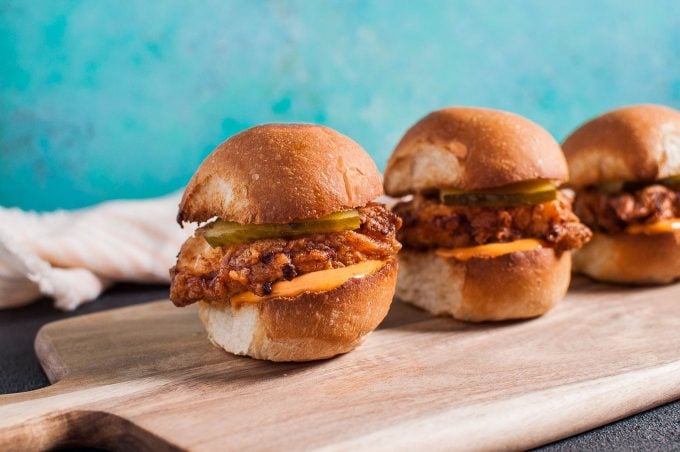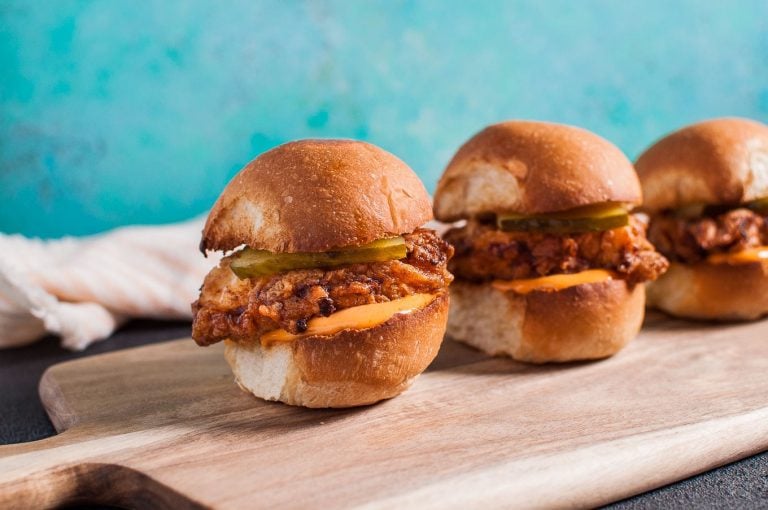 I love fried chicken. Here's the only other fried chicken recipe on my blog. It's really good too. I see more fried chicken recipes in my future...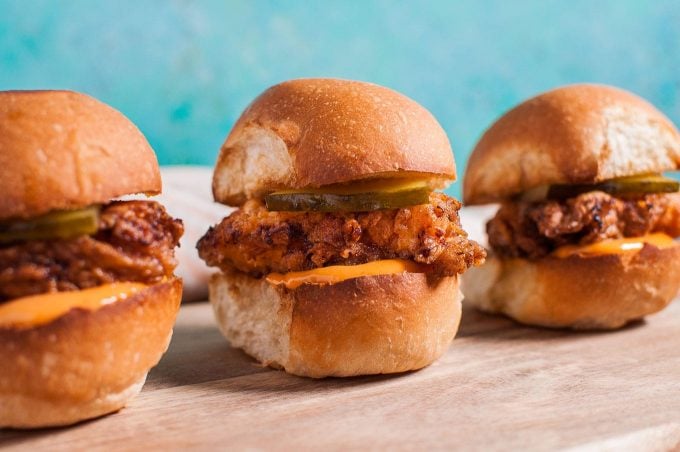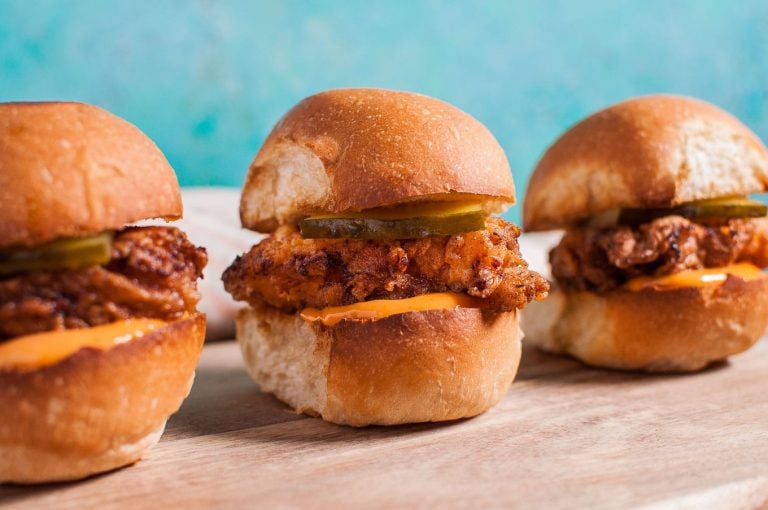 Questions about these spicy fried chicken sliders?
Let me know!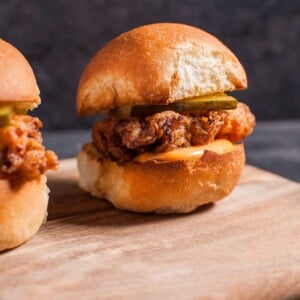 Fried Chicken Sliders with Spicy Mayo
Tender fried chicken sliders with a spicy mayo!
Ingredients
2

large chicken breasts

2

cups

buttermilk

1 1/2

cups

flour

1

teaspoon

smoked paprika

1

teaspoon

onion powder

1/2

teaspoon

chipotle chili pepper

Salt & pepper

to taste
Sauce:
1/2

cup

mayo

1

tablespoon

sriracha sauce

1

teaspoon

honey

1/2

teaspoon

red wine vinegar

1/2

teaspoon

garlic powder
Other:
Peanut oil for frying

Slider buns

Pickles

Butter (optional)

for buns
Instructions
Butterfly then cut each chicken breast into quarters (you'll end up with eight pieces in total). Remove any fat/gristle.

Place in a bowl and cover with the buttermilk. Cover it and refrigerate for at least six hours (overnight works, or up to one day).

Make the sauce by combining the sauce ingredients together (I just mix them with a spoon). Keep in the fridge until you're ready to use it. Can be made ahead a day or two if needed.

Add the smoked paprika, onion powder, garlic powder, chipotle chili pepper, and salt and pepper (I am generous with both) to the flour and stir it in.

Heat about 1/2" of peanut oil in a heavy pot on medium-high heat.

To test if the oil is hot, I drop a little flour in and see if it sizzles (a thermometer should read between 350-375F). Add the chicken pieces in one at a time (take a piece of chicken out of the buttermilk, coat in flour, place in pan, repeat). Cook for about 5 minutes/side or until they're cooked through. Don't overcrowd the chicken. You'll probably have to do at least two batches. Best practices say the oil should be kept around 300-325F while cooking (the temperature will drop once you add the chicken in). I use tongs to turn the chicken.

(Optional) If desired, you can toast the buns. Oven method: cut the buns in half and butter them then put them in a 350F oven for about 5 minutes or they're done to your liking. You could also butter them then place them in a separate skillet on medium heat until the inside of the buns are golden and toasted. You may need to soften the butter in the microwave to make the buttering process easier (if it's melted to oblivion, brush it on).

Assemble sliders by adding the mayo, chicken, and pickles. Devour!
Notes
Frying in hot oil is safe if you do it correctly. I suggest using a deep frying thermometer to monitor the oil temperature, keep kids/pets away from the stove, and don't take your eyes off it. We're only frying in about a half inch of oil here, but there's still potential for things to go sideways if you're not careful. I use a heavy cast iron pot (this one here). I also use tongs to turn the chicken.
Peanut oil has a high smoke point, so it is ideal for frying chicken.