These funfetti cake mix cookies are delicious, easy, and soft & chewy. Cookies have never been easier!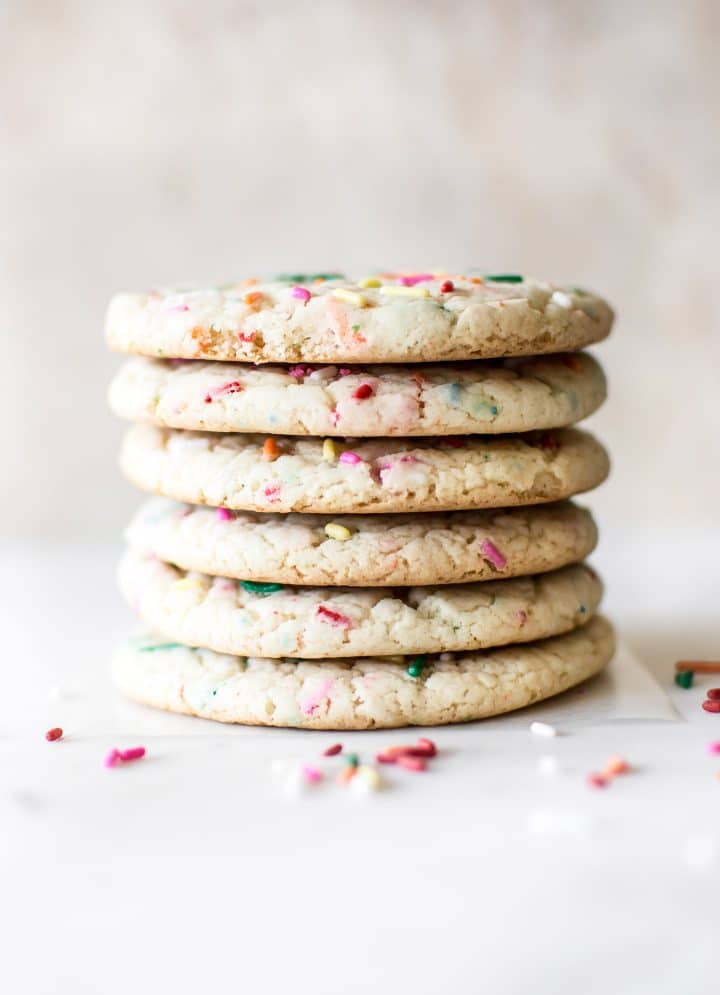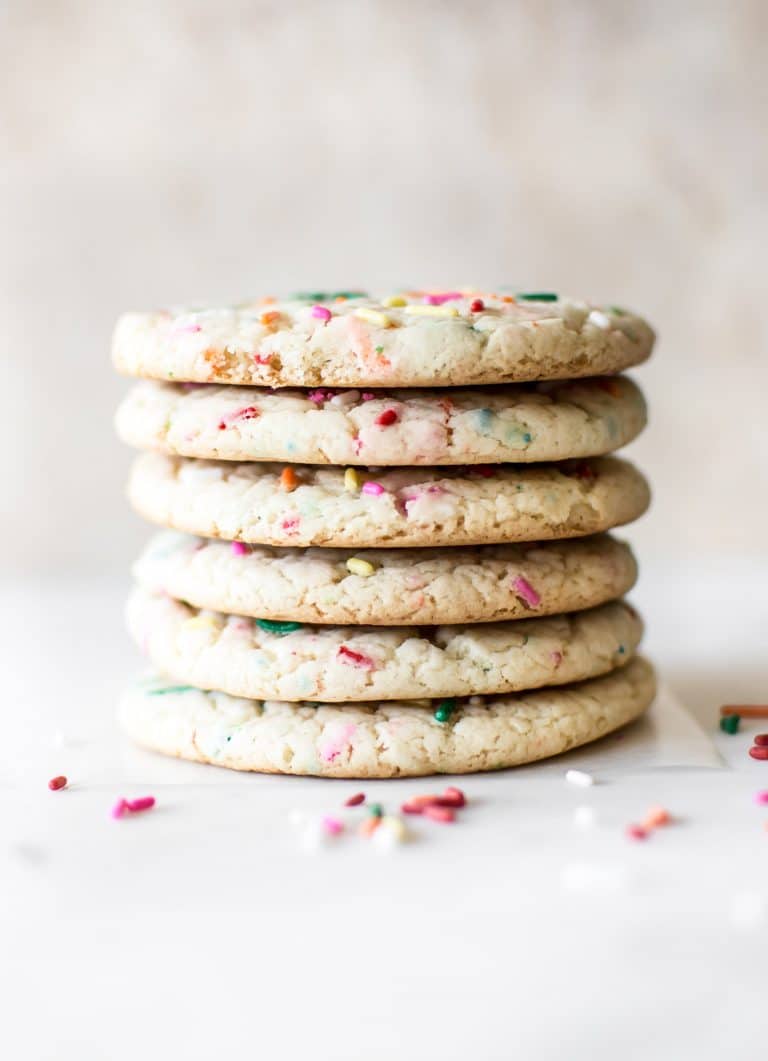 I make most recipes from scratch, but I do have a soft spot for cake mix cookies. They're really hard to screw up. 😀
These rainbow sprinkle cake mix cookies are perfect for birthdays or anytime you want a little pop of color and fun injected into your life.
You don't need to think much. You don't need to have a pantry full of ingredients. You just need two eggs, vegetable oil, a box of funfetti cake mix, and some extra sprinkles if you want.
Who can refuse extra sprinkles? Not me. I love rainbow sprinkles. Or "jimmies" as some people call them (I only recently discovered this).
I'm like 5... sprinkles, unicorns, and glitter are the best things ever, so naturally these funfetti cake batter cookies are right up my alley.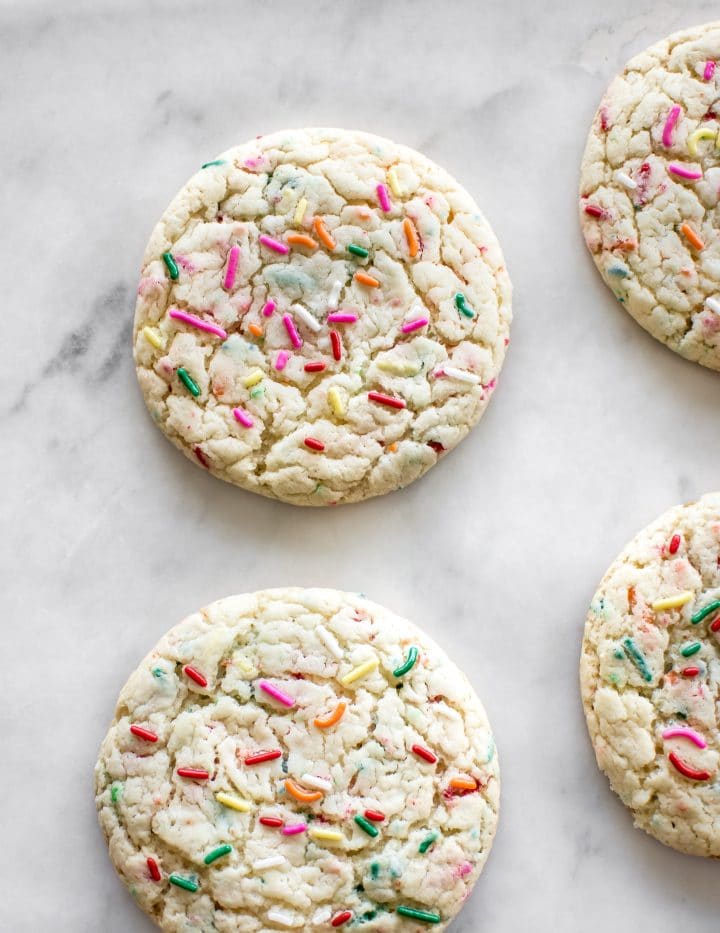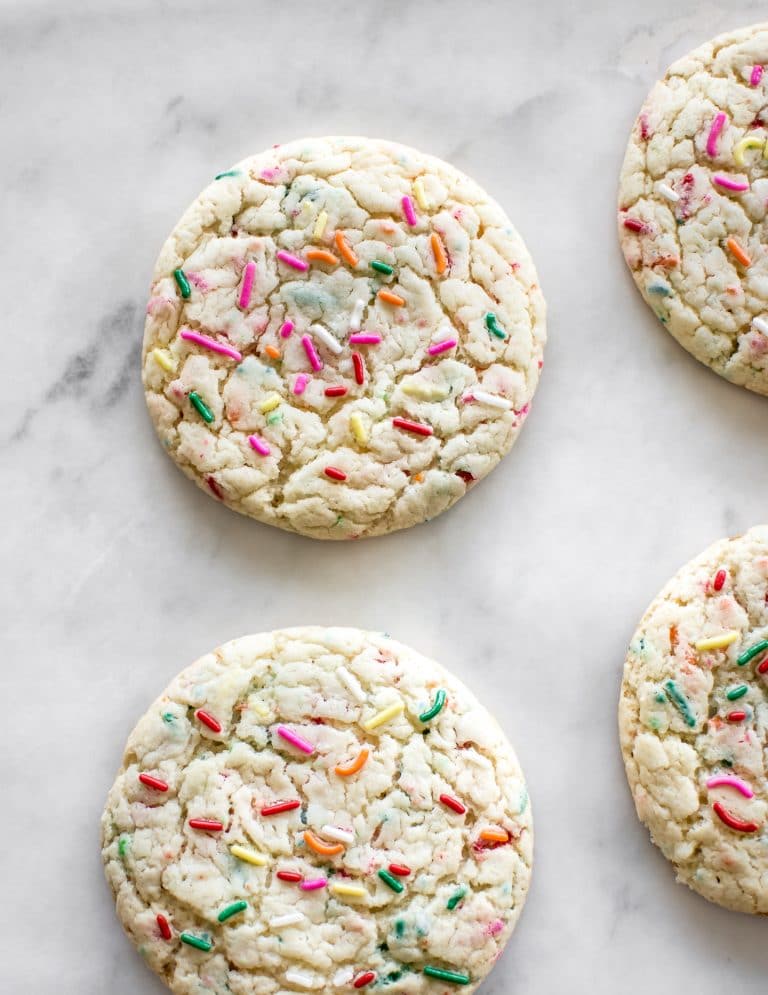 These funfetti cookies will brighten anyone's day! My husband's coworkers tested them, and they passed with flying colors (rainbowwww colors!).
Tips for making the best cake mix cookies
Don't let them brown. I accidentally did this just a tad with the batch pictured. They were still fine, but these are best when they are under-baked a bit. You'll then have that lovely soft texture once they've cooled.
Chill the dough. Especially when you use a smaller box of cake mix like I did for this recipe (the 15.25 oz. size), it'll make the sticky dough much easier to work with.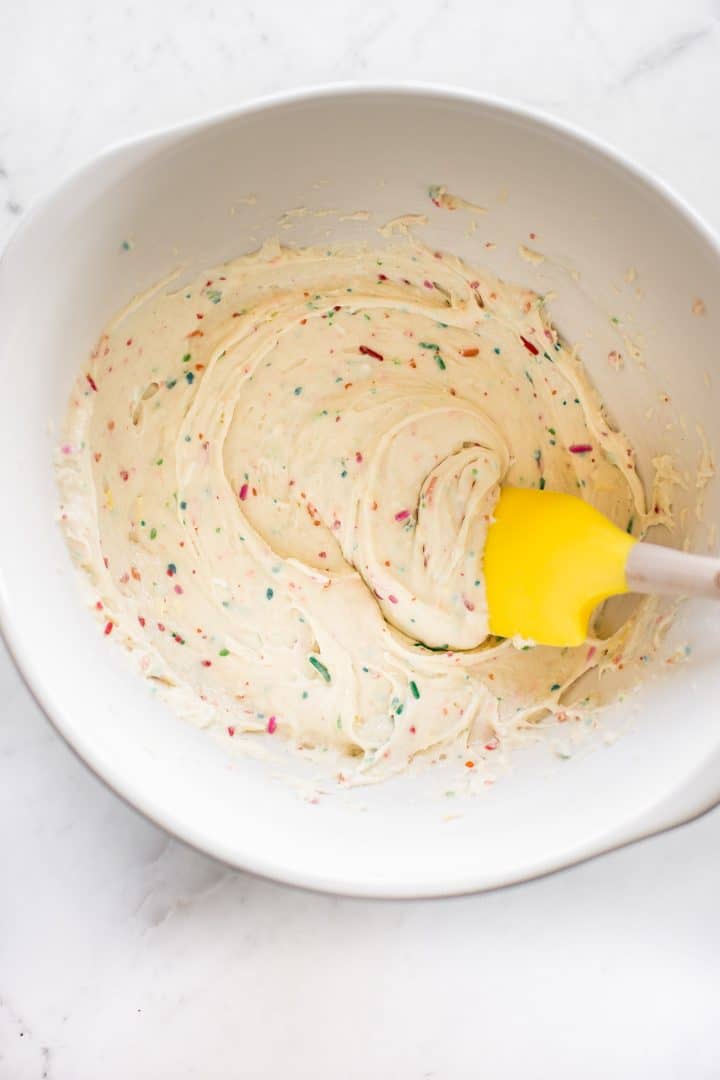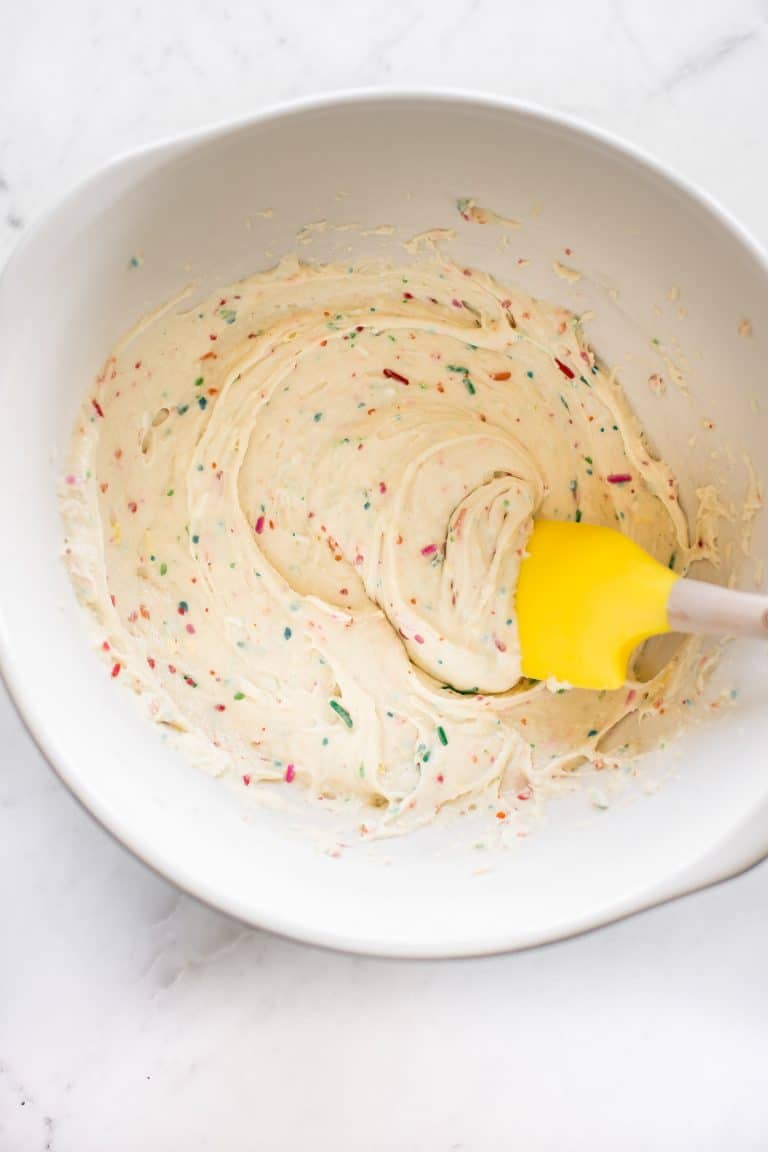 If you want to frost these birthday cake mix cookies, check out my easy funfetti frosting recipe!
Because you really can't get enough sprinkles or sugar.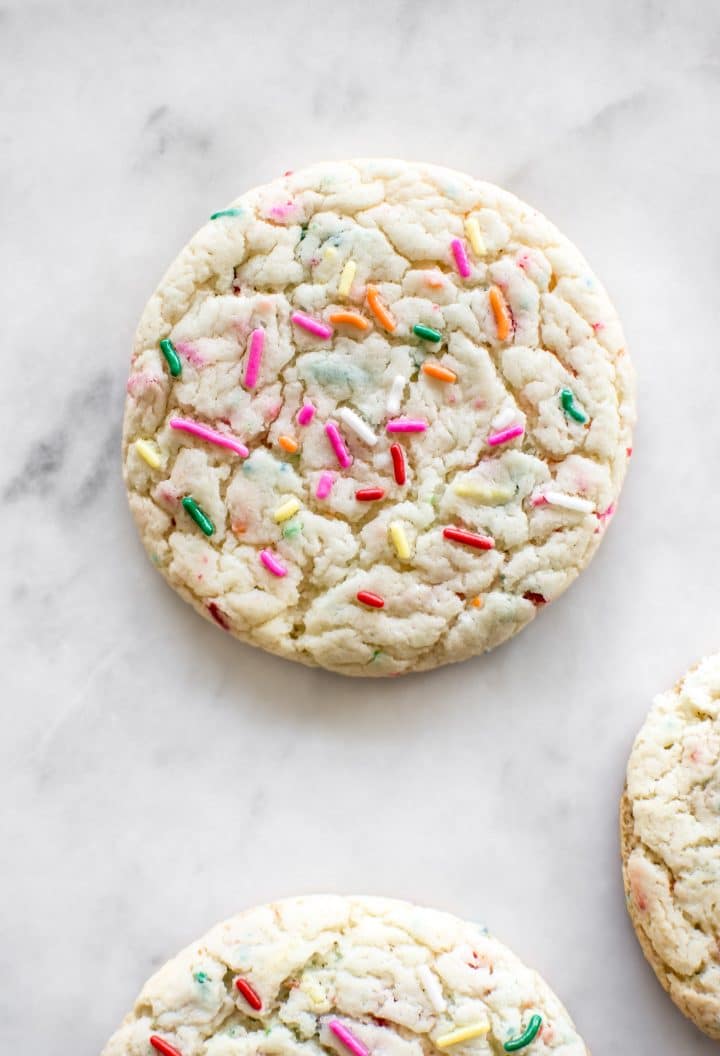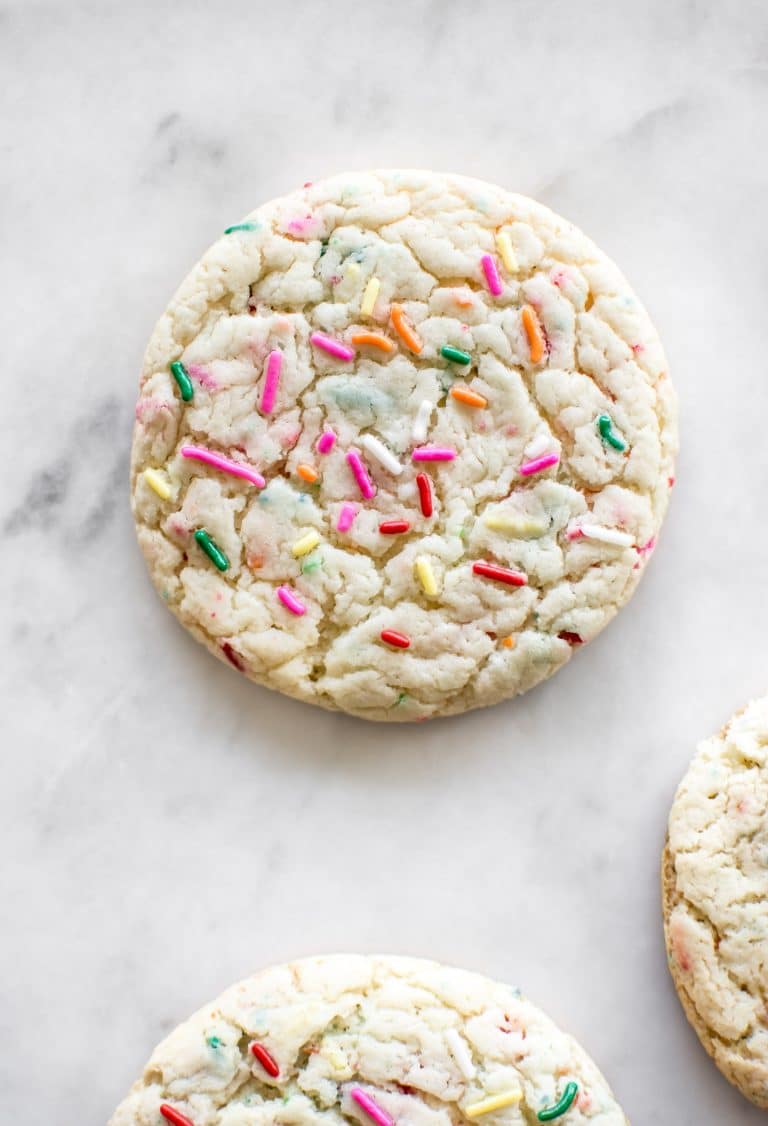 Will you make these funfetti cake mix cookies? Dooo it! 😉
Have you made cake mix cookies before? Let me know below!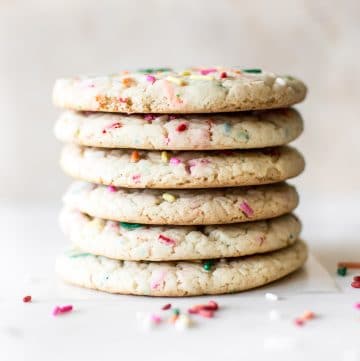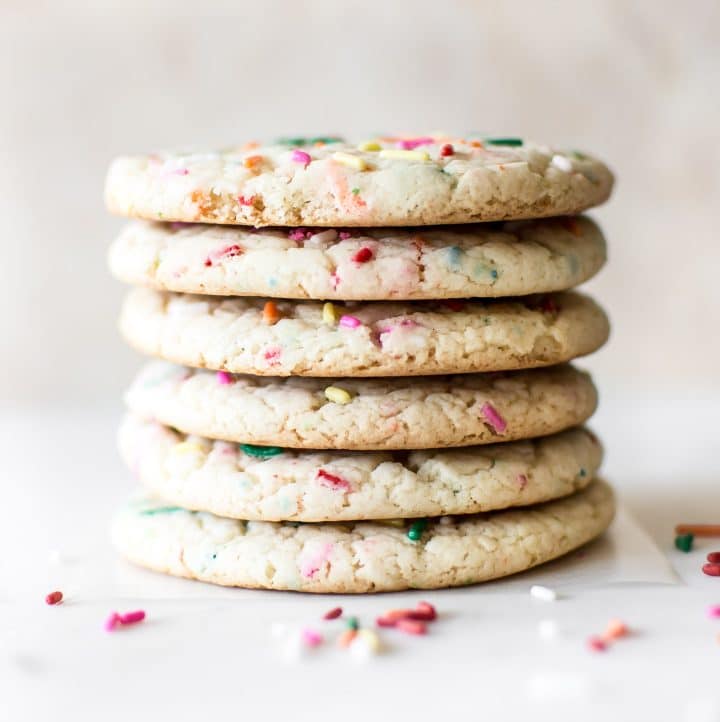 Funfetti Cake Mix Cookies
These funfetti cake mix cookies are delicious, easy, and soft & chewy. Cookies have never been easier!
Ingredients
1

(15.25 ounce) box funfetti cake mix

1/2

cup

vegetable oil (e.g. canola)

2

eggs

Rainbow sprinkles (optional)
Instructions
Add the funfetti cake mix, vegetable oil, eggs, and rainbow sprinkles (if using extra ones) to a large mixing bowl. Using an electric hand mixer, mix until combined.

Chill for 30 minutes. I recommend this step since the dough is sticky and you will also get slightly puffier cookies with chilling, but you don't have to chill them. I didn't chill the cookies in the photos for the full 30 minutes.

Meanwhile, preheat your oven to 350F. Line a baking sheet with parchment paper or a Silpat non-stick mat.

Make 2" balls and place them on the baking sheet at least 2" apart, if not more since they do spread. Bake for 11-13 minutes until they're set.

Let them cool for a few minutes on the baking sheet, then transfer to a cooling rack. Once cooled, store cookies in an airtight container.

Want to frost them? Here's the recipe for my funfetti frosting.
Notes
I made fairly large cookies (rolled dough into 2" balls), so if you make them smaller, you can definitely make more than 12.
You can use the larger-sized boxes of cake mix (18.25 ounces) as well - it'll make about 16 2" cookies (keep everything else in the recipe the same). The batter will be less sticky and the cookies will be more puffy - especially if you chill the dough.
You may also like my red velvet cake mix cookies or my lemon cake mix cookies.