These garlic and lemon smashed potatoes are a fresh and flavorful side dish or party finger food. Replacing sour cream with Greek yogurt also makes these healthier!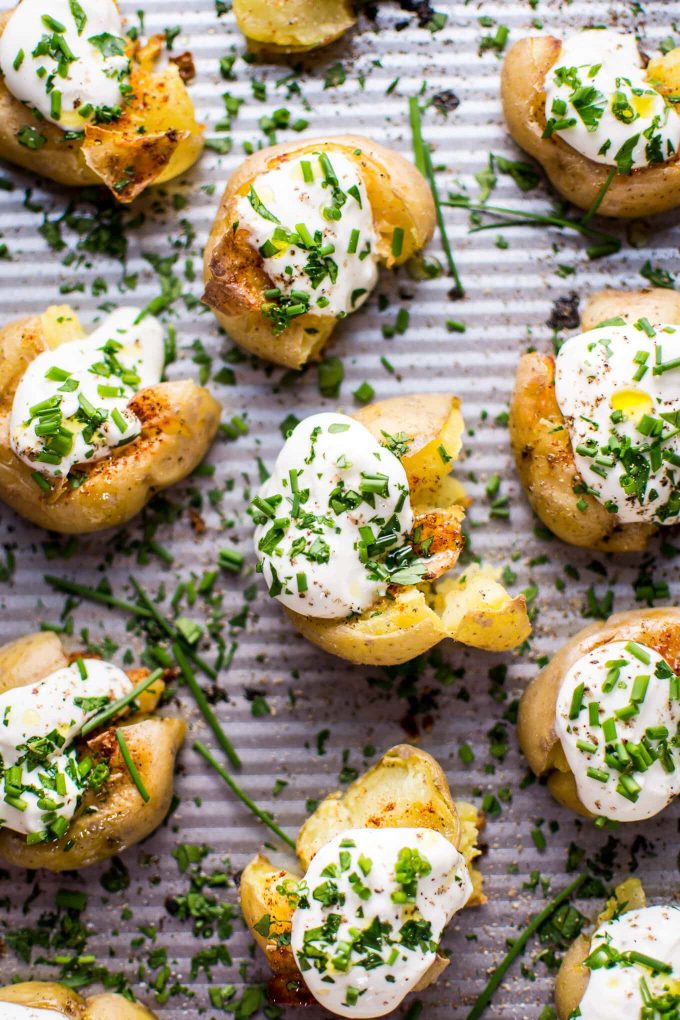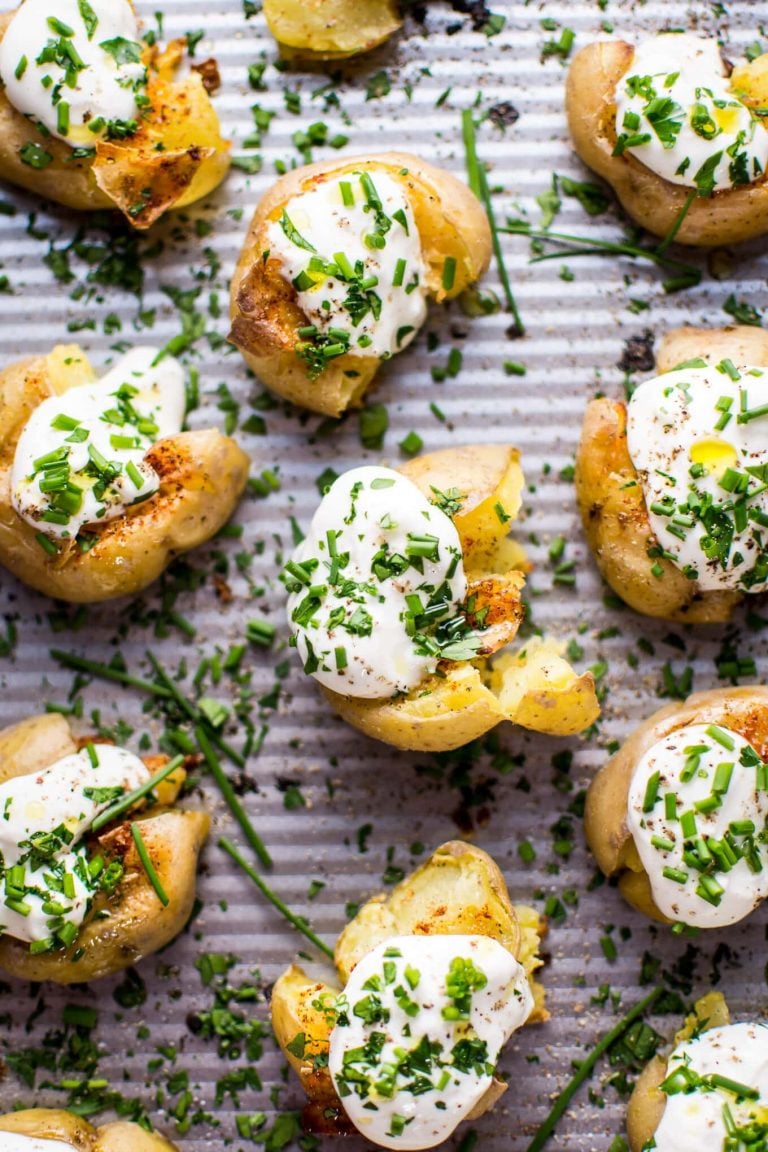 I've never made smashed potatoes before, so I thought I'd give them a chance. I always thought it seemed kinda mean to smash potatoes.
Like what did they do to deserve that? I often roast potatoes, though. These are first boiled, then you smoosh, apologize, and bake 'em.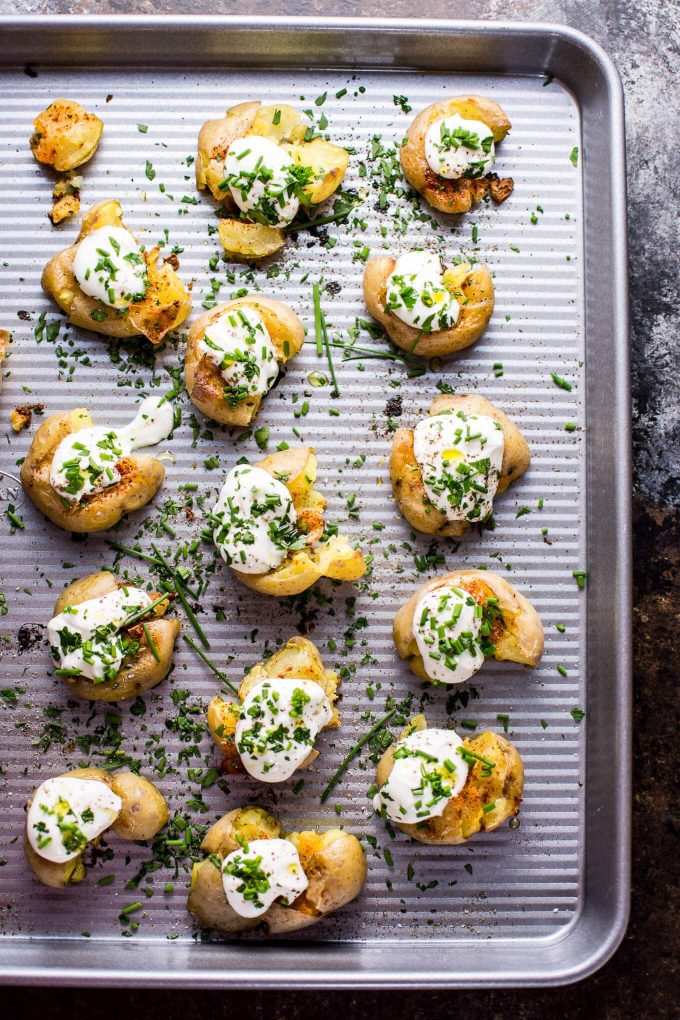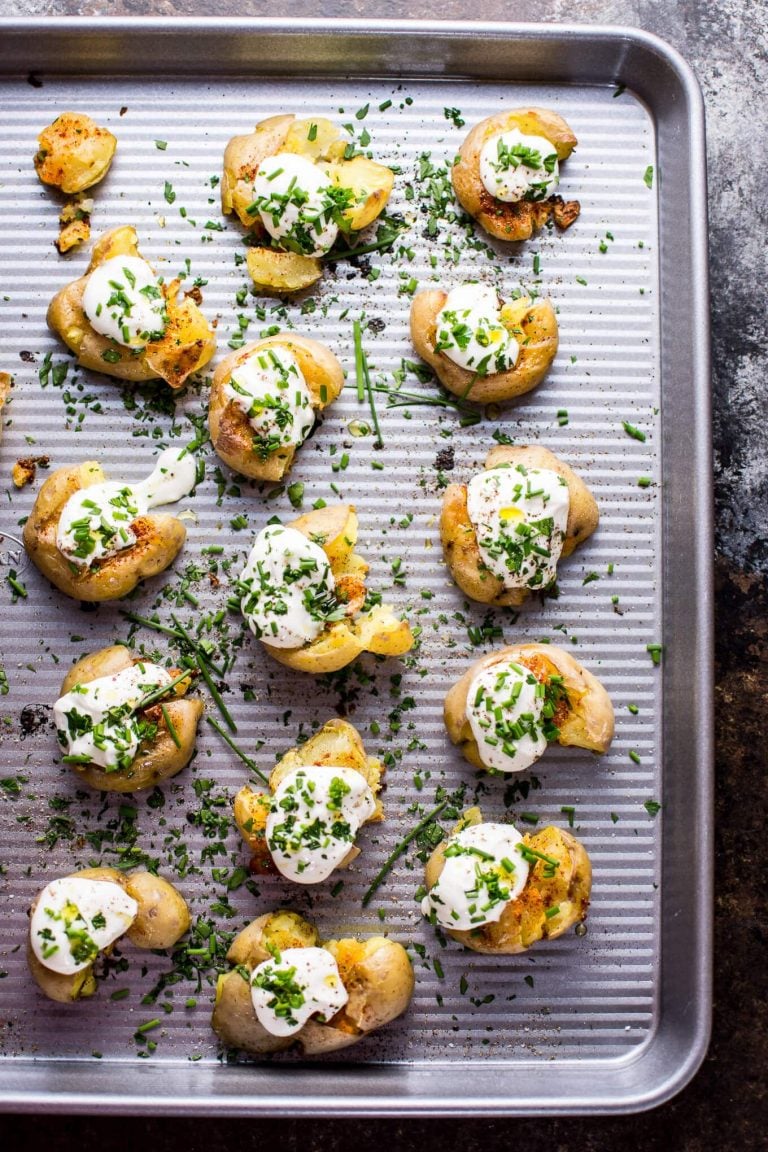 I used little potatoes for this recipe, but normal-sized potatoes would work as well... you'd just need to cook them for longer. I like little potatoes because they're pretty fast cooking, are reliably tasty throughout the year, and they're nicely bite-sized.
After you boil them, you (carefully) smash them down with a fork, squeeze on some lemon juice, sprinkle them with delights (smoked paprika, garlic powder, salt & pepper), drizzle them with a bit of olive oil, and then bake them for 20-25 minutes. The insides are nice and fluffy, while the skin and outsides are a bit crispy.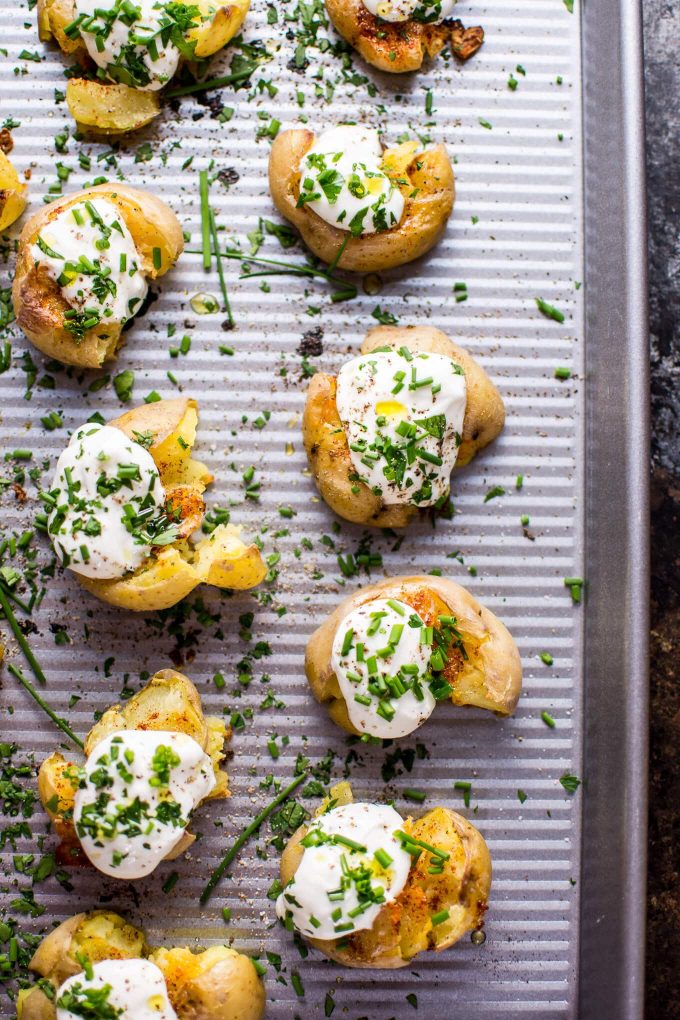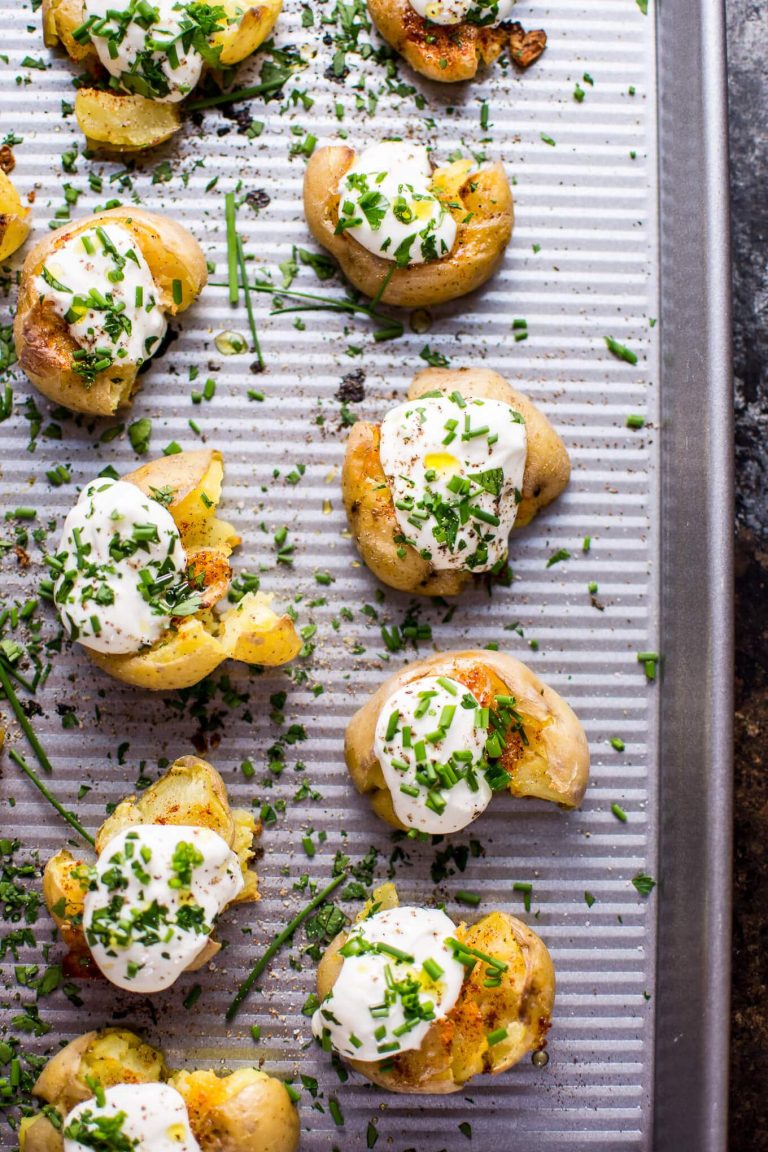 When they're done, you top them with fabulously garlicky Greek yogurt, chives, fresh parsley, and another drizzle of olive oil.
It won't be long before these are all gobbled up.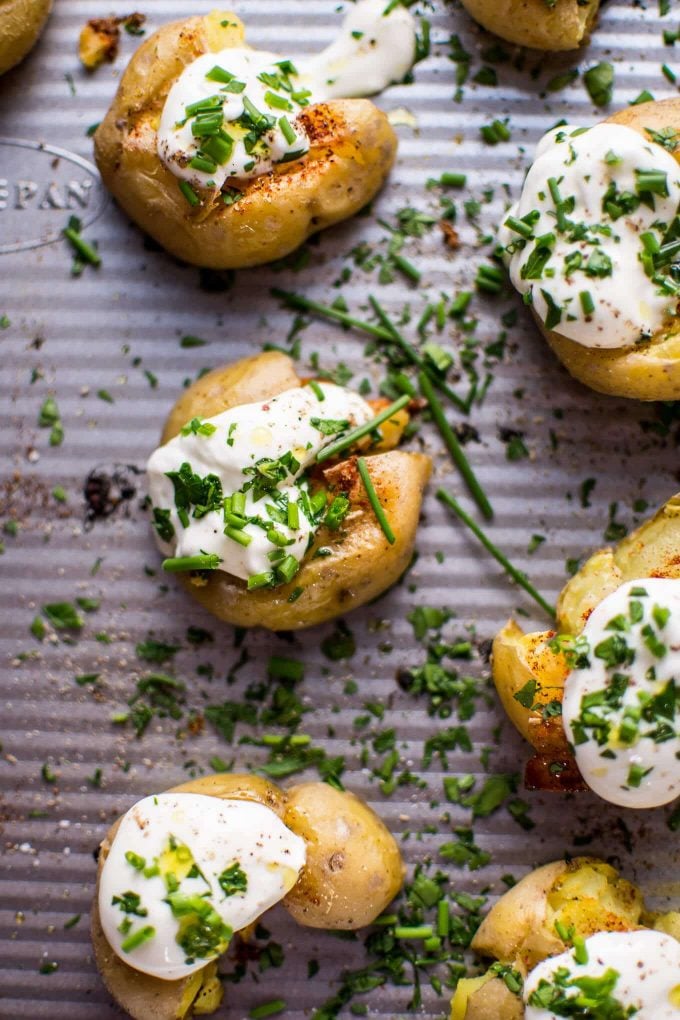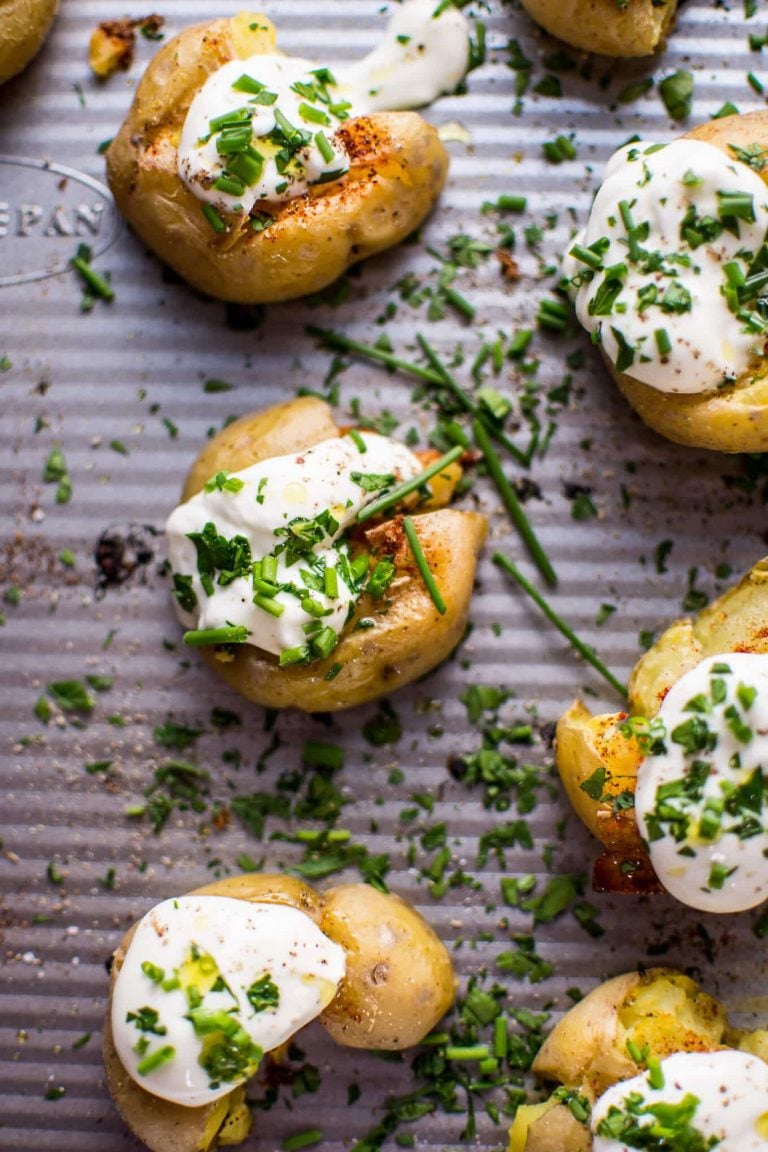 Do you like smashed potatoes, or do you find the practice barbaric?
I hope you give these garlic smashed potatoes a try!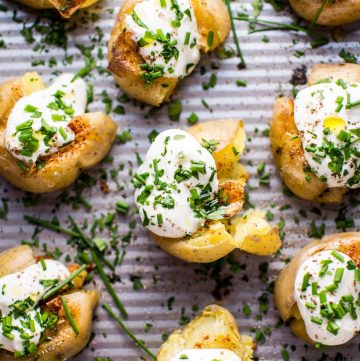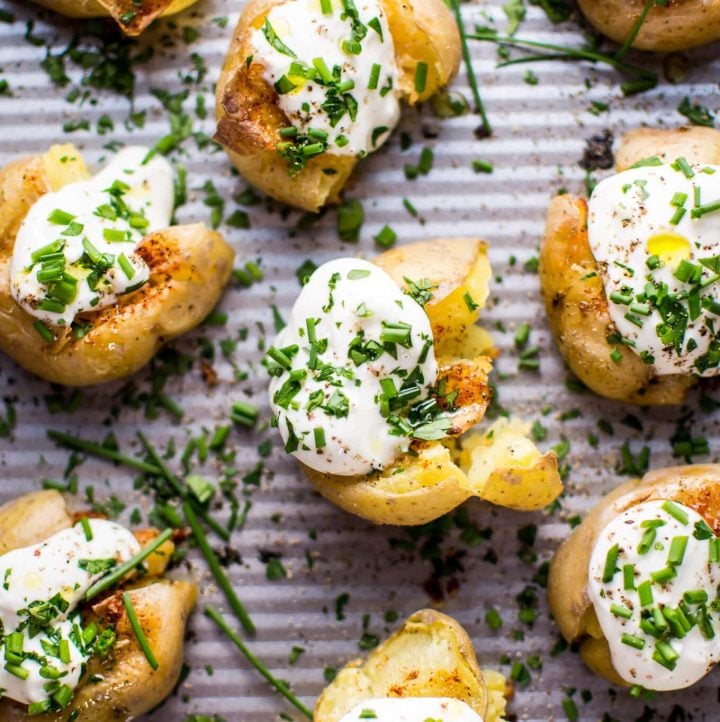 Garlic and Lemon Smashed Potatoes
Fabulously garlicky smashed potatoes - an easy and delicious side dish.
Ingredients
1.5

pounds

little potatoes

Juice of 1/2 lemon

Salt & pepper

to taste

Garlic powder

to taste

Smoked paprika

to taste

Olive oil

to taste

1

cup

Greek yogurt

2-3

cloves

minced garlic

1

tablespoon

parsley

chopped

Chives

to taste
Instructions
Preheat oven to 425F. Move the rack to the middle position.

Boil the potatoes for 15 minutes. Drain them and place them on a baking sheet. Gently "smash" them down with a fork. Squeeze lemon juice over each potato, then lightly sprinkle each potato with salt & pepper, garlic powder, and smoked paprika. Drizzle each potato with a little bit of olive oil. Bake for 20-25 minutes.

Meanwhile, prepare the yogurt by mixing the minced garlic with the Greek yogurt. Chop the parsley and snip the chives (love my kitchen shears for this!).

Take the potatoes out of the oven and top them with a dollop of Greek yogurt. Sprinkle on the chives, parsley, and add an extra drizzle of olive oil. Serve immediately.
Notes
As an appetizer, this would easily serve 6 people if you had other appetizers around. For a reasonably portioned side dish, this would work for 4 people.