Garlic shrimp and avocado crostini are a fresh and delicious bite-size appetizer that will be a hit at any gathering or party!
Try my Jalapeño Poppers next for a crowd-pleasing appetizer.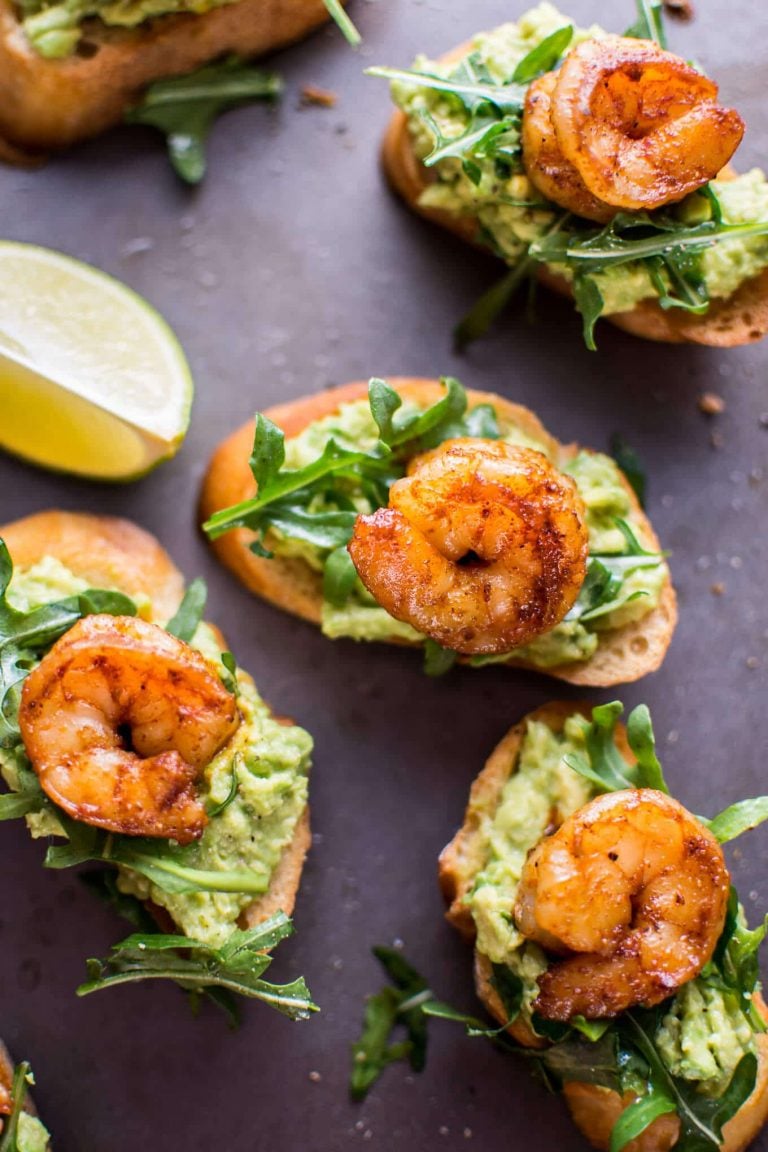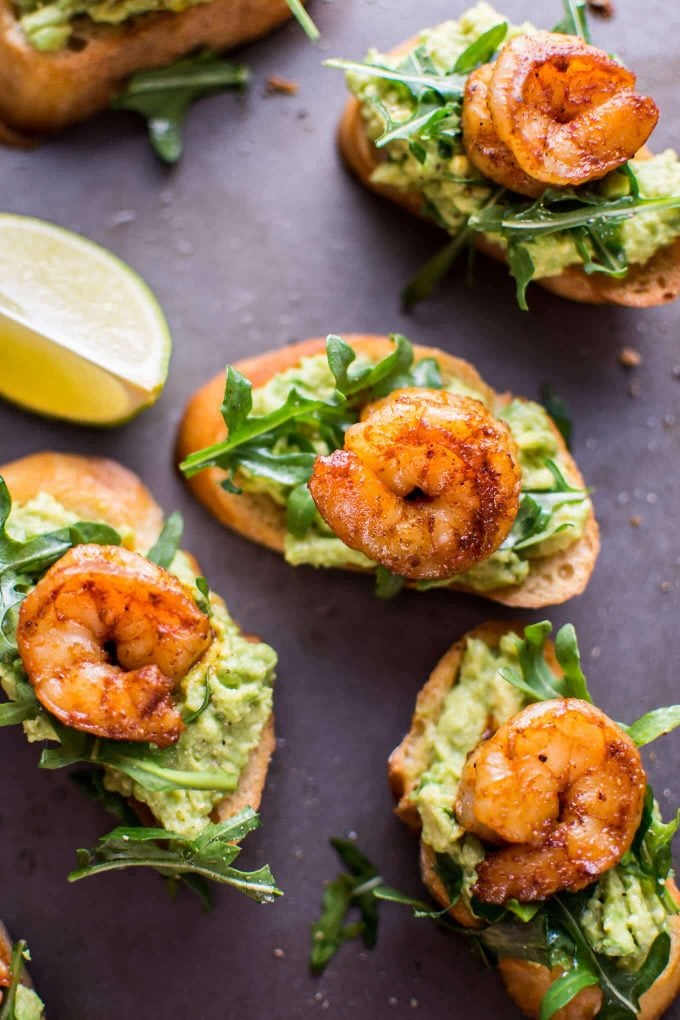 These crostini are goood. Lots of garlic, tender shrimp coated with smoky spices, creamy avocado, lime, and arugula to add a bit of bite.
When I was done taking these photos, the crostini became my dinner. My taste buds and tummy were happy.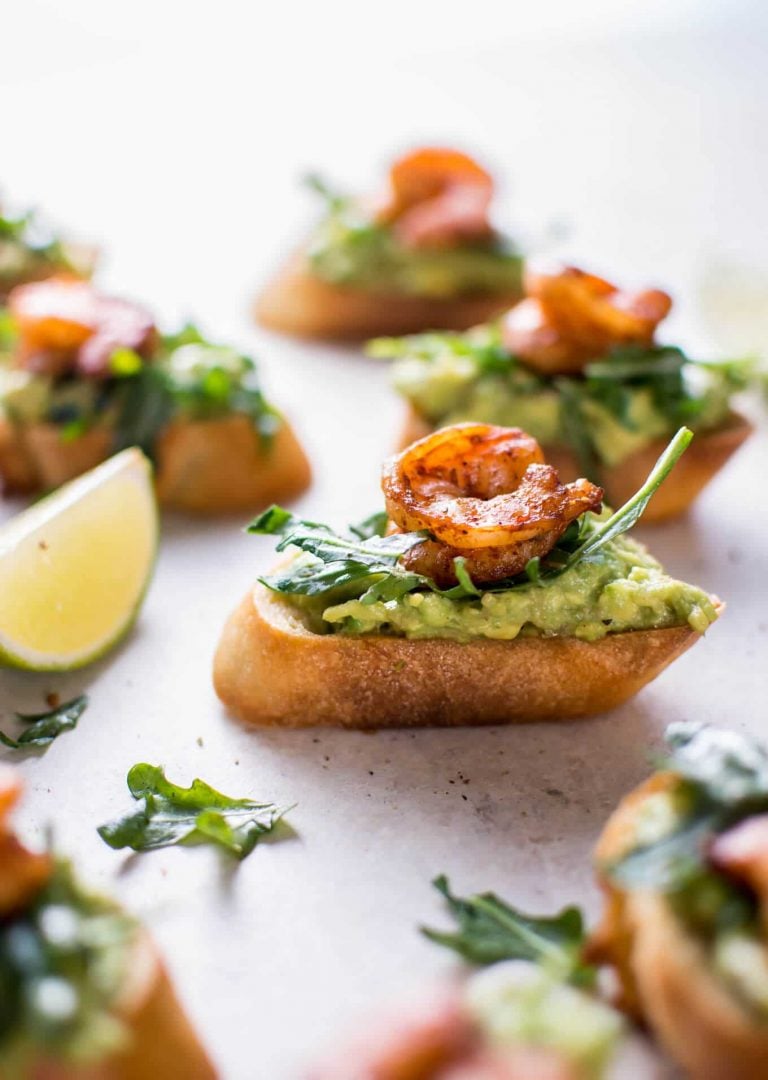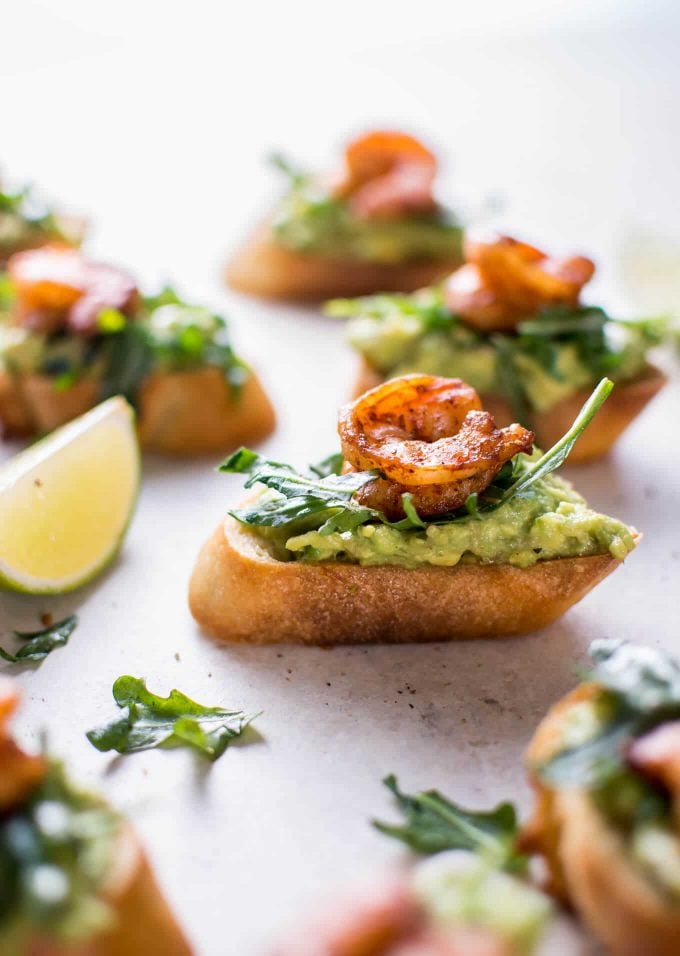 It doesn't take long to make these. Slice a baguette, add the slices to a baking sheet, brush them with a mixture of minced garlic and olive oil, bake them for 10-15 minutes, and prep the rest while you wait.
The shrimp themselves only take about 5 minutes to cook. Quick and easy and full of flavor is definitely my approach to cooking these days!
My popular posts fluctuate every month, but one thing remains constant – my shrimp recipes seem to do quite well. Three of my top 4 recipes this month are shrimp recipes! Fingers crossed that you guys like this shrimp recipe too. 🙂 I just love shrimp.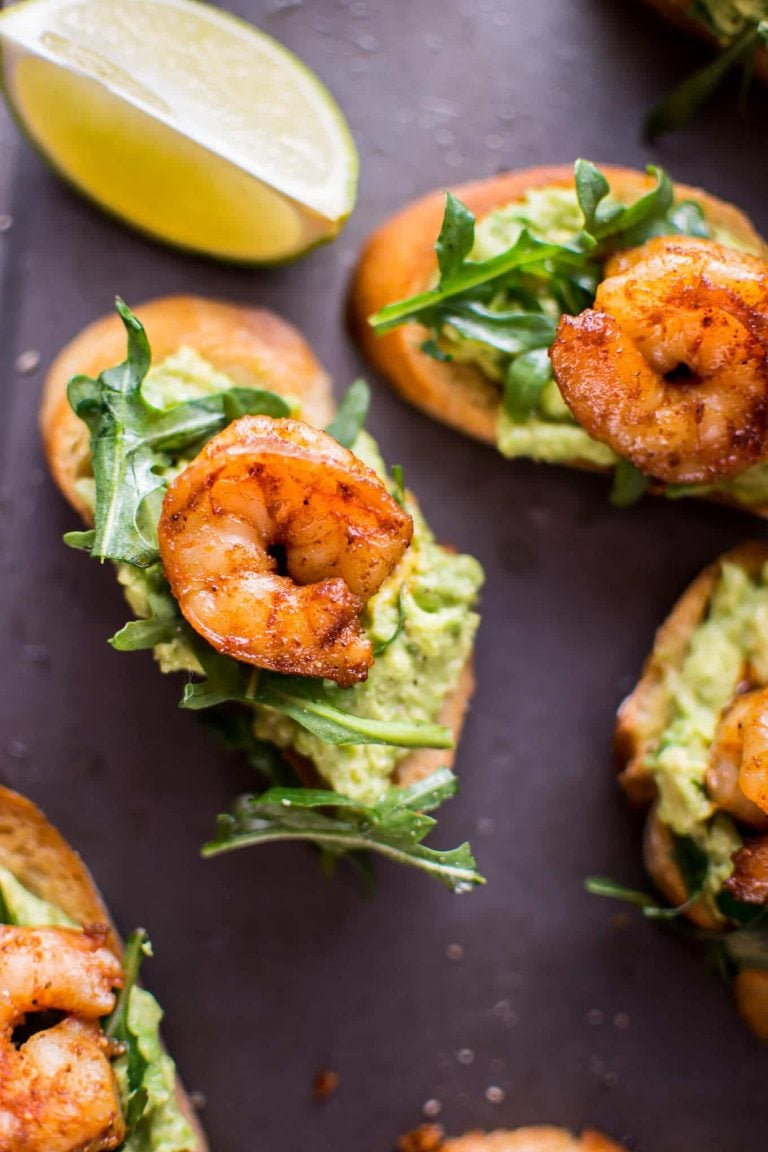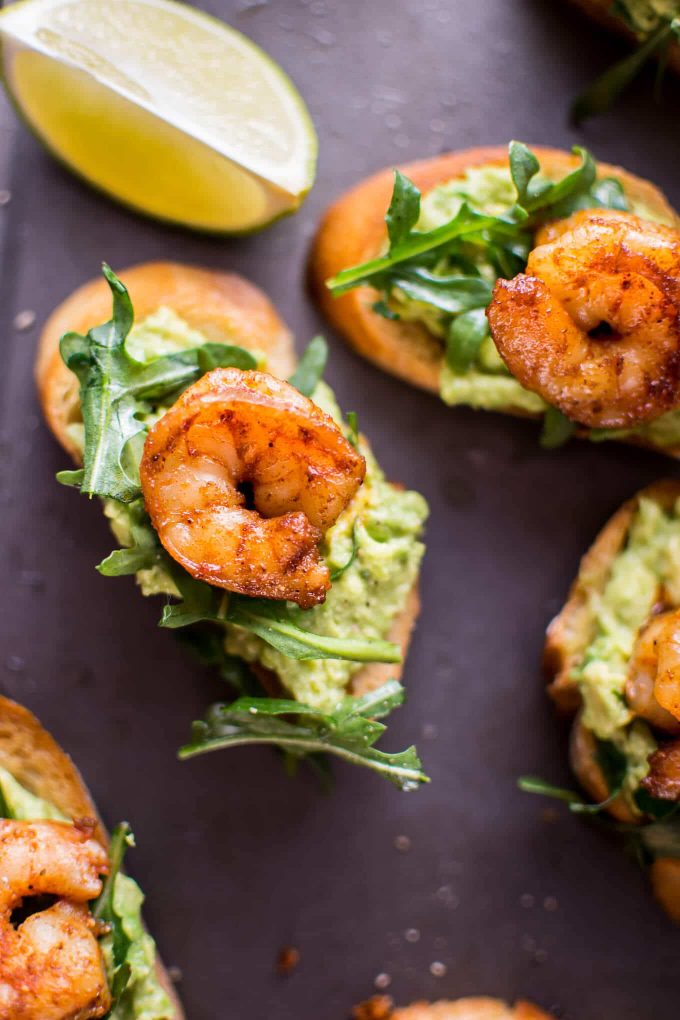 Like I keep mentioning in every bloody post (yeah I don't know when to stop), it's not spring here yet. I'm desperate for warm weather. It somehow makes me feel better to make easy, colorful, fresh food and complain a lot to strangers who are nice enough to read my blog. That's what tides me over in between trips to warm places, anyway.
We're in the middle of a cold snap right now, so I'm extra cranky. March is a weird month here. My sister's birthday is in March, and sometimes it's -25C and a blizzard. Other times it's positively spring-like. I'm sure you probably don't come here for my complaining, so please send some warm weather my way already. < /end rant >
And back to the food. The avocado mixture is basically a simplified guacamole. I mashed up an avocado with a bit of lime juice and salt & pepper. Despite the chili powder, I really wouldn't call the shrimp spicy.
The crostini are flavorful, yes, spicy not so much, especially when you take the avocado and bread into account.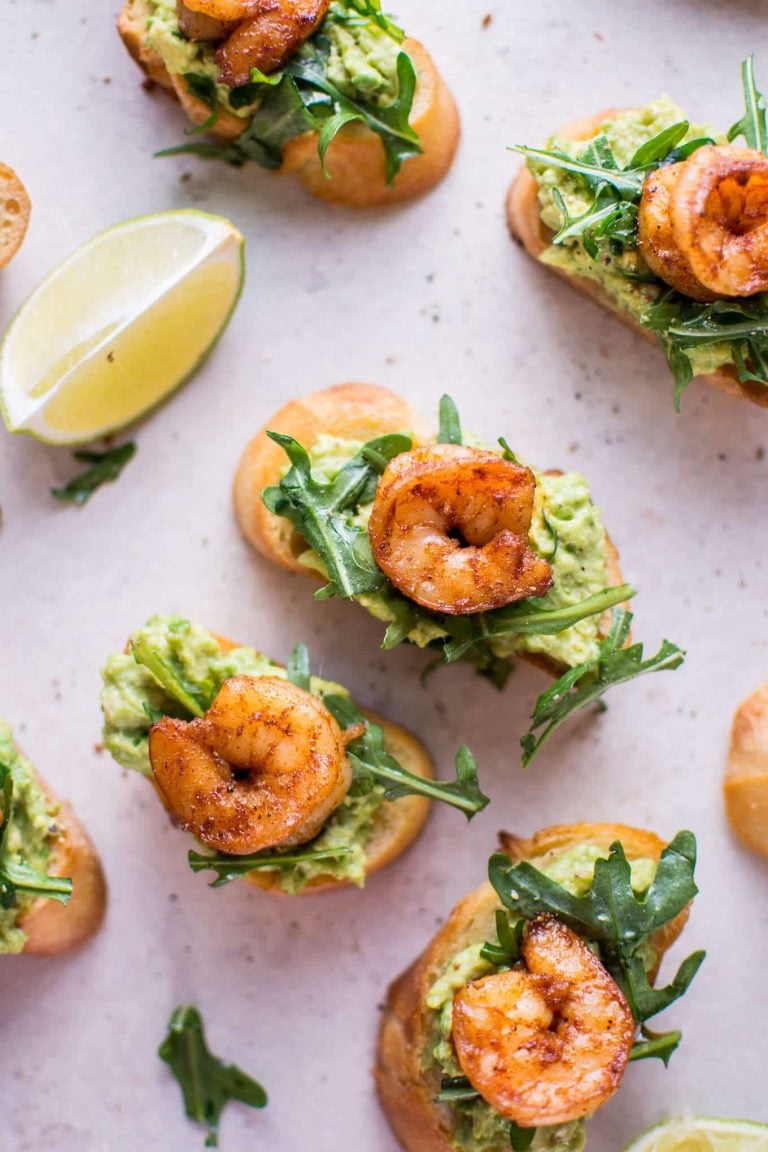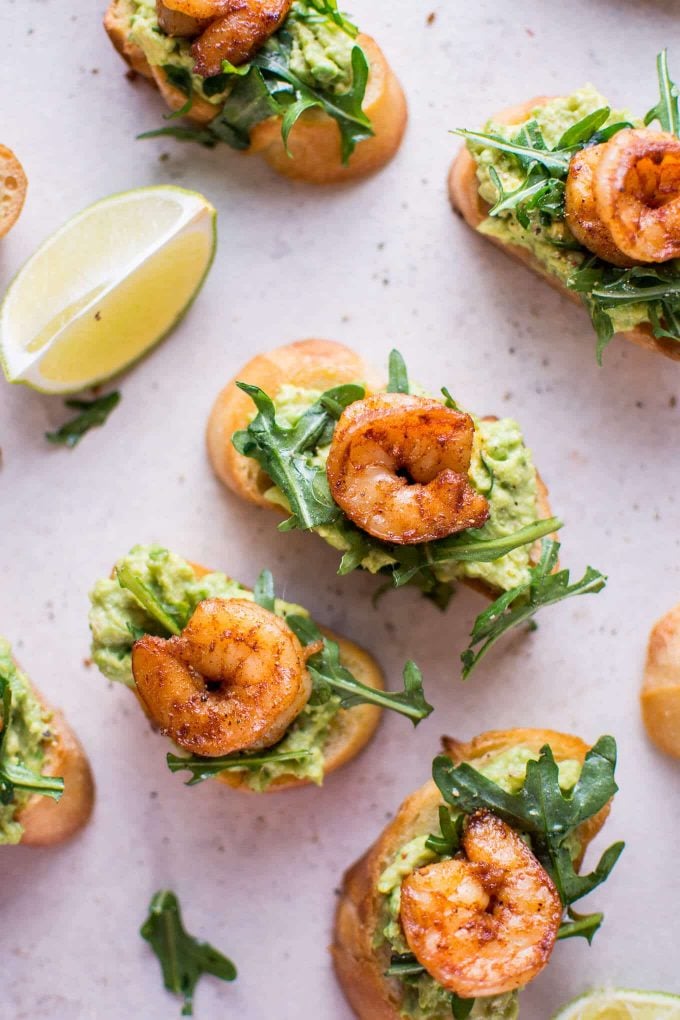 If you buy a bag of frozen shrimp like I did, you can easily make more than 12 of these. Just make sure you have an extra avocado on hand, and adjust the other ingredients as needed. Enjoy!
Will you make these garlic shrimp and avocado crostini?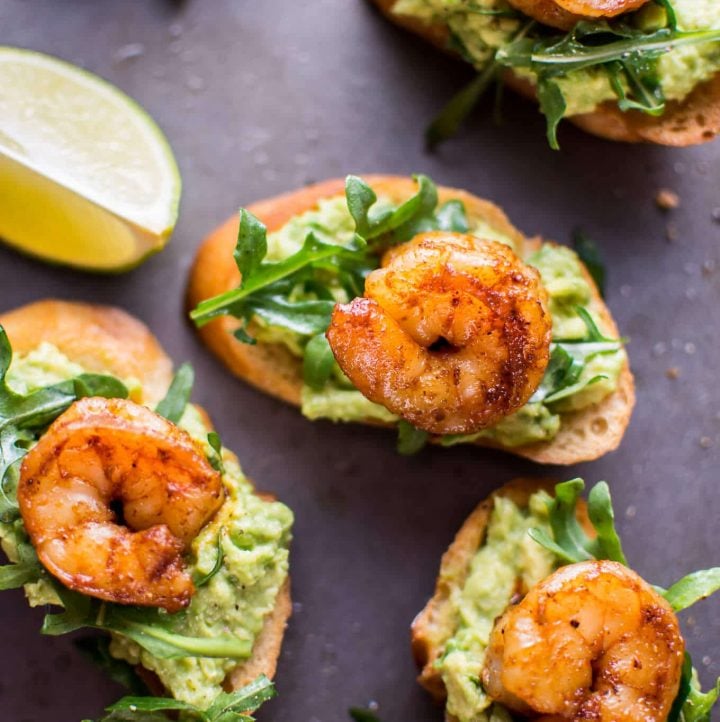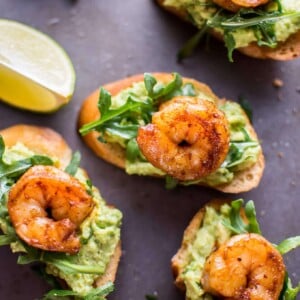 Garlic Shrimp and Avocado Crostini
Easy & delicious garlicky shrimp and avocado crostini.
Ingredients
12

medium to large shrimp

thawed, peeled & deveined

12

baguette slices (about 1/2"-3/4" thick)

4

cloves

garlic

minced

2

tablespoons

olive oil

1/2

teaspoon

chili powder

1/2

teaspoon

garlic powder

1/2

teaspoon

smoked paprika

Juice of 1/4 lime

1

avocado

Arugula

to taste

Salt & pepper

to taste
Instructions
Preheat oven to 350F and move the rack to the top. Line a baking sheet with foil and place the baguette slices on there.

Add the olive oil and minced garlic to a small bowl. Brush the baguette slices on both sides with the oil/garlic mix. Bake for 10-15 minutes or until they're as crispy as you want. 15 minutes made them really crispy.

Meanwhile, add a splash of olive oil to a skillet on medium-high heat. Add the shrimp, chili powder, garlic powder, smoked paprika, and salt & pepper to taste. Cook, stirring often, until the shrimp are pink (about 5 mins). Remove the pan from the heat.

In a small bowl, mash the avocado, lime, and a bit of salt & pepper together.

Once the baguette slices are toasted, let them cool for a few minutes and then spread a layer of avocado on each one. Top with the arugula and shrimp. Serve immediately.
Notes
I buy the 3/4 pound bags of frozen shrimp, so I had some left over. If you buy 3/4 or 1 lb. of shrimp, you can easily make more than 12 of these. Just ensure you have a second avocado, and increase the other ingredients as needed.
I used a sourdough baguette for these crostini.
© Salt & Lavender Inc. Content and photographs are copyrighted. Sharing this blog post is much appreciated, but copying and pasting full recipes without authorization to social media is strictly prohibited.
Leave a star rating and comment below!