This grapefruit brûlée breakfast bowl is a pretty and refreshing breakfast or brunch idea.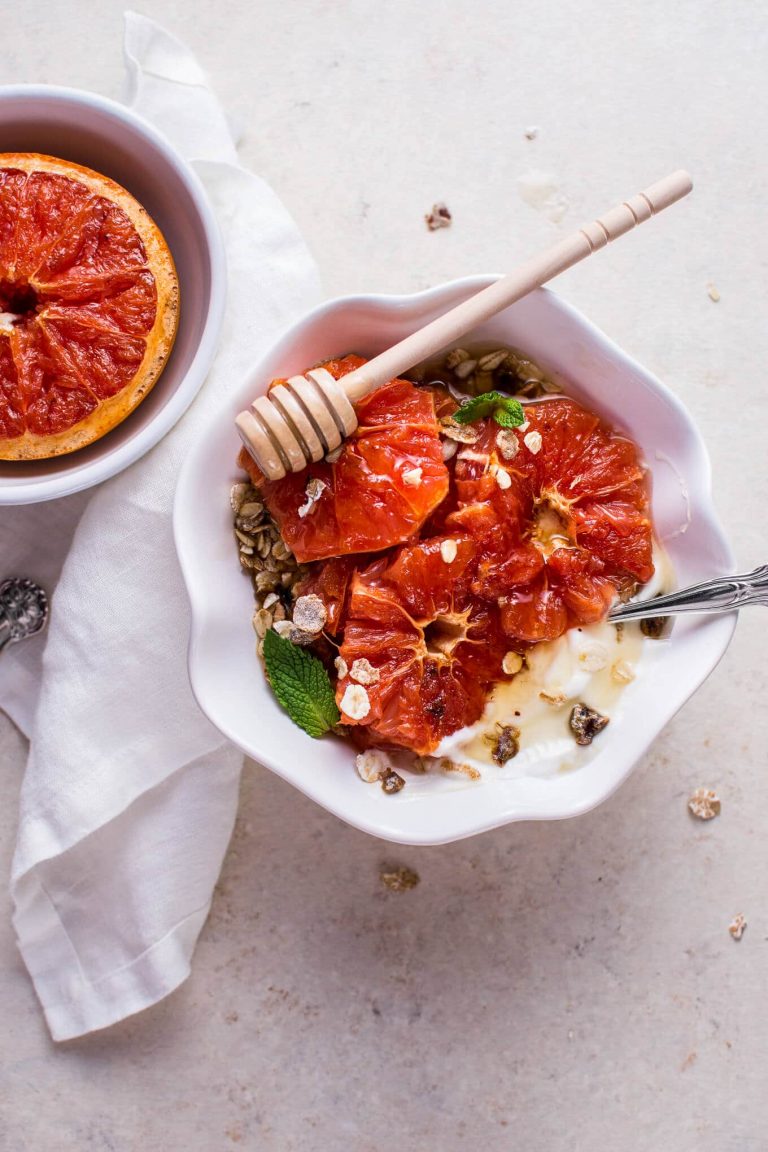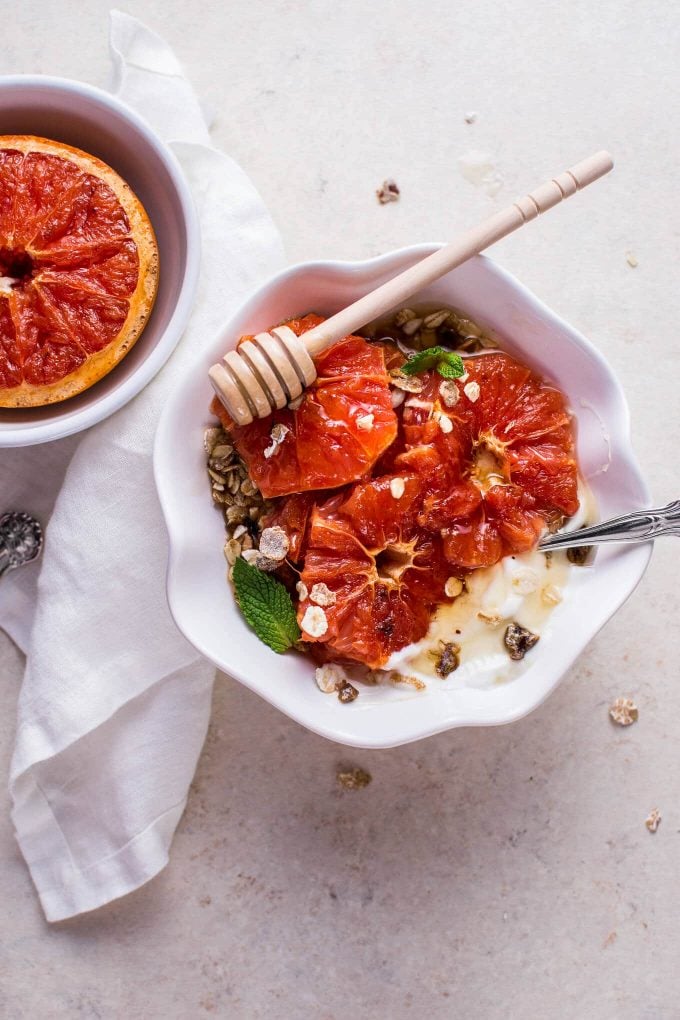 I debated whether I should put this recipe up on here or not because it's so simple. My husband said that's a silly reason because who in their right mind wants to spend 4 hours making breakfast in the morning?! I agree with him on that one. So here it is!
How to brûlée a grapefruit in the oven
You don't need a kitchen torch.
Grapefruit brûlée is basically a fancy way of saying that the top of the grapefruit is lightly caramelized because we put some sugar on top and shoved it under the broiler for a few minutes. Not quite dessert material like creme brûlée, but for breakfast it'll certainly do.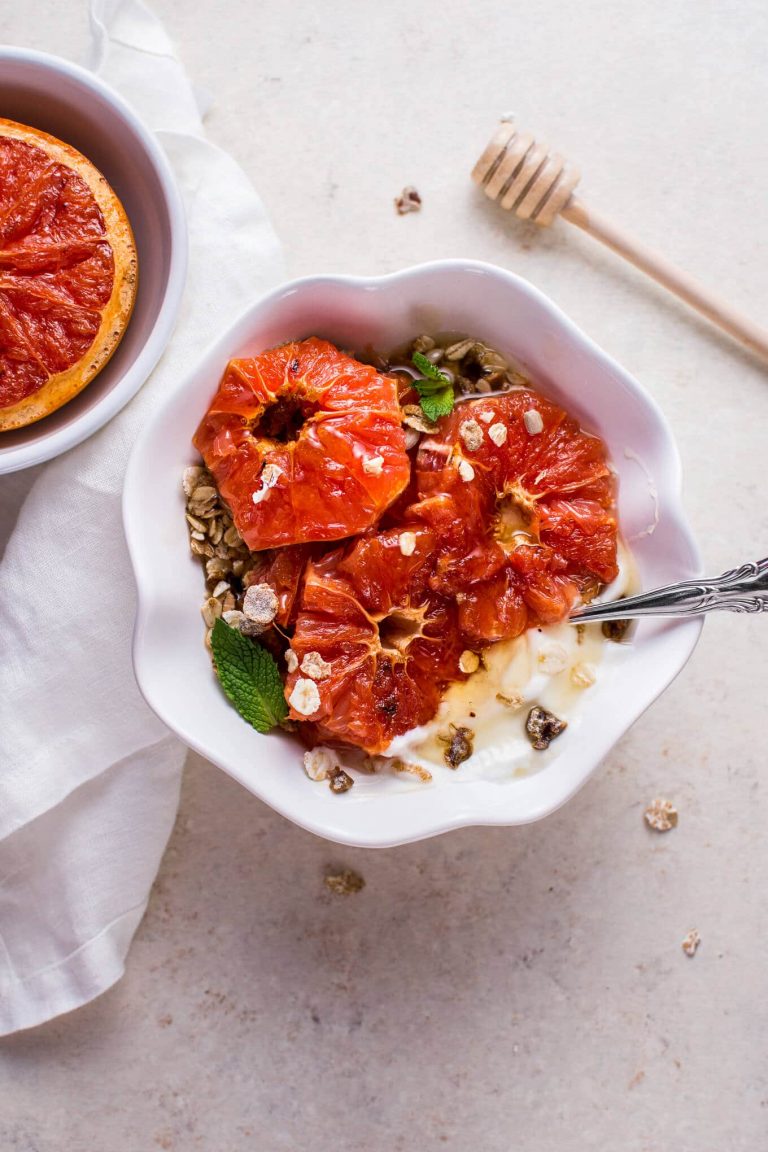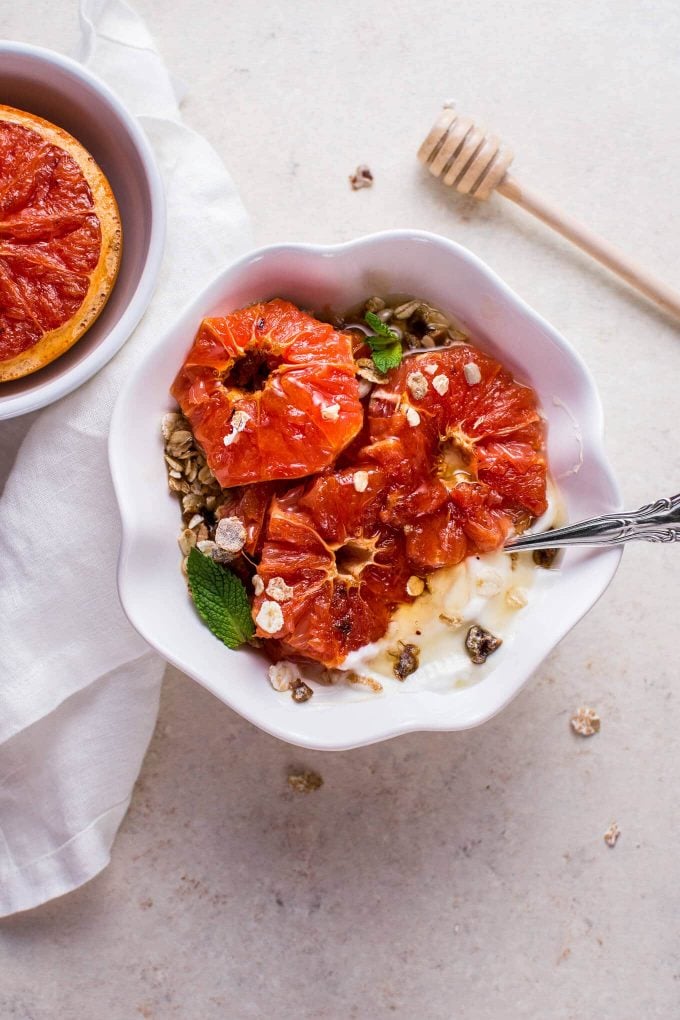 Grapefruit is a pain to eat, I find. I always squirt myself in the eye even if I use a knife to separate the segments. Since I wanted to make a breakfast bowl here, I needed to slice the grapefruit and get rid of the rind. For photo purposes, I decided to leave the grapefruit in rings, which meant I needed to cut them up into even smaller pieces prior to eating.
Not a big thing, but I suggest cutting the rings into slightly smaller pieces before you cook them, or even after you cook them (and prior to adding them to the bowl) if you don't want to use a knife and you're not trying to impress anyone with presentation.
Aside from its annoying to eat nature, I also find grapefruit to be too bitter or sour or both.
Why did I bother with a grapefruit recipe? Good question. People seem to love them and I'm not quite sure why. At least caramelizing sugar on top and drizzling the bowl with honey makes it a whole lot more appetizing in my book! And that color is top notch. 😛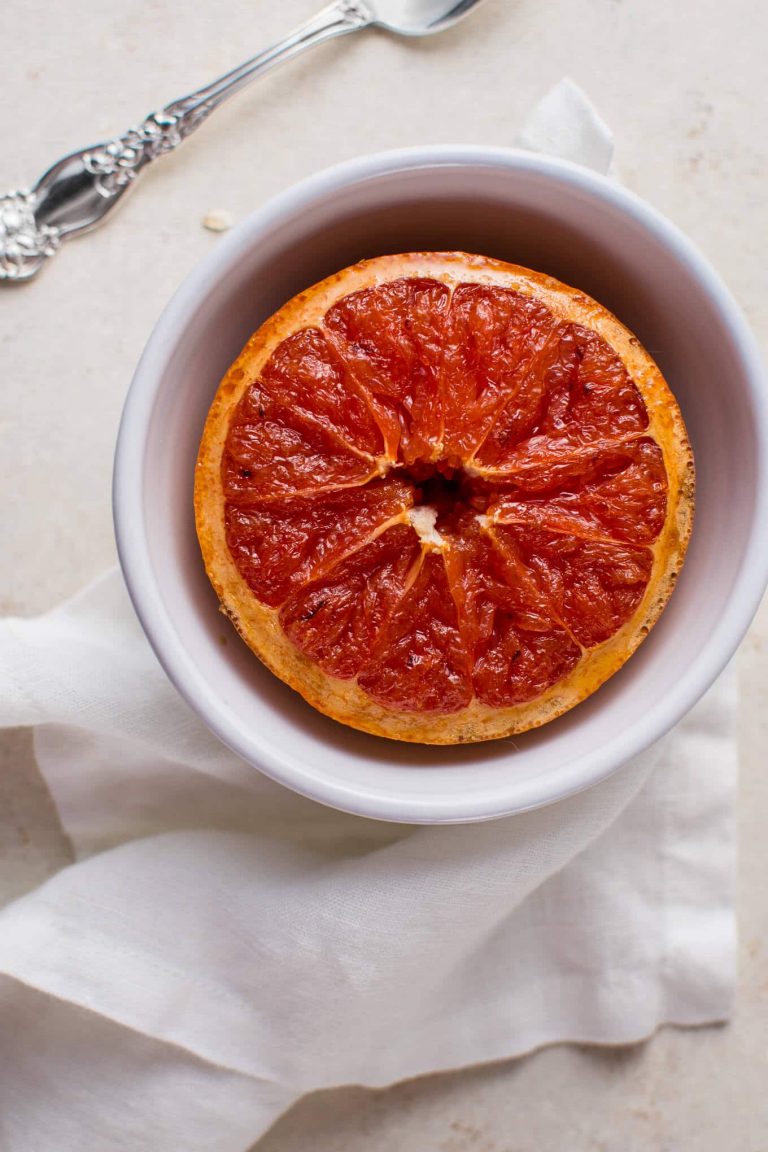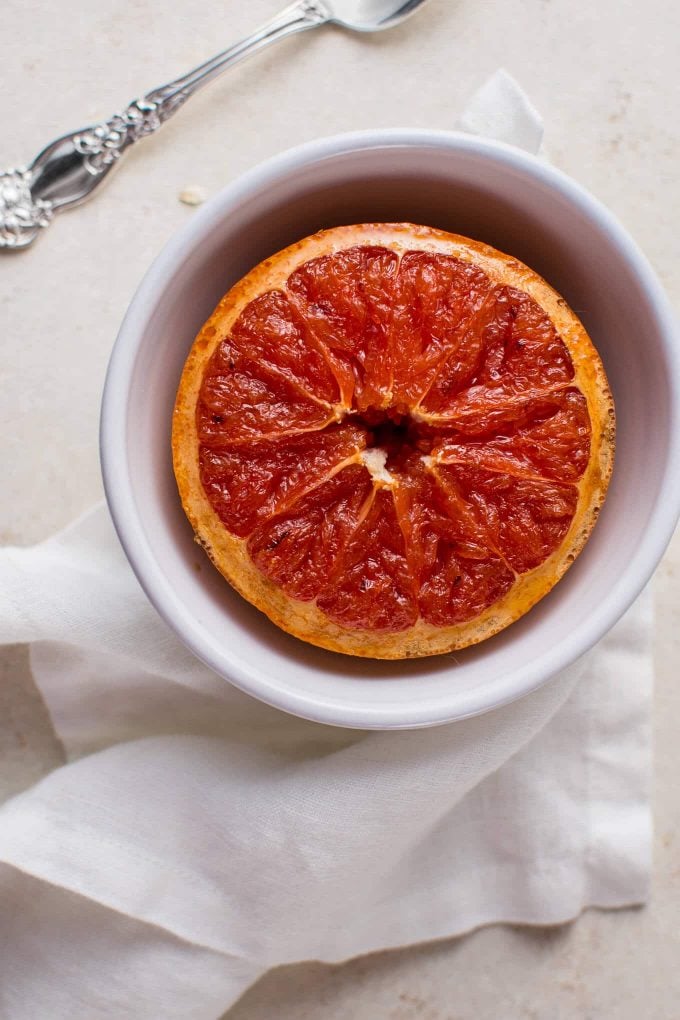 Muesli and 2% plain Greek yogurt are the two other main ingredients in this bowl. You could certainly change those up if they're not quite your cup of tea. Granola would work great as would a fruity yogurt or something else entirely if you're feeling adventurous.
Mint and grapefruit are like two peas in a pod, so if you've got some, it's a welcome addition to this bowl.
You will see that some of the sugar melts off the grapefruit onto the baking sheet (that's why we line it with foil). If you prefer, you can drizzle that on top of the bowl instead of the honey.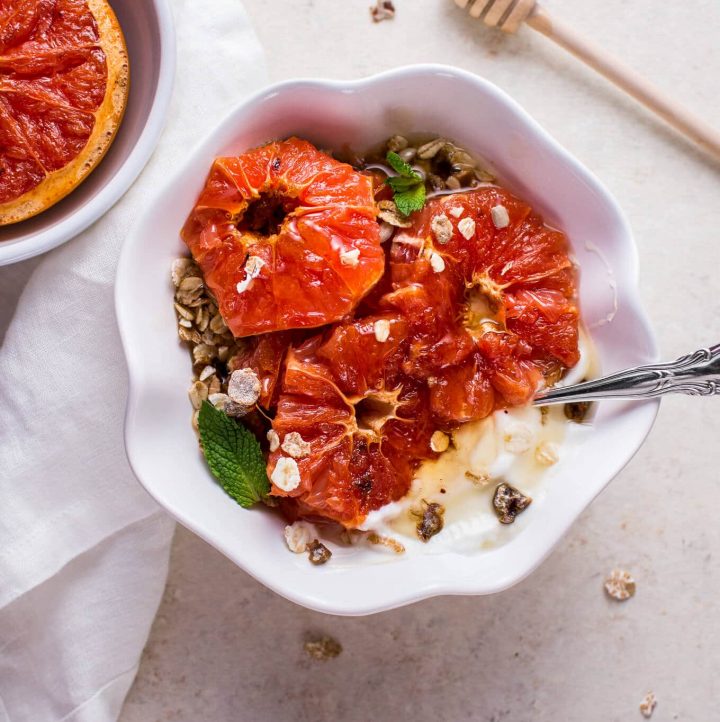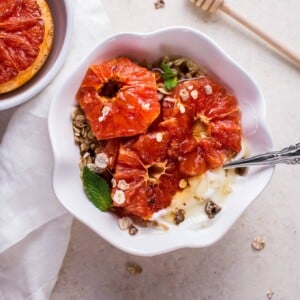 Grapefruit Brûlée Breakfast Bowl
A quick and easy grapefruit breakfast bowl.
Ingredients
1

grapefruit

Brown sugar

1/2

cup

Greek yogurt (I used plain 2%)

1/2

cup

muesli or granola

Honey

to taste

1

tablespoon

mint

chopped (optional)
Instructions
Turn oven broiler on high.

Peel grapefruit and cut it into 1/2" slices. Cut off the bitter pith around the edge of each slice. If you don't want to have to use a knife to eat them, cut the pieces into quarters from there. Arrange slices on a foil-lined baking sheet. Dab the top of each piece with a piece of paper towel to dry it off. Spread a thin layer of brown sugar on each piece. Broil for around 8 minutes or until the sugar is bubbling but not burned.

Meanwhile, add Greek yogurt and muesli to a bowl.

Once the grapefruit is done, add it to the bowl. Add a bit of chopped fresh mint if desired. Drizzle the whole thing with honey and eat immediately.
Notes
You can also brûlée whole grapefruit halves if you prefer (as pictured in third photo). The process is pretty much the same - you'd spread about a tablespoon of brown sugar on the top of each half. To make the halves more stable, cut a little off the bottom so you have a flat base. If you have a kitchen torch, you can use it to brûlée the grapefruit halves rather than broiling them to get an even deeper amber color.You can add the melted sugar that's left on the bottom of the baking sheet if you have enough left over. I personally prefer the honey, but either is fine!
© Salt & Lavender Inc. Content and photographs are copyrighted. Sharing this blog post is much appreciated, but copying and pasting full recipes without authorization to social media is strictly prohibited.
Leave a star rating and comment below!
Do you like grapefruit? Would you try this grapefruit brûlée breakfast bowl? Leave me a comment below!