Melitzanosalata is a delicious Greek roasted eggplant dip that makes a wonderful snack, appetizer, or part of a meze spread.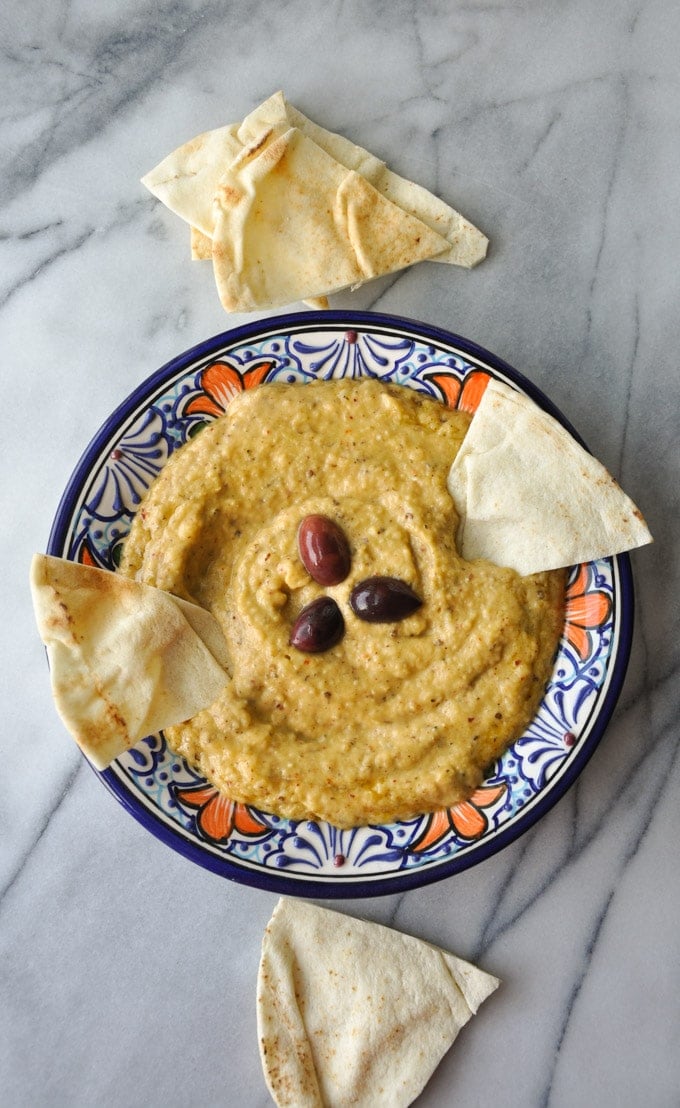 Whenever I go to a Greek restaurant I always order melitzano because I love it so much, and I like to see how different places make it. It makes a great appetizer or you can do as I like to do and pair it with other Greek dips to make a meal (such as tzatziki and taramasalata).
Don't forget the kalamata olives and pita bread!
This dip is quite similar to baba ghanoush, but less creamy and lighter. This dip is a real crowd pleaser - my sister demands it regularly 🙂
And of course it has a lot of garlic. I think garlic makes everything better.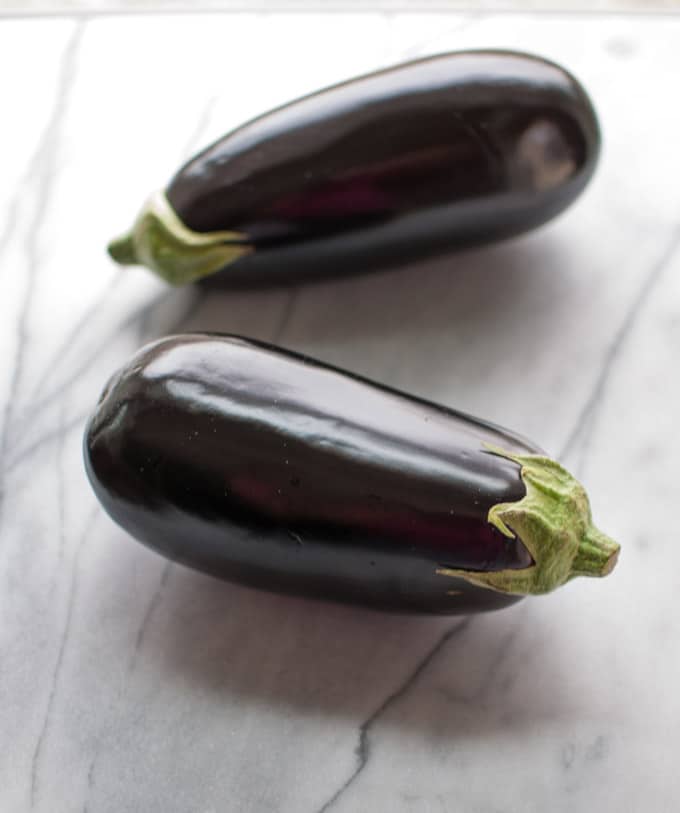 How to make melitzanosalata from scratch
Start by roasting your eggplant (prick it first so it doesn't leave you a nasty surprise in the oven!).
Prep your other ingredients (add oil, vinegars, garlic, oregano, liquid smoke or smoky seasoning, and salt & pepper to a measuring cup).
Let the eggplant cool until it's easy to handle then peel it.
Add the eggplant and oil mixture to a blender and blend until smooth.
Refrigerate the eggplant dip for at least an hour prior to serving.
I hope you will give this roasted eggplant dip a try!
Let me know in the comments if you have any questions.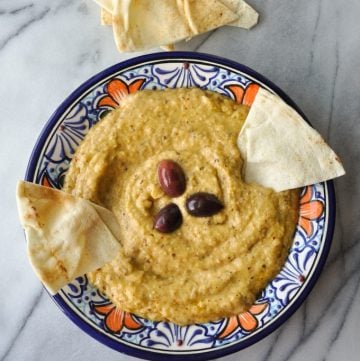 Greek Roasted Eggplant Dip (Melitzanosalata)
Melitzanosalata - a garlicky dip made of roasted eggplant.
Ingredients
1

large or 2 smaller eggplants

1/2

cup

extra virgin olive oil

4

teaspoons

red wine vinegar

1

teaspoon

balsamic vinegar

2-3

cloves

minced/crushed garlic

1/2

teaspoon

dried oregano

A few drops liquid smoke

optional

Salt and pepper to taste (I like to be generous with the pepper)
Instructions
Pre-heat oven to 450F. Move rack close to the top of oven.

Cover a baking sheet in tin foil (for easy clean-up).

Poke holes all over the eggplant(s) so you don't have to clean up exploded eggplant from the oven (I've done this). Place the eggplant(s) on a baking sheet and bake for about 30 minutes, turning half way through.

Measure out olive oil. For ease of clean-up I simply add all the other ingredients into the measuring cup after I put the oil in there.

Once the eggplant(s) is done, I let it cool for at least 15-20 minutes on the baking sheet. You will notice that some of the bitter liquid will seep out. This is a good thing. Once it has cooled enough, I peel it by hand and roughly chop it. Discard the skins.

Add eggplant and oil mixture to blender. Blend until smooth. Transfer info bowl and refrigerate for at least an hour before serving.
Notes
Instead of liquid smoke, you can use a smoky spice blend if you have one on hand. I do recommend this step because it really gives this dip a wonderful smoky flavor that oven roasting just can't do.
I find that this dish tastes so much better the next day, so I typically make it the night before. All the flavors settle and the garlic intensifies.