Greek Salad with grilled halloumi and tomatoes - an extra special take on the classic Greek salad!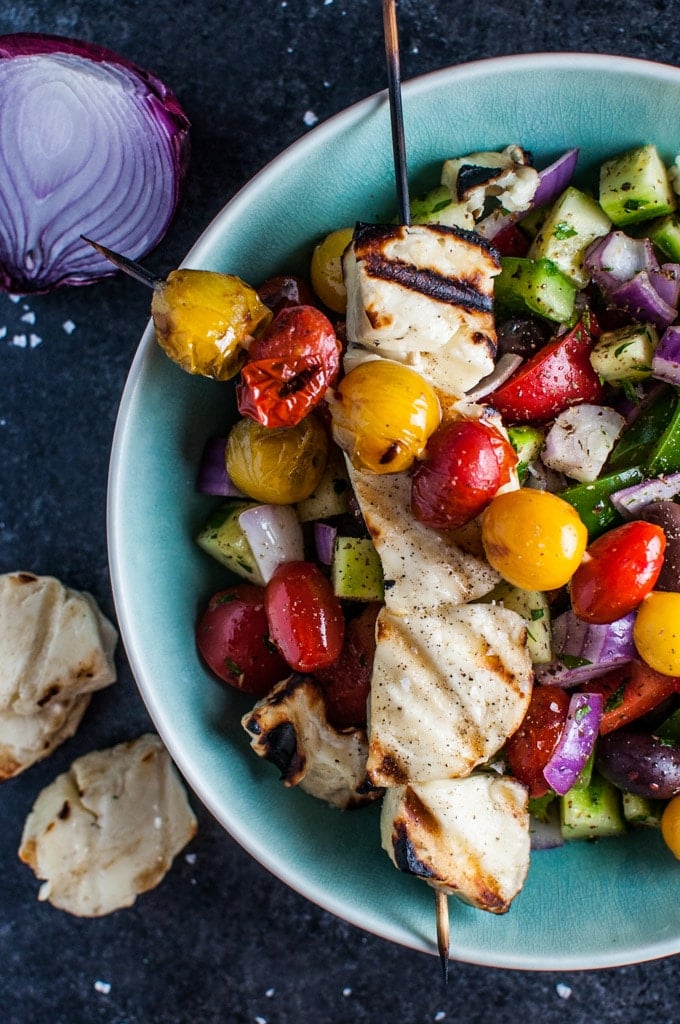 Now that BBQ season is in full force at my house, I'm grilling everything left, right, and center. The other day, the idea for a grilled Greek salad came to mind and I had to make it happen. I didn't want to mess with the traditional Greek salad (Horiatiki salata) too much because, well, it's been around forever and is much beloved.
I basically just decided to grill the tomatoes to give a slightly different texture and flavor to the dish and swap the feta for halloumi. Halloumi is fabulous when it's fried, and I had a feeling it would be fabulous when grilled. I was right.
The fresh flavors taste wonderful with the smokiness of the grilled halloumi and tomatoes. This makes a pretty filling entree-sized salad (I'd probably split it into two) or four side salads.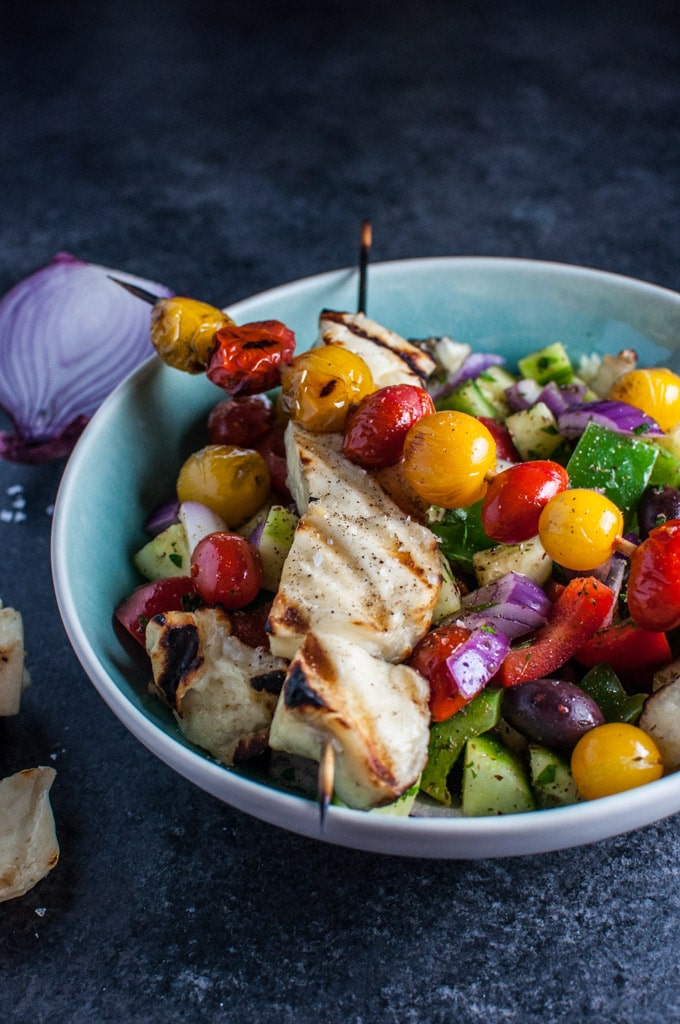 The dressing is simple and does not compete with the other flavors.
The kalamata olives are the best part of course (yeah, I know, some of you will leave them out).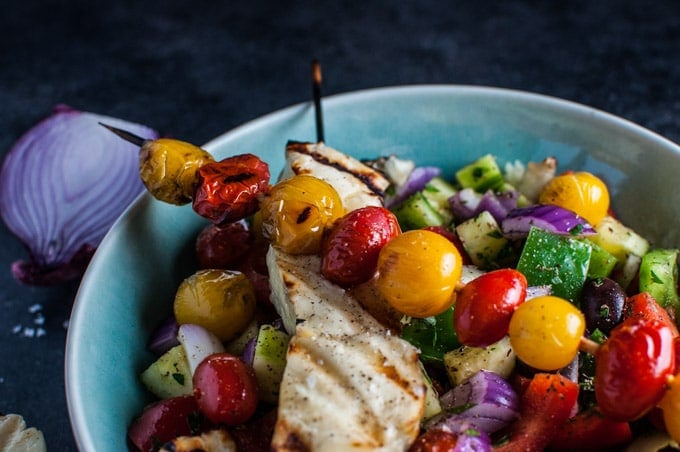 Will you try this take on the classic Greek salad?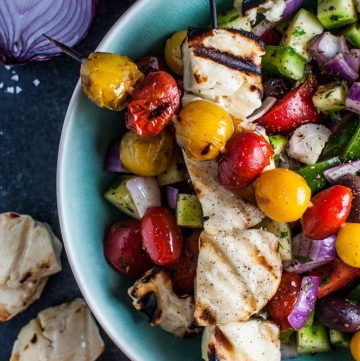 Greek Salad with Grilled Halloumi and Tomatoes
The classic Greek salad with a slight twist - grilled halloumi cheese instead of feta, and the tomatoes are grilled too!
Ingredients
20

(or to taste) grape or cherry tomatoes

1/2

small purple onion

1

bell pepper (I used 1/2 red 1/2 green)

1/2

cucumber

peeled

Kalamata olives

to taste

1

brick of halloumi cheese (approx. 8 ounces)

Salt & pepper

to taste
Dressing:
2

tablespoons

olive oil

(or more to taste)

1

tablespoon

red wine vinegar

Generous sprinkle of dried oregano
Instructions
If using wood skewers, soak them for at least 10 minutes so they don't splinter. I used four wood skewers when I made this recipe.

Cut the halloumi cheese into chunks that are at least 1" x 3". If you cut them smaller, they will likely crumble. I found that out the hard way.

Chop the onion, cucumber, and pepper into bite-size pieces. Place in a medium to large salad bowl. Add olives to bowl.

Prepare the skewers by threading the little tomatoes onto their own skewer(s) and the cheese onto its own skewer(s).

Brush the skewers with olive oil. BBQ the skewers on medium heat. The time will vary depending on your grill, but aim for grilling the cheese 2-3 minutes per side and the tomatoes a little bit longer.

Remove cheese and tomatoes from skewers and add to salad bowl. Add the olive oil, red wine vinegar, salt and pepper, and oregano. Toss until coated. Serve immediately.
Notes
Serves four as a side dish.