These healthier pumpkin chocolate chip muffins are moist, flavorful, and make the perfect little snack or breakfast treat at under 200 calories per muffin.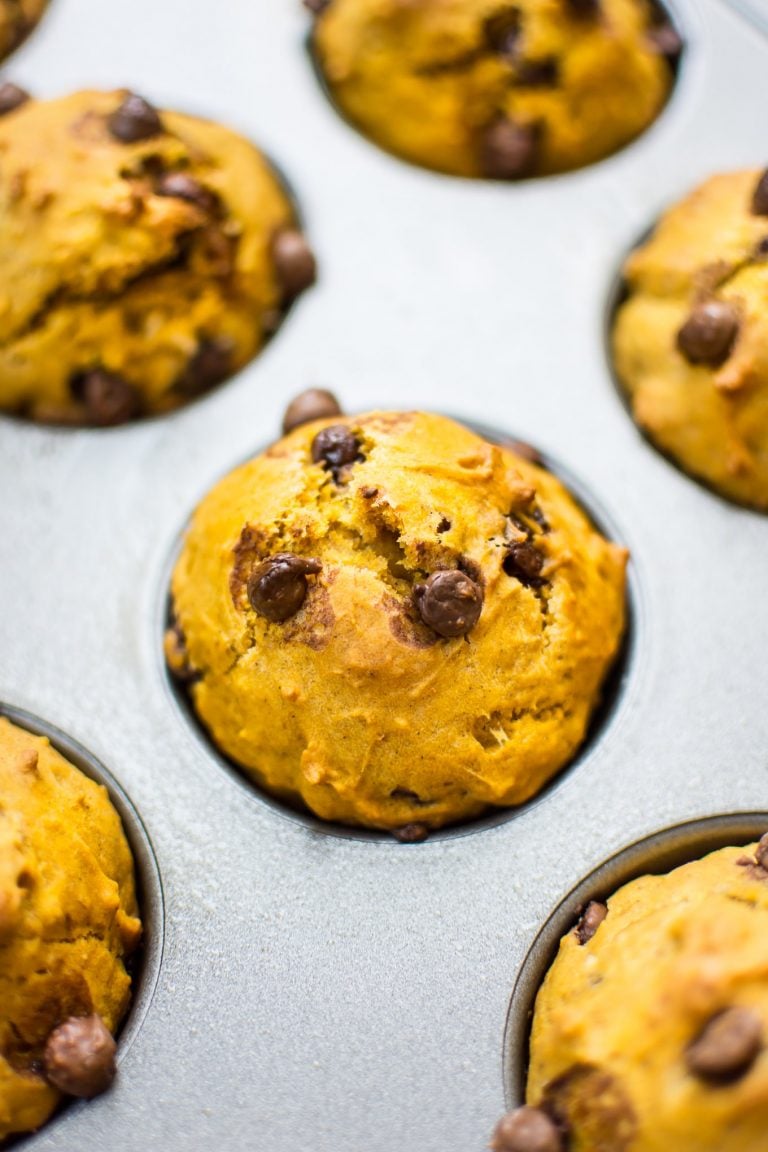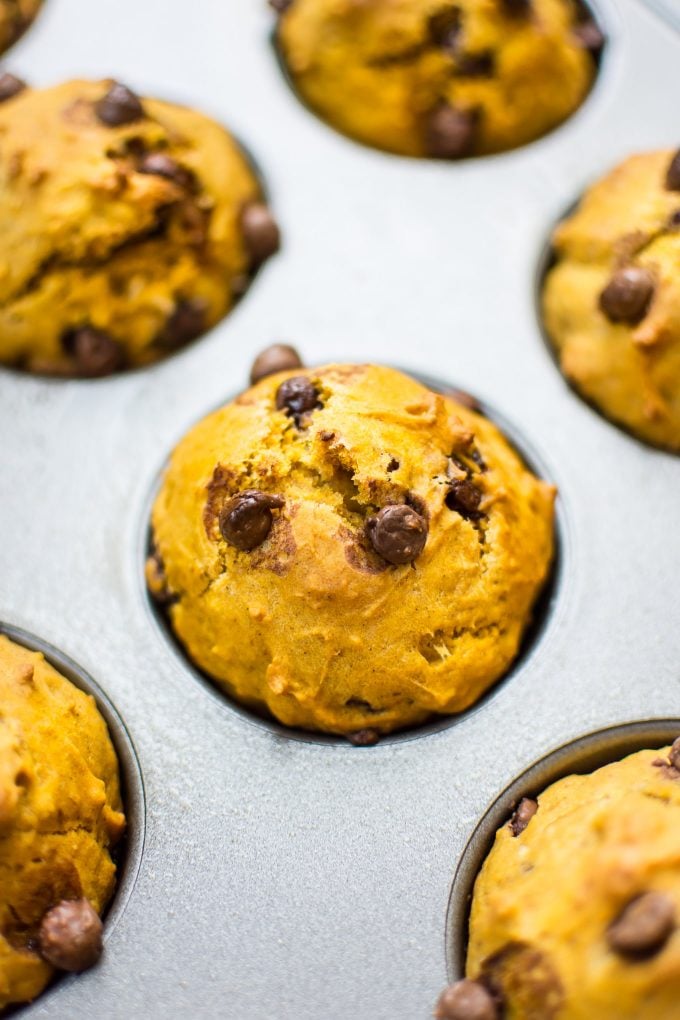 Ok, so these skinny pumpkin muffins are not exactly a health food, but I do actually consider these to be pretty healthy as far as muffins (or baked goods in general) go.
I was never a big fan of store-bought or coffee shop muffins. Except for those giant Costco double chocolate muffins. OMG. Typically, your average muffin has as many calories as a hamburger or a slice of cake, but it isn't as tasty. I am not a huge sweets person to begin with, so I'd rather take the burger, thanks.
These pumpkin chocolate chip muffins are nice and light, not too sweet, and aren't in-your-face pumpkin.
I think these are the best pumpkin muffins, but I may be biased. 😛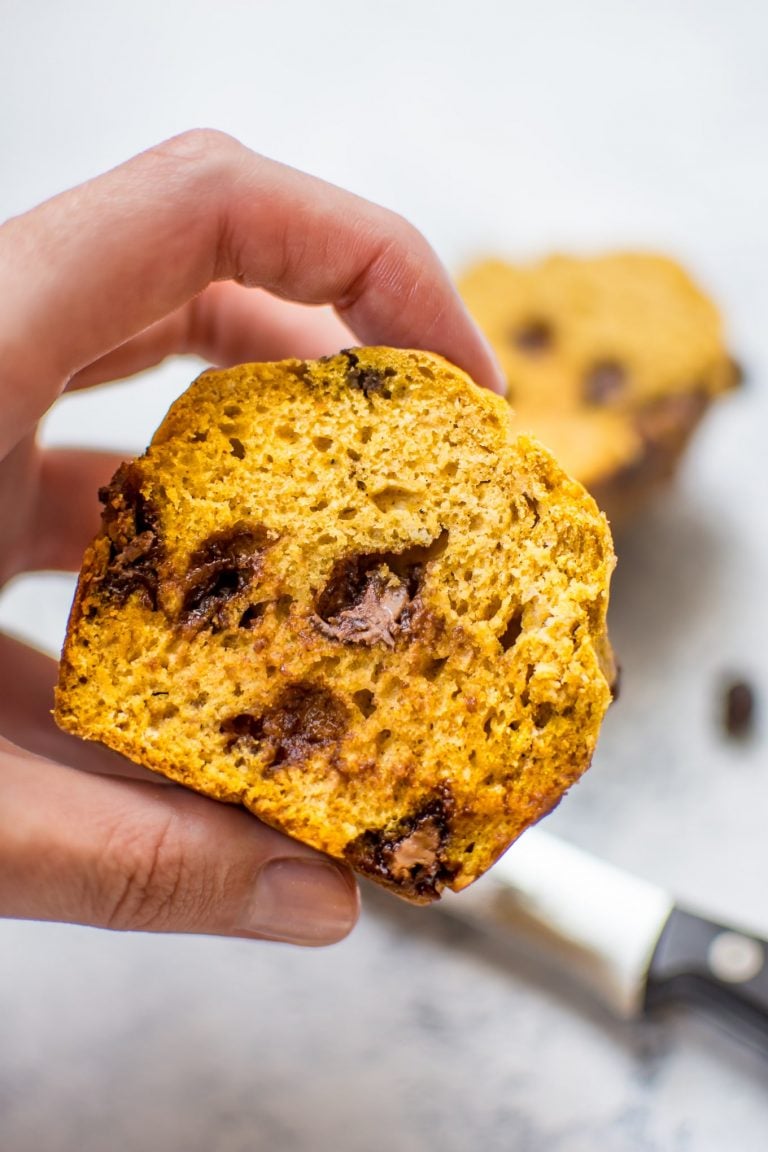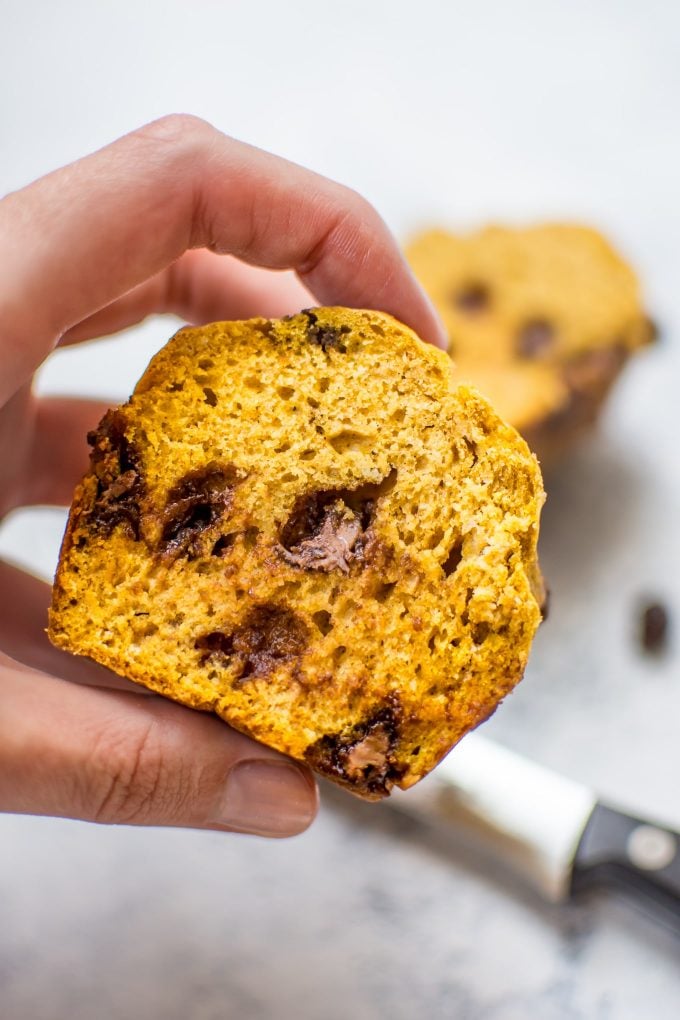 Let me tell you how I came up with this healthier pumpkin muffins recipe. It's not really that exciting, but this is how the mind of a food blogger who rarely bakes works. 😛 A coworker of mine periodically brings these delicious little blueberry muffins into the office.
I asked her for the recipe a few times, and finally she gave it to me (she just kept forgetting, but this took like a year haha). I was super excited to make them, so one night after work I started to get all the ingredients out but realized that I didn't have canola oil or blueberries. Pffft… like I'd let something like that stop me!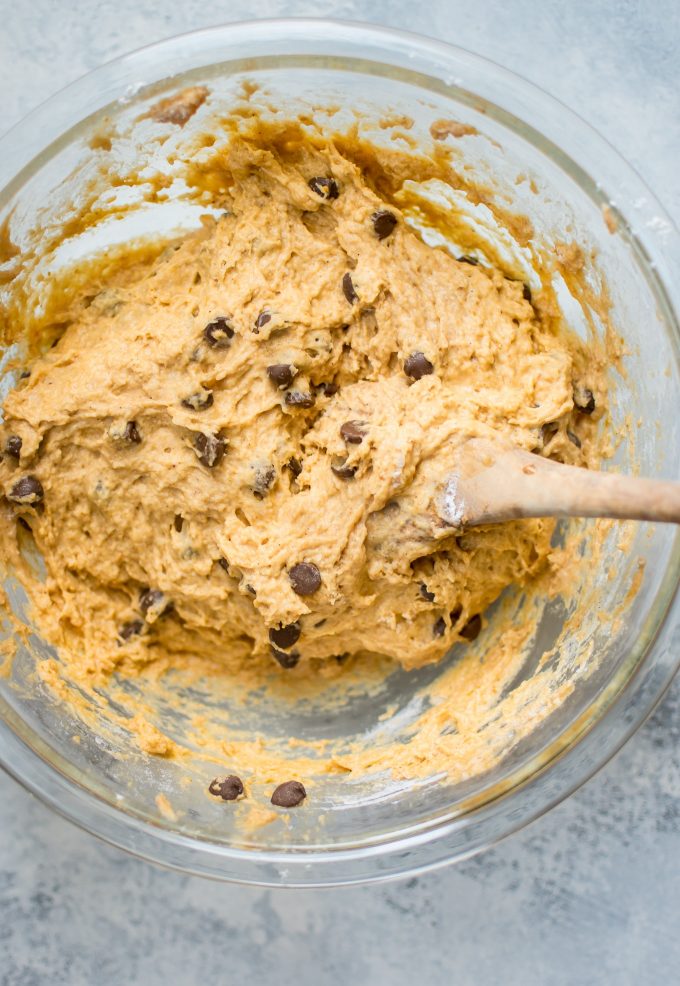 I subbed in butter and chocolate chips, and they turned out pretty good, but there were only 10 of them since blueberries take up more space than chocolate chips. I made the recipe with canola oil and chocolate chips the next few times, and then pumpkin season started up.
I thought "hey… let's turn these into pumpkin muffins and put them on the blog!" – so I did. It took a few attempts to get them just right since I was adjusting things like the baking powder and adding the pumpkin purée and more flour to turn 10 muffins into 12.
It finally worked, and even though I'm not the biggest pumpkin spice fan on the planet, I really like these, and I'm quite proud that I adapted a baking recipe without giving up. Like I've said before, if cooking is an art and baking is a science, I got a D in chemistry. Or something.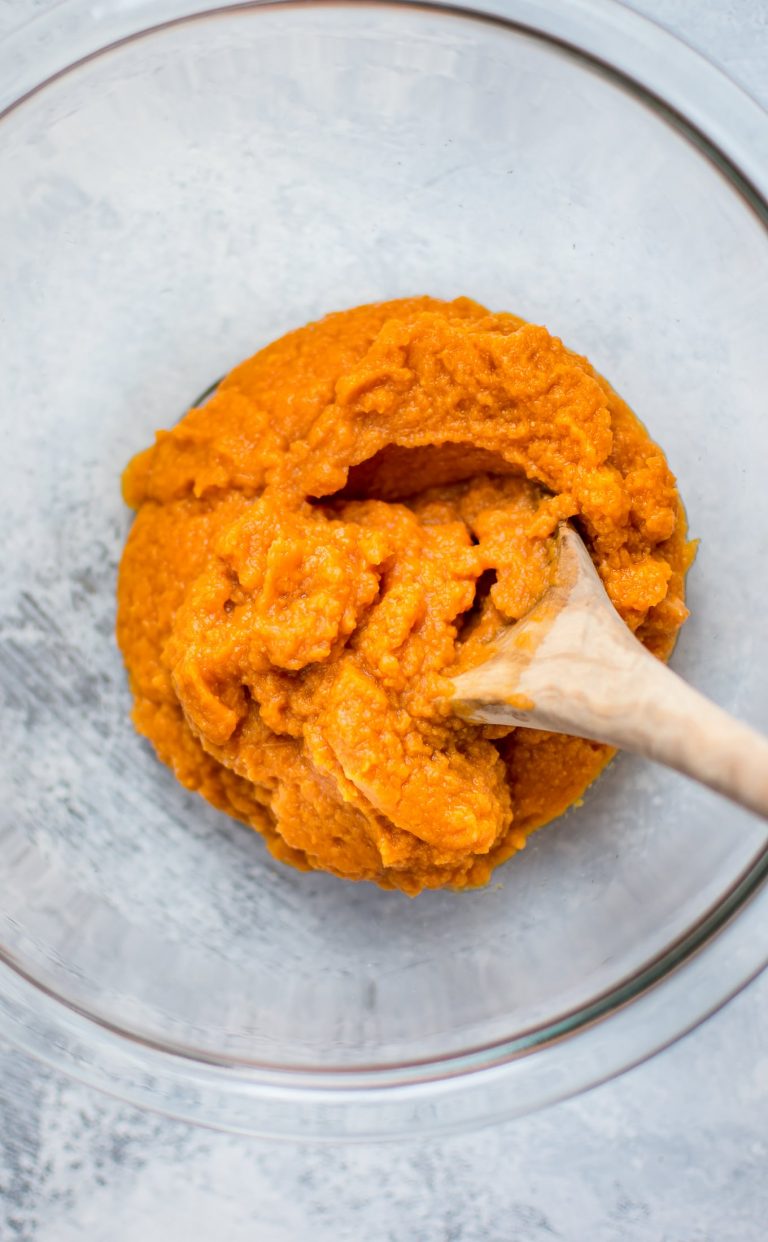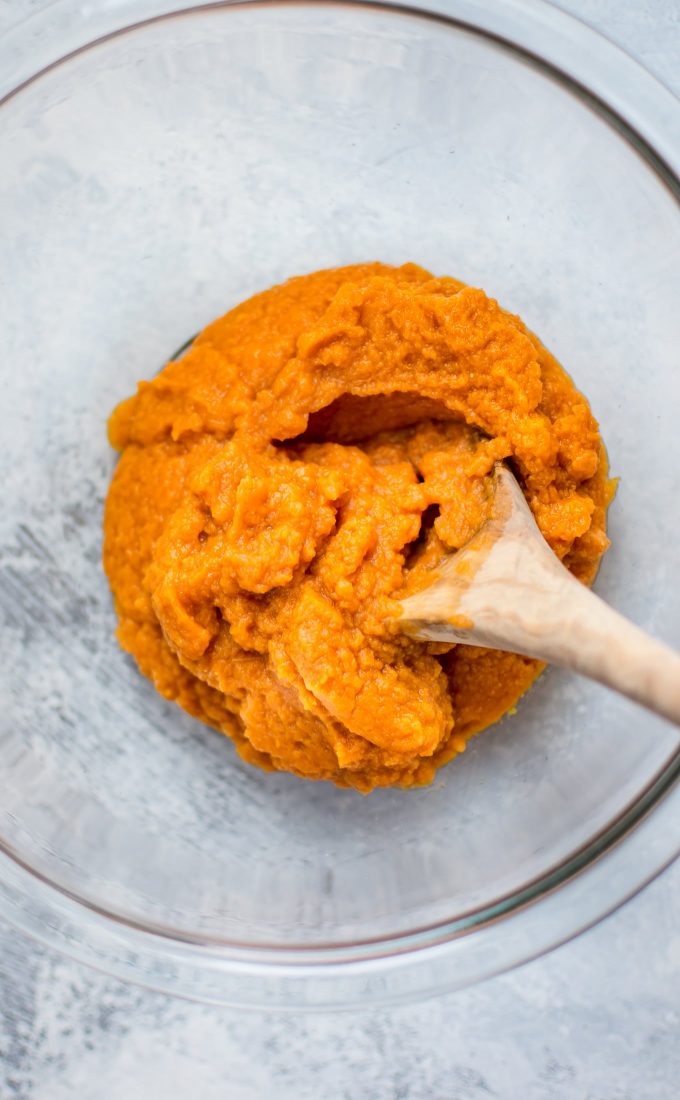 I love eating one hot out of the oven when the chocolate is all melty. Mmmmm….
And they're still tasty after a few days of being stored in an airtight container.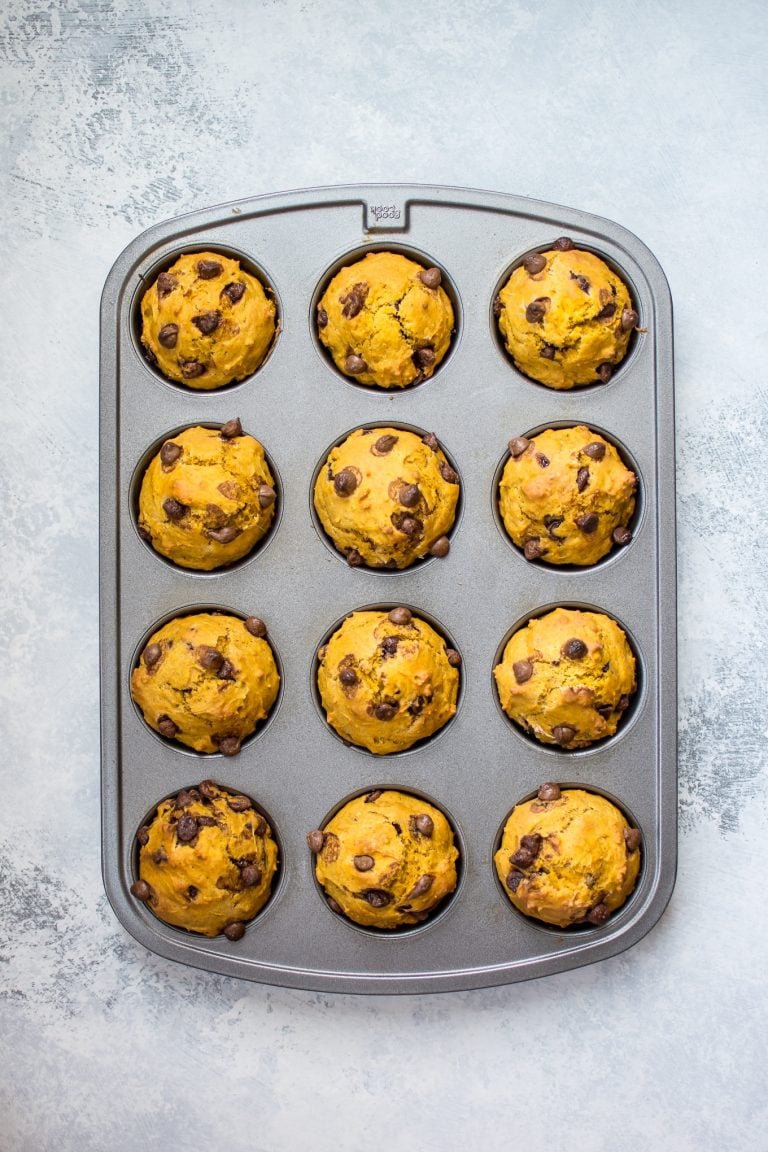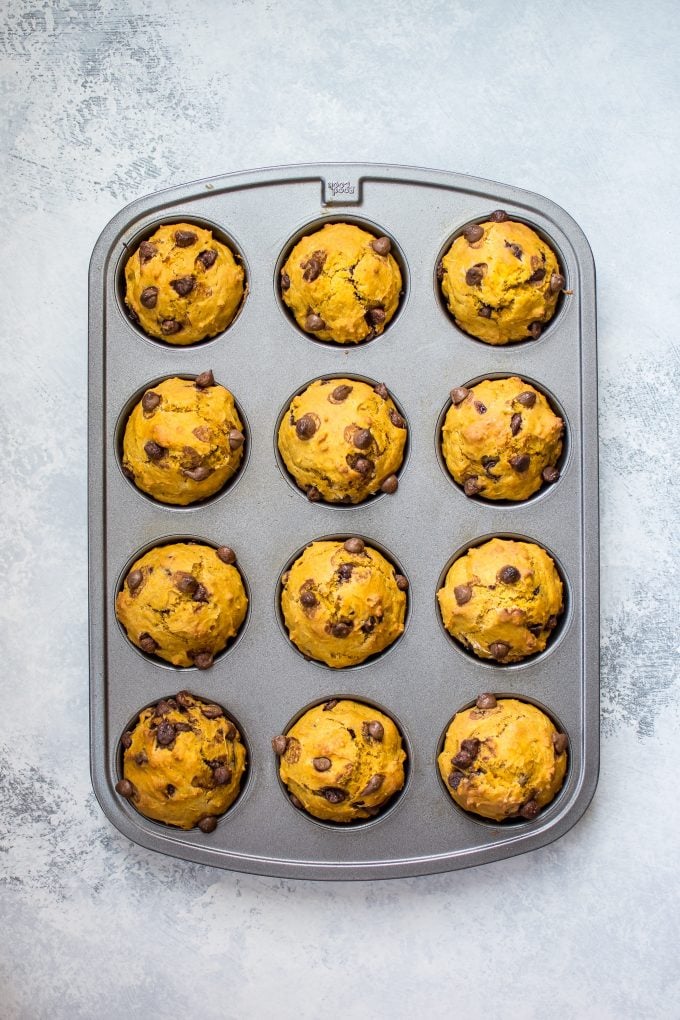 I hope you enjoy this easy pumpkin muffins recipe!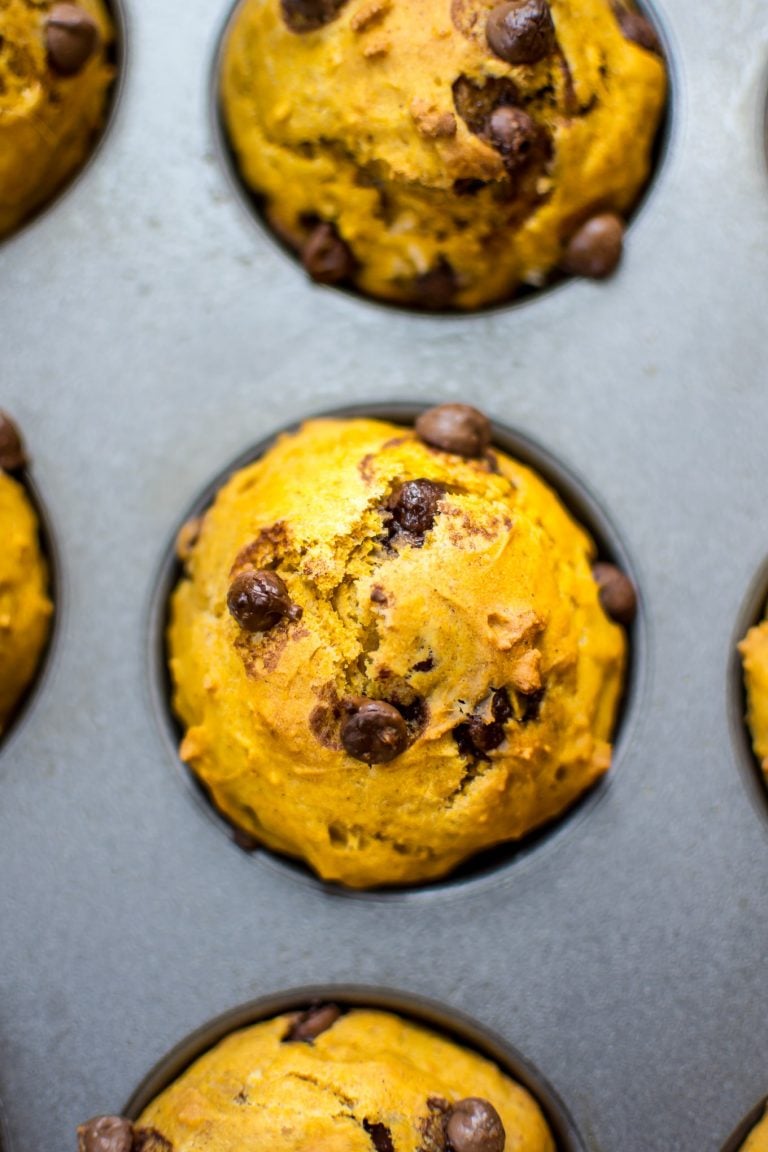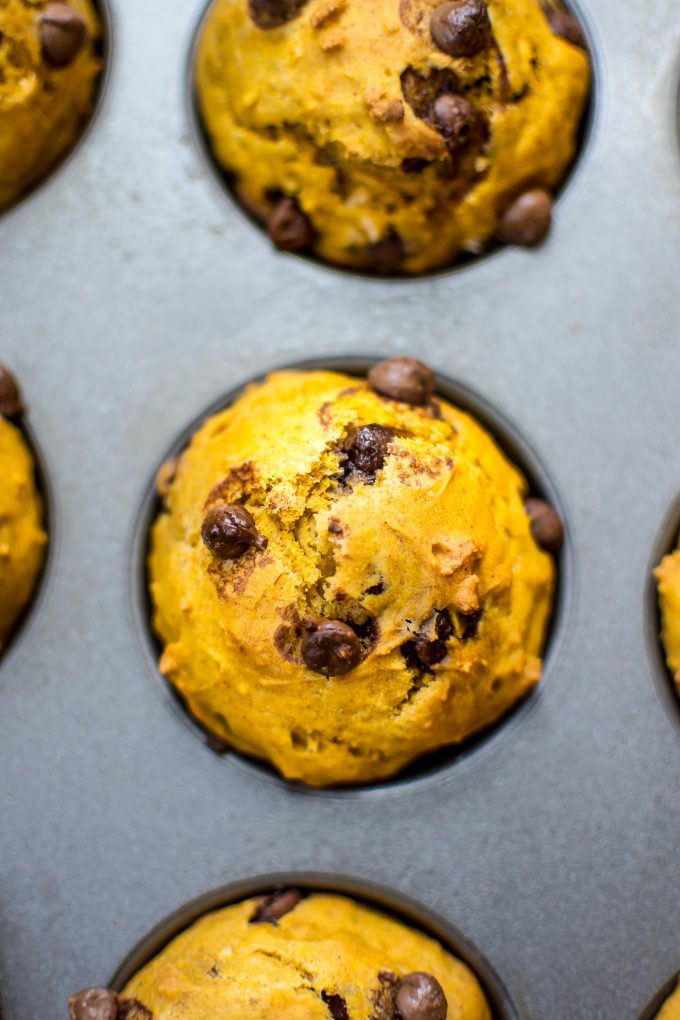 Like pumpkin? You may also like my pumpkin breakfast popsicles or my cinnamon pumpkin ice cream recipe.
Questions? Leave me a comment below!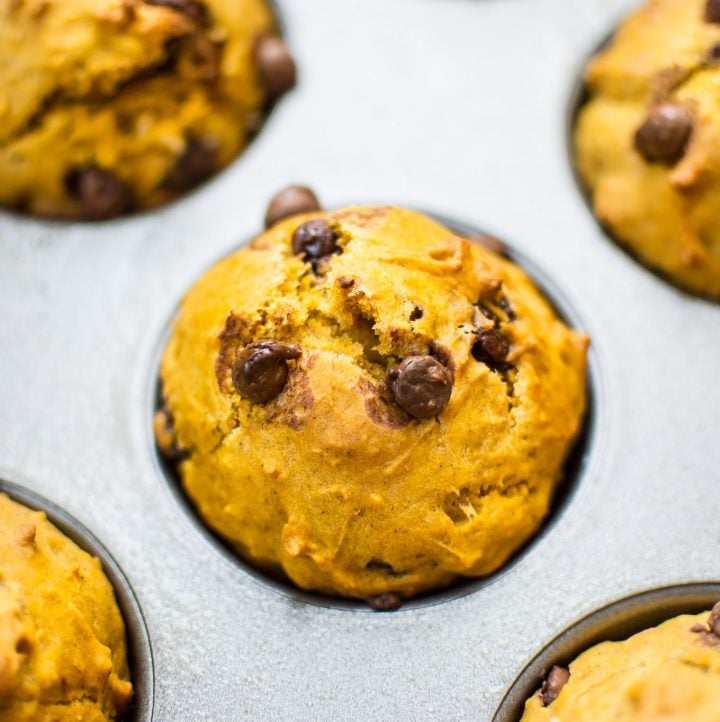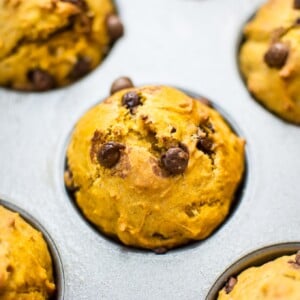 Pumpkin Chocolate Chip Muffins
These healthier, low fat pumpkin chocolate chip muffins are the perfect little snack or breakfast treat at under 200 calories per muffin.
Ingredients
2.5

cups

all-purpose flour

1/3

cup

granulated sugar

1.5

teaspoons

baking powder

1/2

teaspoon

baking soda

Pinch

of salt

1

teaspoon

pumpkin spice

1/2

cup

skim milk

2

tablespoons

canola oil

1

egg (lightly beaten)

1

cup

pumpkin purée

1

teaspoon

pure vanilla extract

1/2

cup

milk chocolate chips
Instructions
Preheat oven to 400F and move the rack to the middle position and grease a 12-cup muffin tin (I use Pam cooking spray).

In a large bowl, whisk together the flour, sugar, baking powder, baking soda, salt, and pumpkin spice.

In a smaller bowl, whisk together the milk, canola oil, egg, pumpkin purée, and vanilla.

Pour the wet ingredients into the bowl with the dry ingredients. Gently mix it together (I just use a wooden spoon), taking care not to overwork it. Fold in the chocolate chips.

Fill each cavity in the muffin tin about 3/4 full.

Bake for 18-20 minutes or until they're lightly browned on top. I bake mine for 20 minutes.

Let cool in muffin tin for a few minutes then transfer to a wire rack to finish cooling.
Notes
Tips: Ingredients should be at (or close to) room temperature. Make sure you spoon & level the flour (if you scoop it, you'll have too much). I used unsweetened pumpkin purée, not pumpkin pie filling.
This recipe is adapted from my favorite go-to low fat blueberry muffins recipe.
© Salt & Lavender Inc. Content and photographs are copyrighted. Sharing this blog post is much appreciated, but copying and pasting full recipes without authorization to social media is strictly prohibited.
Leave a star rating and comment below!