Enjoy these honey and sumac charred sweet potato slices as a tasty snack or side dish. The tangy flavor of the sumac perfectly balances the sweetness.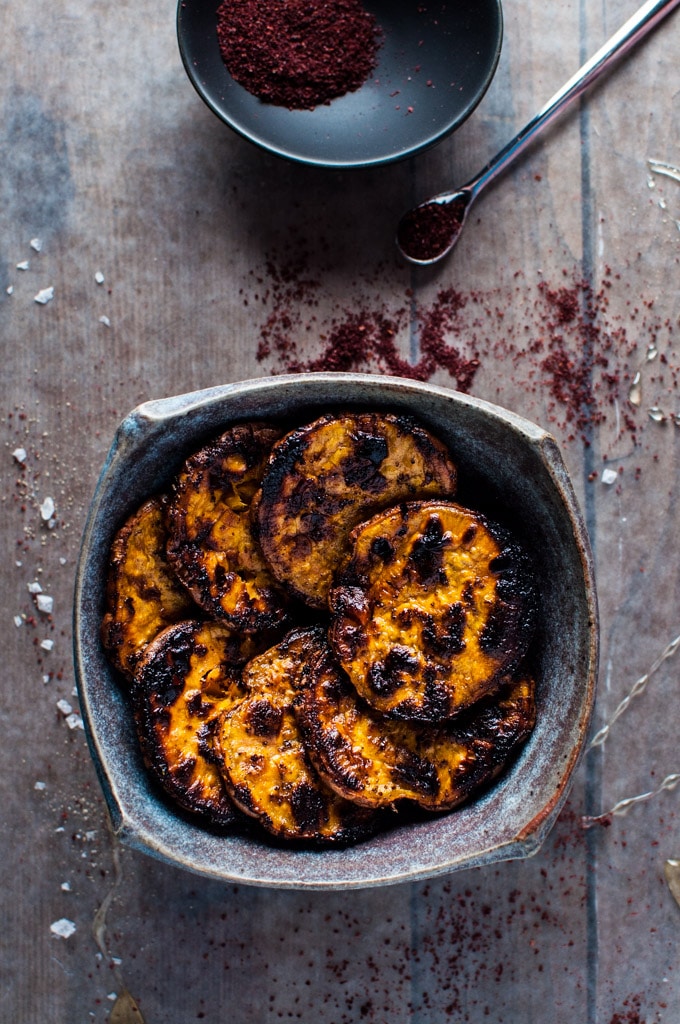 Disclosure: The sumac I used in this recipe was provided to me at no cost by Olivenation. All opinions are my own. Links to the sumac are affiliate links. I only recommend products I choose from companies I trust. Thanks for supporting the companies that support Salt & Lavender!
A few months ago while surfing the web (I really think we should bring that phrase back), I stumbled on a spice called sumac. It's a powder that's made up of ground sumac berries. Basically, it's a pretty red spice that has a lemony flavor and is used in Middle Eastern cooking. I love my citrus fruits, so I had to have it. I could not find it in any of my usual grocery stores, however, and I was too lazy busy to go to a specialty shop, so I forgot about it for a while.
It was a happy coincidence when Olivenation approached me and asked if I wanted to try a few of their products. I was looking through their site and lo and behold, they had my sumac.
I was in the middle of a hasselback sweet potatoes fail when the idea for this recipe popped into my head. As I was slicing the first of my two sweet potatoes, trying to get the perfect accordion going, I cut right through the bloody thing. I was down one sweet potato, hungry, and no longer in the mood for hasselback potatoes. I decided to finish slicing that sweet potato and to roast it with some honey and sumac. The sumac would provide the perfect contrast. Or so I hoped.
I seasoned the sweet potato slices with a mixture of olive oil, liquid honey, sumac, and some salt. Popped them in the oven and hoped for the best. Half an hour later I was rewarded with a delicious treat. Crispy and caramelized on the outside and tender and fluffy on the inside. Sweet and slightly tart. 30 minutes ended up being just right.
Cooked enough that the exteriors were perfectly charred... not cremated throughout. The slices were about 1/4 inch thick. I didn't flip the sweet potatoes. Super simple. When life gives you the lack of patience to cut hasselback potatoes properly, you use lemon-flavored spices to make lemonade. Or something. Enjoy!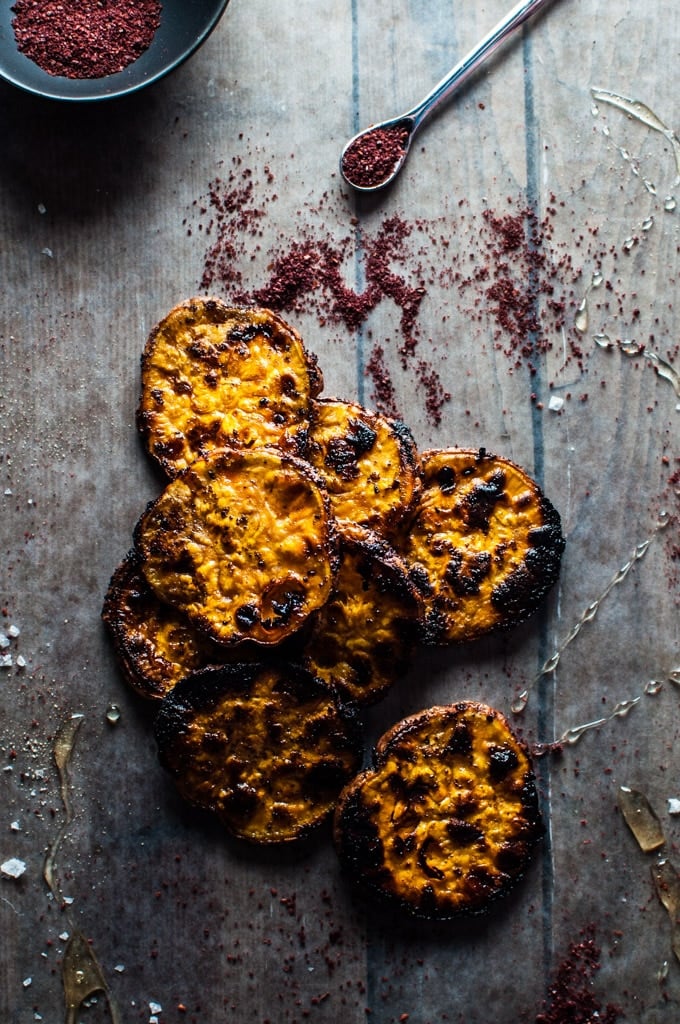 Need sumac? Get it here.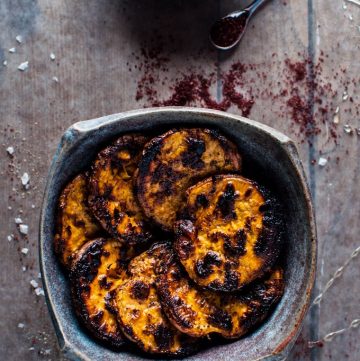 Honey and Sumac Charred Sweet Potato Slices
Honey and sumac baked sweet potatoes. A delicious treat or side dish!
Ingredients
1

large sweet potato (I didn't peel it)

2

tablespoons

olive oil

2

tablespoons

liquid honey

1

tablespoon

ground sumac

Pinch

of salt
Instructions
Pre-heat oven to 425F. Line a baking sheet with foil for easy clean-up.

Cut sweet potato into 1/4 inch slices. Toss them in a bowl with olive oil, honey, sumac, and salt. I found using two spoons to do this was the easiest way.

Place sweet potato slices on baking sheet in a single layer. Bake for 30 minutes. Serve hot.
Notes
As every oven is different and slices will vary in size from what I did, I recommend closely watching your sweet potatoes starting around the 20 minute mark. You can always check them to see if they're done to your liking and put them back in the oven if necessary.
The recipe is easily doubled. I recommend doubling it if you're feeding more than 1-2 people or it's more than a side dish/snack. I reheated the rest the next day using the microwave. And, while still tasty, I did not enjoy them as much as when they were fresh out of the oven.