My lemon and oregano potato gratin is a lighter and fresher version of this cozy comfort food!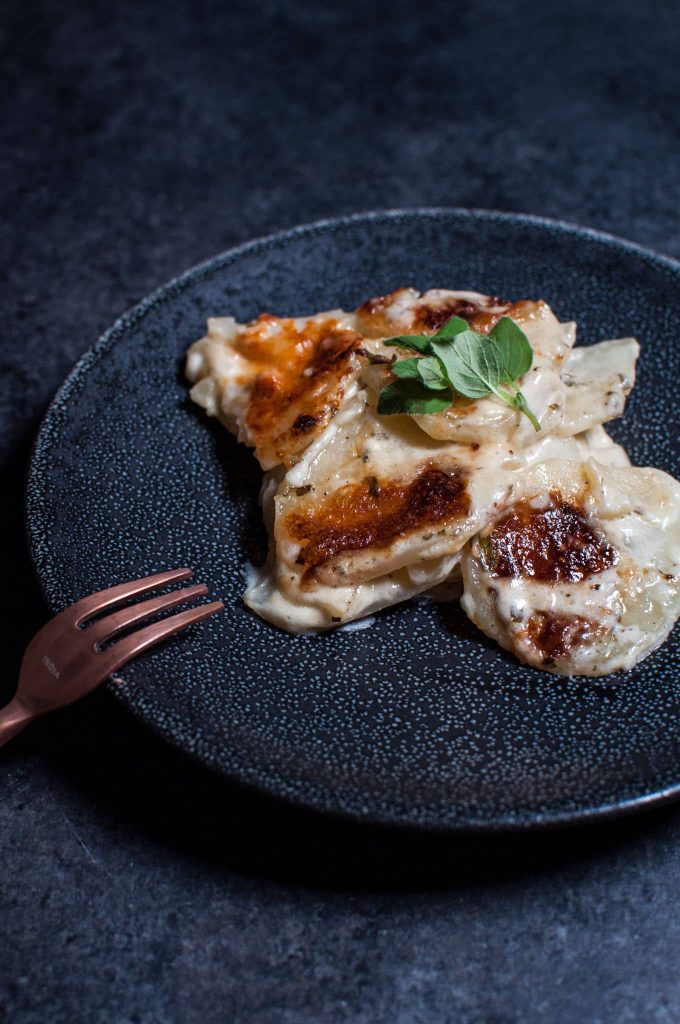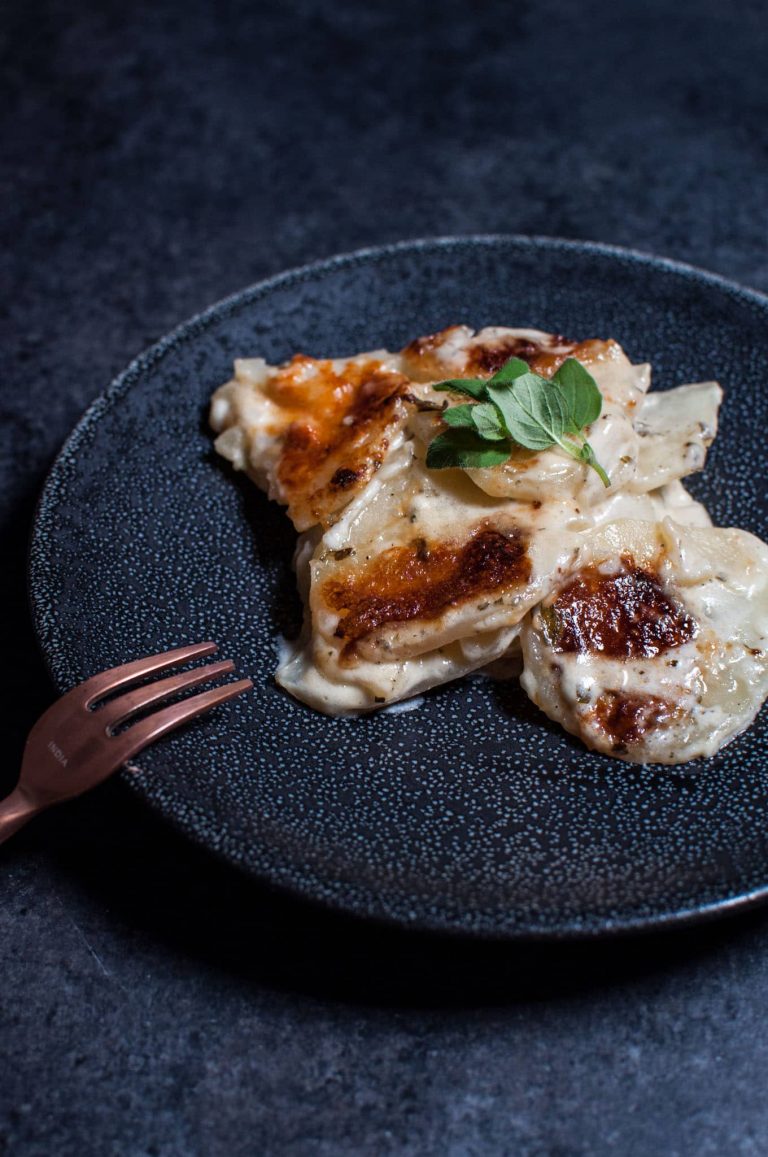 I love the flavors found in Greek cuisine. I really enjoy the lemon potatoes you can get at Greek restaurants. Not too long ago, the idea for a lemon potato gratin popped into my head. At first, I tried to make it as cute little muffin tin individual-sized mini potato gratins, but that was a FAIL. A Natasha had to scrub out the bottom of the oven kinda fail. That was fun. I decided not to redo them as you also have to make sure you buy the right size potatoes so the slices nicely fit in your muffin tin, and that is just too complicated. I like easy recipes. This recipe feeds a crowd and isn't a huge pain in the you know what to assemble. It also doesn't flood your oven.
My recipe doesn't deviate too much from tradition, but it is slightly lightened up. I only use parmesan cheese (no Gruyère cheese in this recipe), and I use whipping cream, which is slightly less calorific than heavy cream. Slightly. This dish has plenty of flavor from the lemon, garlic, and fresh oregano and is deliciously creamy and comforting.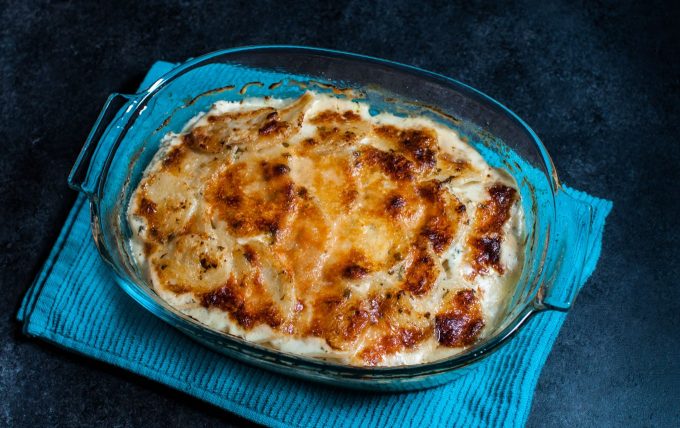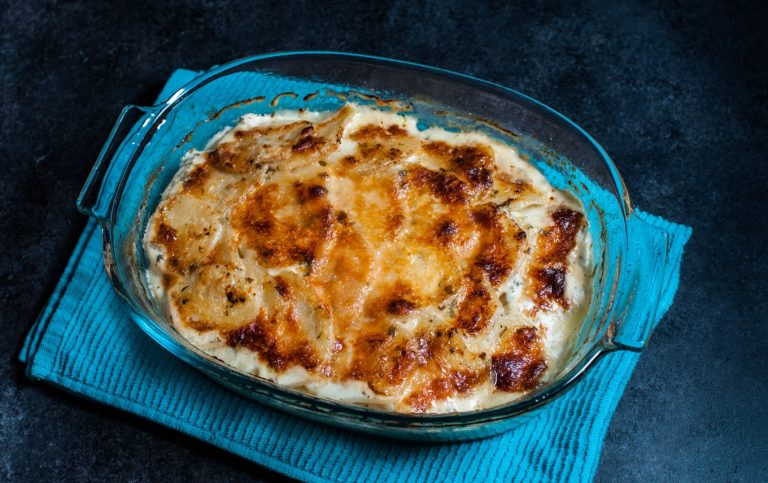 It's really simple to make but seemed much more complicated when I stopped to take a photo after every step for the handy dandy video (does it count as a video when it's got moving pictures??). I'm now past the initial why-am-I-doing-this to myself stage of making recipe videos, but it's still a process. I'm proud of myself for getting with the times, though 😉 I hope you like it (see it below).
I recommend using a mandoline to slice the potatoes – it's much faster than trying to cut 1/8 inch slices evenly by hand.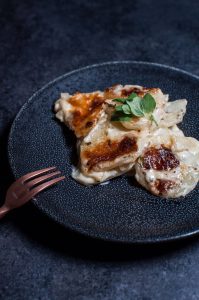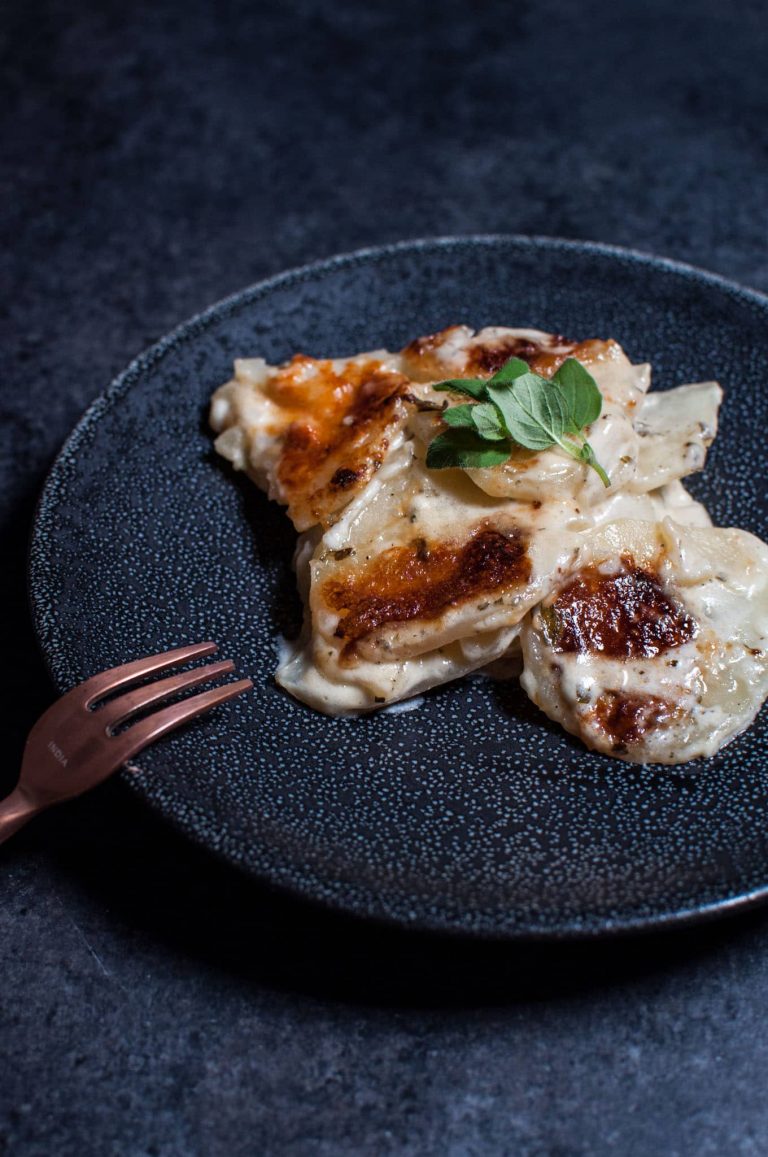 Print
Lemon and Oregano Potato Gratin
Yield 6
My lemon and oregano potato gratin is a lighter and fresher version of this cozy comfort food!
Ingredients
3 large russet potatoes, peeled
2 cups whipping cream
Juice from 1 lemon
2 tablespoons fresh oregano, chopped
2 cloves garlic, minced
Salt & pepper, to taste
1 cup freshly grated parmesan cheese
Instructions
Pre-heat oven to 350F and move rack to middle of oven.
Chop oregano and grate parmesan cheese.
Make the cream mixture by adding lemon juice, chopped oregano, minced garlic, and salt & pepper to the cream (I put everything in a measuring cup so I can pour it easily).
Peel potatoes and slice to 1/8 inch thickness (I use a mandoline).
Grease a 2 quart baking dish (I used olive oil + paper towel to do this mess-free).
Place a single layer of potatoes (slightly overlapping each other) along the bottom of the dish. Sprinkle with about 1/4 of the parmesan and then drizzle about 1/4 of the cream mix over top. Repeat the process until you have four layers.
Place in oven and bake (uncovered) for 75-90 minutes or until the top is golden and a knife pierces through easily. Let it sit for 10-15 minutes prior to serving.
Courses Side Dish