This lemon shrimp risotto is naturally creamy and full of flavor!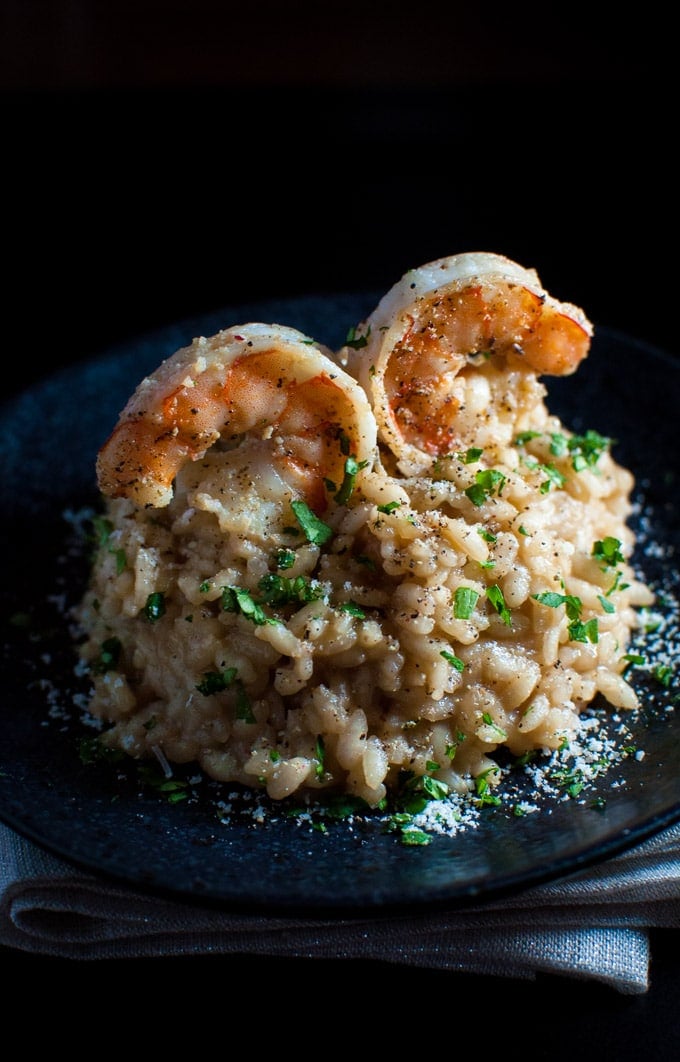 Arborio rice is thirsty rice. It's pretty magical when you add the cooking liquid and it soaks it all up and turns into a dreamy, creamy risotto. Yes, I'm easily amazed.
Making risotto isn't as time-consuming or fussy as some people make it out to be, and I'm the least patient person in the world. I managed to spill dried rice all over the place when I last made this, but that's typical Natasha cooking behavior. Some even ended up in my husband's iPad. A live cooking show hosted by yours truly would be really entertaining due to the unscheduled mishaps. You'd watch it.
There is no need to put cream in risotto in most cases. I've read that you can add it for fat content and taste, but generally you're doing something wrong if you add it. Fewer calories. I'm good with that.
If you don't like shrimp or you want this to be a vegetarian recipe, you can just omit the shrimp and have a nice lemon risotto.
I hope you'll try this lemon prawn risotto!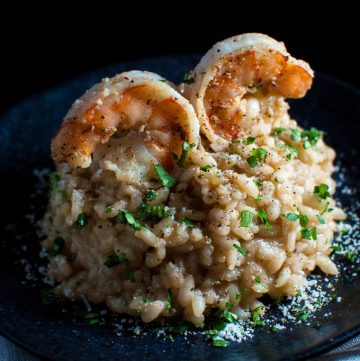 Lemon Risotto with Shrimp
A deliciously lemony risotto with shrimp.
Ingredients
3/4

pounds

medium shrimp

thawed & peeled

5

cups

vegetable or chicken stock/broth

1

cup

white wine

2

tablespoons

butter

1

shallot

chopped finely

2

cloves

garlic

minced

2

cups

arborio rice

Juice from 1 lemon

Olive oil (optional)

Freshly grated parmesan cheese

Salt & pepper

to taste
Instructions
Add the stock and wine to a pan on high heat. You'll want to reduce the heat to low just before it boils.

Melt the butter in a skillet on medium heat.

Chop shallot and mince garlic then add to the skillet and cook for a couple of minutes, taking care not to brown them.

Add the rice to the skillet and stir constantly for a couple of minutes, ensuring that it's coated in the butter. Reduce heat to medium-low.

Add the liquid into the rice one ladle at a time, adding more once the rice absorbs it. Make sure you stir constantly. Repeat this process until you've used up all the liquid and the risotto is al dente and nice and creamy.

Once you've used up all the liquid, add the lemon juice, salt, and pepper.

You can add the shrimp in at this point and cook them for a few minutes until they're done. Alternatively, if you don't want to mix the shrimp in, you can cook them in a separate pan in some olive oil (also feel free to add more garlic, salt & pepper, and some lemon juice). I cooked them separately for the photos, but I don't think this is necessary.

Serve risotto with freshly grated parmesan cheese. The cheese can be stirred in prior to serving or sprinkled on top.
Notes
You could even use beef stock if you want - it'll just make your risotto a bit darker.
If you do find yourself needing more liquid towards the end and you're out of broth, you can just warm some water up and add it to the risotto one ladle at a time.
Cooking time may vary a bit depending on the heat you use and how quickly the rice soaks the liquid up. Don't force it by turning up the heat... risotto can be a bit of a slow process, but it's worth it.