These parmesan and garlic stuffed mushrooms are a delicious easy-to-make appetizer that is sure to please vegetarians and carnivores alike.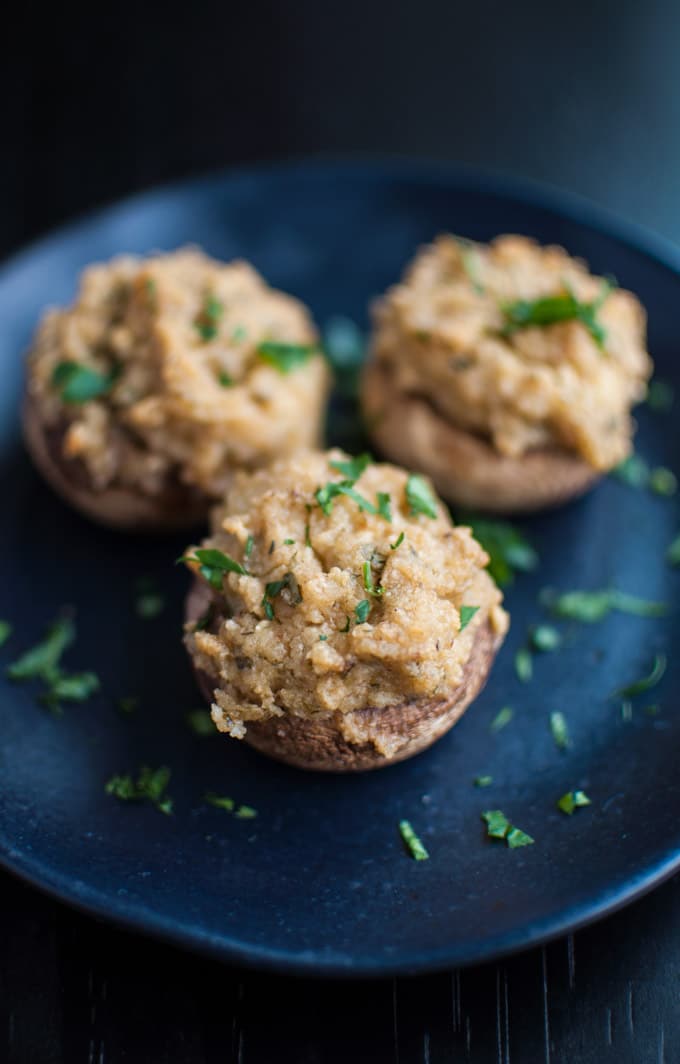 White mushrooms stuffed with garlic, parmesan cheese, breadcrumbs, lemon, and parsley are my kinda appetizer.
Now that the clocks have been set back and it's November in Alberta, the light isn't exactly working in my favor. I always photograph in natural light because it gives the best results and right now I don't have the money nor expertise to create an artificial lighting setup that effectively mimics natural light. I'm looking into it since I have many more months of minimal daylight, but for now I am sticking with cooking and photographing on the weekends because it gets dark by the time I get home from work.
I knew all this going into food blogging, but I didn't know how much planning it would actually take to make this all work. I usually end up cooking everything on a Sunday morning/early afternoon, while praying to the weather gods that I will get some decent light. I try to make at least one dish that gives leftovers we can take for lunch for at least part of the work week. The rest typically gets eaten for dinner on Sunday or Monday. I ended up stuffing myself with these mushrooms for my Sunday lunch (no, I didn't eat all 12... but close). I schedule posts out a few weeks ahead generally since I'm anal like that... so if you're totally confused on why I'm talking about Sunday lunch, now you know.
So, I wouldn't judge you if you ate these all by yourself for a meal. They're definitely tasty enough to do that. They're also good to share, but only if you want to.
I don't own a food processor right now (some food blogger hey?! Yeah, I'll buy another one soon), so I made these in my blender.
It works fine to make these in the blender if you add some extra water so the stuffing actually blends. A food processor needs less liquid so you're fine without adding the extra water.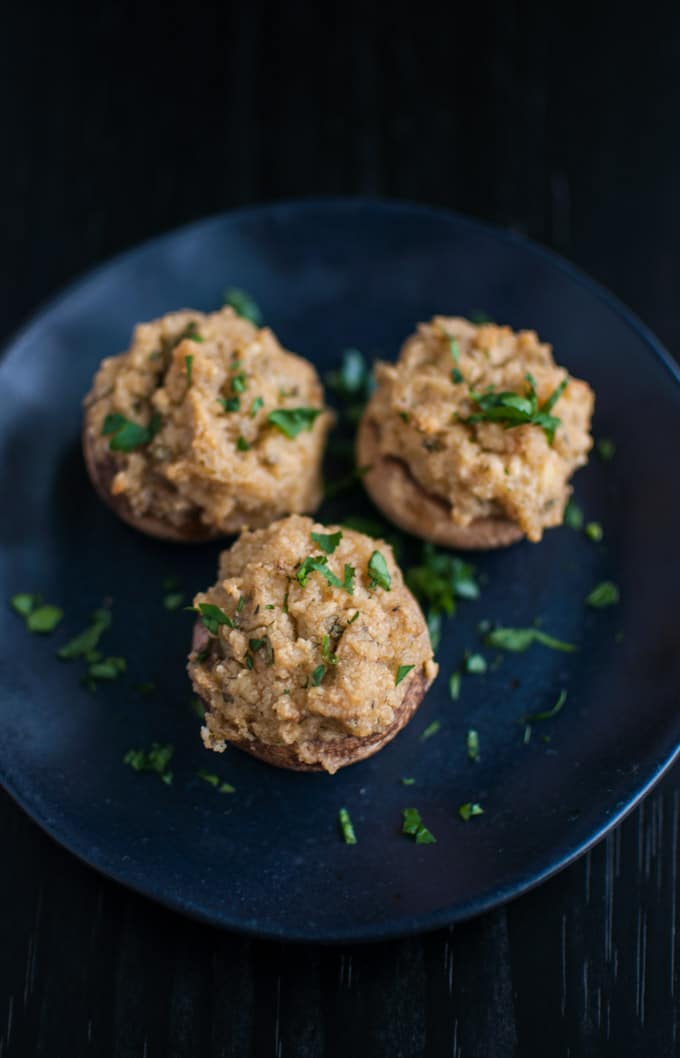 Will you try these parmesan stuffed mushrooms?
Let me know!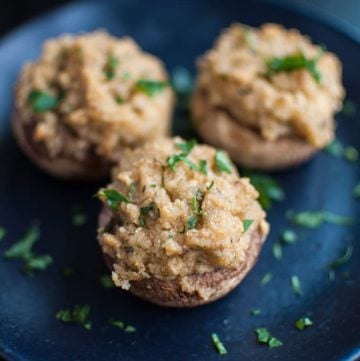 Parmesan and Garlic Stuffed Mushrooms
An easy vegetarian stuffed mushrooms recipe, perfect for an appetizer.
Ingredients
12

medium white mushrooms

1/4

cup

olive oil

Small handful parsley

chopped

Juice from 1 lemon

1/2

cup

parmesan cheese

grated

1/2

cup

Italian breadcrumbs

6

cloves

garlic

minced

1/4

tsp

dried thyme

Salt & pepper

to taste

Water (if using blender)
Instructions
Pre-heat oven to 350F. Line a baking sheet with foil for easy clean-up.

Use your hands or a knife to remove the mushroom stems. Place stems in food processor or blender.

Add olive oil, chopped parsley, lemon juice, parmesan cheese, breadcrumbs, minced garlic, thyme, and salt and pepper to food processor or blender. If using a blender, add in water until you have enough for it to blend (start with 1/4 cup). You may need to stir it occasionally.

Fill mushrooms with the stuffing mixture (I like to stuff them as much as possible) and then pop them in the oven for 30 minutes.

Serve warm or cold - they're good either way and also reheat fine.