Try this roasted beet and endive salad for a winter party or date night appetizer. Beet, endive, fresh herbs, and cool Greek yogurt make a unique flavor combination.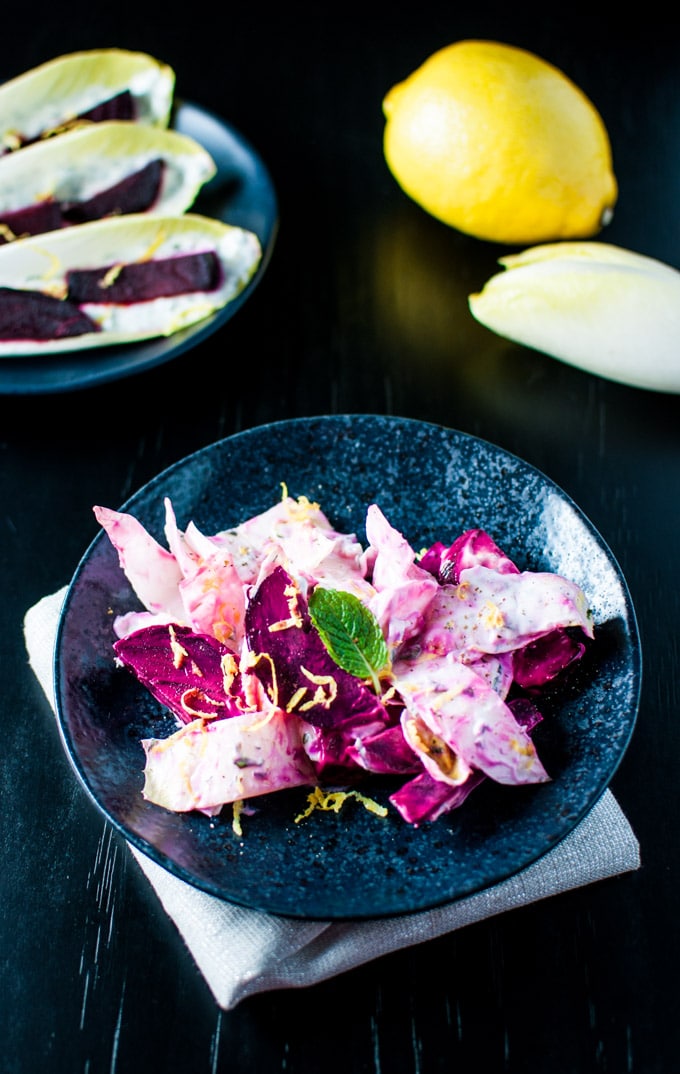 I'll be honest. I never really liked beets. They always tasted a bit like dirt to me. I've been trying to force myself to like them, and I'm making some progress – I was able to choke them down with this salad, and my beet hummus ain't so bad either. My sister, however, loves beets. It figures as whatever she loves I despise, and vice versa.
Beets may not be my favorite root vegetable, but I can appreciate the flavors in this salad. The bitterness of the endive is a nice contrast to the earthy sweetness of the beets. If you've never had endive before, it tastes a lot like radicchio. I wanted to make something with beets that didn't involve goat's cheese.
Ah goat's cheese. I have something called a conditioned taste aversion to that stuff. Skip to the recipe if you're grossed out easily 🙂 My past misfortune makes a hilarious story now, but at the time I thought I was going to die.
Several years ago, we were sitting in a steakhouse in Banff, Alberta (a scenic mountain ski town) and everything was going well. I was in the Rockies and my steak was on the way, so could life be any better? I had just finished an appetizer salad with goat's cheese and spinach, and everything seemed fine. My steak arrived and I took my first bite, then everything was suddenly not fine anymore. My sister says that all color drained from my face and she will never forget the look in my eyes. A few seconds later I upchucked ALL OVER MY PLATE. Yeah, there was no time and nowhere to go. The bathroom could've been five feet away… it wouldn't have mattered. I threw my napkin on my plate and bolted out of there. My sister followed me (where the heck was I going, anyway?!) and my mom was left in the restaurant to apologize to the waiter and give a very handsome tip.
And that is why I can't even smell goat's cheese anymore without feeling nauseous. I can still eat steak (thank God) and spinach (meh) but goat's cheese… NOPE! I still have no idea what the heck happened there. Sudden onset food poisoning? Did the altitude get to me? I just hope it never happens again! Sheer terror.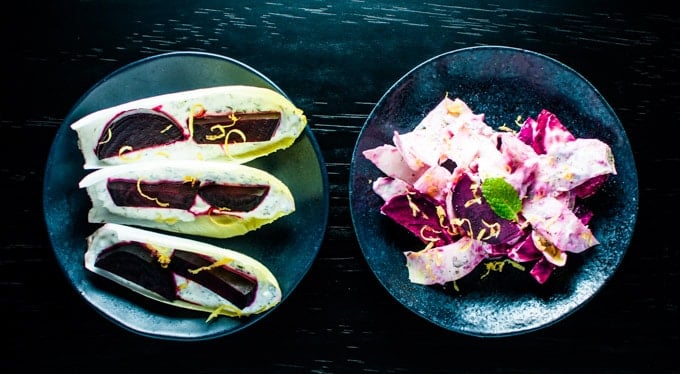 Anyhow, I am sure you're now ready to think about eating, so here is the recipe you've been waiting for: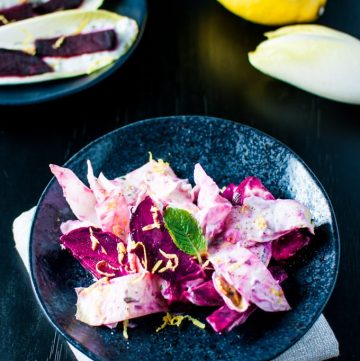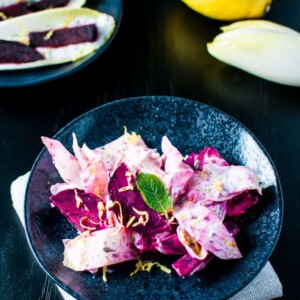 Roasted Beet and Endive Salad
A roasted beet and endive salad with a Greek yogurt dressing.
Ingredients
2

small beets

1

endive

1/2

cup

Greek yogurt

1

teaspoon

lemon juice

1

tablespoon

basil

chopped

1

teaspoon

mint

chopped

1

clove

garlic

minced

1/2

teaspoon

olive oil

Salt & pepper

to taste
Instructions
Pre-heat oven to 450F.

Line a baking dish with tin foil. Wash beets and trim the leaves/stems back (leaving an inch or two) if your beet has any. Don't trim the tails as you'll lose juice (and thus flavor) while roasting.

Add beets to the foil-lined baking dish and then cover with tin foil. Roast for at least 45 minutes. Check if beets are done by inserting a skewer. If it slides in easily (through the beet's centre), they're done.

Remove from oven and let cool for 5-10 minutes. Peel beets (I used a knife). Cut beets into 1/4 inch slices and then cut the slices smaller if desired.

While the beets are cooking, prepare the dressing. Chop the basil and mint and mince the garlic. Add basil, mint, garlic, lemon juice, olive oil, and salt and pepper to the Greek yogurt.

You can plate this in two ways. 1) Just before you're ready to serve, cut the bottom of the endive off then carefully take the leaves off. Line the leaves with the yogurt dressing and then arrange pieces of beets as desired. 2) Roughly chop the endive and toss it with beets and the yogurt dressing. Garnish either method with fresh lemon zest if desired. Serve immediately.
Notes
Beet cooking method adapted from here - it has great step by step photos.
© Salt & Lavender Inc. Content and photographs are copyrighted. Sharing this blog post is much appreciated, but copying and pasting full recipes without authorization to social media is strictly prohibited.
Leave a star rating and comment below!