My roasted butternut squash and cauliflower soup with coconut milk is rich, silky, cozy, healthy, and full of flavor.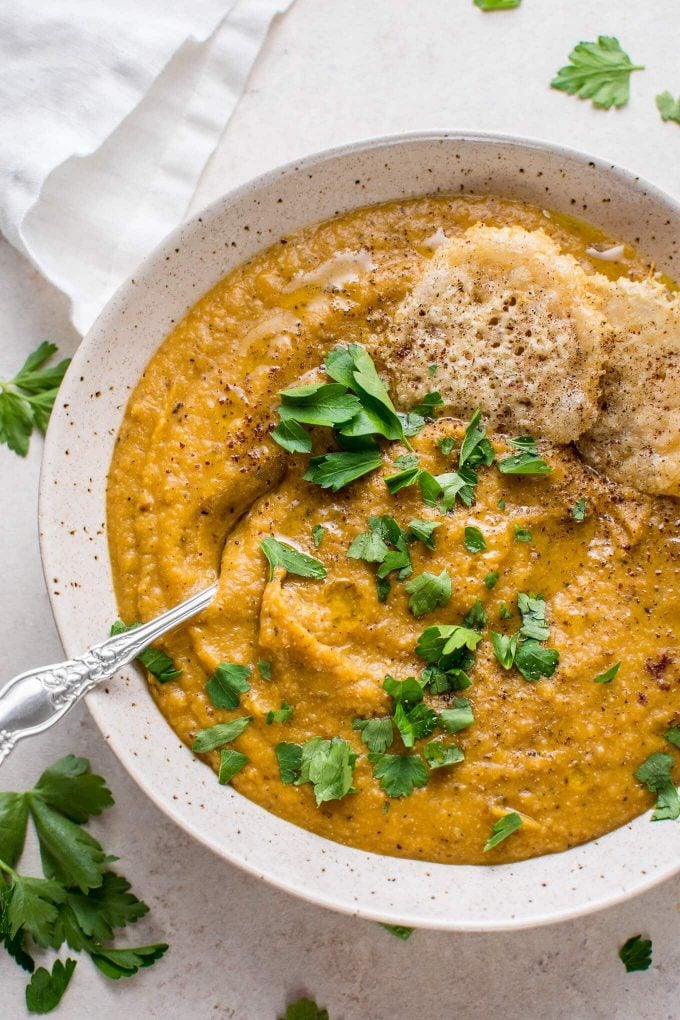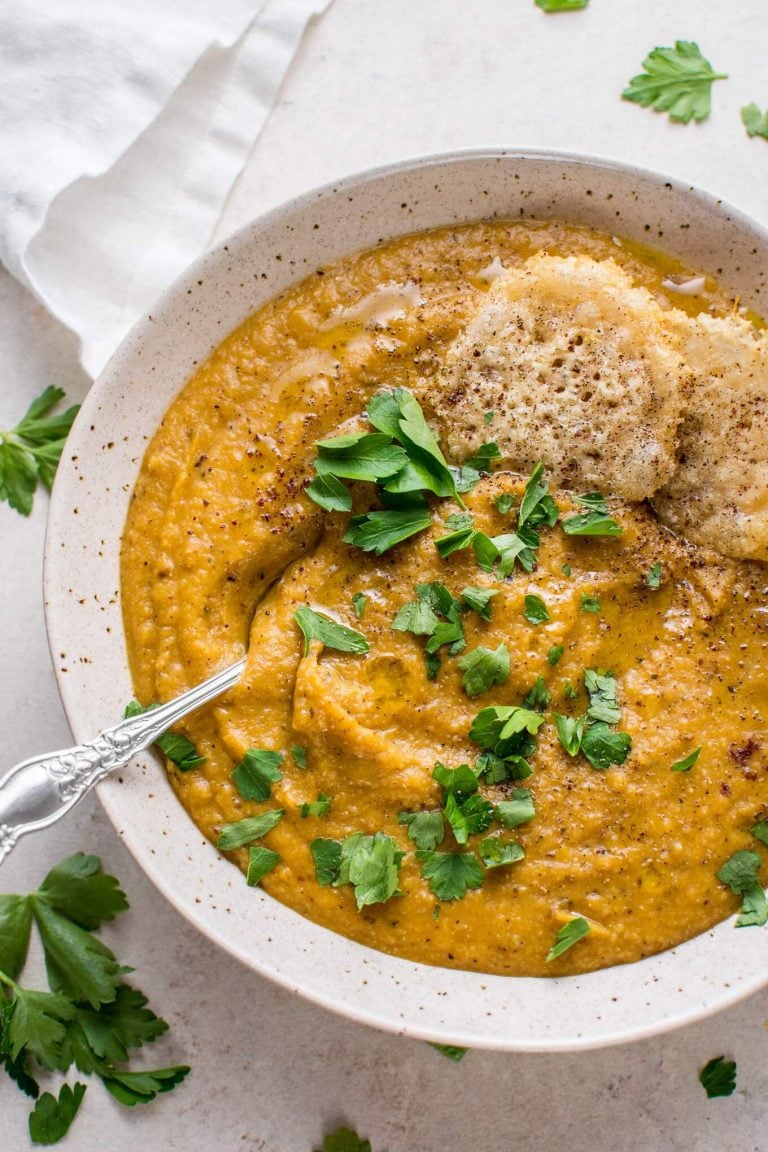 I would say that this is one of my best soups yet! Roasting the squash and cauliflower to the point where the squash is caramelized and the cauliflower has nicely browned is the key to making this taste so good.
There's no cream in here, so it's a great option for those who do not eat dairy.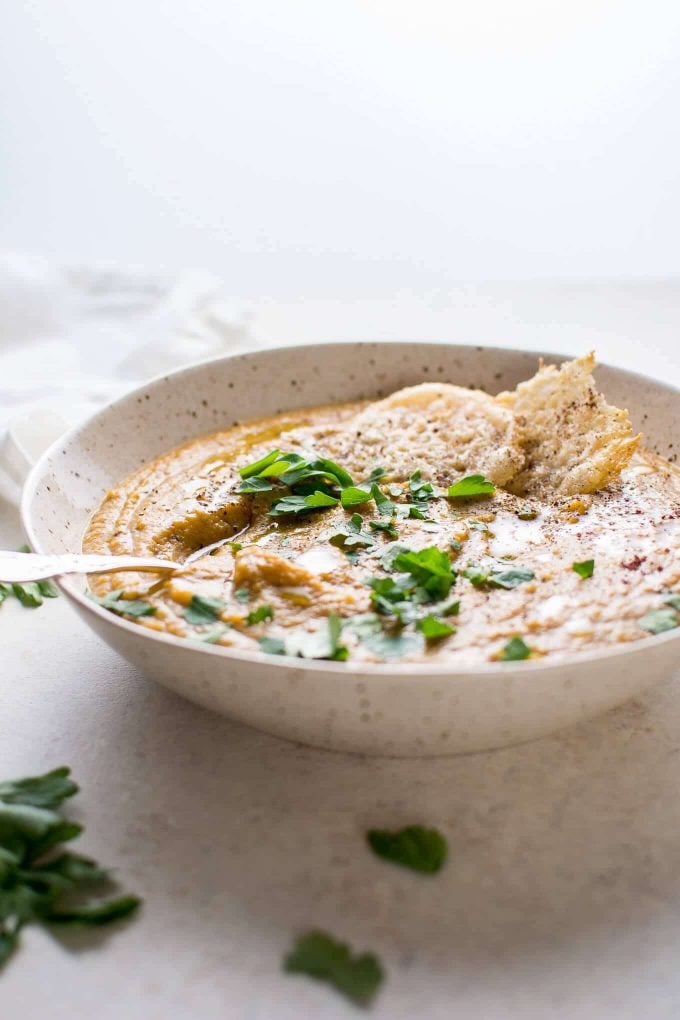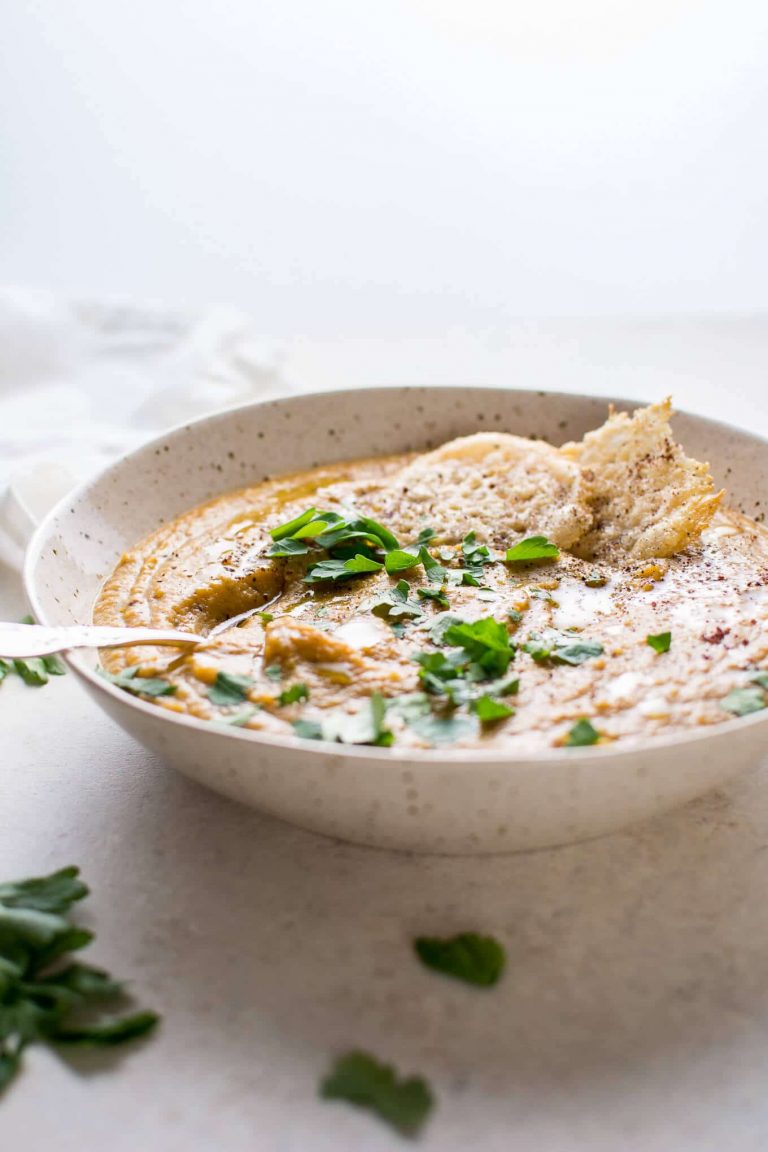 Those parmesan crisps though... omg.
All you do is cover a baking sheet with some parchment paper, dollop tablespoon-sized amounts of grated parmesan spaced about an inch apart, put them in a 400-degree oven, and 5 minutes later you've got an irresistible little addition to this soup.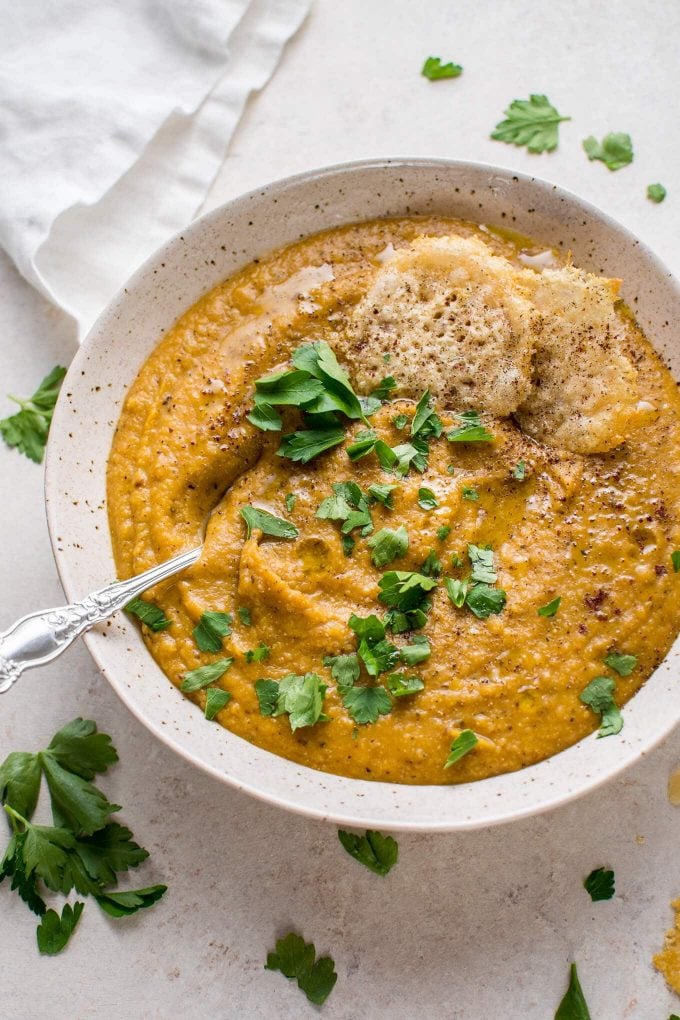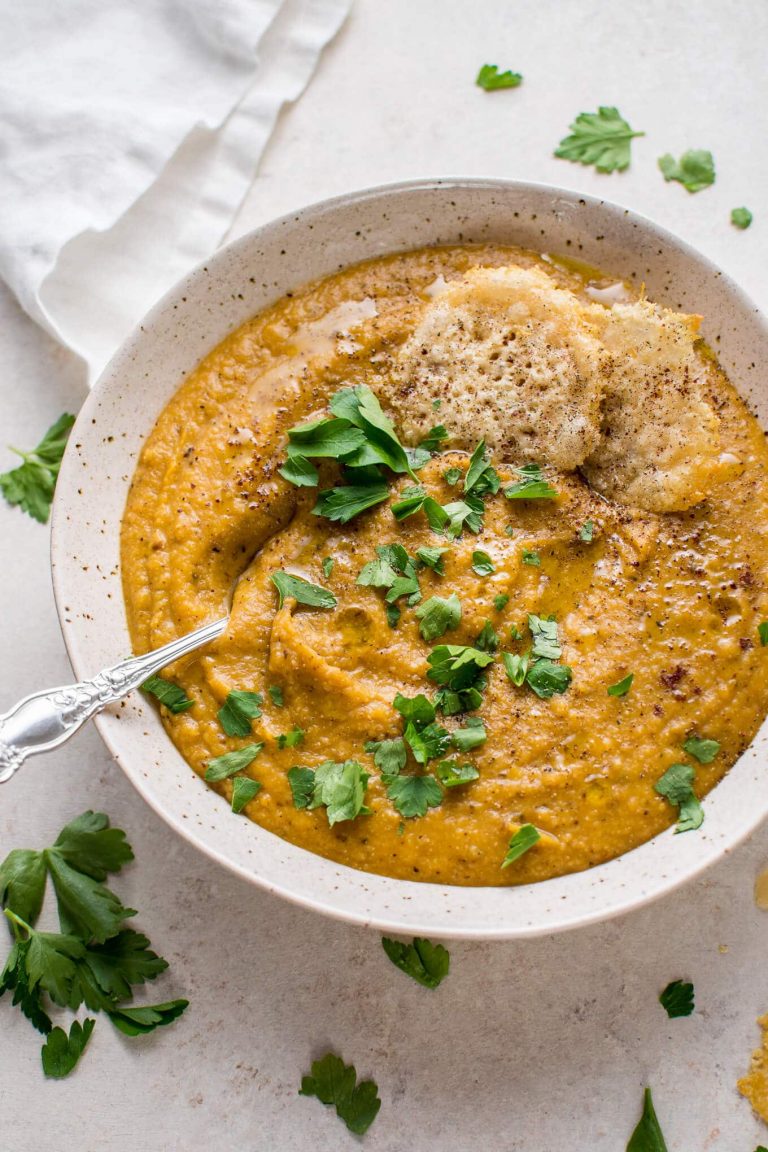 I blended the soup in my regular blender, but you could also use an immersion blender if you prefer. I find that a regular blender typically yields slightly smoother results, but I've made similar soups with both and they've turned out fine.
This recipe for butternut squash soup is pretty thick, so you can always thin it out by adding some more broth or water as needed.
I hope you enjoy this easy roasted butternut squash soup recipe!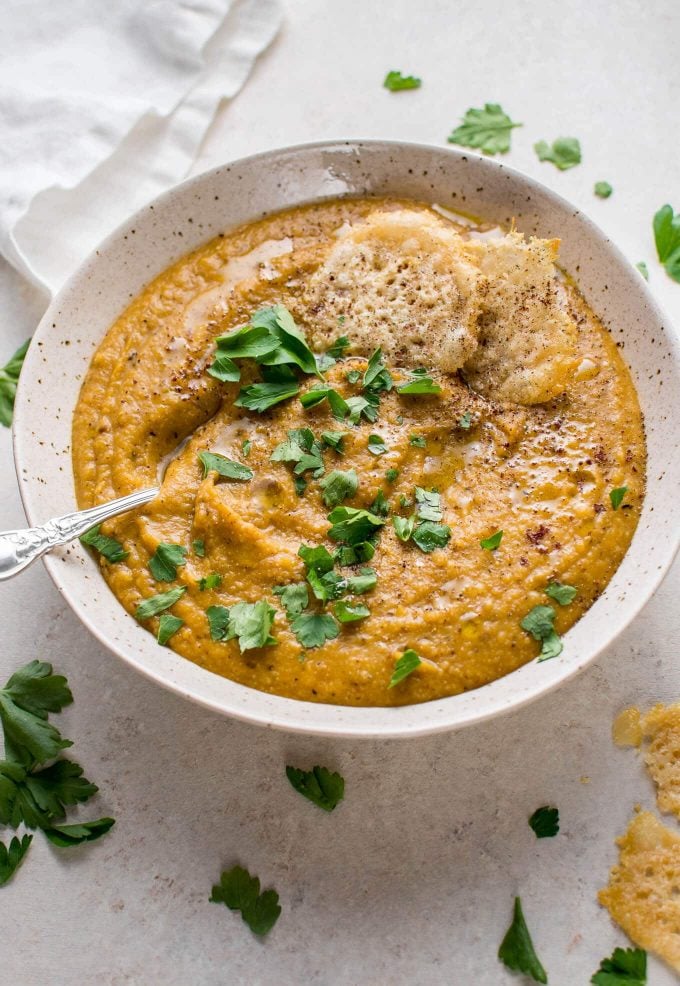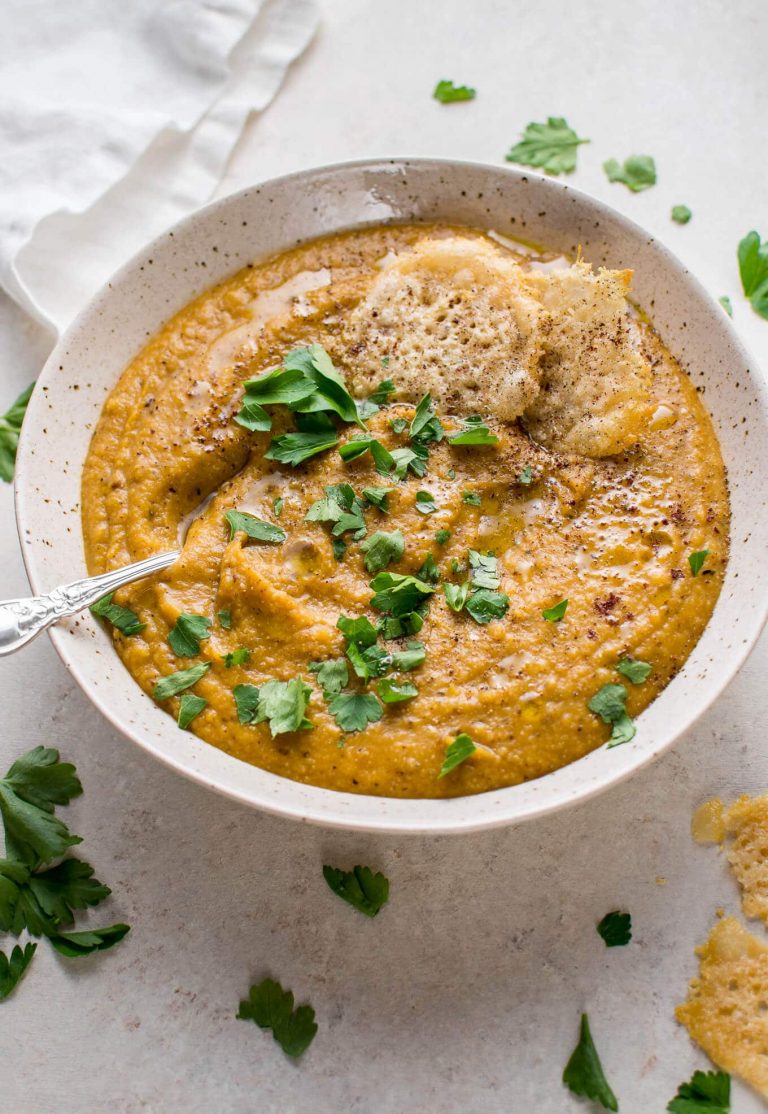 You may also like my cauliflower and leek soup to keep you toasty!
Questions? Leave me a comment below.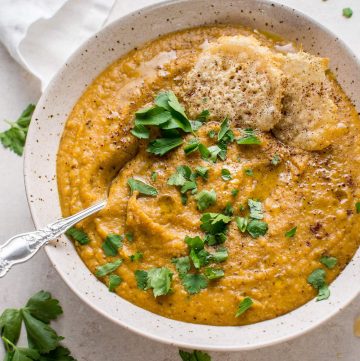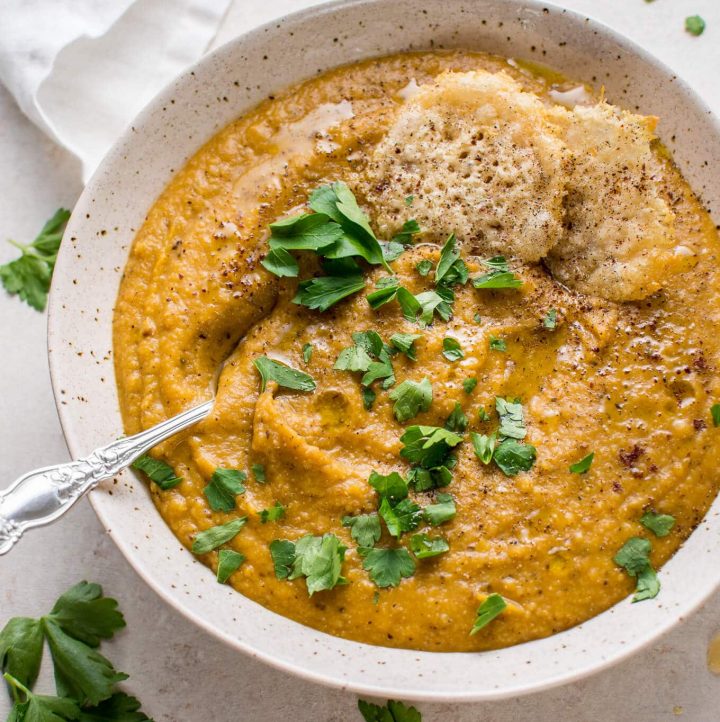 Roasted Butternut Squash and Cauliflower Soup
My roasted butternut squash and cauliflower soup with coconut milk is rich, creamy, cozy, healthy, and full of flavor.
Ingredients
1

medium to large butternut squash

sliced in half lengthwise

1

head cauliflower

broken into florets

1

tablespoon

olive oil + 2 tablespoons olive oil

divided

1/2

teaspoon

garlic powder + 1 teaspoon garlic powder

divided

1

teaspoon

smoked paprika

1

teaspoon

Italian seasoning

Salt & pepper

to taste

1

(8.5 ounce) can coconut milk

2

(10 fluid ounce) cans veg or chicken broth
Instructions
Line two baking sheets with foil. Preheat oven to 450F and position the rack in the middle.

Coat both sides of both halves of the butternut squash in about a tablespoon of olive oil and then sprinkle them with 1/2 teaspoon of garlic powder and salt & pepper, to taste. Place the squash face-down on a baking sheet and bake for 50 minutes or until the squash is tender and caramelized.

Meanwhile, add the remaining 2 tablespoons olive oil, 1 teaspoon garlic powder, smoked paprika, Italian seasoning, and some salt & pepper to a large Ziploc bag. Add the cauliflower florets to the bag and shake until everything's coated. Remove the cauliflower from the Ziploc and spread it evenly on the other baking sheet.

Once the squash has been roasting for 25 minutes, add the cauliflower to the oven. Roast it for 25 minutes.

Once the squash and cauliflower are done, take them out of the oven and let them cool until you can comfortably handle it.

Warm the coconut milk in a soup pot on medium heat. Peel the squash using your fingers (or scoop the squash out with a spoon), and add it to the soup pot (it's ok if you can't get all the skin off). Add the cauliflower to the pot as well as the vegetable broth.

Add the soup to your blender in batches and purée until smooth. Alternatively, use an immersion blender to purée the soup in the pot. Return the puréed soup back into the pot. Season with more salt & pepper, if desired.

Heat the soup through and serve immediately. Soup will last a few days in the fridge or can be frozen for up to 3 months.