My Southwest fried chicken sandwich with fried jalapenos is a chicken sandwich dream come true. The chipotle cilantro lime ranch sauce packs a ton of flavor.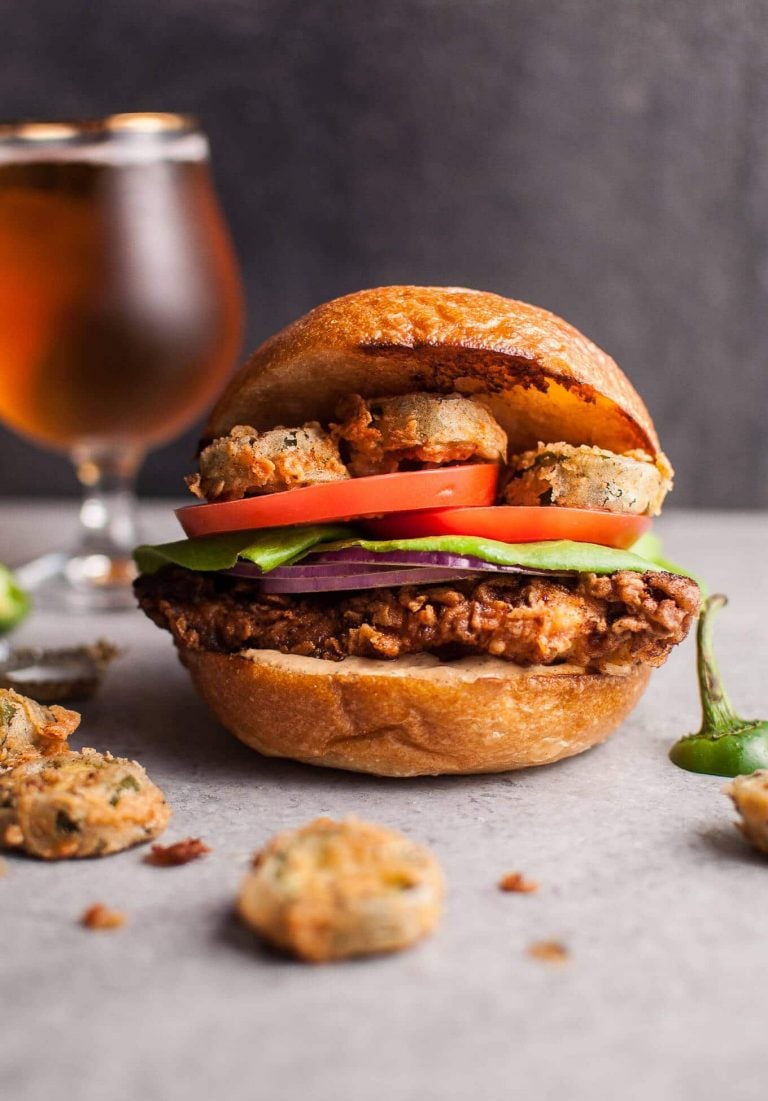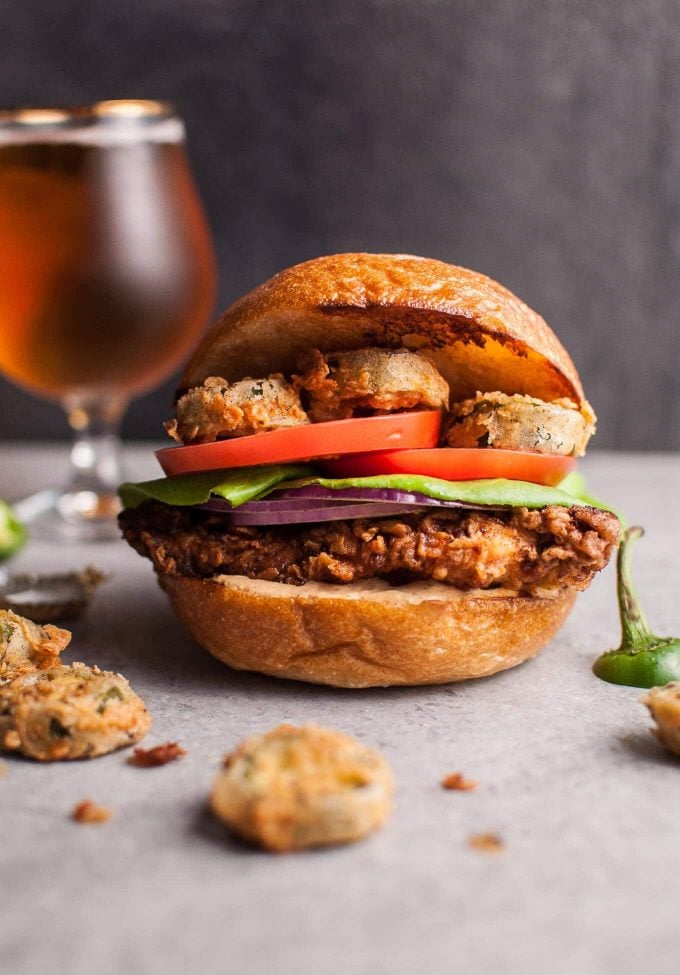 The buttermilk fried chicken is crispy on the outside and tender and juicy on the inside. Fried jalapenos add the kick. Fresh tomato, lettuce, and red onion top it off.
This blog needs more fried chicken, I've decided.
I scarfed my sandwich down (in 30 seconds flat) before I took these photos because I have like zero patience. At least I know myself, right?
I'll fully admit that I didn't put the jalapenos on my sandwich. My husband happily ate them on his THREE sandwiches, however. I feel kinda pathetic how bad I am with spice, but what can you do? It's ok if you skip the jalapenos. See, I'm all about providing options so you can customize my recipes to your liking. No need to thank me.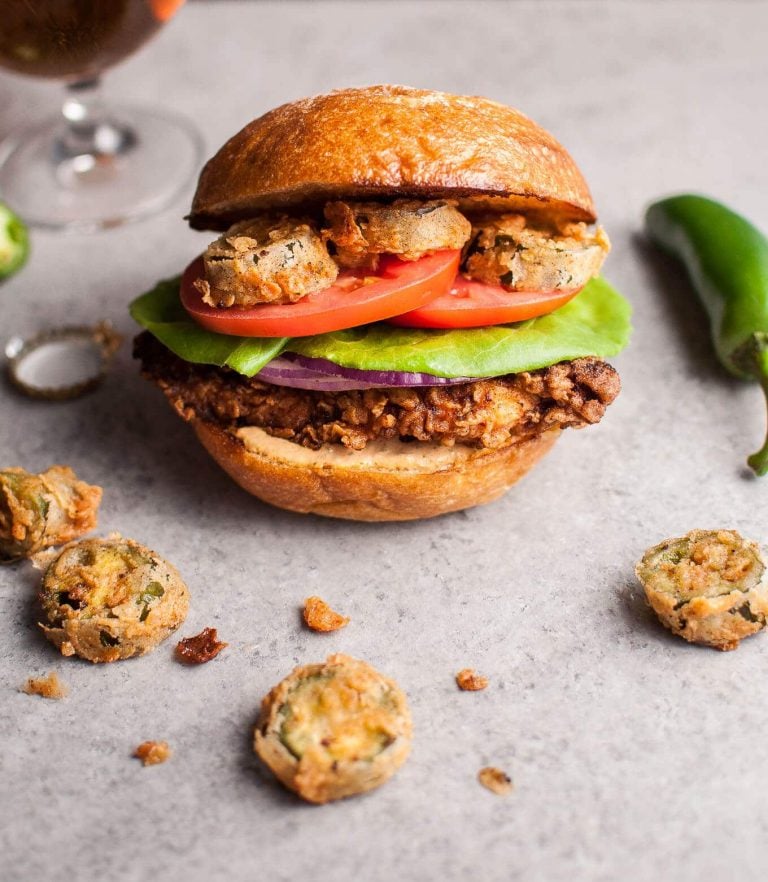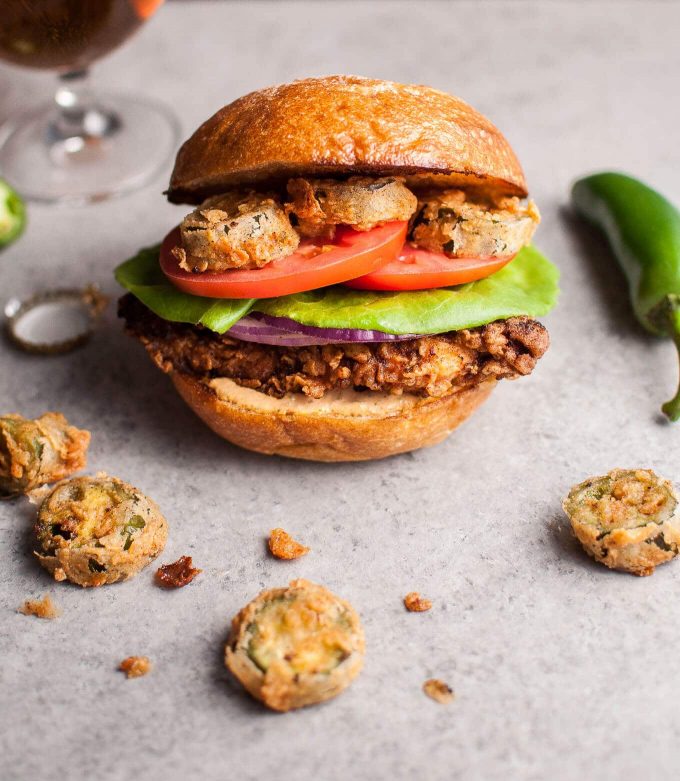 This sandwich is probably my favorite application of my chipotle cilantro lime ranch dressing. What can I say? I'm trying to milk it for all I can. I'll slap that sh*t on anything. Don't worry, it does actually taste really good.
As always, I fried the chicken in my beloved peanut oil. It has a really high smoke point and adds a delicious flavor to the chicken, so it's my go-to.
Making fried chicken at home need not be ridiculously time-consuming or intimidating 🙂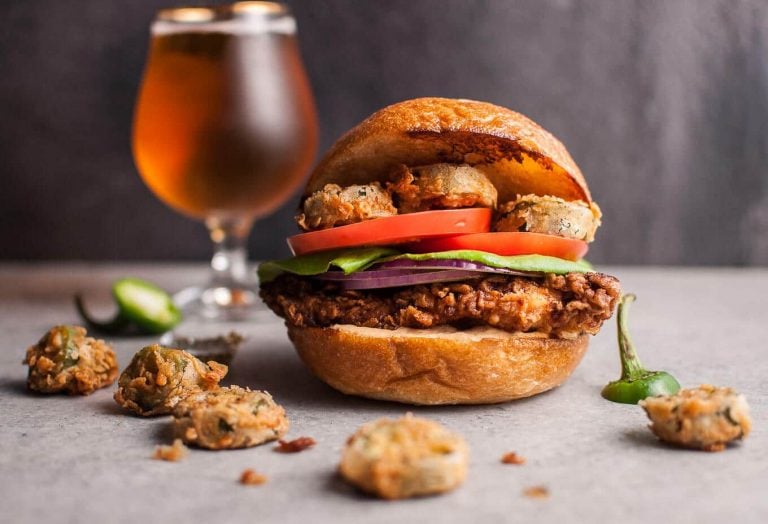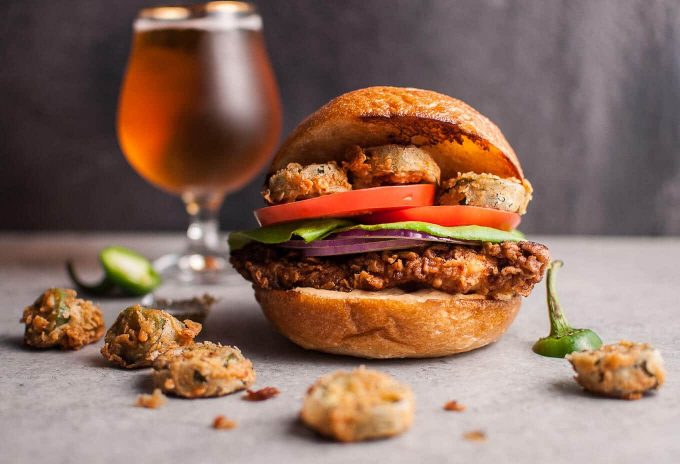 I hope you'll give this southwest fried chicken sandwich recipe a try!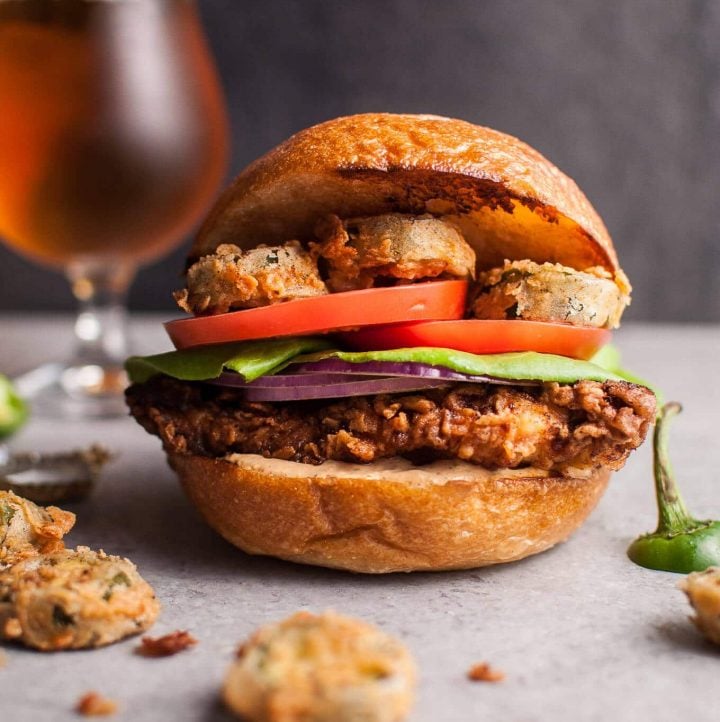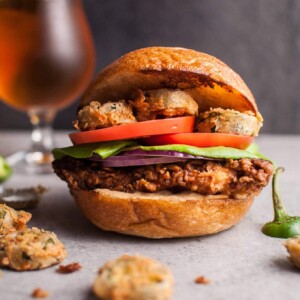 Southwest Fried Chicken Sandwich with Fried Jalapenos
My Southwest fried chicken sandwich with fried jalapenos is a chicken sandwich dream come true. The chipotle cilantro lime ranch sauce packs a ton of flavor.
Ingredients
2

chicken breasts

2

cups

buttermilk

1

cup

flour

1

teaspoon

garlic powder

1

teaspoon

onion powder

1

teaspoon

smoked paprika

1/2

teaspoon

chipotle chili pepper

Salt & black pepper

to taste

Peanut oil

2

jalapeno peppers

4

burger buns

Butter

to taste

Chipotle lime ranch dressing

to taste
Instructions
Butterfly chicken breasts and cut in half lengthwise so you're left with four thinner cutlets.

Place chicken in a bowl and cover with buttermilk. Marinate for six hours (overnight is fine, don't exceed 24 hours).

Make the sauce (see recipe

here

). I suggest making it a few hours prior to making these sandwiches as it'll thicken up and the flavors will meld together more.

Add flour, garlic powder, onion powder, smoked paprika, chipotle chili pepper, and salt & pepper to a bowl.

Fill a heavy pot with about 3/4-1 inch of peanut oil. Heat on medium-high heat.

To test if the oil is hot, I drop a little flour in and see if it sizzles (a thermometer should read between 350-375F). Add the chicken pieces in one at a time (take a piece of chicken out of the buttermilk, coat in flour, place in pan, repeat). Cook for about 5 minutes/side or until they're cooked through. Don't overcrowd the chicken. You'll probably have to do two batches. Best practices say the oil should be kept around 300-325F while cooking (the temperature will drop once you add the chicken in). I use tongs to turn the chicken.

While the chicken is cooking, prepare your lettuce, tomato, and onion, and slice the jalapeno peppers into rings.

If desired, you can toast the insides of the buns. I cut the buns in half and spread butter on both sides. I then placed them in a separate skillet that was on medium-high heat and fried them for a couple minutes (check them often and remove when they're toasted enough for you).

I cooked the jalapenos after I finished frying the chicken. It would work if you tossed them in with your last batch of chicken, though (like when you're on the last five minutes of frying). I dunked the jalapeno slices in the buttermilk and then the flour mixture, and then I added them to the hot oil for five minutes.

Once the chicken is cooked, assemble the burgers by spreading on the sauce and then adding the chicken, lettuce, tomato, onion, and fried jalapenos.
Notes
Frying in hot oil is safe if you do it correctly. I suggest using a deep frying thermometer to monitor the oil temperature, keep kids/pets away from the stove, and don't take your eyes off it. I use a heavy cast iron pot (this one here). I also use tongs to turn the chicken.
Peanut oil has a high smoke point, so it is ideal for frying chicken.
© Salt & Lavender Inc. Content and photographs are copyrighted. Sharing this blog post is much appreciated, but copying and pasting full recipes without authorization to social media is strictly prohibited.
Leave a star rating and comment below!