Spinach salad with crispy pancetta and candied nuts is a hearty winter salad that will satisfy your sweet and salty cravings.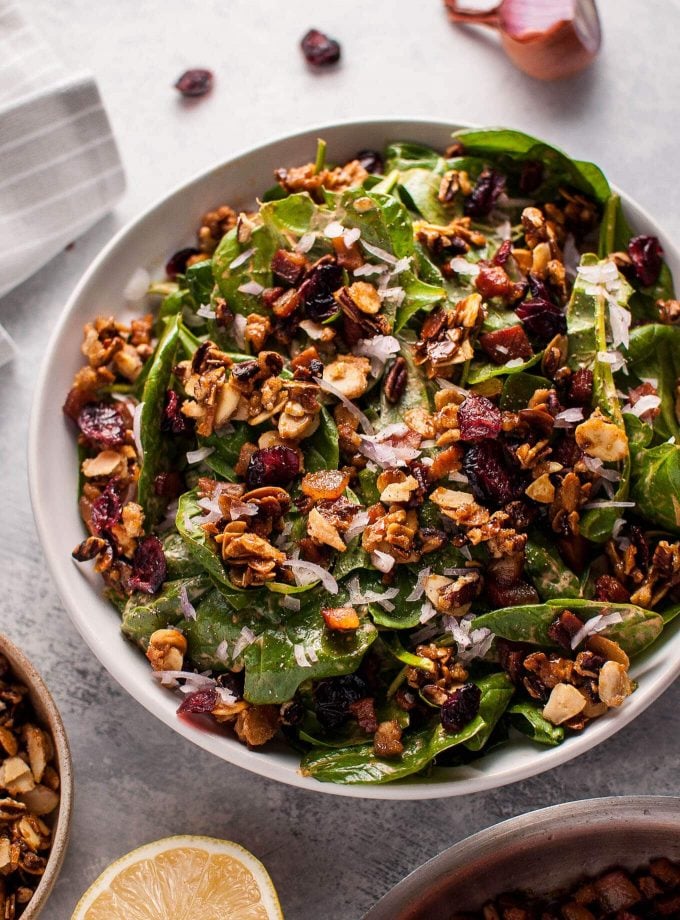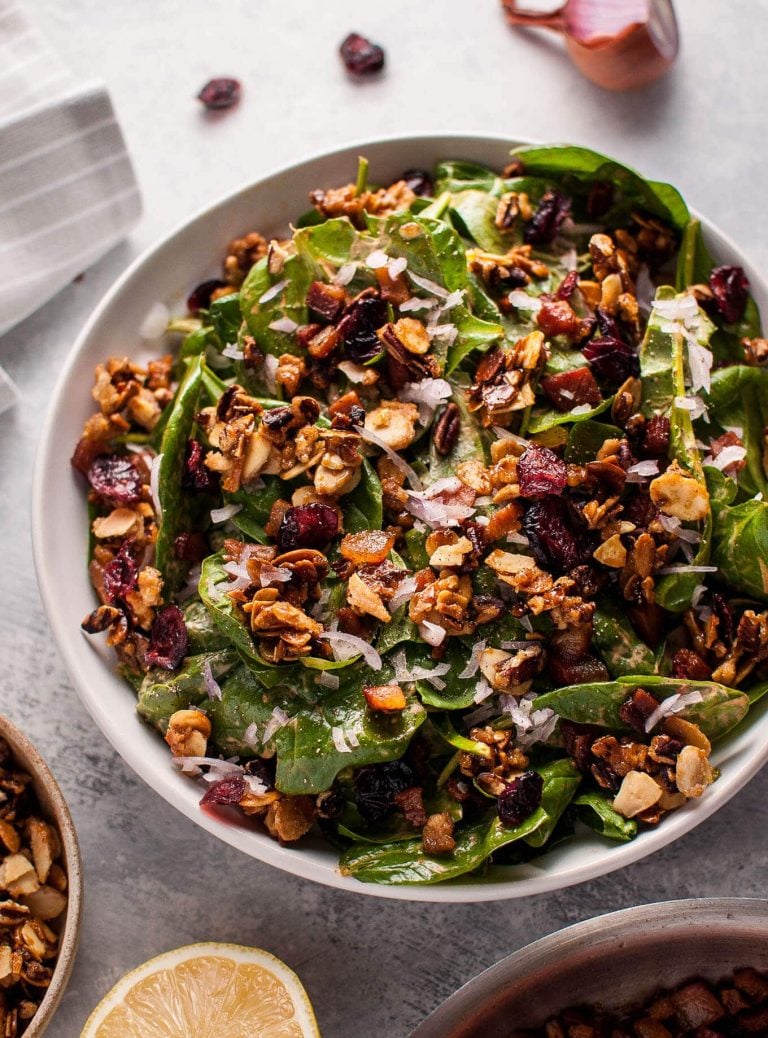 The candied nuts are addictive. I couldn't stop eating them. The recipe makes enough so you'll have a bunch left. This is a good thing, and it's also a bad thing.
I used the easiest method I know of to candy them. You simply cook them in a pan with a bit of butter and sugar. Stir often, and in 10 minutes you have these lovely caramelized nuts.
I had leftover chopped pecans and sliced almonds from the fruit and nut chocolate bark I recently made. You can substitute whichever nuts you have on hand. The almond/pecan combo was suitably festive, I thought.
The smokiness of the dressing goes well with the sweetness of the candied nuts and dried cranberries. The pancetta adds a salty contrast. I also made sure to include a bit of zip as well - the lemon, garlic, and shallot provide that. It's really a well-balanced salad that is a bit naughty... but hey, at least it contains spinach. 😛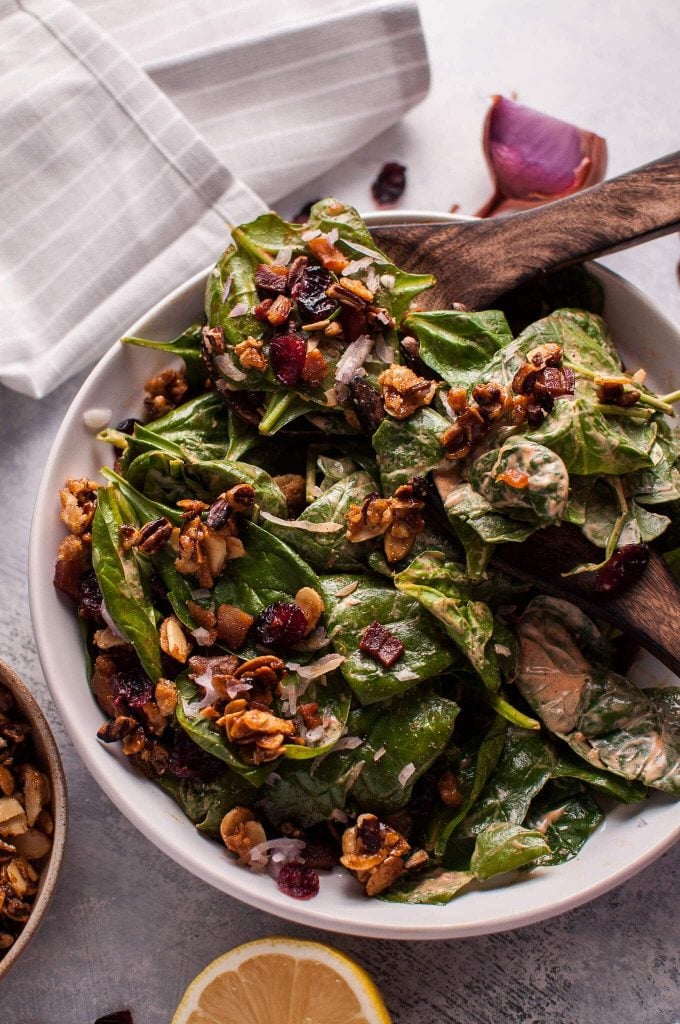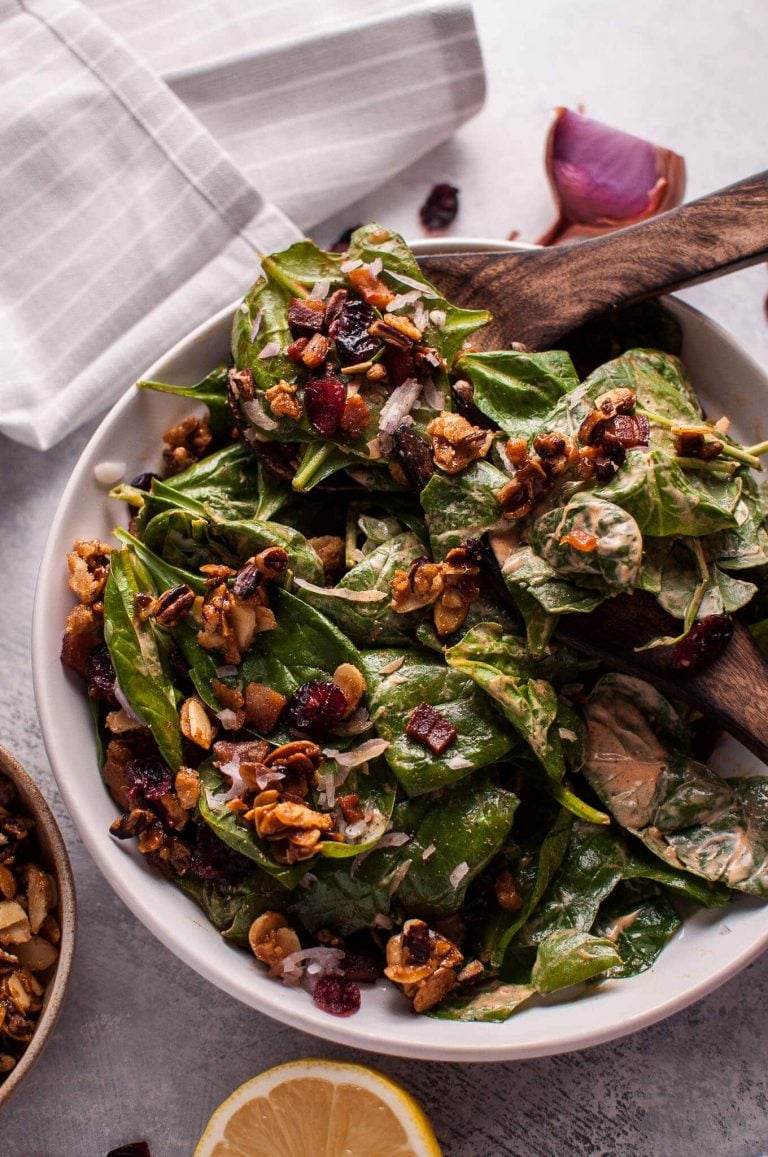 I cooked the nuts and the pancetta at the same time, and they ended up being ready very close to one another.
This salad really doesn't take much effort. The dressing can be whipped up in virtually no time at all, as well.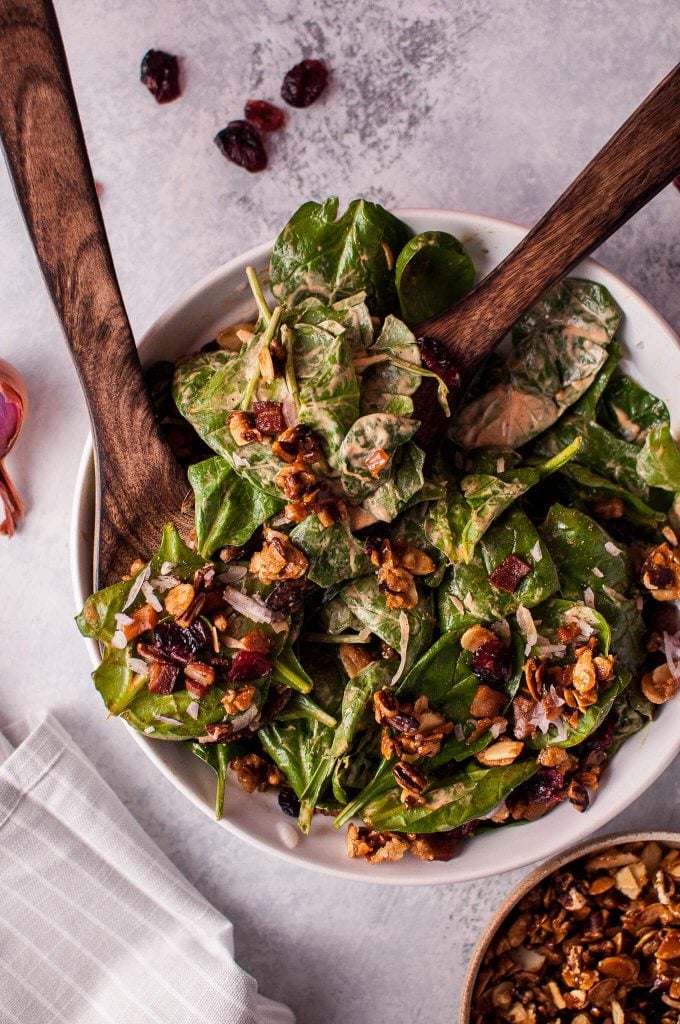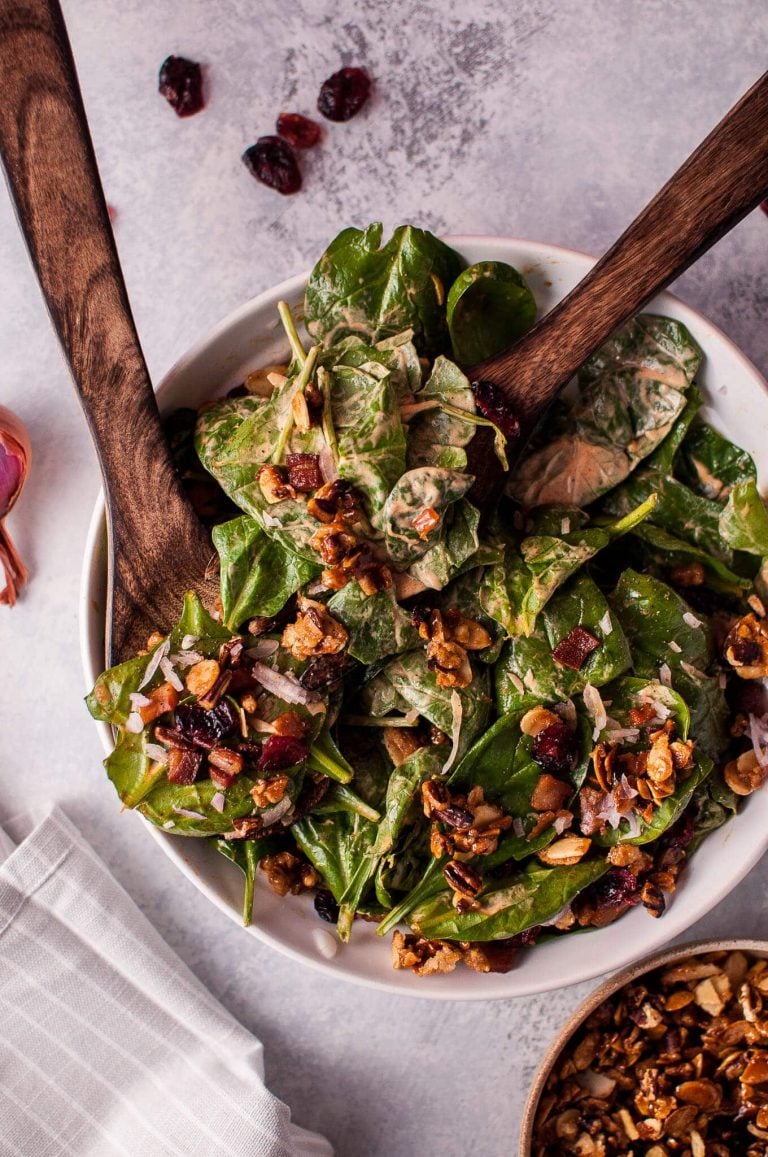 The recipe makes two entree-sized salads or about four smaller side salads. If you're feeding a crowd, I would double the dressing and spinach. You'll have more than enough candied nuts to go around.
This spinach salad with pancetta and candied nuts would make a great addition to your holiday table, but it's also simple enough to make on a weekday.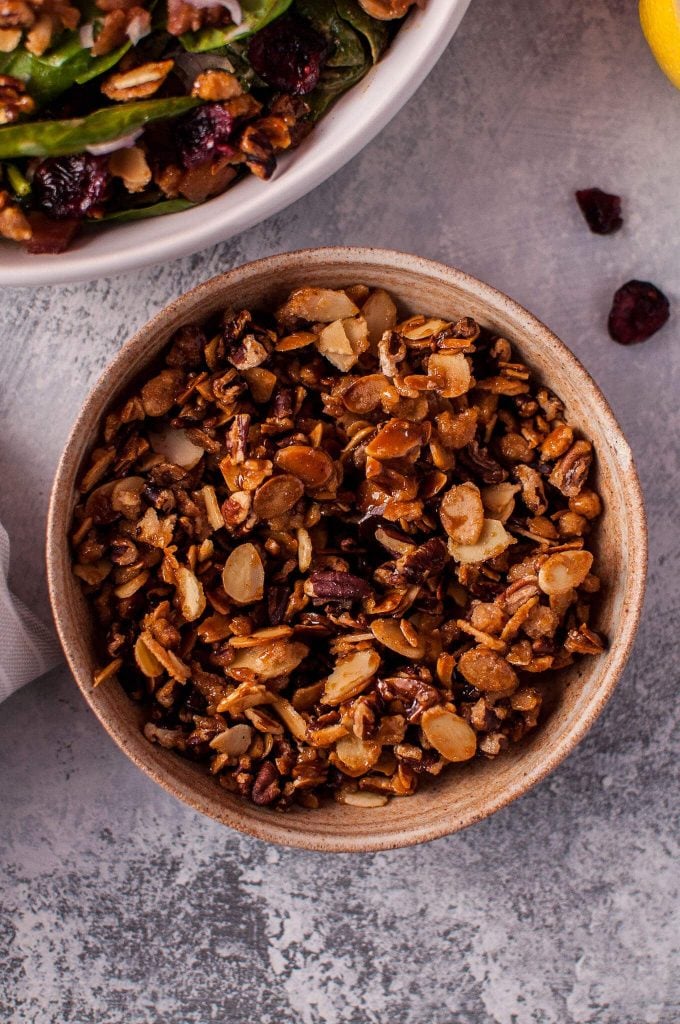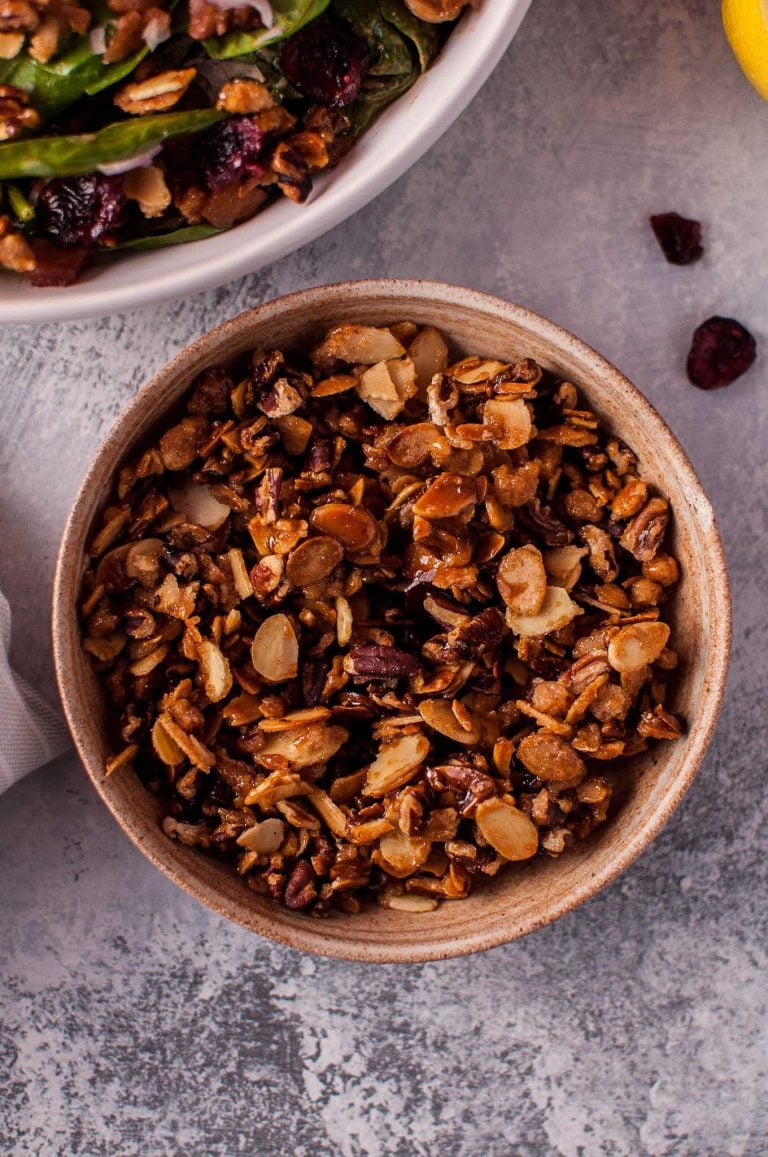 Hope you love this winter spinach salad recipe!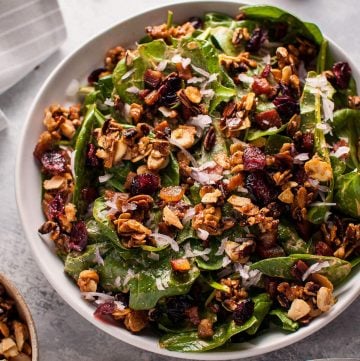 Spinach Salad with Crispy Pancetta and Candied Nuts
Spinach salad with crispy pancetta and candied nuts is a hearty winter salad that will satisfy your sweet and salty cravings.
Ingredients
1

(5 ounce) package of spinach

1

(4.4 ounce) package diced pancetta

1

cup

assorted chopped nuts (I used pecans and sliced almonds)

1

tablespoon

butter

1/2

cup

granulated sugar

1-2

tablespoons

dried cranberries

1

tablespoon

finely chopped shallot
Dressing:
3

tablespoons

mayo

1

tablespoon

sour cream

1

teaspoon

lemon juice

1

clove

garlic

minced

1/2

teaspoon

smoked paprika

Pepper

to taste
Instructions
Combine the dressing ingredients and set aside.

In separate pans (I used skillets), fry the diced pancetta until crispy, and cook the nuts until they've caramelized. To cook the nuts, add the butter, nuts, and sugar to a pan on medium heat, and stir frequently until the sugar has melted and they've slightly browned. Be careful as they can burn easily. Once the nuts are done, put them on a plate or a piece of parchment paper or foil and spread them out so they don't all stick together. Set the pancetta and nuts aside to cool for a few minutes.

Add your spinach and the rest of the salad ingredients to a large salad bowl. You can either add the nuts and pancetta on top or toss in with the rest of the salad. I suggest leaving most of the pancetta fat in the pan when you're adding it to the salad.
Notes
I bought a package of pre-diced pancetta. You can of course adjust the amount to your liking, especially if you can't find a package that's exactly 4.4 ounces.