This balsamic Caprese pasta salad is a light, quick, and simple vegetarian side dish that's perfect for picnics or BBQs.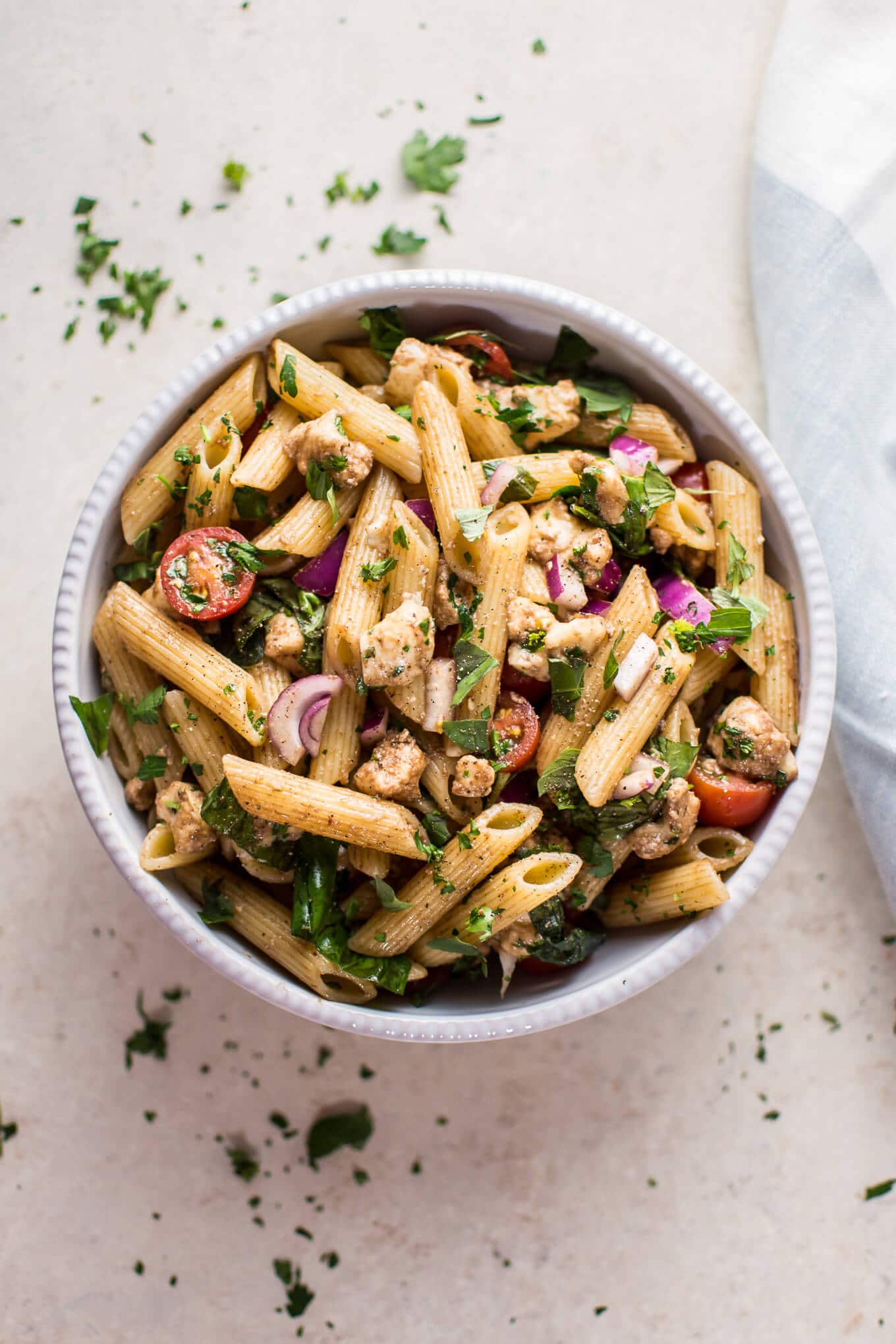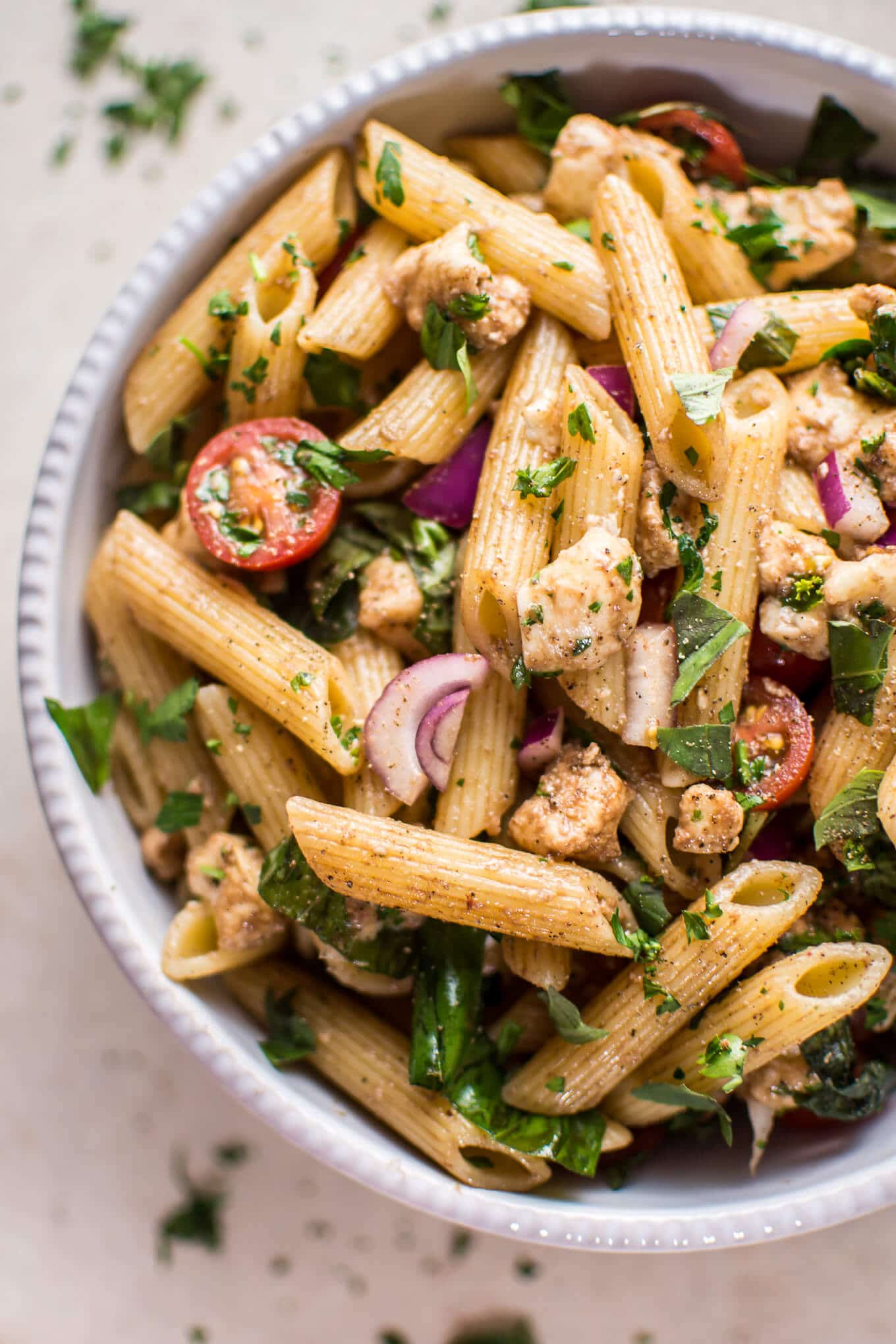 This pasta salad has the delicious classic Caprese flavor combination of tomatoes, basil, and fresh mozzarella, with balsamic vinegar and olive oil making up the dressing. It's a nice alternative to the many mayo-soaked pasta salads that typically make the rounds at summer events.
I added some red onions and parsley in here for an extra burst of flavor, but other than that, this pasta salad is true to the Caprese flavors. It's deliciously simple and does not need a ton of ingredients.
The pasta does mute the flavors somewhat, so I found that giving this salad a little "bite" with the onion and balsamic vinegar definitely lifted it a notch.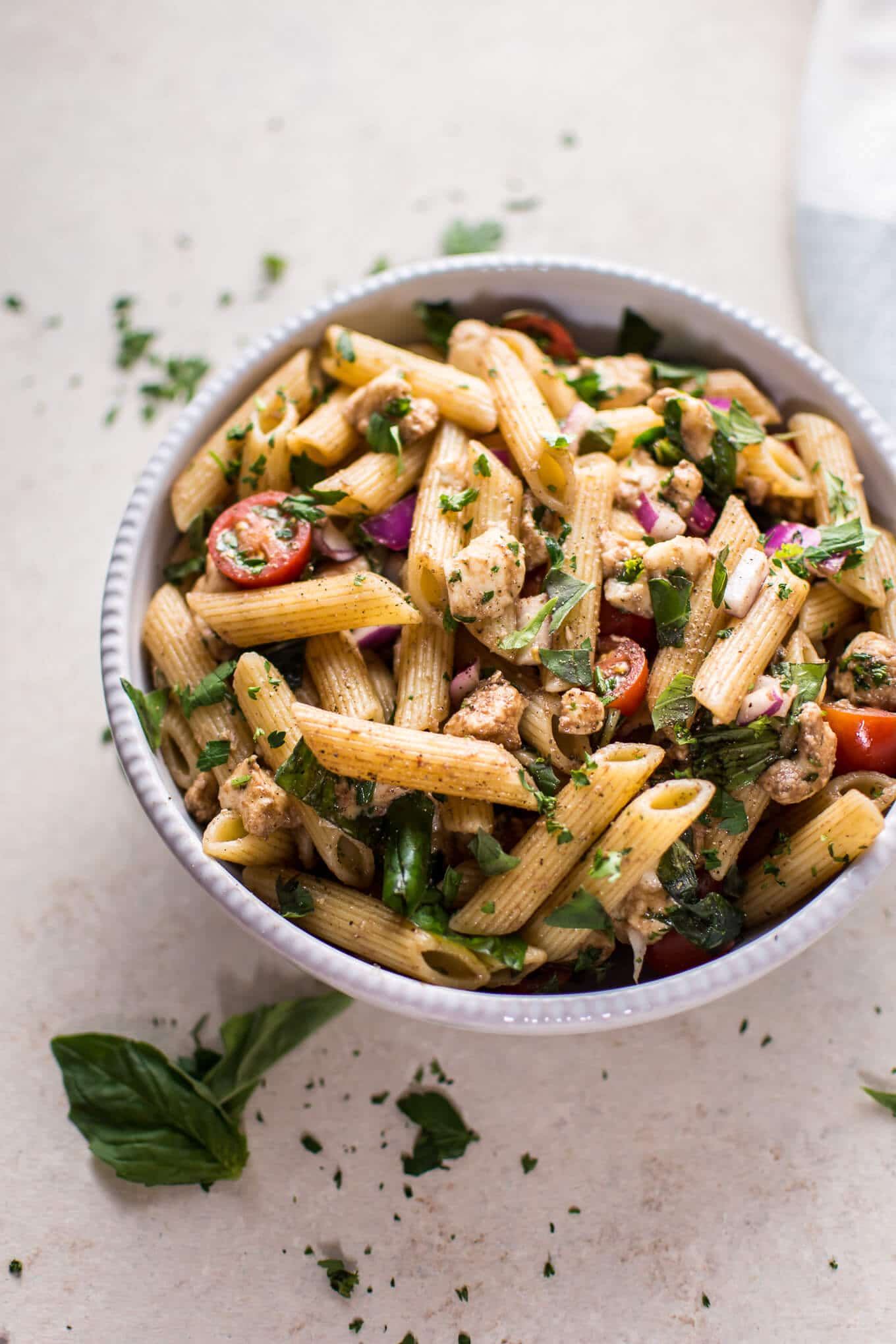 I'm all about quick and fresh warm-weather meals these days. We're finally starting to see some warmer temperatures here! Hallelujah! Fussing around in the kitchen is best done when it's too cold to go outside – not when the patio is waiting! 😉
I call this pasta salad a side dish, but it would also work as an entree.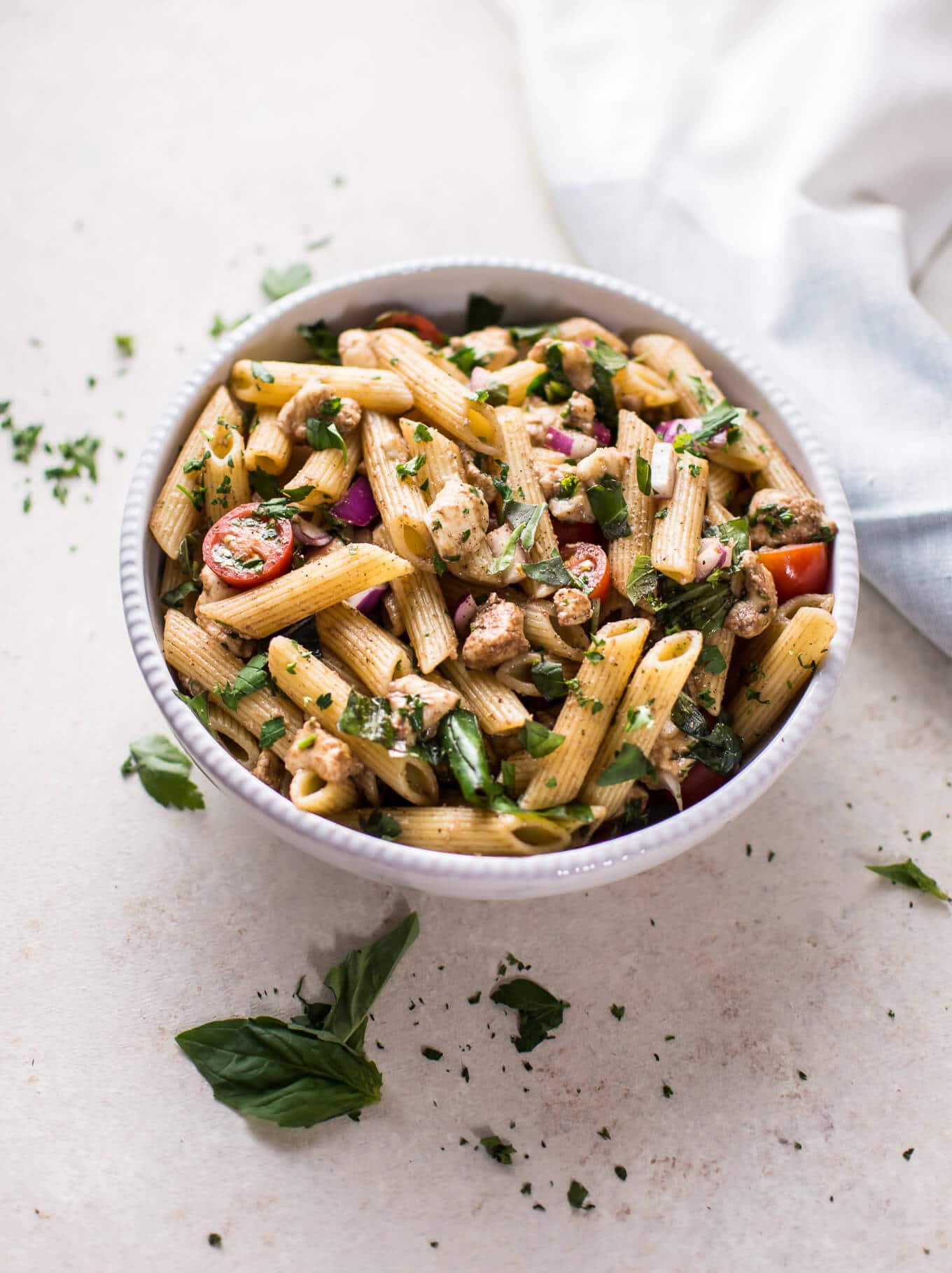 I have plenty more fresh spring/summer recipes coming in the next few months. In the meantime, it's time to get outside and enjoy the outdoors again! 🙂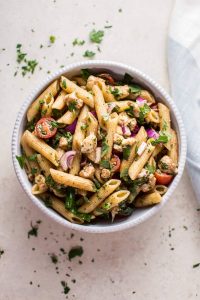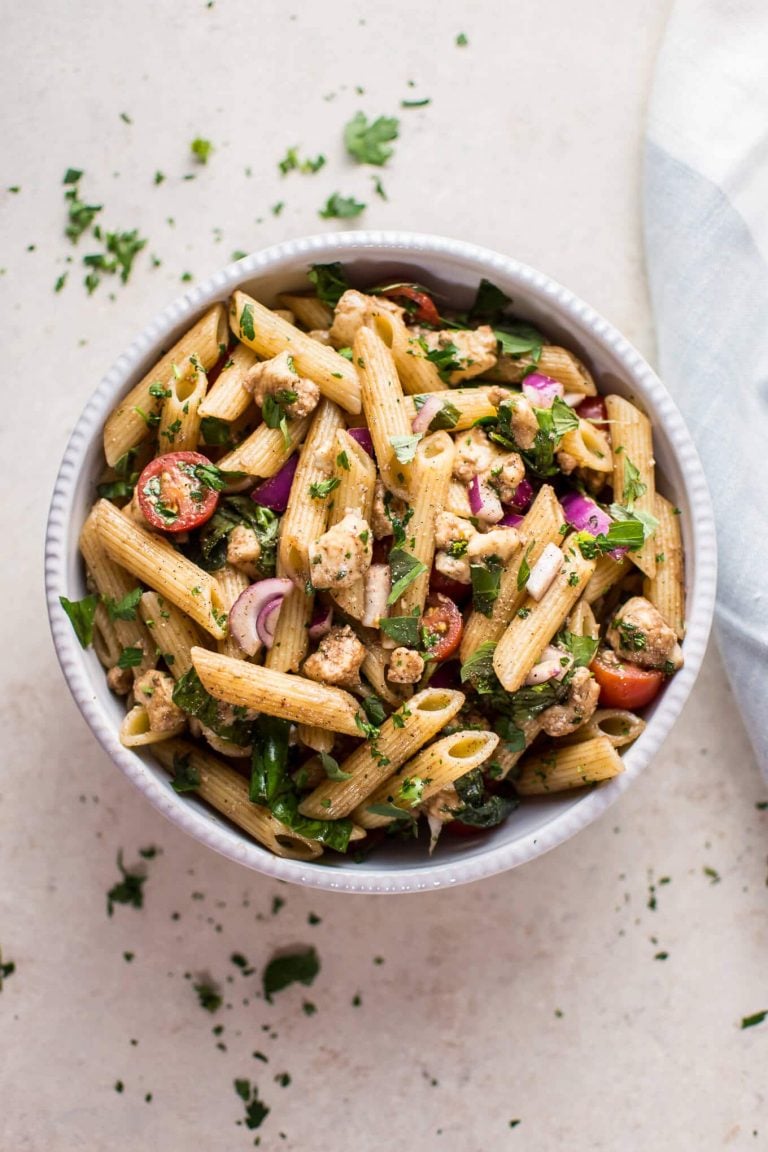 Print
Balsamic Caprese Pasta Salad
Yield 4+
A light and refreshing pasta salad with the classic Caprese flavors of basil, fresh mozza, and tomato. Tossed with a delicious balsamic vinaigrette dressing.
Ingredients
4 cups uncooked penne
8 ounces fresh mozzarella (see note), broken into bite-size pieces
1/4 medium red onion (about 3 tbsp), chopped
Handful grape tomatoes, halved
4 teaspoons balsamic vinegar, or to taste
2 tablespoons olive oil, or to taste
Large handful fresh basil, torn
Fresh parsley, chopped, to taste
Salt & pepper, to taste
Instructions
Bring a salted pot of water to a boil and cook the pasta according to package directions.
Meanwhile, prep your other ingredients.
When the pasta is done, drain it and rinse it under cold water. Ensure it's properly drained again before adding it to a large bowl.
Add the mozzarella, onion, tomatoes, vinegar, oil, basil, parsley, and salt & pepper to the bowl. Gently toss it. Adjust vinegar, oil, and seasonings as needed depending on how much dressing you like. Chill for an hour or serve immediately.
Notes
Serves 4+ as a side dish.
I bought an 8 ounce ball of fresh mozzarella and broke it into bite-sized pieces. You could also try those mini Bocconcini.
Courses Pasta
Cuisine Italian
Made one of my recipes? Tag me on IG @saltandlavender and hashtag #saltandlavender so I can see it 🙂
All images and content are © Salt & Lavender.