Sticky-sweet caramelized pork is complemented by crisp lettuce, carrots, scallions, and cucumber and wrapped in rice paper with vermicelli. The creamy peanut sauce makes the perfect dip for these fresh caramelized pork summer rolls.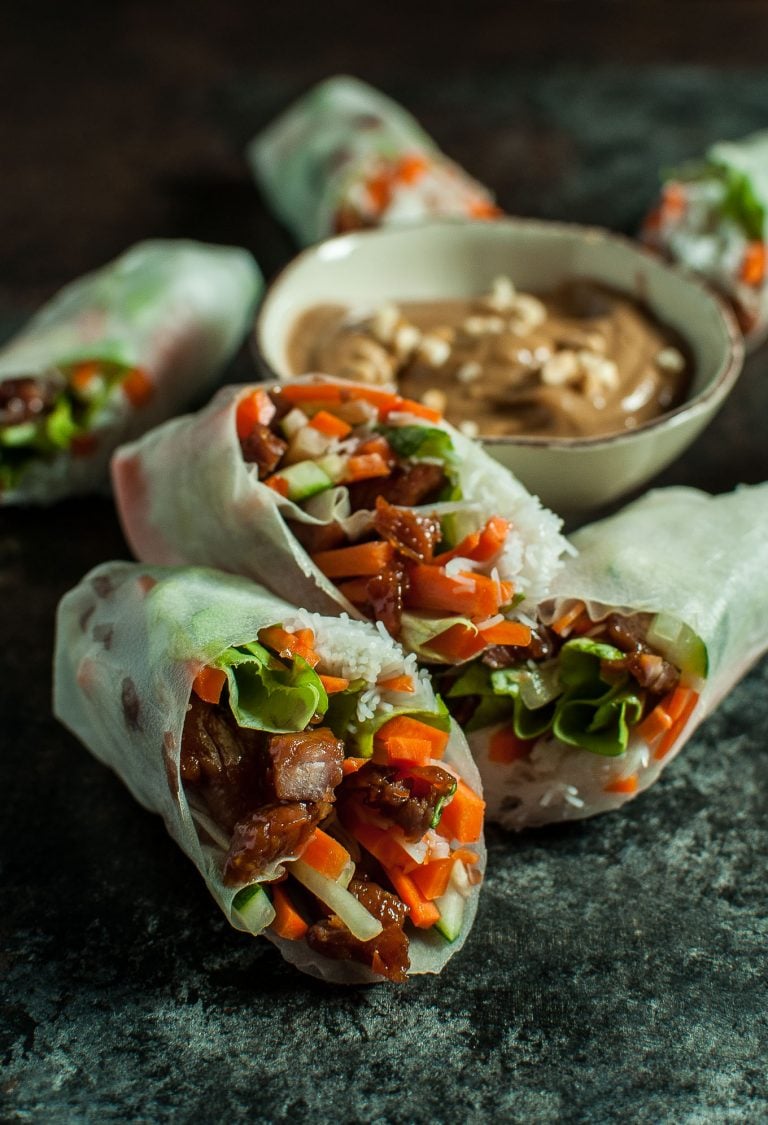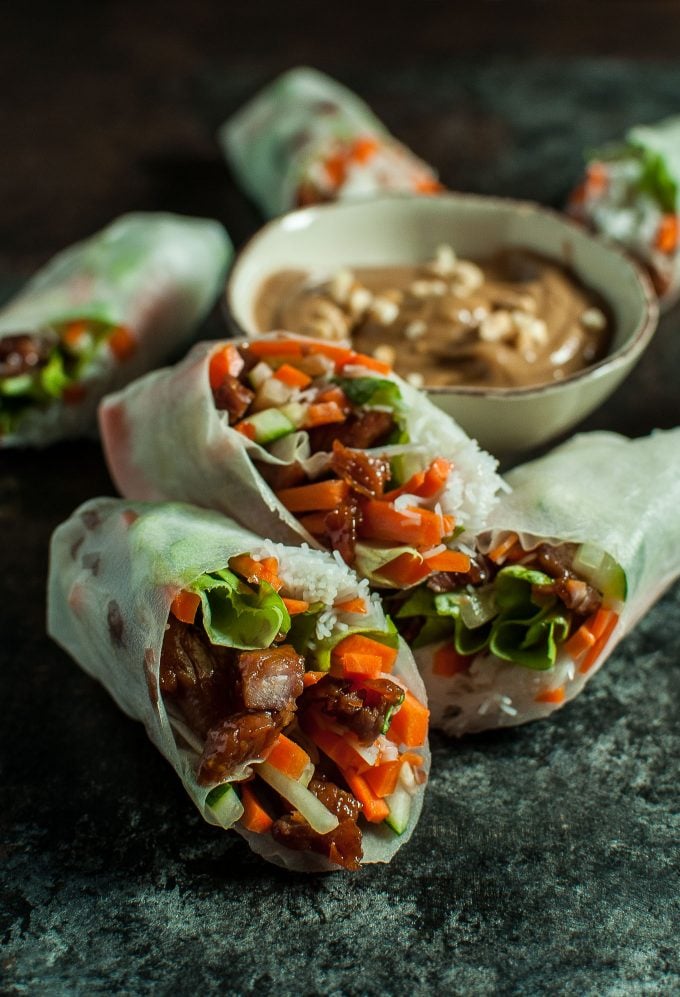 If you've never made summer rolls, you need a little bit of patience, but it's not so bad once you get the hang of it. They won't look perfect right away, but that's ok. It's the taste that matters, right??
I love Vietnamese food in general, and summer rolls are definitely up there. So is caramelized pork. It seemed like a good idea to combine the two!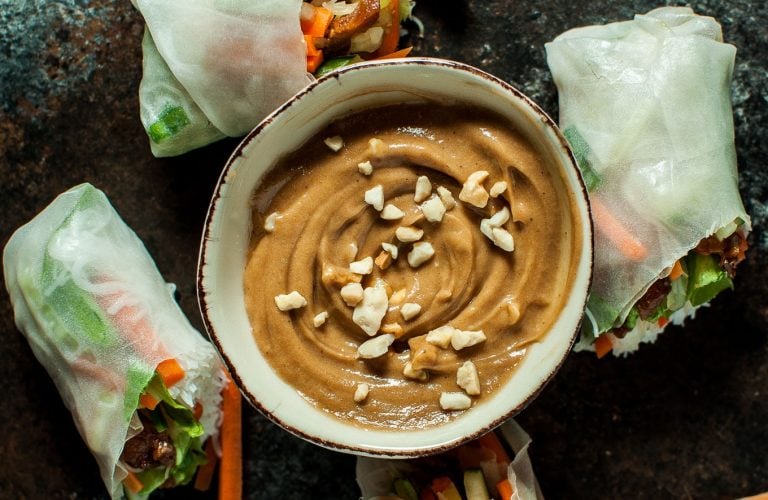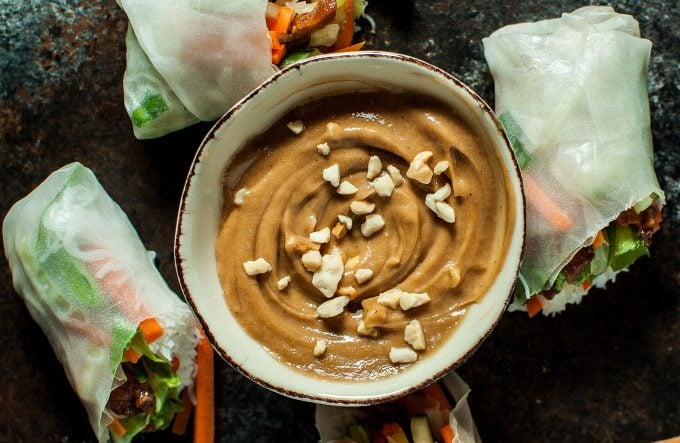 My tips for making these caramelized pork summer rolls:
Give yourself some time (like at least a couple of hours if you've never made these before).
Make sure you have everything ready. I am guilty of often not getting things ready prior to cooking (and so I forget things and/or run around like a headless chicken)… but this is one case when it really is important to have everything laid out and ready to go.
After you wet the rice paper, you need to make the roll right away. The rice paper becomes more flimsy and harder to use the longer it's wet.
Don't over stuff the rolls. You risk tearing the paper and it just makes it much harder to roll them. You'll find a balance after you screw a few up 🙂
If you're making these ahead of time (or not eating them right away), store them on damp paper towel. That way they won't stick to the plate/surface they're on. Place another piece of damp paper towel over top of them so they don't dry out. I've successfully stored these until the next day by using the damp paper towel technique (I put them in a Tupperware container with the damp paper towel on the bottom and top).
I've seen people wet the rice paper in various ways. The way I find easiest is to fill a large bowl with water and then dip the paper in and ensure it's coated with water. This only takes a few seconds. You want the rice paper to still be somewhat firm when you start making the rolls so it doesn't totally disintegrate.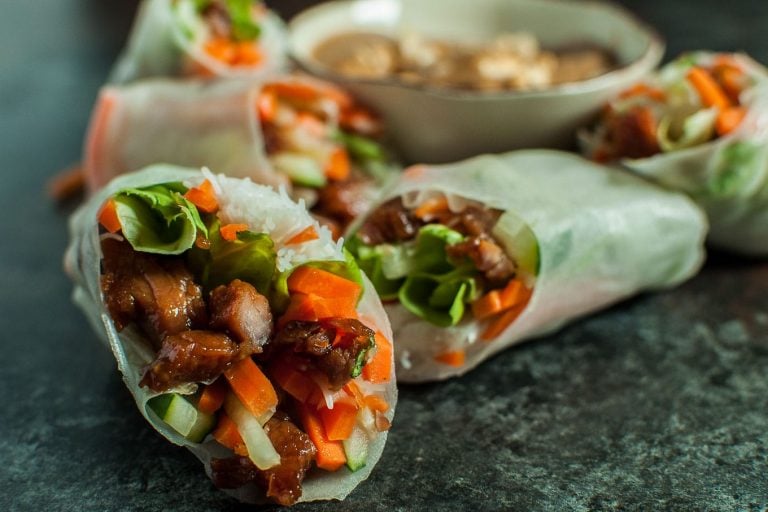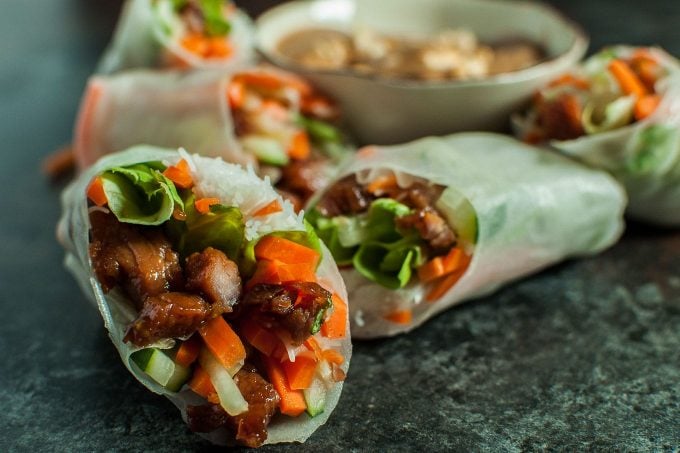 I don't usually do step-by-step photos, but I did them for this recipe since I think they could be useful.
How to make pork summer rolls step-by-step: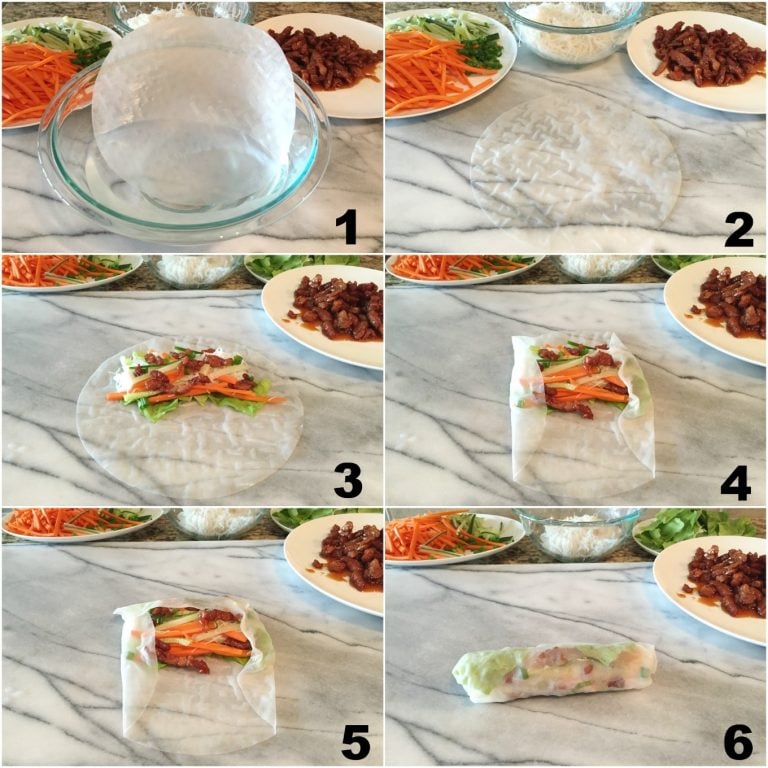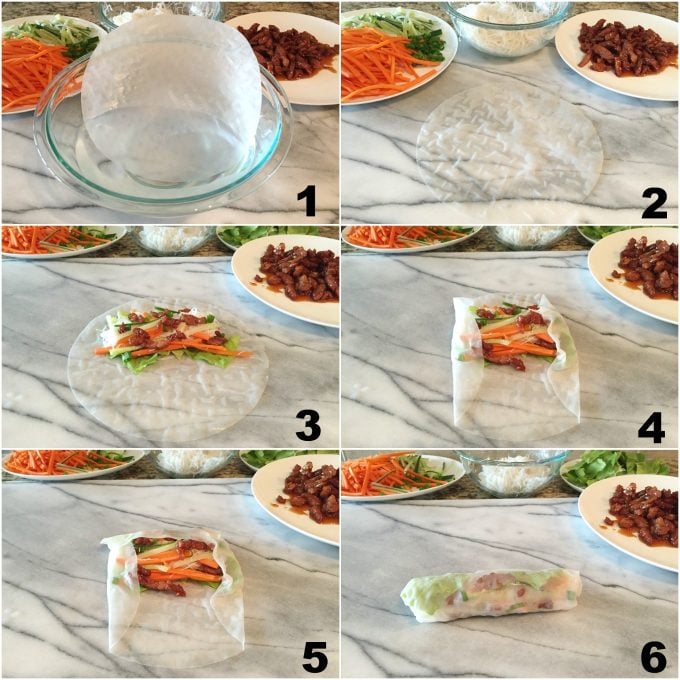 I hope you enjoy these caramelized pork summer rolls. They're totally worth the effort!
Questions? Let me know!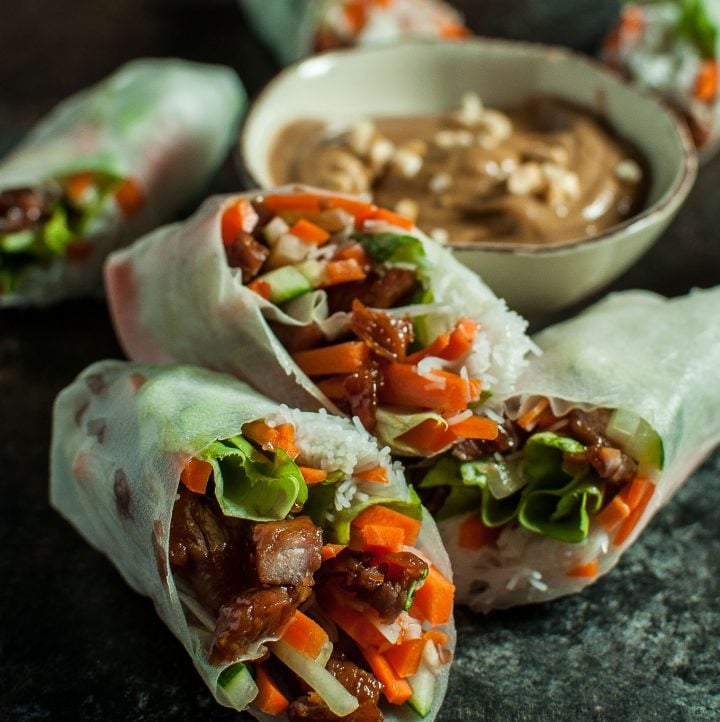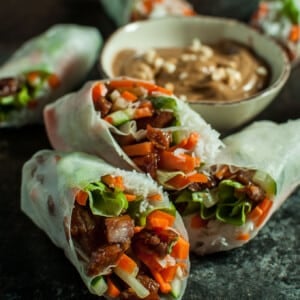 Caramelized Pork Summer Rolls
Sticky-sweet caramelized pork is complemented by crisp lettuce, carrots, scallions, and cucumber and wrapped in rice paper with vermicelli. Served with a deliciously creamy peanut sauce!
Ingredients
Dipping Sauce:
1/4

cup

peanut butter

Juice of 1 lime

3

tablespoons

hoisin sauce

1

clove

garlic

minced

2

tablespoons

peanut oil

Chopped peanuts (for garnish)

Salt & pepper

to taste
Caramelized pork:
1

pork tenderloin (about 1 pound)

3/4

cup

granulated sugar

2

tablespoons

fish sauce

Salt & pepper

to taste

2

cloves

garlic

minced

1

teaspoon

sesame oil
Summer rolls:
1

pack rice paper (I used 8 1/2 inch size)

2

large carrots

cut into thin sticks

1/2

cucumber

cut into thin sticks

4

scallions (green parts)

chopped

1/2

butter leaf lettuce

4.4

ounces

vermicelli (I used about half a package)
Instructions
Start by making the dipping sauce by adding the dipping sauce ingredients (except the chopped peanuts) to a food processor and blending until smooth. Transfer to the container(s) you want to serve it in, sprinkle on the chopped peanuts, and put it in the fridge until needed.

Cut pork into bite-size strips, and remove any fat/gristle.

Add the sugar in an even layer to the bottom of a heavy skillet on medium-low heat. It may take a few minutes for anything to happen... but if nothing happens for like 10 minutes, increase the heat a bit. Watch the sugar carefully. Once it melts and turns a nice caramel color, add the pork and stir until it's coated. It's ok if it appears to be a sticky mess.

Add in the fish sauce and salt & pepper and stir. Cover the pan and cook for about two minutes. Add in the garlic and sesame oil and stir. Cook uncovered for about 20 minutes, stirring occasionally, until the sauce reduces and the pork is caramelized in the delicious sticky sweet sauce. When it's cooked, transfer to a bowl or plate.

While the pork is caramelizing, it's a good idea to start chopping the vegetables and cook the vermicelli to make use of the time. Peel the carrots and cut them into matchsticks. I don't peel the cucumber; I just cut it into matchsticks. Chop the green parts of the scallions. Tear the lettuce into bite-size pieces. Set the vegetables aside on a plate so they're ready to go. The vermicelli only takes a few minutes to cook. Add it to boiling water and follow package directions. I drain it using a sieve and rinse it under cool water so it cools faster. Place in a bowl and set aside.

When you've completed the above steps, it'll finally be time to assemble the summer rolls 🙂 Fill a large bowl full of cool water. Wet a piece of rice paper and then place it on the surface you'll be assembling the rolls on.

Add the vermicelli, vegetables, and pork to the top third of the rice paper. Fold the sides over slightly and then fold the top over so it just touches the filling. Tuck in the filling with your hands as you roll it towards you. Keep in mind you want the rolls to be fairly firm, but if you roll them too tightly, you'll break the paper. Don't worry... you'll get the hang of it 🙂

Repeat the process for as many rolls as you have stuffing for. Serve the summer rolls with the peanut dipping sauce. You can keep the rolls intact or cut them in half. Enjoy the fruits of your labor.
Notes
Caramelized pork recipe is adapted from NY Times Cooking.
It's hard to say exactly how many summer rolls this recipe makes since it really depends how much you stuff them, but it easily makes at least 10 rolls.
© Salt & Lavender Inc. Content and photographs are copyrighted. Sharing this blog post is much appreciated, but copying and pasting full recipes without authorization to social media is strictly prohibited.
Leave a star rating and comment below!