Chicken salad rolls with miso tarragon dipping sauce are a fresh and creative way to use up leftover chicken!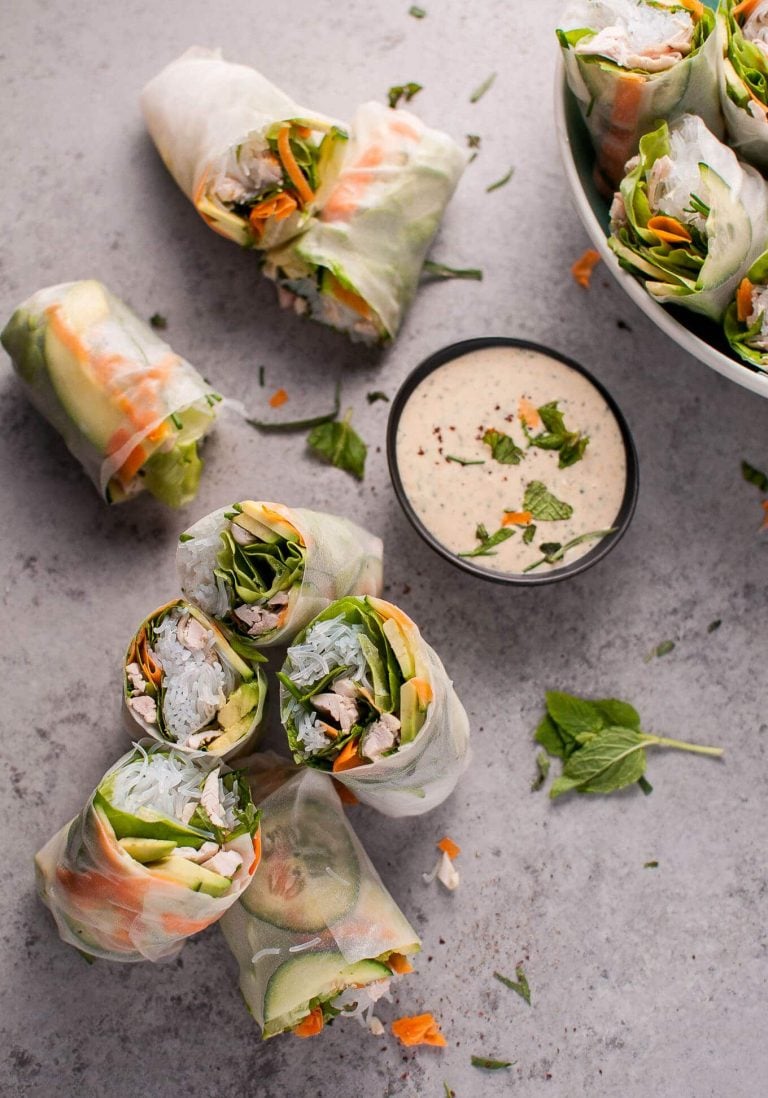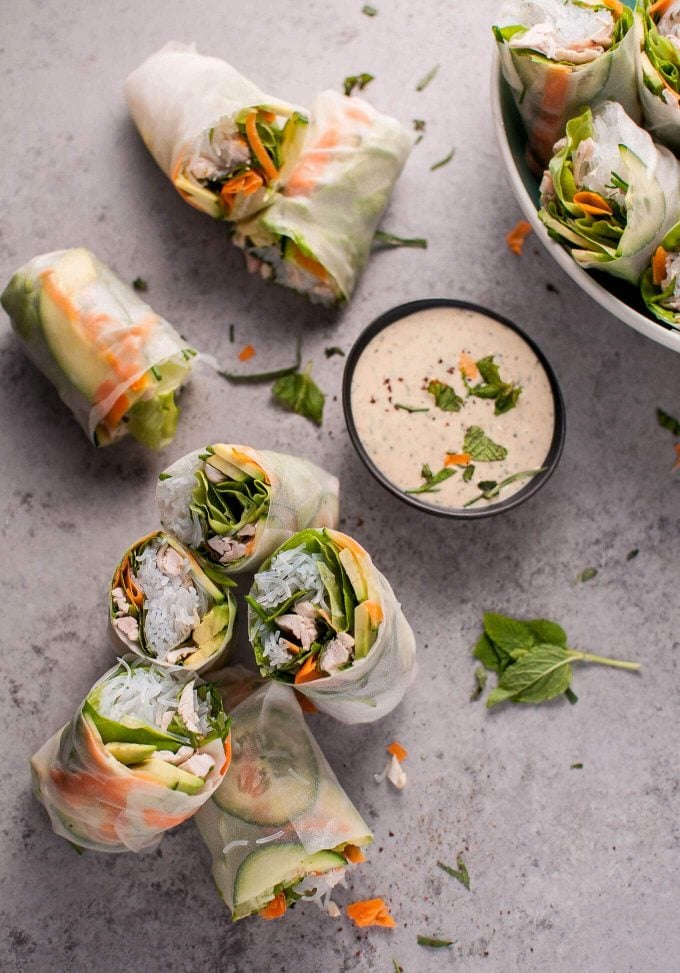 What can I say? It's cold out, but I felt like using up the rest of a rotisserie chicken in something very fresh. I don't think there's ever a bad time for salad rolls (summer rolls).
I've recently been experimenting with miso paste, and I really like it. There are many different varieties available, and I bought one on a whim at my regular grocery store. The one I bought is a Hatcho (soybean) miso, so it is darker in color and stronger in flavor than some of the other varieties available.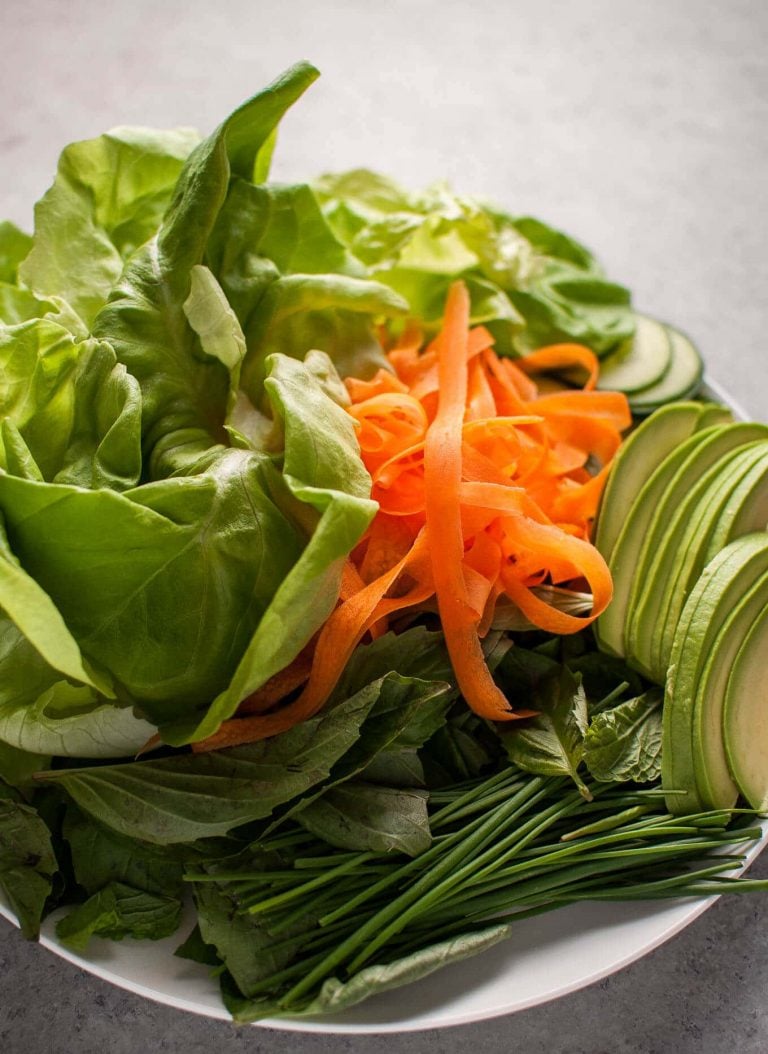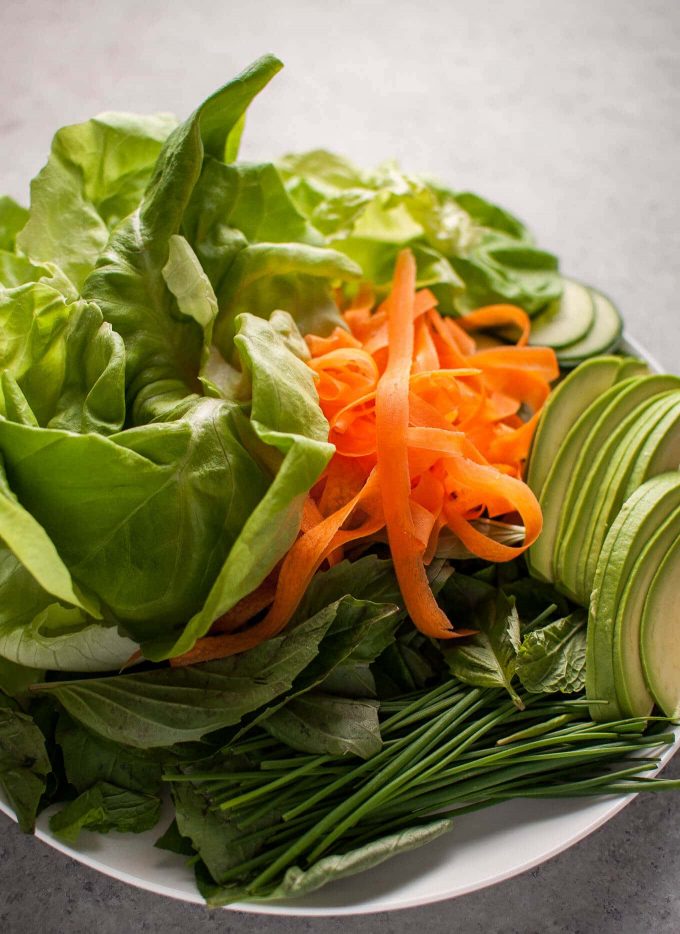 I love tarragon with chicken, and I decided to somehow incorporate miso into the whole thing.
My mind works in mysterious ways, but I'd say this idea turned out very nicely. 😉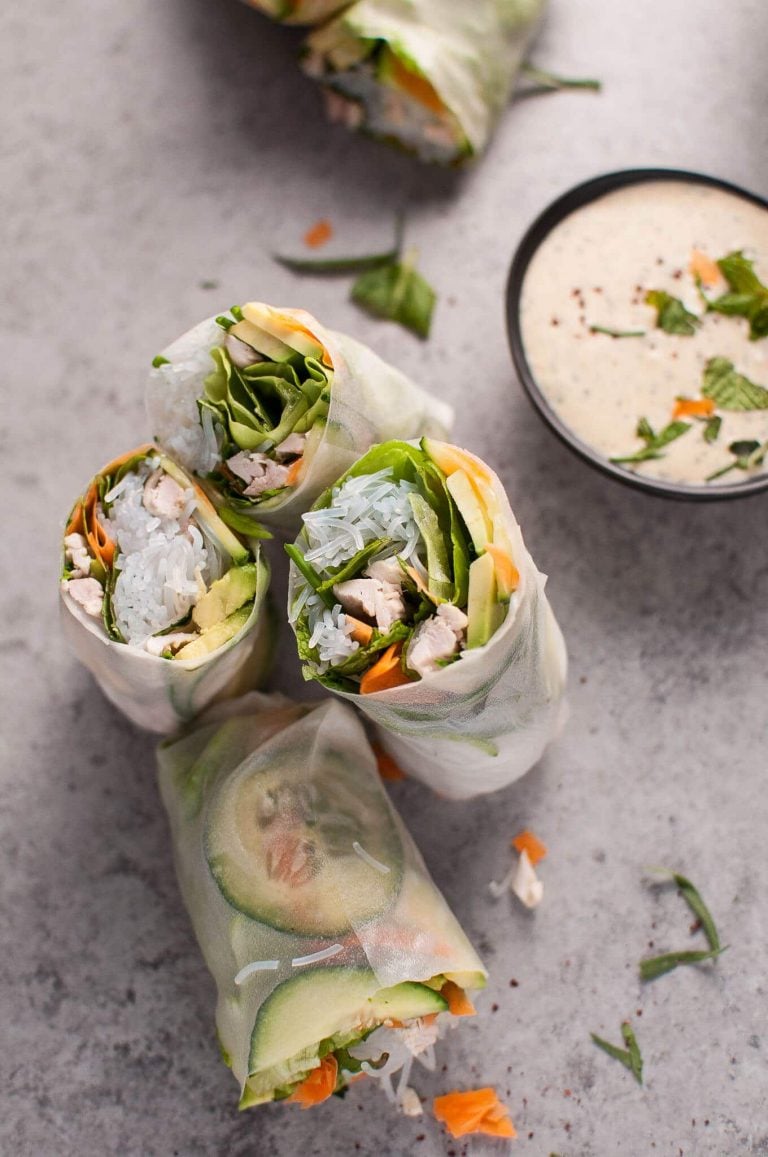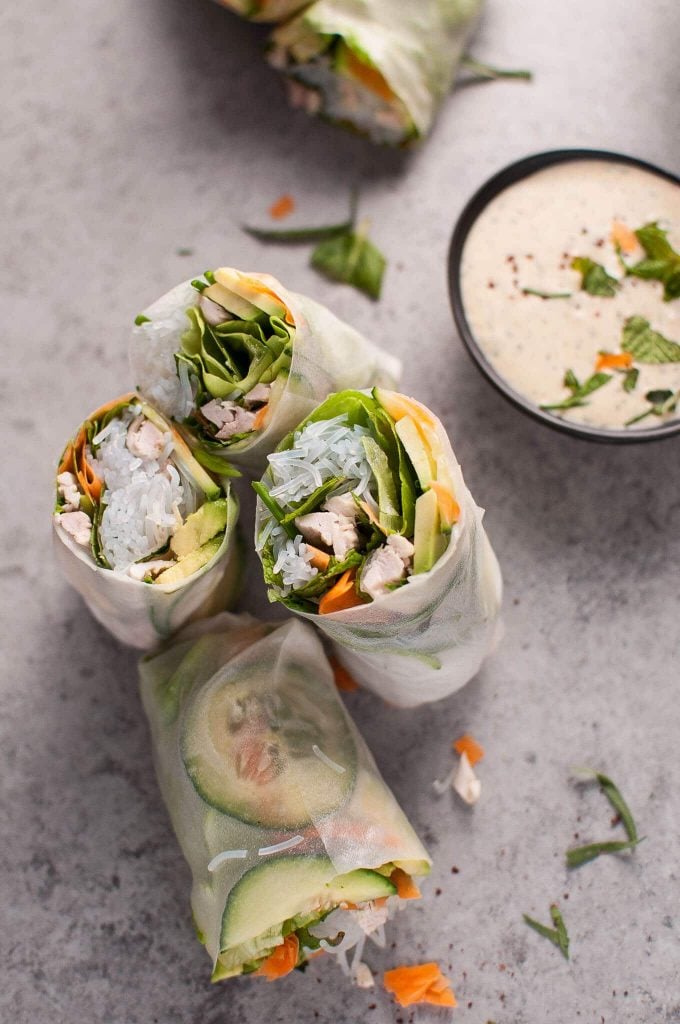 The miso paste adds that pleasant, salty "umami" flavor that's so hard to describe. It's a great base for dressings, soups, etc., and it's widely used in Japanese cooking. You may use a different variety of miso paste in the dipping sauce if you don't have Hatcho miso. I recommend starting with a little bit and then gradually adding more to get the taste you like. If you want to learn more about the various varieties of miso, here's a handy guide.
In addition to the chicken, I included avocado, butter leaf lettuce, carrot, cucumber, vermicelli, basil, mint, and chives in these salad rolls. I love fresh herbs, and salad rolls are the perfect place to showcase them.
Once you have everything prepped, making these goes fairly quickly. It's a relaxing repetitive process (at least in my head). 😀 Thinking about relaxing repetitive processes takes me back to my very first job, where I worked at a pizza place. My favorite mindless task was folding pizza boxes. Once you got into the rhythm, you could just zone out. Every now and then, a paper cut would jar you back to reality, but other than that, it was almost like meditation.
Anyway, back to these salad rolls! If you wanted to, you could even make these vegetarian by omitting the chicken. That's the beauty of salad rolls – they're so easily customizable, and you have virtually unlimited options in what you can include in them. I just love 'em.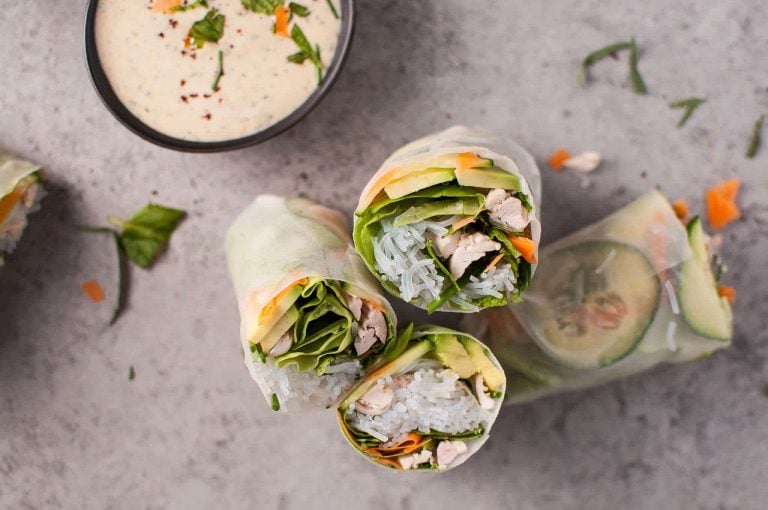 Skip over the below tips if you've made salad rolls before. I included these same tips in my caramelized pork summer rolls recipe, but I figured they were worth repeating here.
My tips for making these salad rolls successful:
Give yourself some time (like at least a couple of hours if you've never made these before).
Make sure you have everything ready. I am guilty of often not getting things ready prior to cooking (and so I forget things and/or run around like a headless chicken)… but this is one case when it really is important to have everything laid out and ready to go.
After you wet the rice paper, you need to make the roll right away. The rice paper becomes more flimsy and harder to use the longer it's wet.
Don't over stuff the rolls. You risk tearing the paper and it just makes it much harder to roll them. You'll find a balance after you screw a few up 🙂
If you're making these ahead of time (or not eating them right away), store them on damp paper towel. That way they won't stick to the plate/surface they're on. Place another piece of damp paper towel over top of them so they don't dry out. I've successfully stored these until the next day by using the damp paper towel technique (I put them in a Tupperware container with the damp paper towel on the bottom and top).
I've seen people wet the rice paper in various ways. The way I find easiest is to fill a large bowl with water and then dip the paper in and ensure it's coated with water. This only takes a few seconds. You want the rice paper to still be somewhat firm when you start making the rolls so it doesn't totally disintegrate.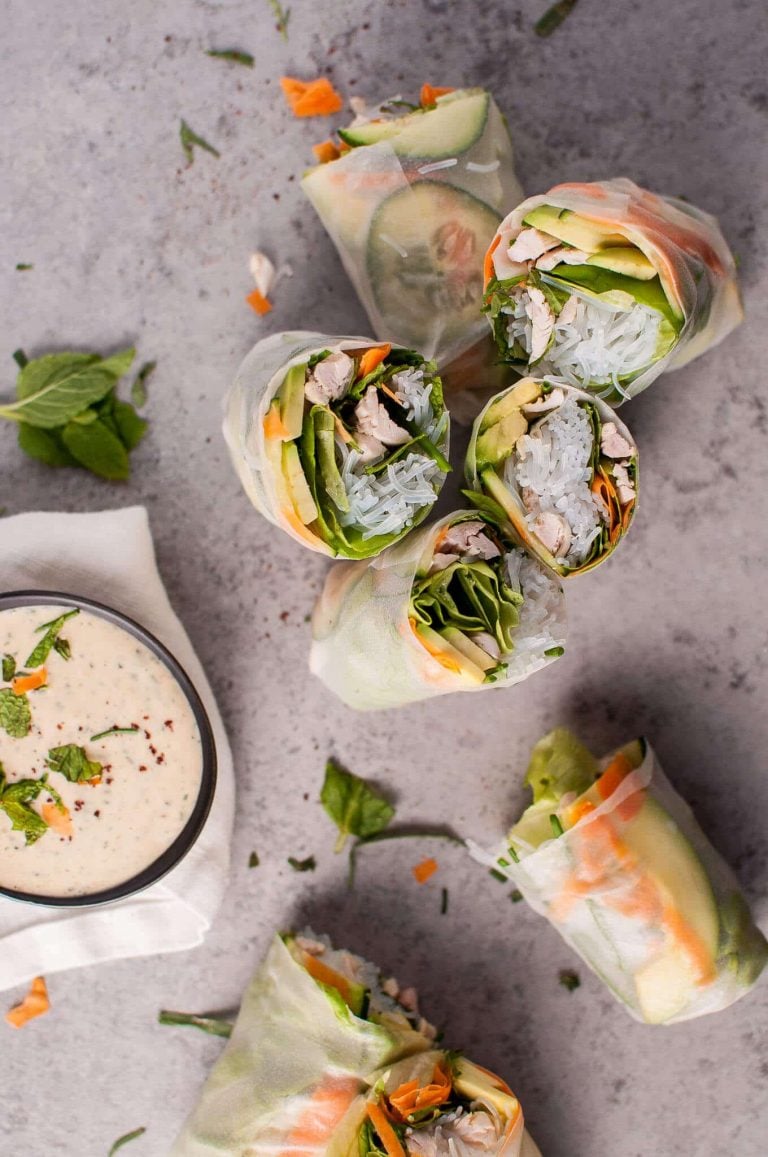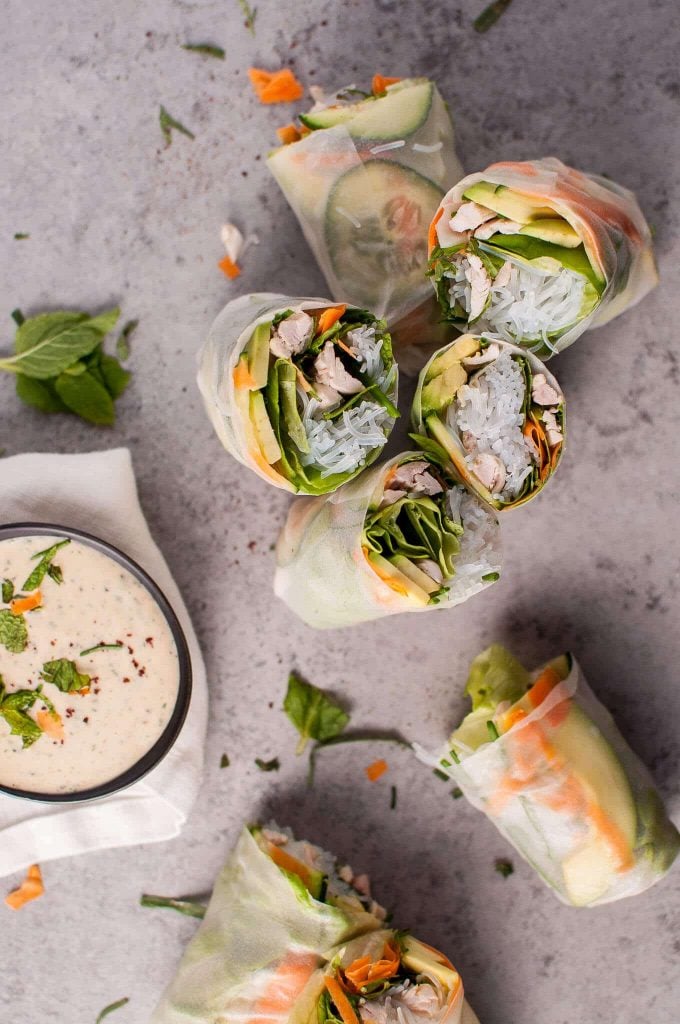 Have you cooked with miso before? Would you try these salad rolls?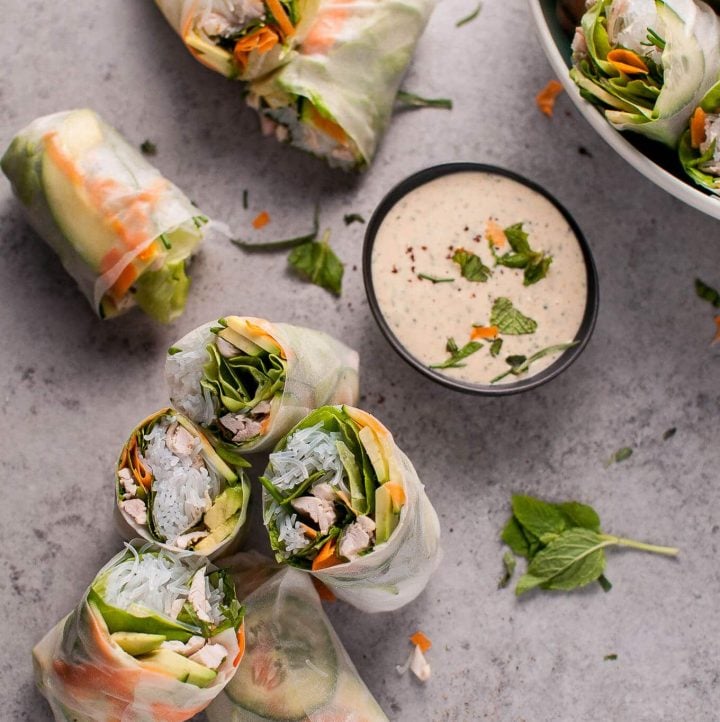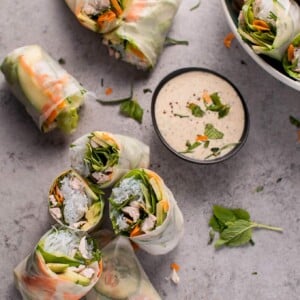 Chicken Salad Rolls with Miso Tarragon Dipping Sauce
Fresh and delicious salad rolls that make use of leftover chicken. Served with a creamy miso tarragon dipping sauce!
Ingredients
5

ounces

uncooked vermicelli noodles

1

large carrot

ribboned

1

avocado

thinly sliced

1/3

cucumber

thinly sliced

Handful chives

1/2

cup

(packed) mint

chopped

1/2

cup

(packed) basil

torn

1/2

butter leaf lettuce

2

cups

cooked chicken (shredded into smaller pieces)

1

pack rice paper (I used the 8.5" size)
Dipping sauce:
1

tablespoon

tarragon

finely chopped

4

tablespoons

sour cream

4

tablespoons

mayo

4

teaspoons

miso paste (or to taste)

2

teaspoons

lemon juice

1

clove

garlic

minced

Pepper

to taste
Instructions
Combine dressing ingredients in a small bowl. Refrigerate until needed.

Cook the vermicelli according to package directions. Rinse it with cool water and place it in a bowl when it's ready. Ribbon the carrot (I used my potato peeler to do this) or cut it into matchsticks. Slice the avocado and cucumber, and prepare the herbs and lettuce.

Fill a large bowl full of cool water. Wet a piece of rice paper and then place it on the surface you'll be assembling the rolls on.

Add the vermicelli, vegetables, and chicken to the top third of the rice paper. Fold the sides over slightly and then fold the top over so it just touches the filling. Tuck in the filling with your hands as you roll it towards you. Keep in mind you want the rolls to be fairly firm, but if you roll them too tightly, you'll break the paper.

Repeat the process for as many rolls as you have stuffing for. Serve the salad rolls with the miso dipping sauce. You can keep the rolls intact or cut them in half.
Notes
This recipe makes at least 10 rolls. It depends on how much you stuff the rolls. Quantities listed generously feed two adults as entrees, and many more as appetizers. Prep time also really depends on how fast you're able to assemble these rolls. If you've never made salad rolls before, I suggest dedicating at least two hours to this project.
© Salt & Lavender Inc. Content and photographs are copyrighted. Sharing this blog post is much appreciated, but copying and pasting full recipes without authorization to social media is strictly prohibited.
Leave a star rating and comment below!