This chicken stir fry with rice noodles is easy, fresh, healthy, and totally delicious! It comes together fast, and you will love the sweet and savory sauce.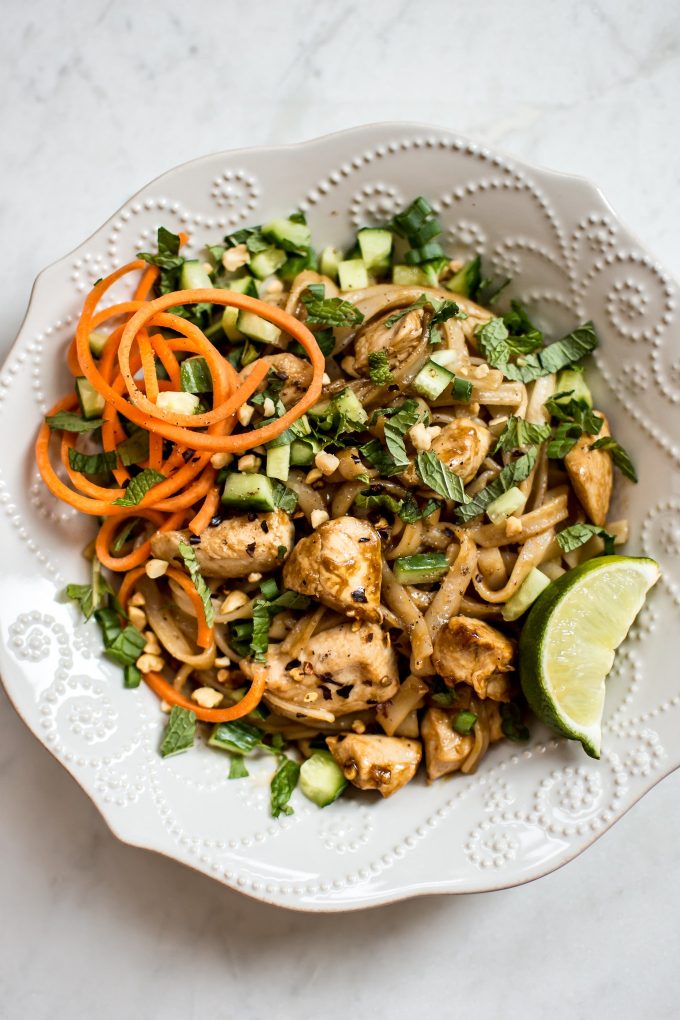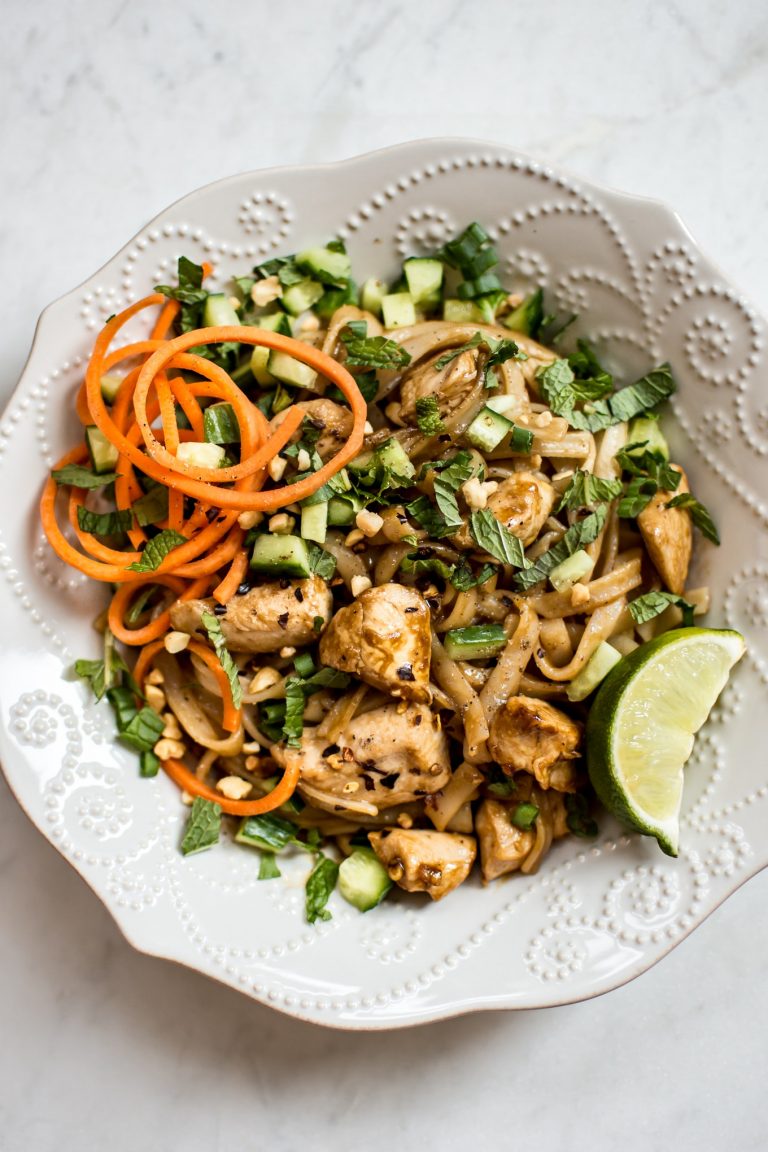 If you've been looking for an easy rice noodle recipe, you've come to the right place. I used Thai rice noodles (the wider flat ones), but the recipe has some Vietnamese flavors. I wasn't sure what to call this recipe, but I think "stir fry" is close enough. I didn't use a wok, but same idea.
Making rice noodles is really easy. Just make sure to read the package to see if you need to soak them first. I used A Taste of Thai rice noodles for this recipe, found in the Asian section of my local grocery store.
This recipe does have a bit of prep time, but I just do it while the noodles are soaking, so the total time isn't actually that much.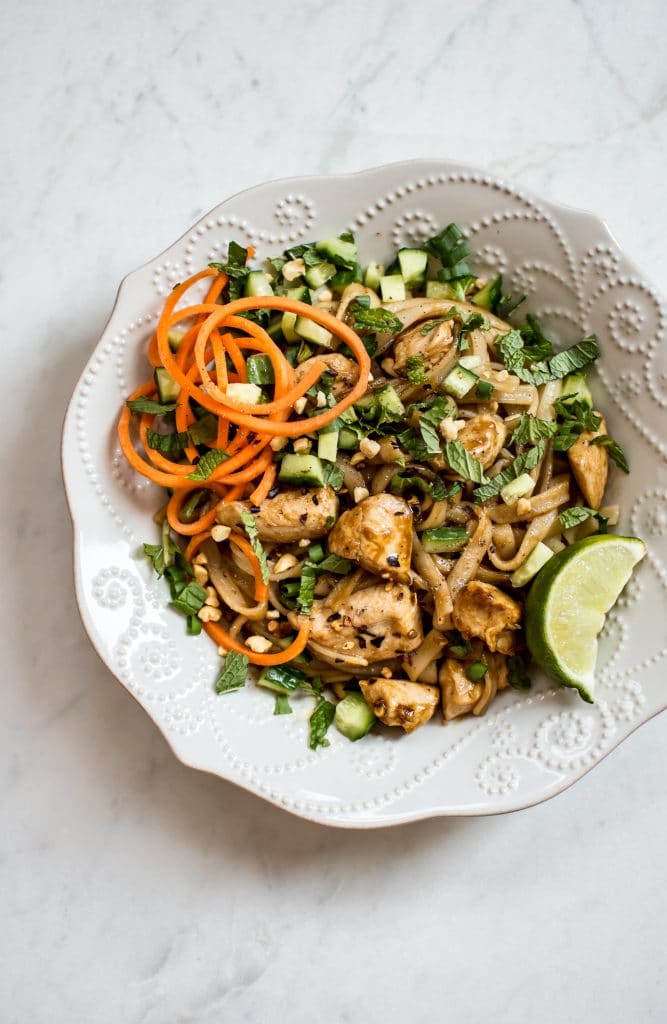 If you're new to using fish sauce, don't worry. It does smell quite strong, but the flavor mellows as it cooks. I love the umami taste it gives to dishes.
You can actually enjoy this dish as a cold rice noodle salad if you prefer. I did for the leftovers since there's some fresh ingredients in here, so I didn't want to microwave it at work. It's definitely good when it's hot straight out of the pan, but I enjoyed it just as much cold.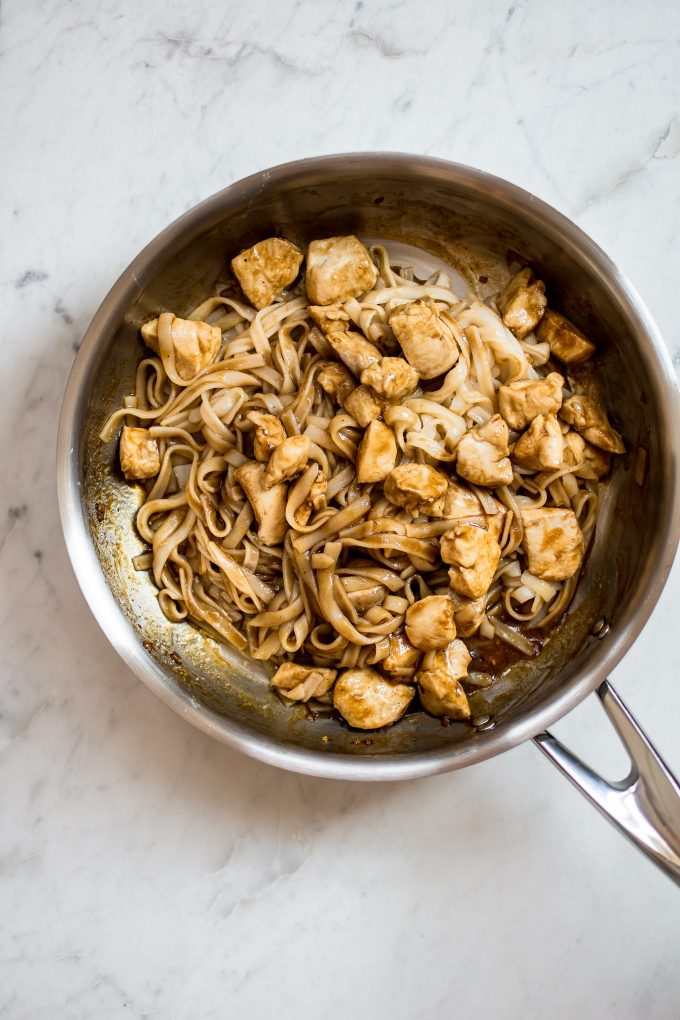 I hope you will like this chicken stir fry with rice noodles recipe as much as I did!
Do you like to top warm dishes with raw ingredients like I do? I think it really lifts so many dishes; especially Asian-inspired ones.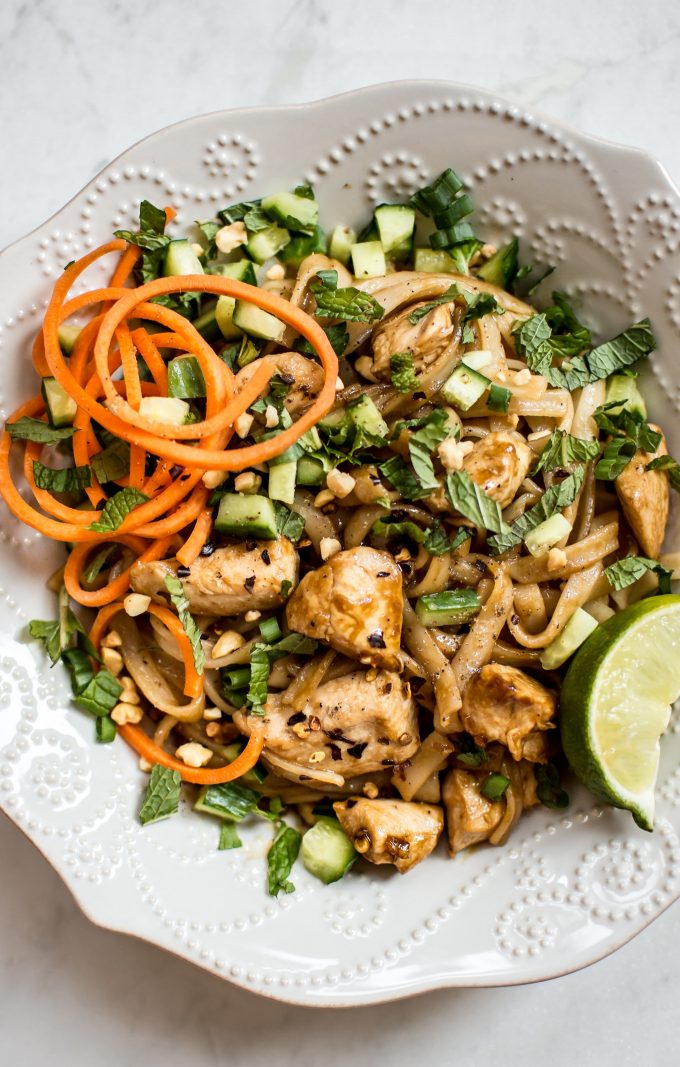 Will you make this rice noodle stir fry?
Let me know in the comments below!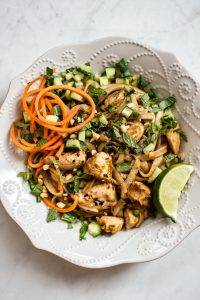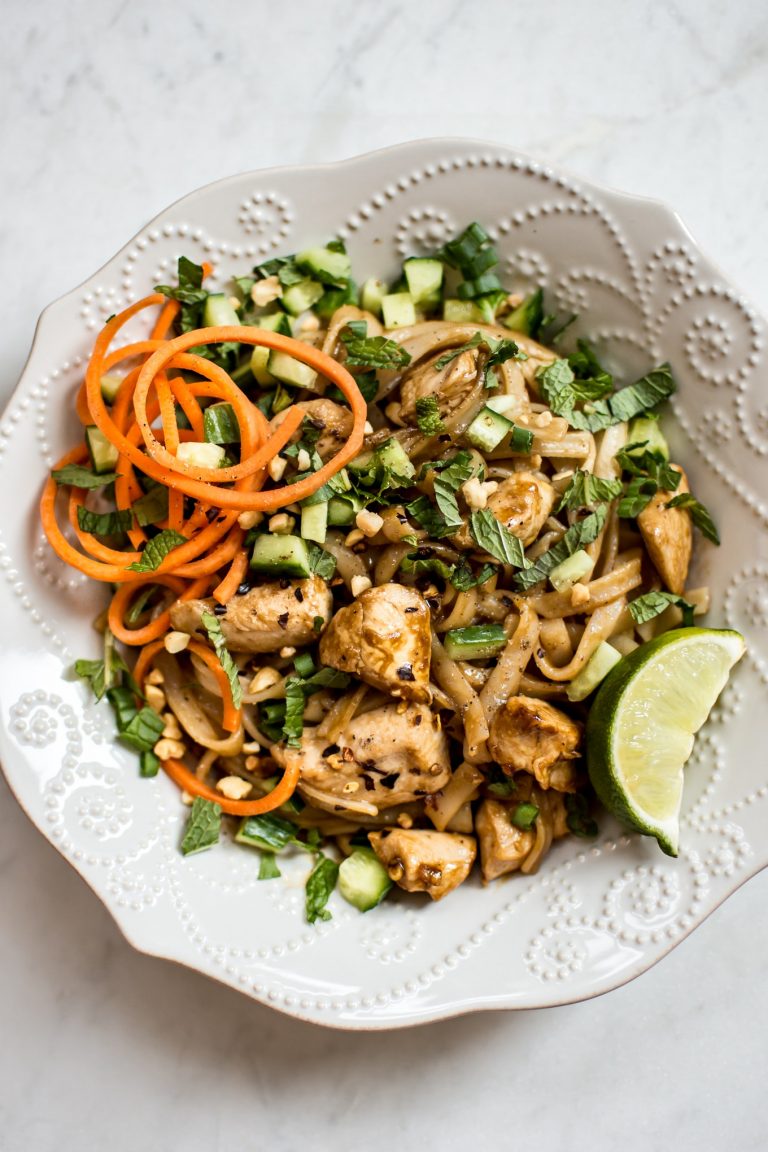 Print
Chicken Stir Fry with Rice Noodles
Yield 2-4
This chicken stir fry with rice noodles is easy, fresh, healthy, and totally delicious! It comes together fast, and you will love the sweet and savory sauce. 
Ingredients
1/2 pound rice noodles
1 tablespoon olive oil
2-3 boneless, skinless chicken breasts, cut into bite-size pieces
Sauce:
2 cloves garlic, minced
3 tablespoons hoisin sauce
1 tablespoon fish sauce
1 tablespoon soy sauce
Juice of 1/2 lime
Garnish:
1 Persian (mini) cucumber, chopped or julienned 
1 handful mint, chopped
1 small carrot, grated, spiralized, or julienned 
Scallions (green parts), chopped, to taste
1/4 cup chopped peanuts 
Red pepper flakes, to taste
Lime wedges (optional)
Instructions
Soak rice noodles according to package instructions (I soaked mine for slightly less than it suggested, about 20 min).
Meanwhile, add the sauce ingredients to a small bowl, and then prep the garnish ingredients and set aside.
When the noodles are done soaking, cook them according to package directions.
Meanwhile, add the oil and chicken to a skillet or wok. Cook on medium-high heat for 5 minutes, stirring often. 
Add the sauce to the pan and give it a good stir to coat the chicken. Cook for an additional couple minutes, stirring often, or until the chicken is cooked through (but don't overcook). The sauce will thicken up.
Once the noodles are done, drain them and add to the pan. Toss with the chicken (I use tongs). You can either add the garnish ingredients right to the pan or to each bowl when you plate it. 
Eat it immediately or enjoy cold as a noodle salad. 
Notes
I used A Taste of Thai straight cut rice noodles.
Courses Main Course
Cuisine Asian
If you like the sound of this recipe, you may also like my cold soba noodle salad with a spicy peanut sauce.
Try more of my tasty recipes: