This cold soba noodle salad with a spicy peanut sauce is an incredibly flavorful vegan meal with the perfect amount of crunch and freshness.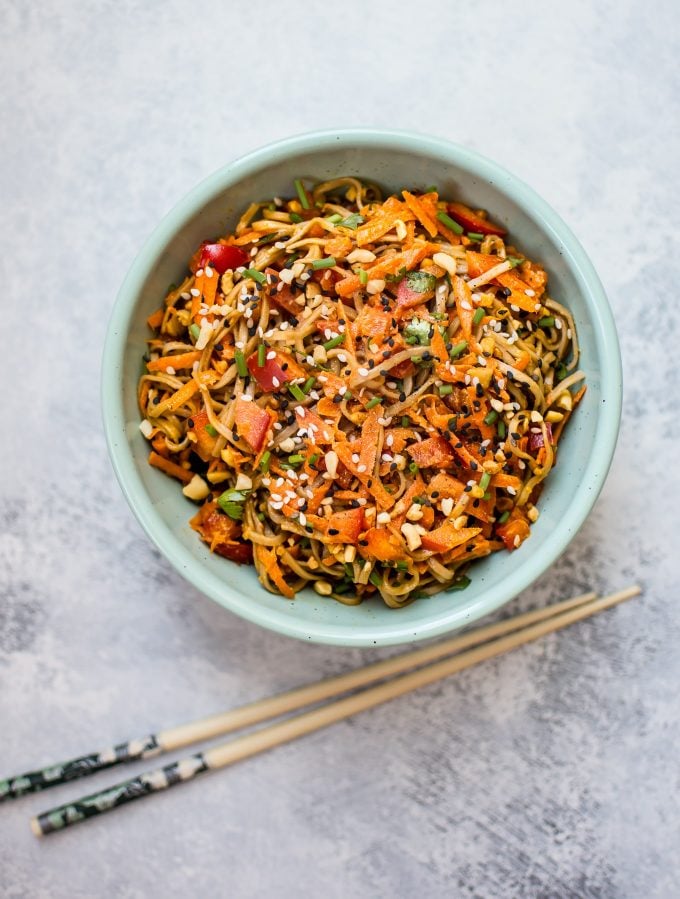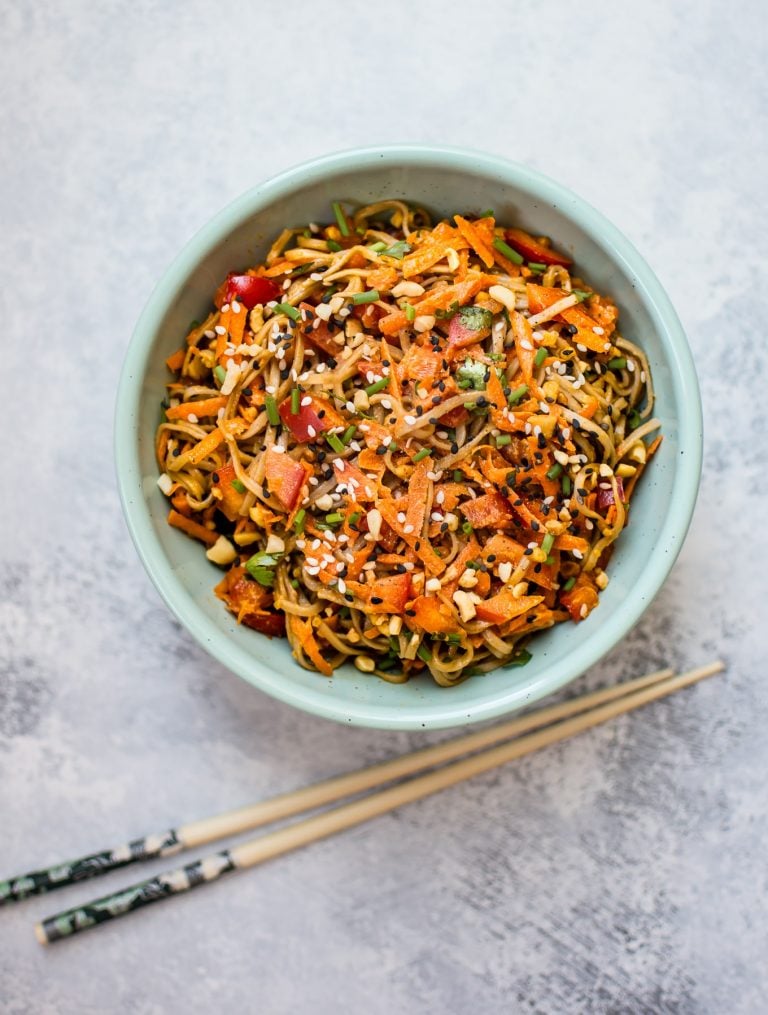 This spicy peanut soba noodles recipe is easy and comes together in half an hour!
The spicy peanut sauce is addictive.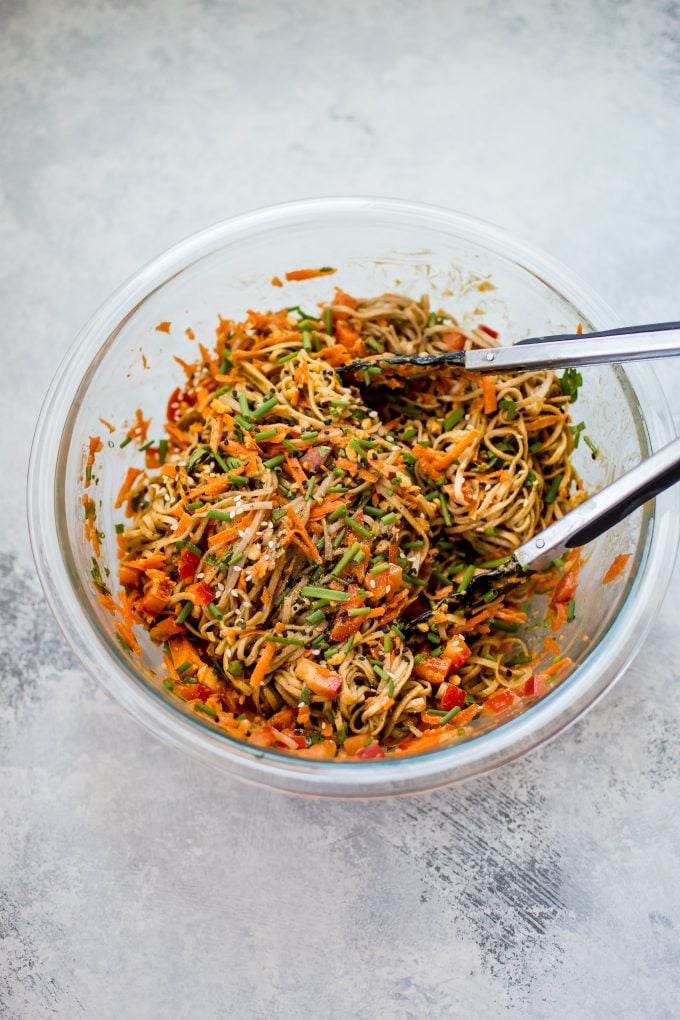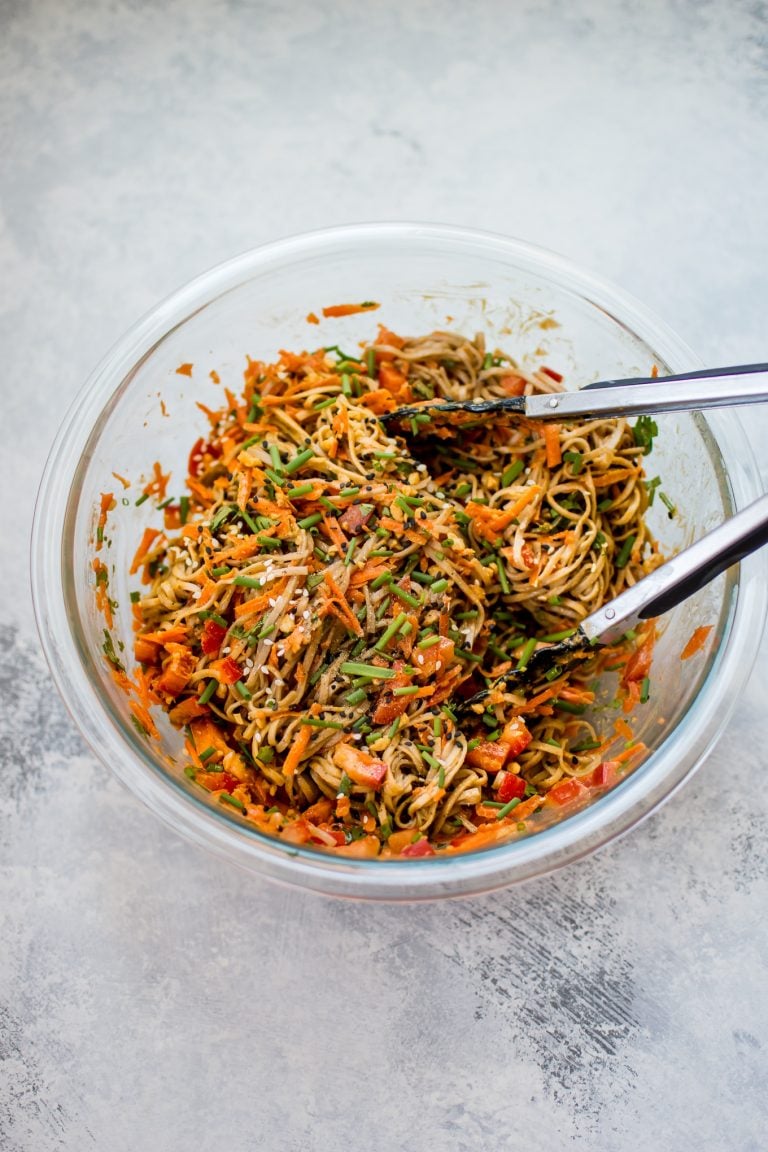 I'm pretty sure these vegan soba noodles were inspired by the recent feature that Bon Appetit magazine did on cold noodle salads.
The photos were so beautiful and vibrant, and who doesn't love noodles?! Is it weird that I get super excited when I receive the magazine in my mailbox each month? Simple pleasures.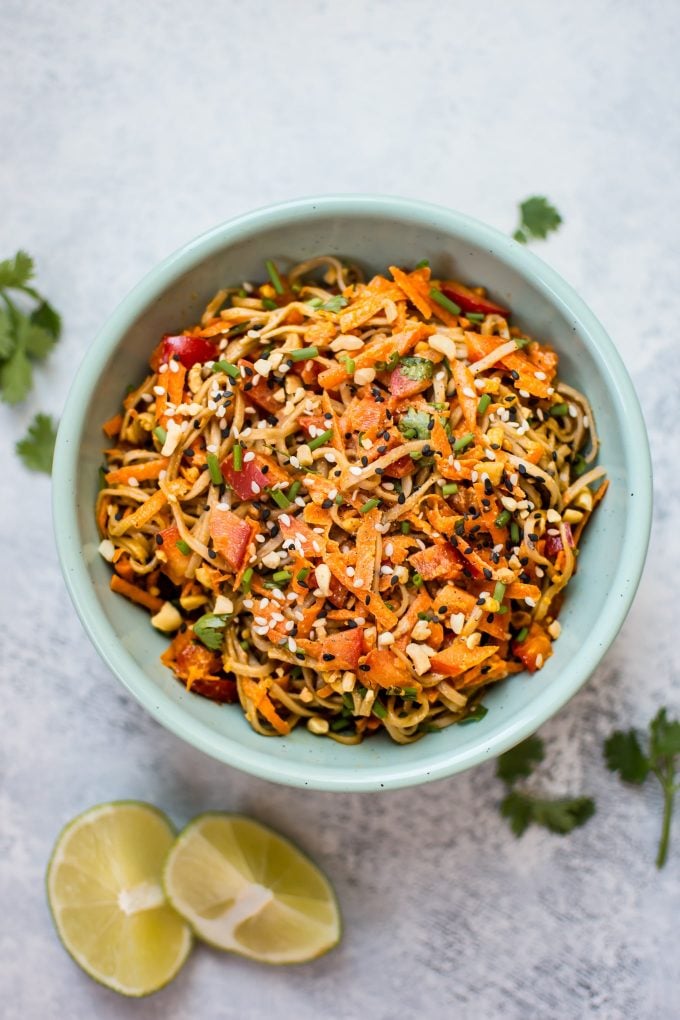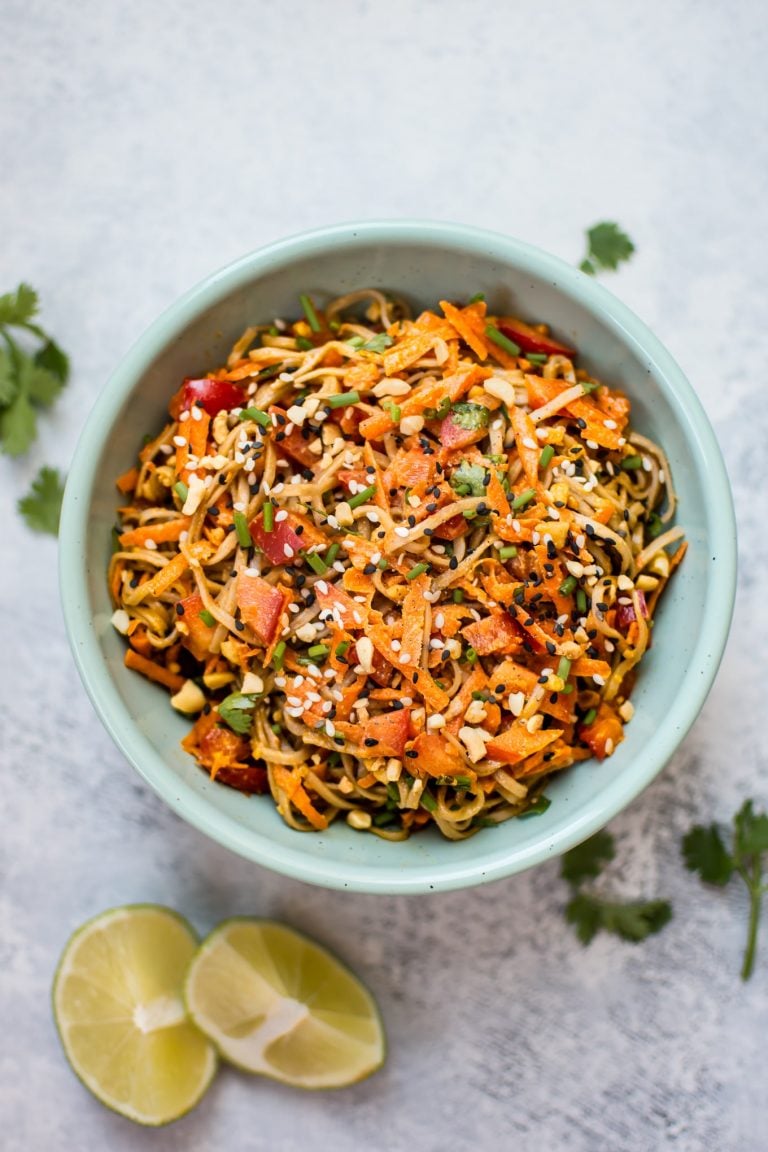 Aside from that magazine feature, I keep hearing about soba noodles in general, but I had never made them myself before. It took me a couple trips to different grocery stories to find soba noodles (check the Asian aisle), and I am so glad I found them. It was time.
What are soba noodles?
In case you were wondering, soba noodles are simply Japanese buckwheat noodles. They're good warm or cold. They're easy to work with and only take a few minutes to cook. They also happen to be vegan, which is a handy little fact to file away.
These will now be in my Asian-inspired recipe arsenal forever.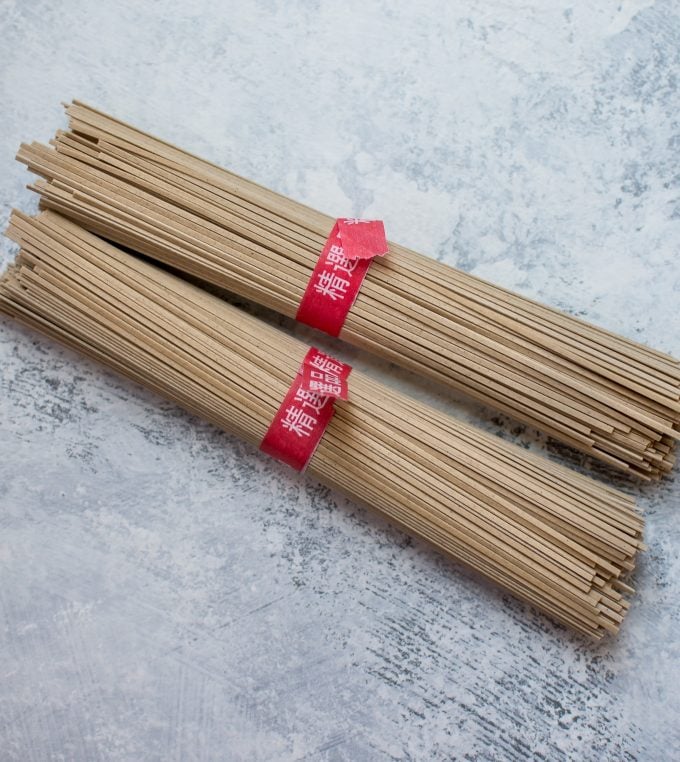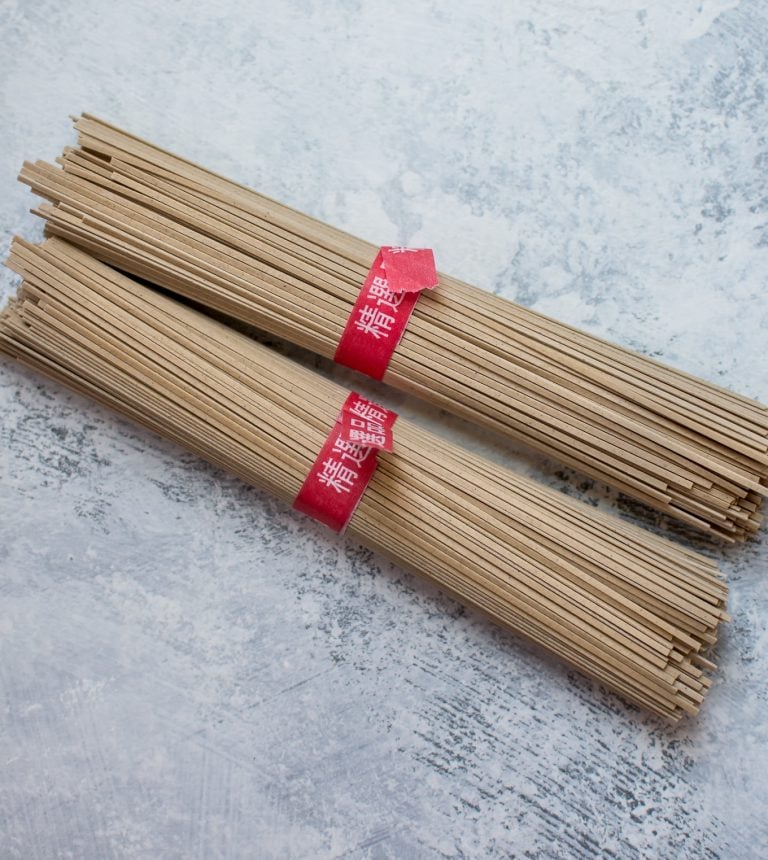 So what's in here?
Soba noodles
Grated carrot
Cilantro
Red peppers
Chopped peanuts
Chives
Sesame seeds
A spicy peanut sauce (make it as spicy or mild as you want!)
I ate this spicy peanut soba noodle salad a couple of days after I made it, and it still tasted good. This would actually be a good meal prep option for something a little bit different. You could also easily add some extra protein to it, like some of my favorite grilled shrimp.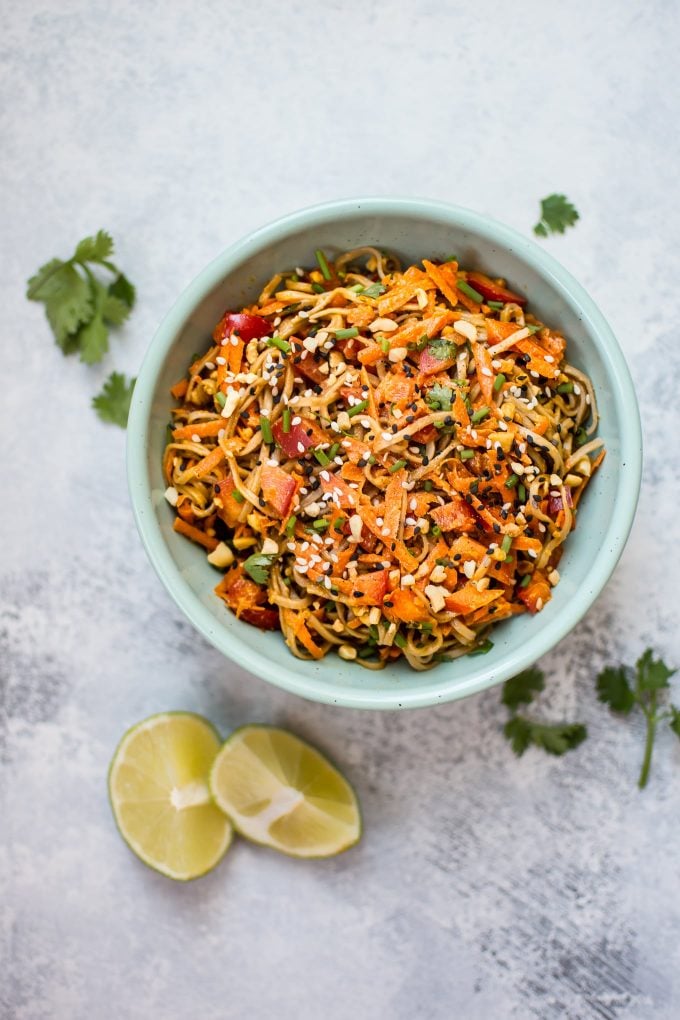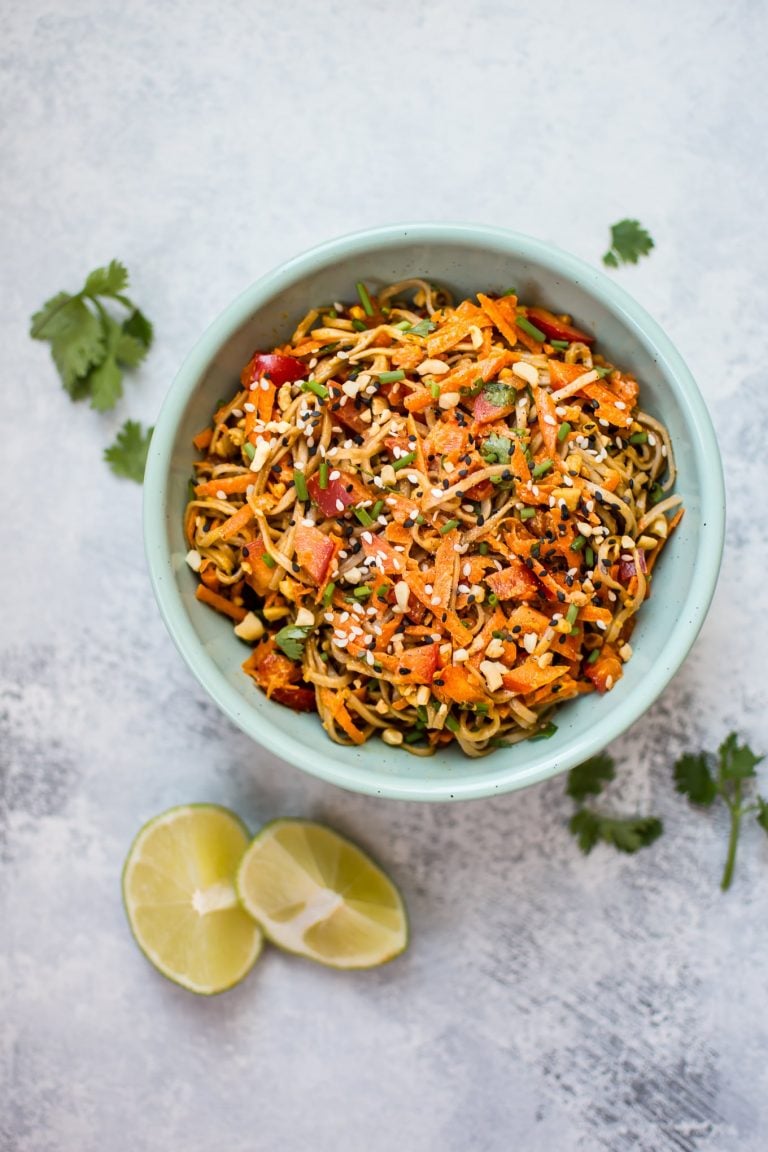 If you've read this blog for any length of time (it's ok to just look at the pretty pictures tho), you will have read this next line like a thousand times and roll your eyes... so here we go. I do not handle spice well. I, for real, enjoyed this recipe as written with the 2 teaspoons of sriracha sauce. You go girl! I'd suggest including at least 1 teaspoon of it for flavor purposes, but you can also add more if you're not like me. Play with it 'til it makes your taste buds sing.
Questions about this recipe? Leave me a comment below.
Hope you will love this easy soba noodle recipe as much as I did!
If you like this recipe, I think that you may also like my 15 minute buttery garlic ginger noodles, these veggie lettuce wraps with a peanut sauce, or my garlic lime cashew zoodles.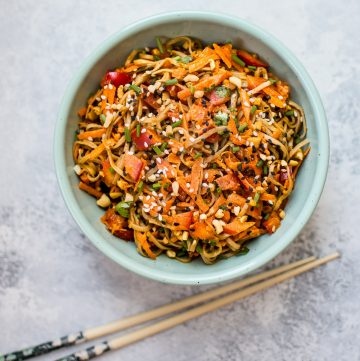 Cold Soba Noodle Salad with a Spicy Peanut Dressing
This soba noodle salad recipe makes a delicious vegan meal with the perfect amount of crunch and freshness!
Ingredients
6.4

ounces

soba noodles (I used half a package - anything around 6 oz. will work)

1/2

red bell pepper

chopped

1

large carrot

grated

1/2

tablespoon

(or to taste) chopped chives or scallions

1

tablespoon

cilantro

chopped

2

tablespoons

chopped peanuts
Dressing:
3

tablespoons

peanut butter

1/2

tablespoon

sesame oil

1/2

tablespoon

hoisin sauce

2

teaspoons

sriracha sauce (or to taste)

Juice of 1/2 lime

1

teaspoon

soy sauce

1

clove

garlic

minced

1/2

teaspoon

grated ginger

1

tablespoon

water
Instructions
Cook the soba noodles according to package directions. Rinse them under cold water, make sure they're well drained, then allow them to cool while you prep the other ingredients.

Prep the remaining ingredients and add them to a large bowl, and whisk the dressing ingredients together in a small bowl.

Toss the noodles and other ingredients with the dressing until everything is coated (I found it easiest to do this with tongs).

Serve immediately or chill for later. Recipe keeps in the fridge for a few days.
Notes
Tip: The ginger is easiest to grate if you freeze it first. I always keep some fresh ginger in the freezer for this reason.
Serves 2-4.