This Crockpot sweet potato curry is loaded with good stuff including red lentils, chickpeas, oodles of sweet potatoes, and a vibrant blend of spices. This is the best vegan stew I've ever made!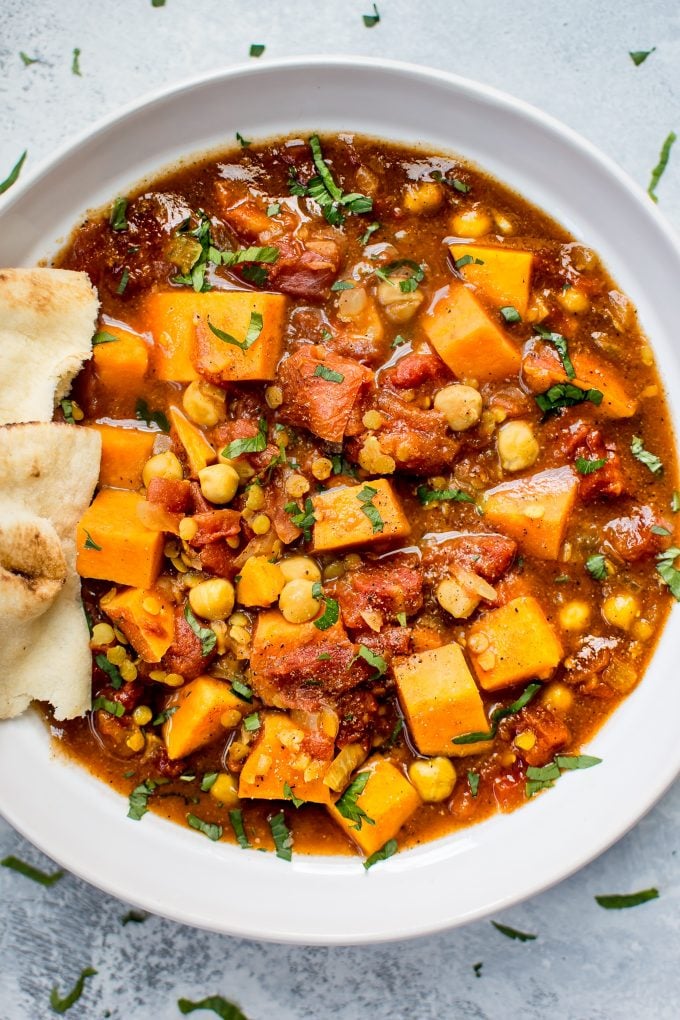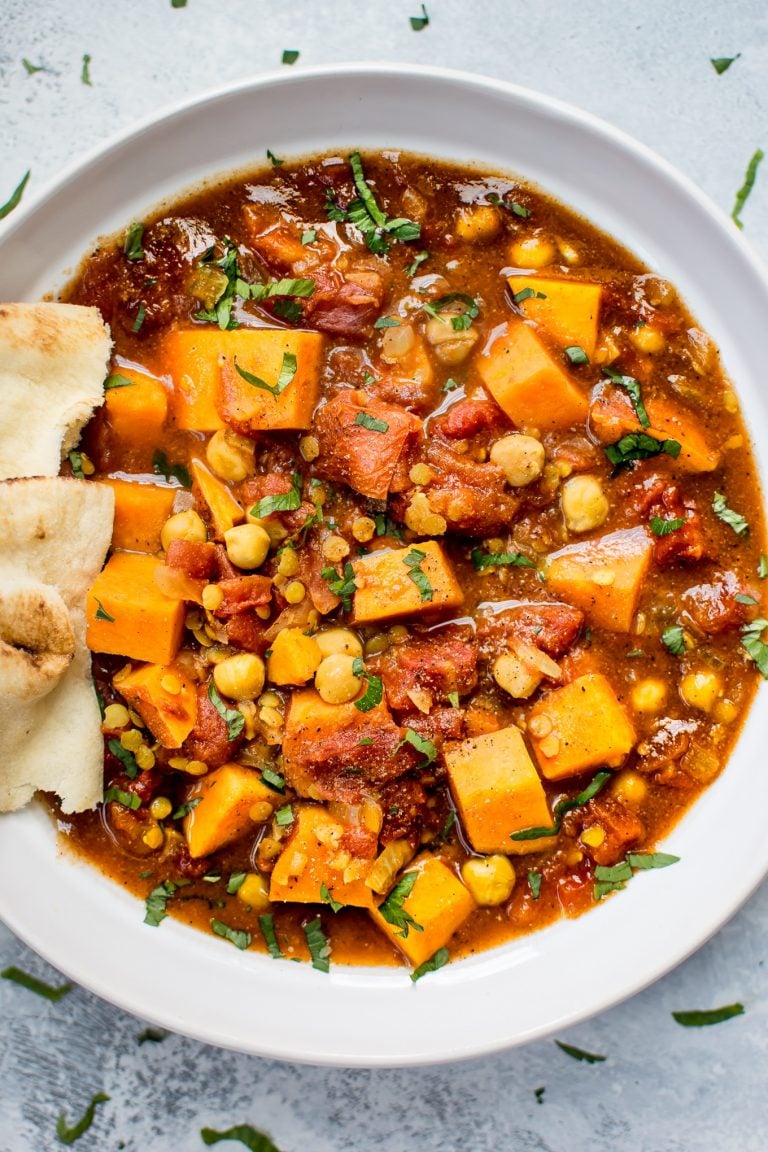 With fall rapidly approaching (ugh), I wanted to get some more cozy comfort food on the blog. This sweet potato and chickpea curry recipe fits that nicely.
It'll definitely warm you up, and there's nothing quite like the familiar texture of stew.
This one happens to be pretty healthy and vegan, so it can be enjoyed by all.
How to make vegan curry in the slow cooker
Like Crockpot recipes should be, this vegan Crockpot curry is easy, and you just chuck everything in the slow cooker and let it do its thing.
A note on cooking time: the photos were taken between 5-6 hours of cooking time. You can see there is quite a bit of liquid. My light was running out, so I had to take the photos ASAP. To fully test the recipe, I put it back in the Crockpot and gave it the 8 hours, and it does thicken up considerably (from the starch in the sweet potatoes mostly), so keep that in mind.
I prefer it with the slightly thicker consistency, which is good if you leave it on while you're at work all day. It's fine to eat after 5-6 hours if you're in a pinch, basically.
I used medium curry powder, so it isn't crazy hot, but it definitely does pack some heat. Mild or hot curry powder would work as well… whatever suits your preferences. If you want this vegan sweet potato curry to be even hotter, you can always add in some cayenne pepper.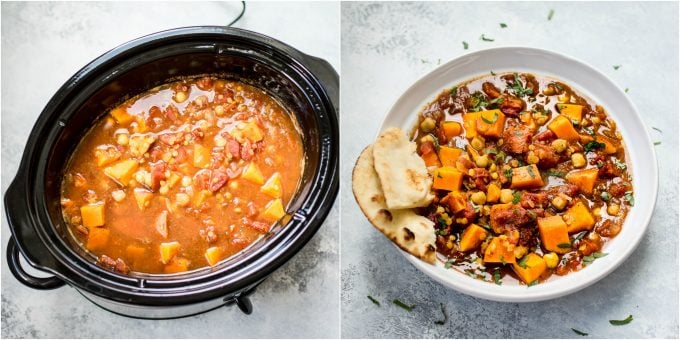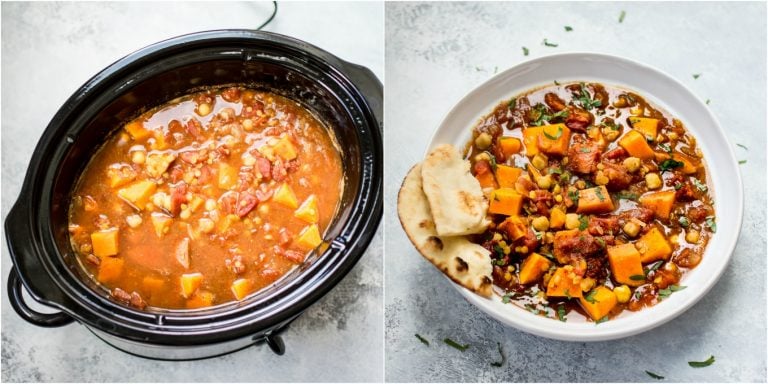 I think it's pretty apparent by now that I love sweet potatoes. They're so versatile, and I just can't get enough of that sweetness.
I particularly enjoy my recent stuffed sweet potatoes recipe. They're stuffed with a lot of good stuff (I have a way with words), basically, and you may like them too. 🙂
I don't make nearly enough Crockpot recipes. I tend to forget about my Crockpot for months on end, then I use it and I'm like why don't I use it more often? Vicious cycle.
I had a recent fail (you may have seen the horror on my Instagram stories… Thai chicken curry gone way wrong), but I got right back up on the Crockpot wagon again. We'll try tweaking that recipe again sometime. Maybe.
Meanwhile, this one luckily turned out a lot better. My husband absolutely loves curries, and he definitely relished all the leftovers. They reheat very well.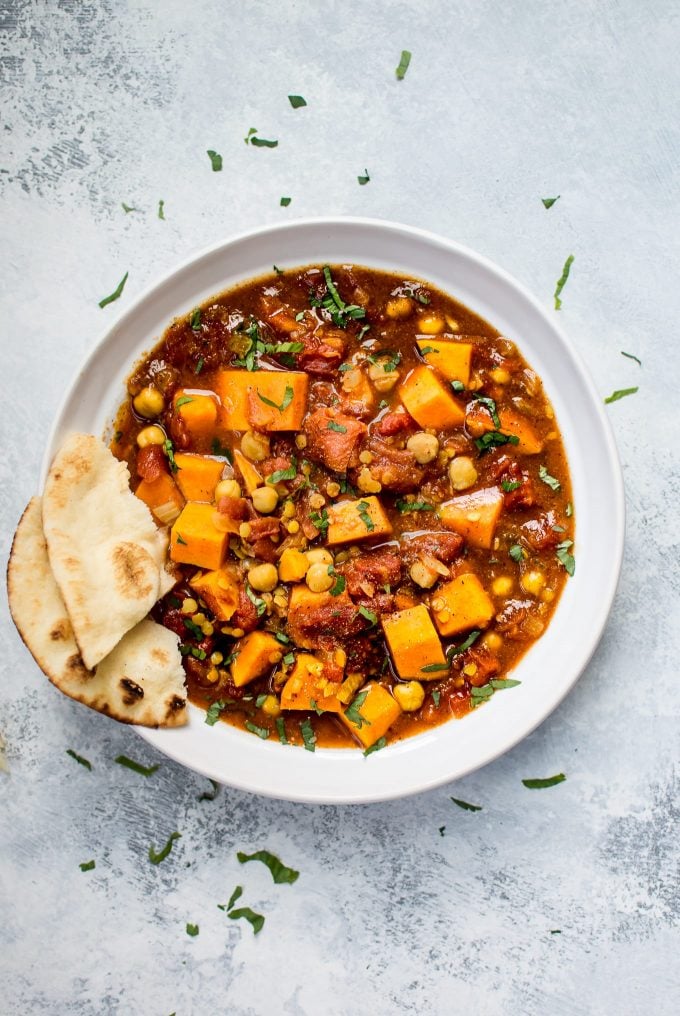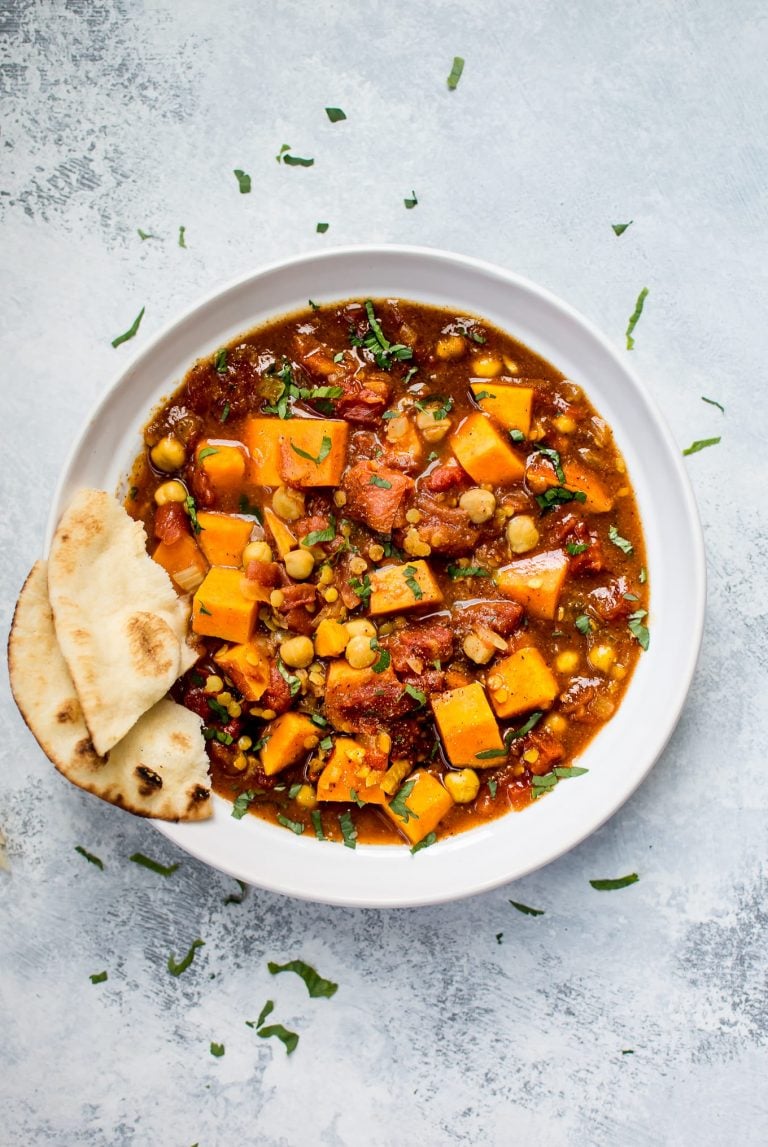 Let me know in the comments below if you've made this vegan slow cooker curry or if you have any questions about this recipe!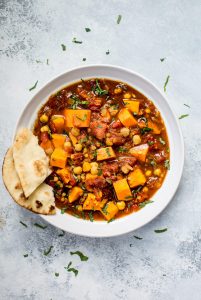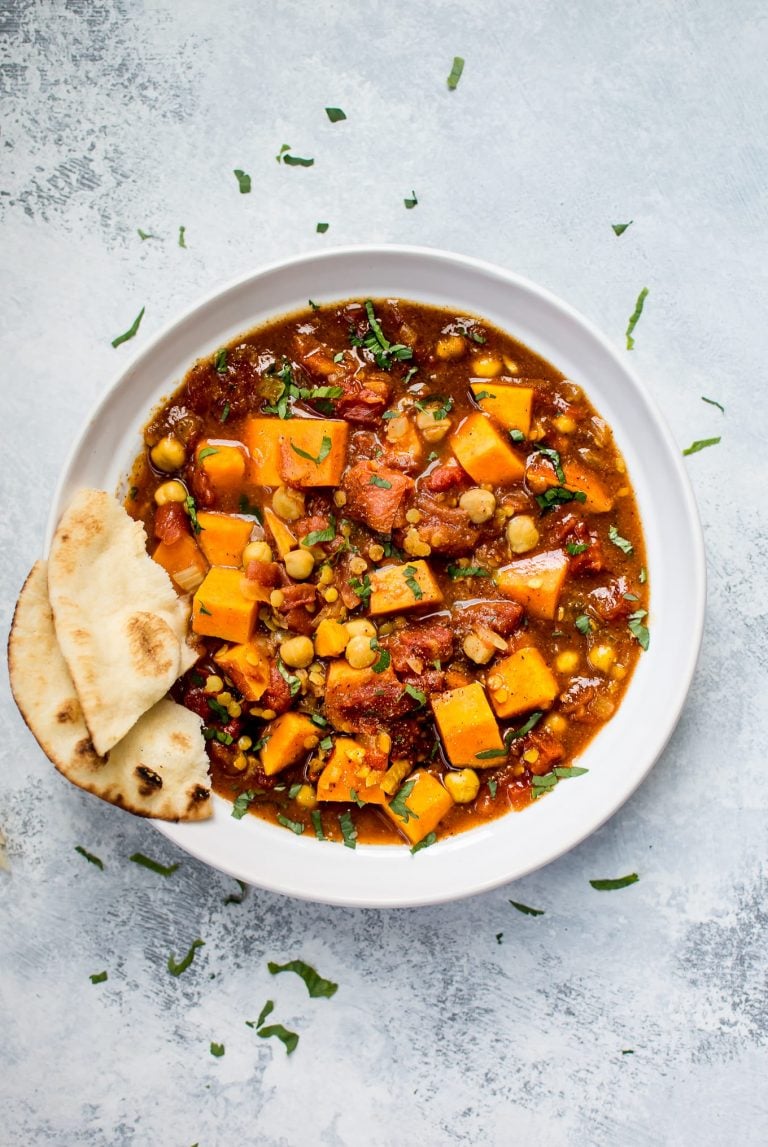 Print
Crockpot Sweet Potato Curry
Yield 6+
This slow cooker sweet potato curry is loaded with good stuff including red lentils, chickpeas, oodles of sweet potatoes, and a vibrant blend of spices.
Ingredients
1 medium to large sweet potato, cut into 1" pieces
1 small onion, diced
1 (19 fluid ounce) can chickpeas, drained
1 (28 fluid ounce) can diced tomatoes
1/2 cup red lentils
4 cloves garlic, minced
2 tablespoons curry powder
1/2 tablespoon ground cumin
1 tablespoon garam masala
2 cups vegetable broth 
Salt & pepper, to taste
For serving:
Chopped cilantro (optional)
Naan bread (optional) 
Instructions
Prepare your sweet potato (I didn't peel it, but feel free to - there's lots of nutrients in the skin) and onion.
Add all ingredients to your slow cooker (you may want to go easy on salt & pepper until after it's cooked, then season to taste). Give it a good stir then cook on low for 6-8 hours. The photos pictured show what it looks like after 5-6 hours of cooking. The full 8 hours makes it more of a thicker stew consistency because the sweet potatoes release more of their starch.
Serve with freshly chopped cilantro and naan bread (optional). Makes great leftovers! 
Notes
I haven't tried cooking it on high, but I would give it 3-4 hours. 
This is the 7-quart Crockpot that I use. 
Courses Main Course
Cuisine Indian
If you like this vegan slow cooker recipe, you may also like my Thai sweet potato curry recipe (also vegan) and my vegan southwest sweet potato meal prep bowls.
Try more of my tasty recipes: