This vegan Thai sweet potato curry is a hearty plant-based meal that's healthy, flavorful, comforting, and filling. Easy to cook & it makes great leftovers!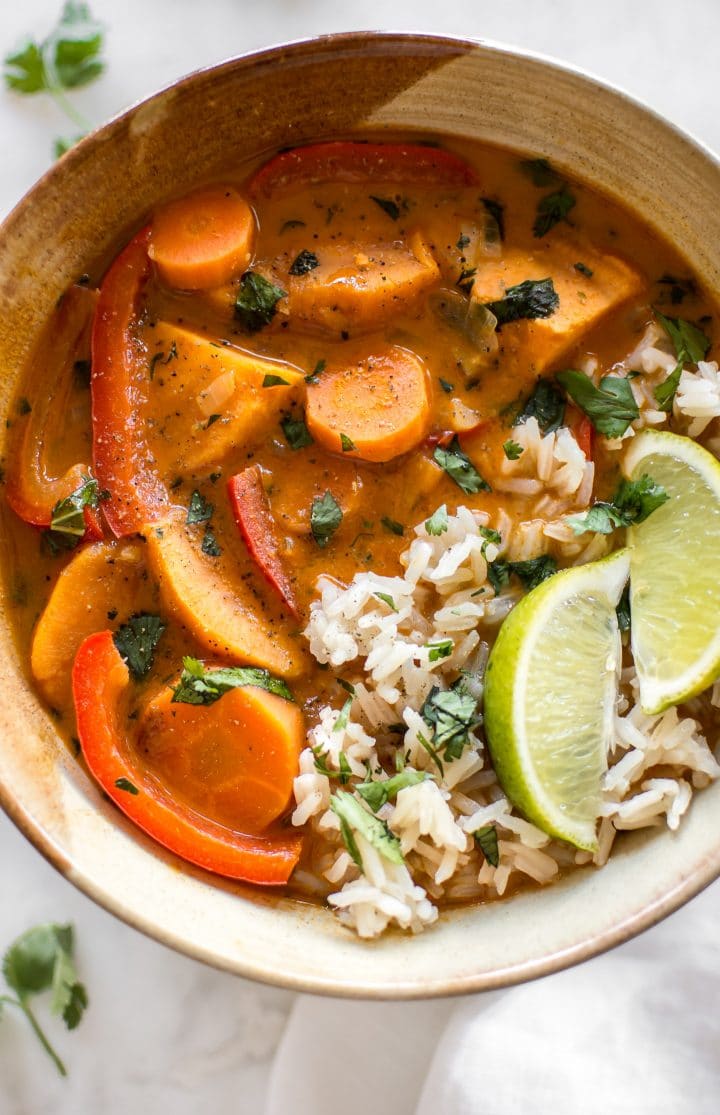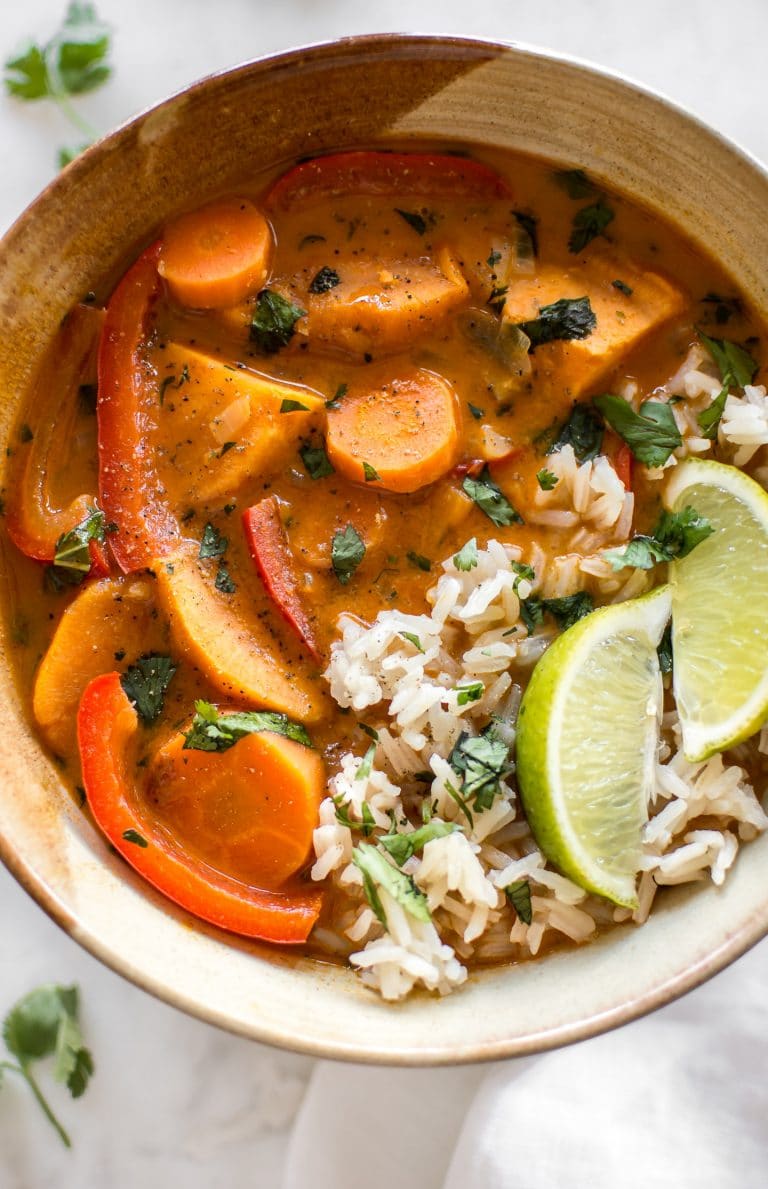 I love making Thai-inspired recipes. Where has this Thai vegetable curry been all my life?! It's really easy to make, and a pot of it is easily 5-6 meals for me. It reheats like a dream (great for work lunches!), I get some veggies, and the coconut milk makes it luxuriously creamy.
This is definitely one of the best vegan recipes I've ever made. The sweet potatoes just melt in your mouth... and they release starch to make the creamy coconut sauce extra delicious.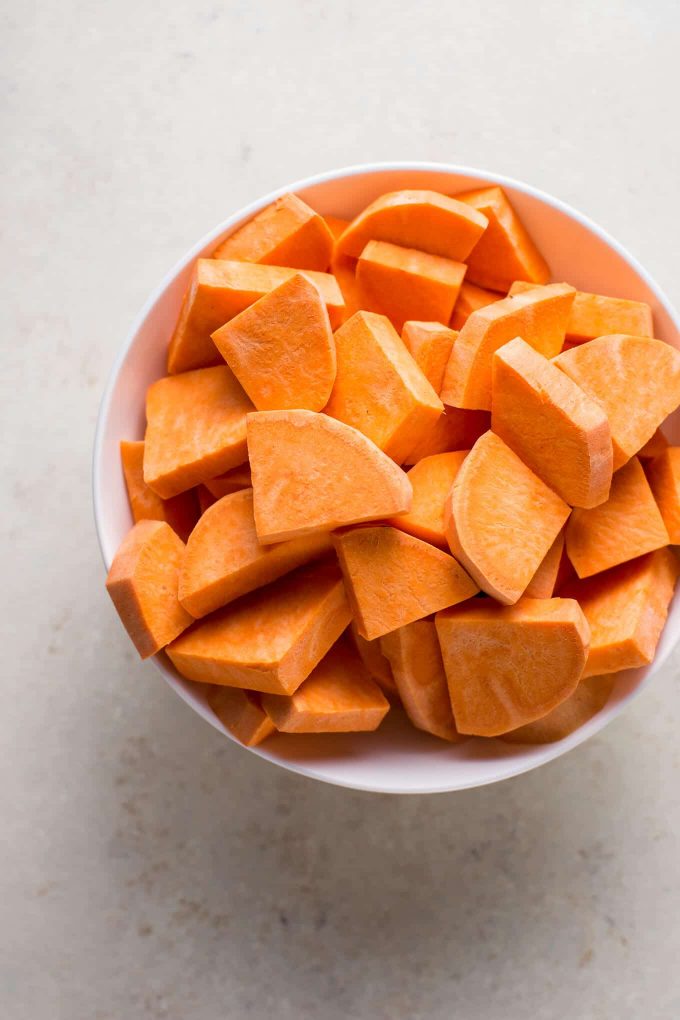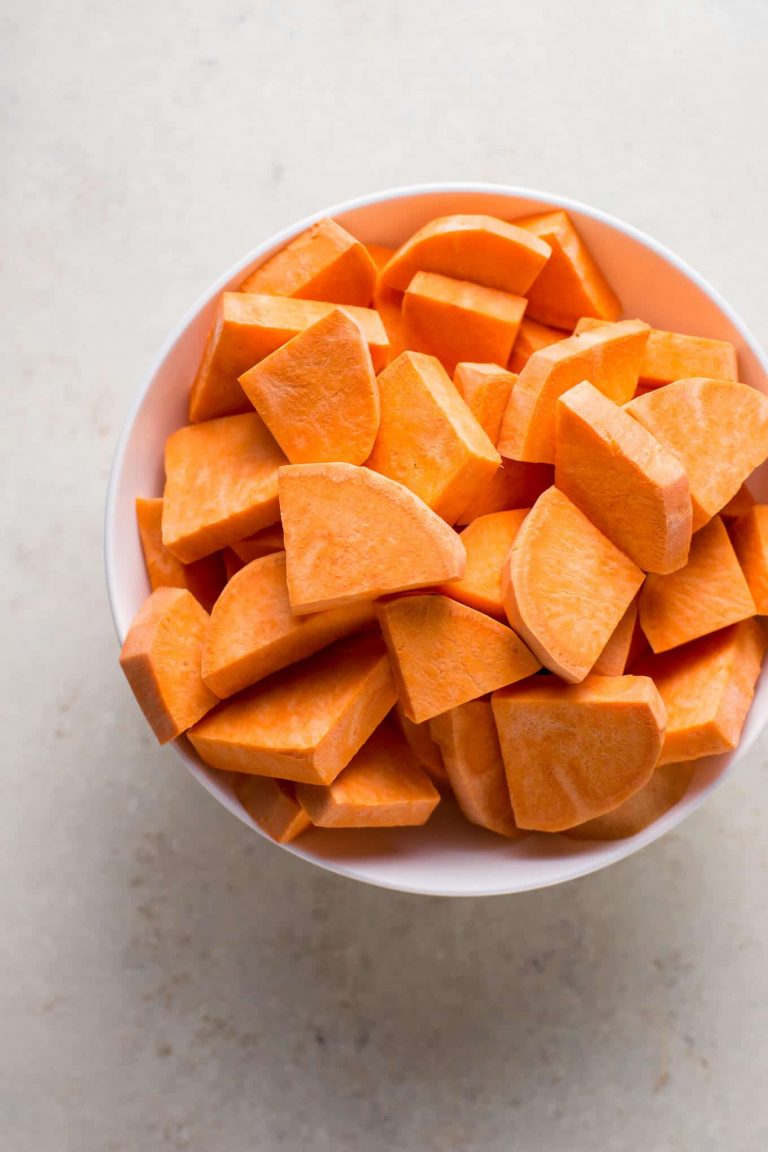 This vegan coconut curry is simple to prepare. You just chop things as you go along and add them to the pot. It doesn't take much effort, any particularly fancy ingredients, or too much time.
Tips for making the best vegan Thai curry
The juice from half a lime goes into the pot while cooking this meal, but I suggest serving it with extra lime on the side so everyone can adjust this recipe to their individual taste preferences. It's a little sweet and a little sour and a whole lot of delicious.
You can also adjust the amount of curry paste to suit your preferences. I kept it at a heaping tablespoon. The finished result offers plenty of flavor and a little heat, but not more than I, the spice wuss, can handle. The fresh ginger also adds a bit of heat and zing, so keep that in mind.
You'll notice that I served this with rice. That's optional. I typically measure out 1/4 cup uncooked jasmine rice, cook it, and add it to the pot when everything else is done.
In the recipe I recommend adding fresh basil and cilantro in at the end. If you're tempted to skip that step, I do suggest using at least one of the two herbs - it really does add another dimension of flavor and freshness to this bowl of comfort.
I've made this easy coconut curry with more veggies than indicated (e.g. a large sweet potato and more than one large carrot), so I simply add more vegetable broth to the pot so the veggies are covered when you're simmering them.
I recommend using full fat coconut milk as suggested for this sweet potato curry recipe. I've also found out the hard way that the brand very much matters. Some are thin and watery, so I always use Thai Kitchen brand.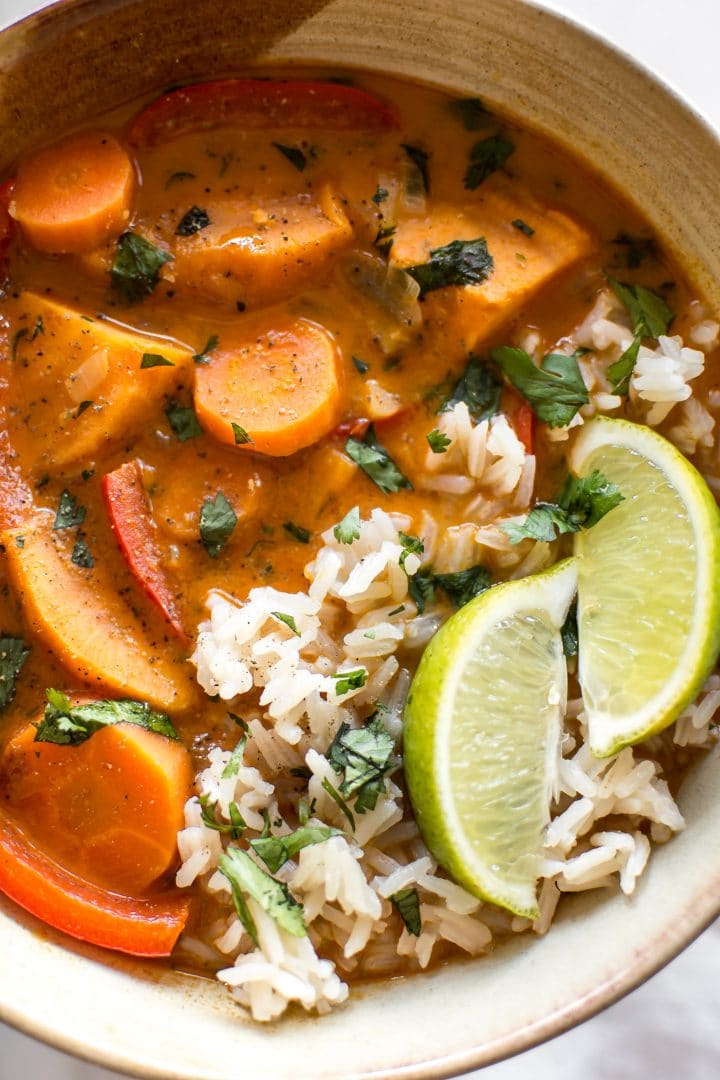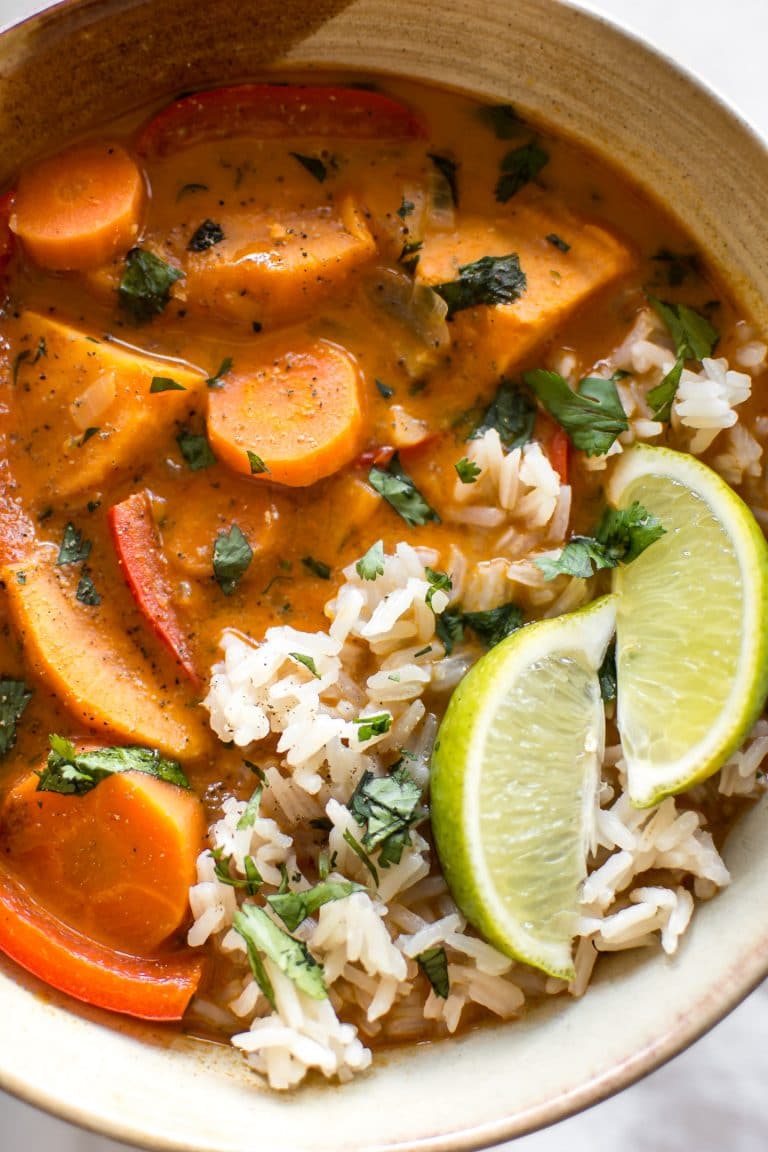 More Thai-inspired recipes to try: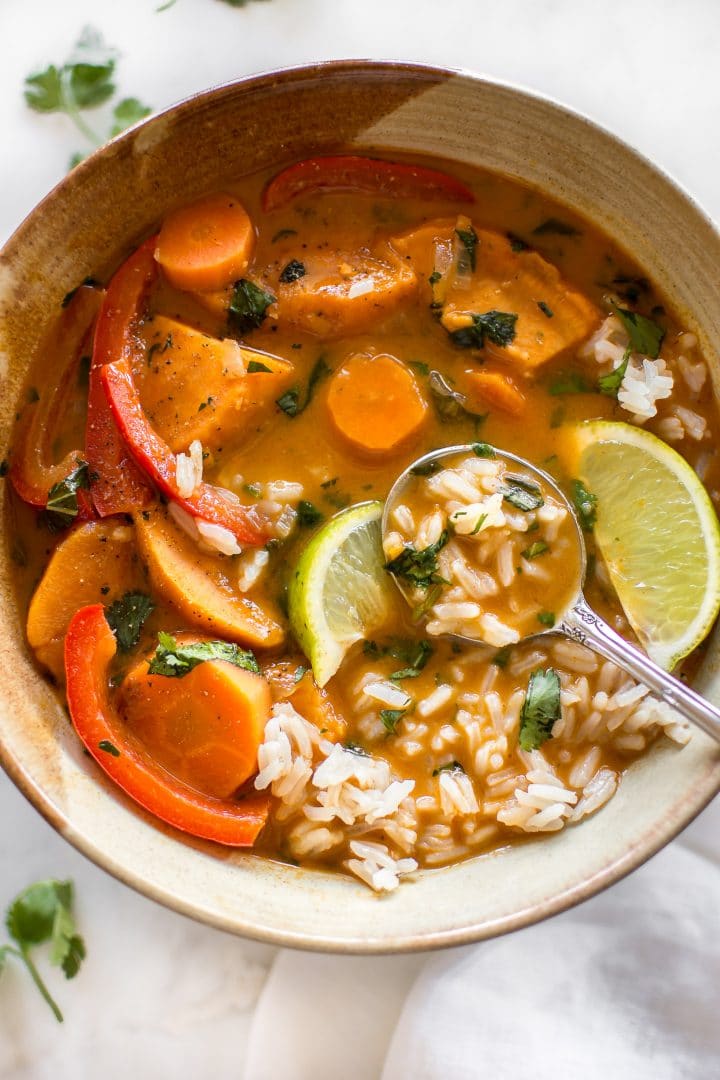 I really hope you enjoy this vegan Thai coconut curry recipe! Do you enjoy Thai-inspired recipes?
Let me know in the comments below if you've made it or if you have any questions.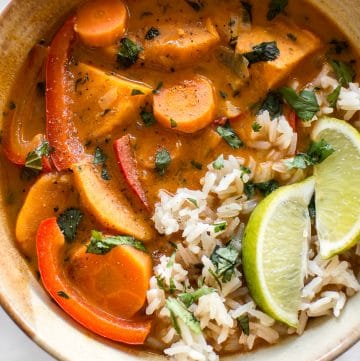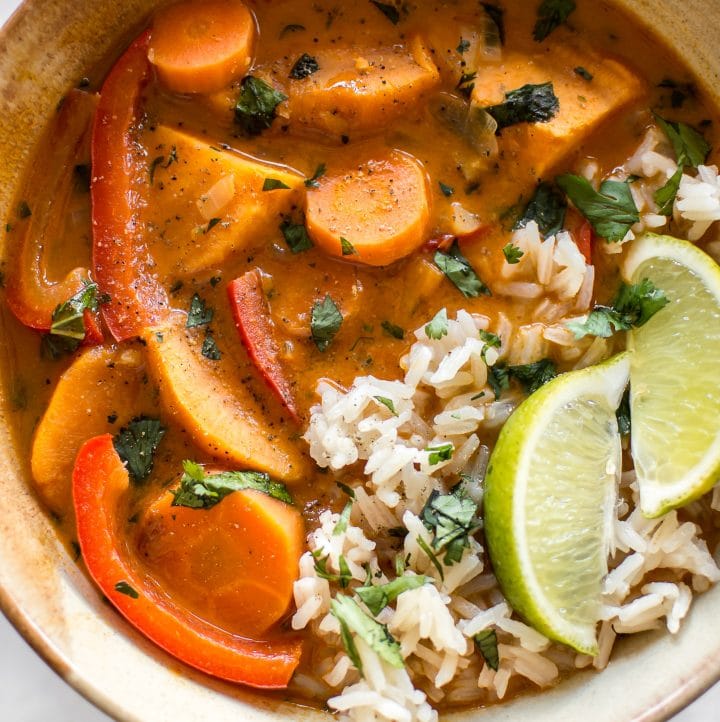 Thai Sweet Potato Coconut Red Curry
This vegan sweet potato curry is a hearty plant-based meal that's healthy, flavorful, comforting, and filling. It makes great leftovers!
Ingredients
1

tablespoon

olive oil

1

medium onion

chopped

1

medium sweet potato

peeled and cut into 1/2" thick pieces

1

large carrot

sliced

1

(13.5 ounce) can full fat coconut milk

3

cloves

garlic

minced

1

tablespoon

ginger

finely chopped

2

cups

vegetable broth

1-2

tablespoons

Thai red curry paste

1/2

tablespoon

soy sauce

Juice of 1/2 lime + extra lime wedges for serving

1

red bell pepper

cut into thin strips

1/2

tablespoon

brown sugar

Small handful fresh basil

chopped

Small handful fresh cilantro

chopped

Cooked rice (optional see note below)
Instructions
Heat olive oil on medium high heat in a fairly large soup pot. Add the onion and sauté for 5-7 minutes, stirring occasionally. It's ok if it goes a little brown - that adds more flavor.

Add the garlic and ginger to the pan and cook for about a minute, stirring, until fragrant.

Add the veg broth, curry paste, sweet potato, and carrot. Stir. Increase heat so it comes to a boil, then reduce to medium-low heat and simmer for 10 minutes.

Add the coconut milk, soy sauce, red pepper, lime juice, and sugar. Increase heat to medium-high and let it simmer for another 10-15 minutes (if it's bubbling furiously, reduce the heat). The sauce will thicken up a bit and the veggies will fully soften.

Before serving, add the chopped herbs and cooked rice to the pot or to each bowl depending on how you want to serve it. Serve with extra lime wedges on the side.
Notes
Serves 4-6.
I recommend playing with the curry paste, lime, and soy sauce quantities to suit your individual tastes. I'd stick to one tablespoon of curry paste if you're not a big spice fan. The ginger also adds a bit of heat, so keep that in mind. I sometimes add a bit of extra soy sauce (I like it salty) and some extra lime to my bowl.
I measure 1/4 cup uncooked rice, cook it, and then add it to the pot at the end. This isn't a lot of rice for such a large quantity of curry, so keep that in mind if you want a full serving of rice for each person. I think this curry is hearty enough without a lot of rice, so that's why I don't add much.
I use Thai Kitchen red curry paste in this recipe. It's vegan. Some others contain fish ingredients so just make sure to read the label if that's an issue.
The brand of coconut milk matters! I use Thai Kitchen brand because it's less watery/richer than other brands I've tried.
Nutritional information is provided as a courtesy only and should be construed as an estimate rather than a guarantee. Ingredients can vary and Salt & Lavender makes no guarantees to the accuracy of this information.
Nutrition
Calories:
319
kcal
Carbohydrates:
25
g
Protein:
4
g
Fat:
24
g
Saturated Fat:
19
g
Sodium:
653
mg
Potassium:
562
mg
Fiber:
3
g
Sugar:
8
g
Vitamin A:
12402
IU
Vitamin C:
47
mg
Calcium:
55
mg
Iron:
4
mg