This easy spatchcock chicken recipe includes little potatoes that are roasted alongside the chicken on the same baking sheet. A crowd-pleasing sheet pan dinner recipe that's faster than your typical roast chicken.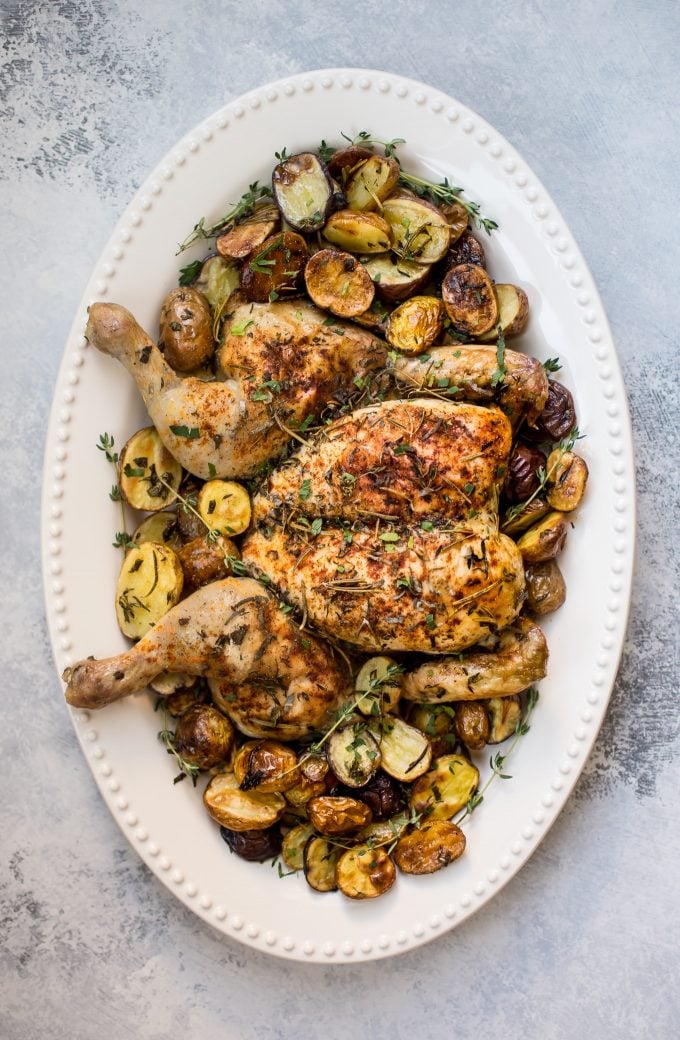 I love so many things about this spatchcock chicken and potatoes recipe. Everything goes in the oven at the same time, so all you need to do is wait patiently.
You've got a wonderful homemade dinner that's good enough for company or a fancy-ish dinner that only takes a bit over an hour in total. Only 10-15 minutes of that are active prep work.
How to spatchcock a chicken
To spatchcock a chicken means to remove its backbone and flatten it out so it cooks faster. This takes about 30 seconds with a sharp pair of kitchen shears.
Cooking spatchcock chicken is easy... 425F, 50 minutes or so, and you're golden. "Spatchcock" also happens to be one of those words that I just like saying over and over. It's catchy, don't you think? It's the same thing as butterflying a chicken, but it just sounds better.
The herbs in here are a simple poultry blend that I picked up at the grocery store. Sage, rosemary, and a bit of thyme. I tossed the potatoes in some olive oil, salt & pepper, and those same herbs.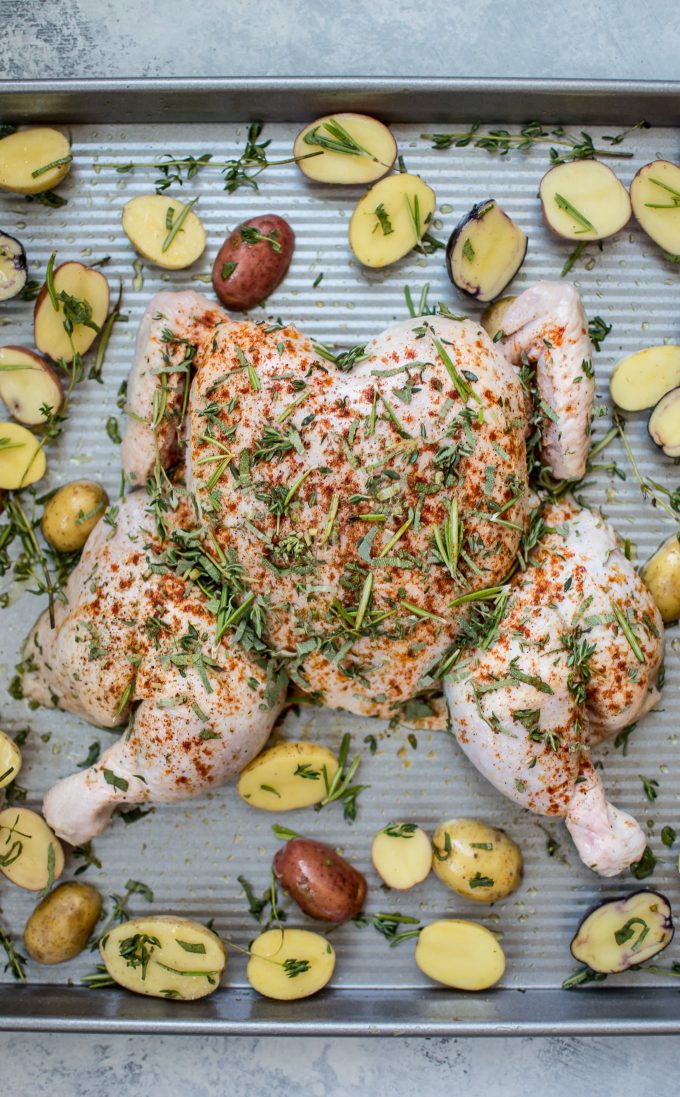 I've always felt that roasting a chicken was a special thing. It's not something that I do very often, and when I was growing up, I always got so excited when my mom roasted one.
Any food pretty much makes me perk up, but roasted chicken even more so. 😛 Definitely one of my favorite comfort foods!
In general, I'm not the biggest chicken fan out there, but I always enjoy a whole roasted chicken. And that crispy chicken skin is top notch! I can't resist having some once in a while.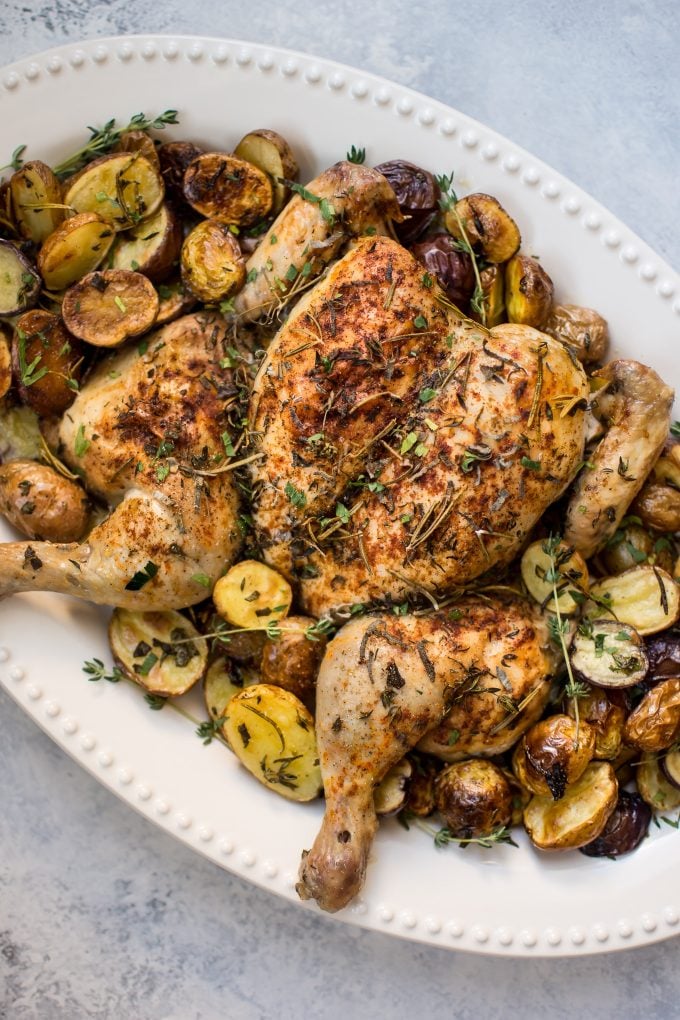 The potatoes make a great built-in side dish, but I would also suggest serving this with a salad to take this meal to the next level. Totally delicious!
I feel like I haven't given the potatoes justice in this write-up. They really are to die for. Crispy on the outside and hot and fluffy on the inside.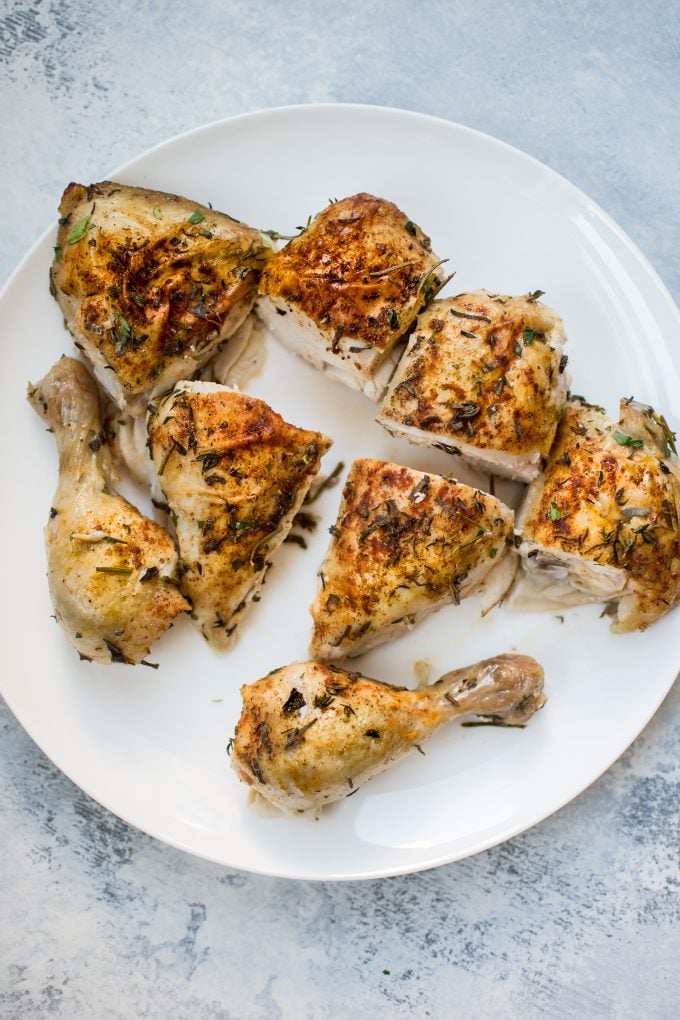 Hope you love this recipe for spatchcock chicken!
Questions? Leave me a comment below.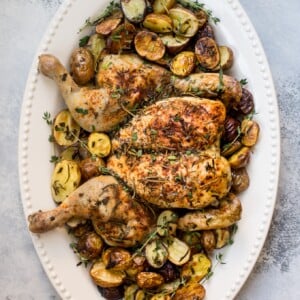 Easy Spatchcock Chicken Recipe
This easy spatchcock chicken recipe includes little potatoes that are roasted alongside the chicken on the same baking sheet. An easy butterflied roast chicken recipe!
Ingredients
1

whole chicken (about 3 pounds)

3

tablespoons

olive oil

divided

1

(1 ounce) package

poultry mix fresh herb blend (rosemary, sage, thyme)

1.5

pounds

little potatoes

cut into halves

Garlic powder

Smoked paprika

Salt & pepper

Fresh parsley

chopped, for garnish (optional)
Instructions
Preheat oven to 425F. Move the rack to the middle. Cut your potatoes into halves and chop the sage.

To spatchcock your chicken: Place it breast-side down on the large baking sheet you plan on using for this recipe. Cut the backbone of the chicken out (cut on either side) using sharp kitchen shears. You can discard the backbone or save it for other purposes e.g. stock. Spread the chicken open Hannibal Lecter style. Flip it over (breast side up) and press firmly on the breastbone to flatten it out further. If you want step-by-step photos of this process, check out this article.

Add the potatoes to the baking sheet. Coat the potatoes with 2 tbsp of the oil, and rub the remaining 1 tbsp oil on the chicken. Season the chicken with a bit of garlic powder, smoked paprika, and salt & pepper. Season the potatoes with plenty of salt & pepper. Sprinkle the fresh herbs evenly over the chicken and potatoes (take the rosemary and thyme off their sticks if you wish... I took some off and threw in a few whole sprigs for good measure), then toss the potatoes (I just used my hands) to coat.

Roast for 45-55 minutes. My chicken was just under 3 pounds and I roasted it for 50 minutes. Giving it a few more minutes wouldn't have hurt, but be mindful that this process is much faster than the usual way of roasting chicken when adjusting cooking times. Chicken is done when a thermometer inserted into the thickest part of the breast is 165F. If you want the skin to crisp up even more, give it a blast under the broiler for a few minutes before you take it out of the oven (watch it carefully).

Let chicken rest for a few minutes, then carve it up and enjoy!
Notes
The poultry herb mix is sold alongside the fresh herbs in grocery stores. I used most of the pack up (it's about 1 oz. in total). If you can't find this specific herb mix, use your favorite herbs or buy rosemary, thyme, and sage individually.
Serves 4-6.
Enjoy a good roast chicken? You may also like my popular creamy lemon and herb pot roasted whole chicken recipe.