This creamy lemon and herb pot roasted chicken is simple to make, decadent, and bursting with fresh flavors. See how easy it is to make chicken in a Dutch oven! You will love this one pot meal.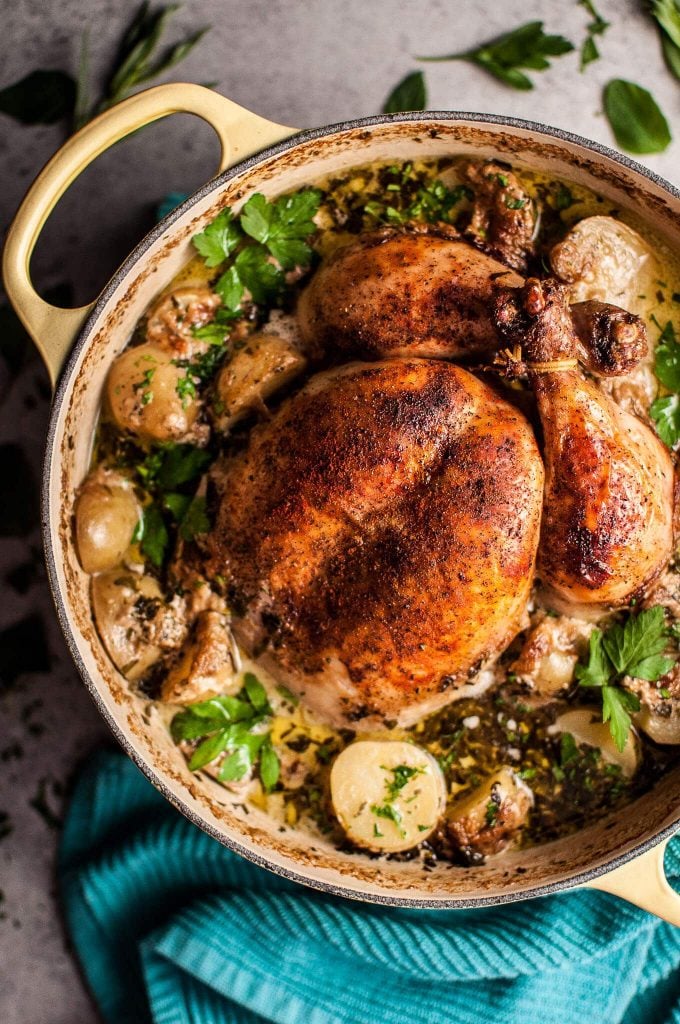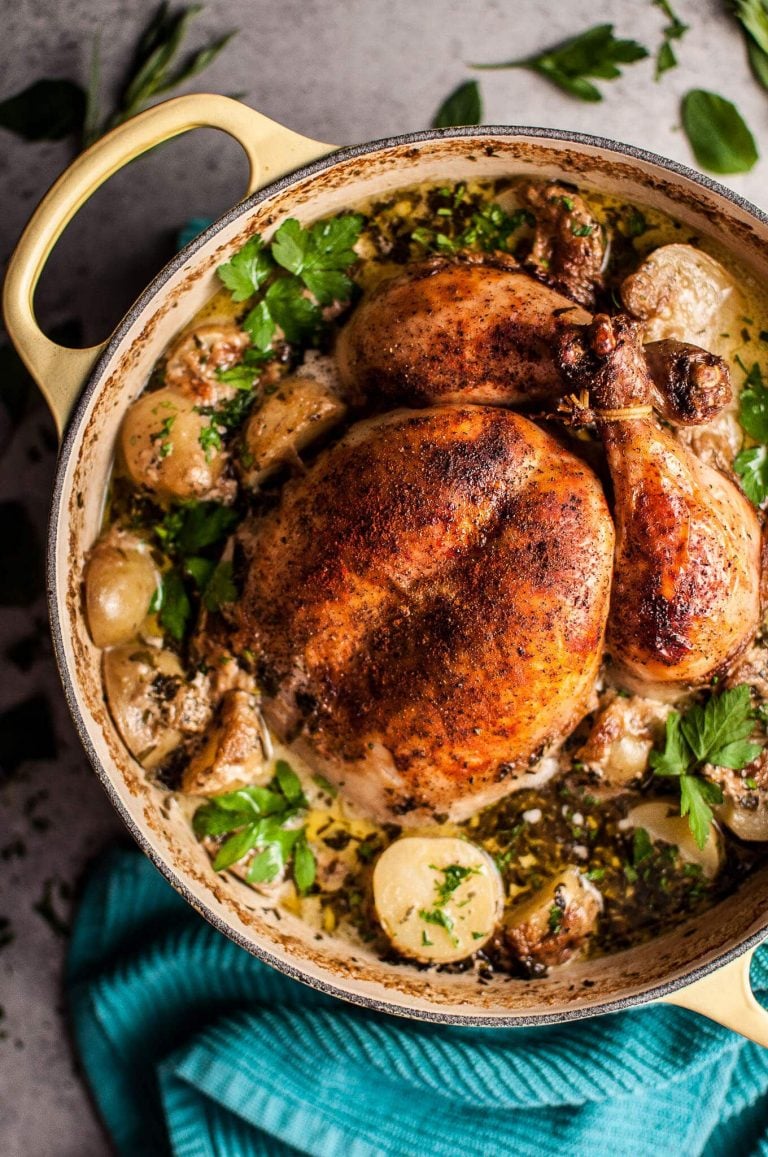 The chicken is moist and juicy, and the potatoes melt in your mouth. The sauce is soo good... my tummy was super happy after eating this Dutch oven chicken!
If you don't want to add the little potatoes, you don't have to. I just figured it was a good way to turn this into a one pot meal 🙂
The chicken and sauce would be perfect with rice, mashed potatoes, steamed veggies (green beans!), a big salad, or anything really.
How to roast a whole chicken in a Dutch oven
Cooking this is a simple two-step process:
The first 45 minutes are done with the chicken covered to get things going.
The last 45 minutes of roasting cook the chicken to golden perfection, the cream sauce reduces and thickens, the little potatoes soften, and the herb flavor is intensified.
I made this Dutch oven whole chicken and potatoes recipe in the middle of summer, but it really is well suited for those cooler fall or winter days where you want something hot and comforting.
Leave it to me to cook stuff out of season, though. I'm like that.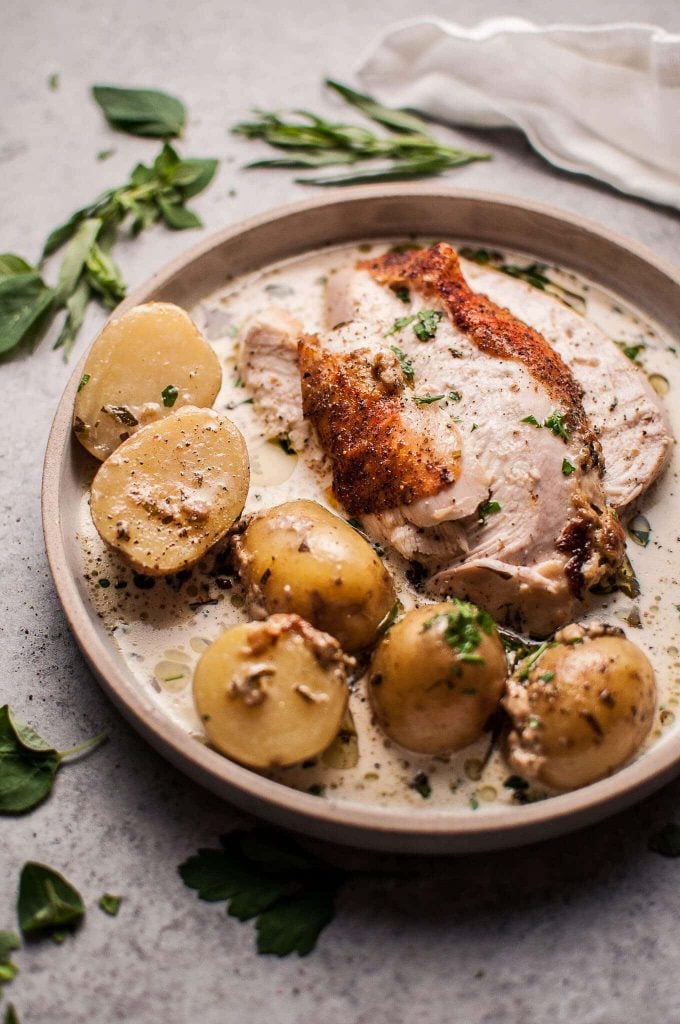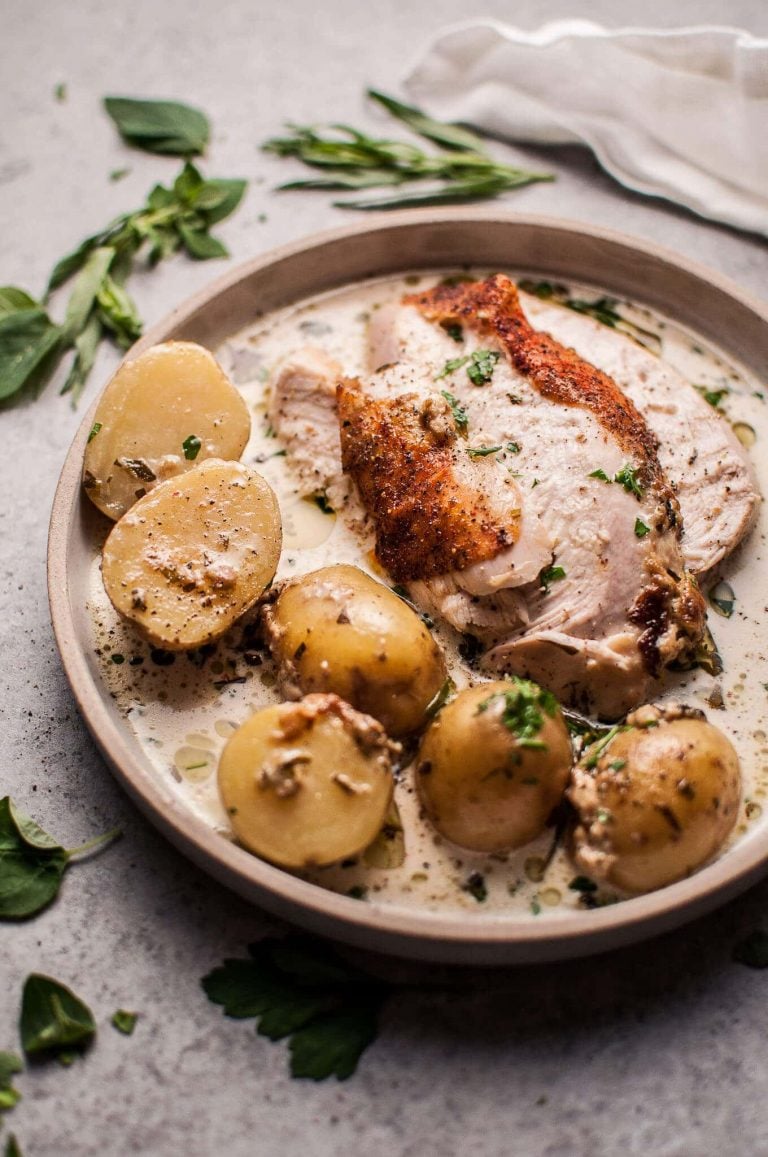 This Dutch oven chicken and potatoes recipe is going to be on repeat in my house. It's that good.
It also makes excellent leftovers.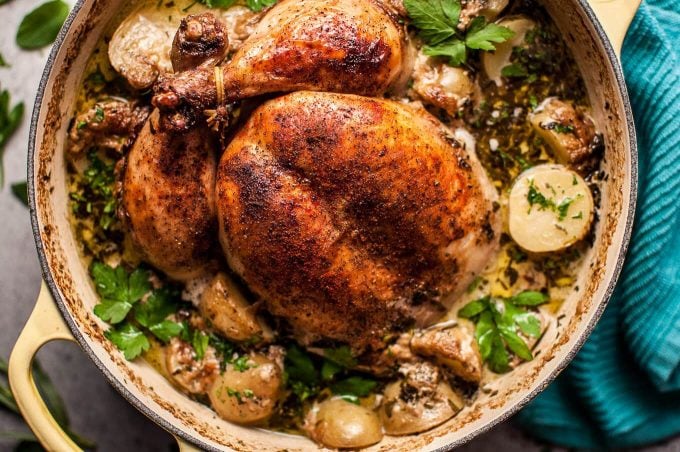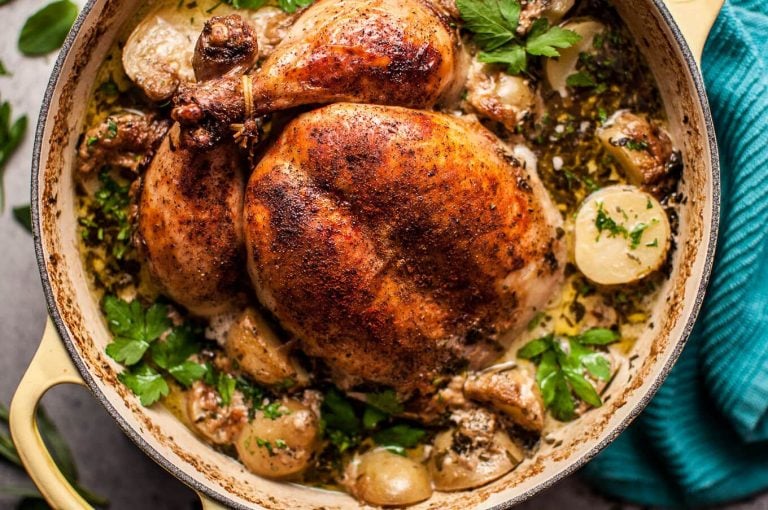 Will you make this Dutch oven chicken recipe?
Have you tried it? Let me know in the comments below!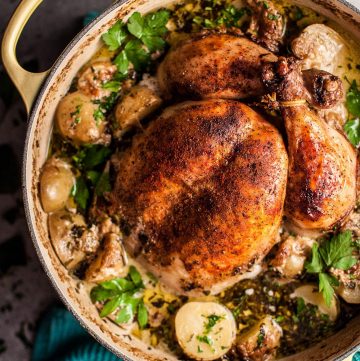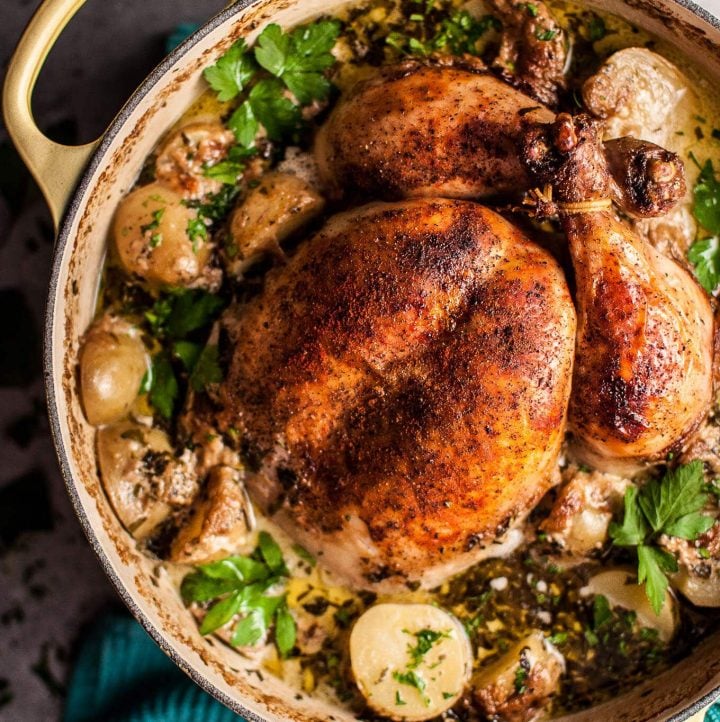 Creamy Lemon and Herb Pot Roasted Chicken
Pot roasted chicken in a Dutch oven with a delicious creamy herb sauce and potatoes.
Ingredients
1

whole chicken

1

lemon

Salt & pepper

Garlic powder

Smoked paprika

5-6

sprigs fresh rosemary

6

cloves

garlic

peeled

3

tablespoons

butter

1

(10 fluid ounce) can chicken broth or stock

1.5

pounds

little potatoes

2

cups

heavy/whipping cream

2

tablespoons

fresh oregano

1

tablespoon

fresh tarragon

1/2

cup

dry white wine

1

tablespoon

fresh parsley (optional)
Instructions
Pre-heat oven to 425F.

Add the chicken to a Dutch oven or baking dish. Prick lemon with a knife in several places, and then insert lemon in the chicken's cavity. Sprinkle the chicken with salt, pepper, smoked paprika, and garlic powder. Place rosemary sprigs and garlic cloves around the chicken. Cut butter into smaller slices and place it around the chicken. Pour the chicken broth into the Dutch oven. Cover and place in the oven and roast for 45 minutes.

Meanwhile, chop the oregano and tarragon and cut the little potatoes into halves.

Add the little potatoes, cream, oregano, tarragon, and white wine. Place back into the oven and cook for another 45 minutes, uncovered.

Before serving, remove the rosemary sprigs. Chop the parsley, and then sprinkle it on as you're ready to dish up.
Notes
The chicken I used to make this was 4 pounds, so keep that in mind when you're following my directions. To ensure chicken is cooked properly, a meat thermometer should read 165F.
Make sure your Dutch oven or baking dish is deep enough that there's at least an inch and a half from the top after you've added the potatoes in so that it doesn't bubble all over your oven. My Dutch oven has a 5.5 quart capacity. This is the Dutch oven I used to make this recipe and I highly recommend it.
You may also like my sheet pan roasted chicken and potatoes.