Delectable fried eggplant with cool, creamy, homemade tzatziki makes the ultimate vegetarian dish.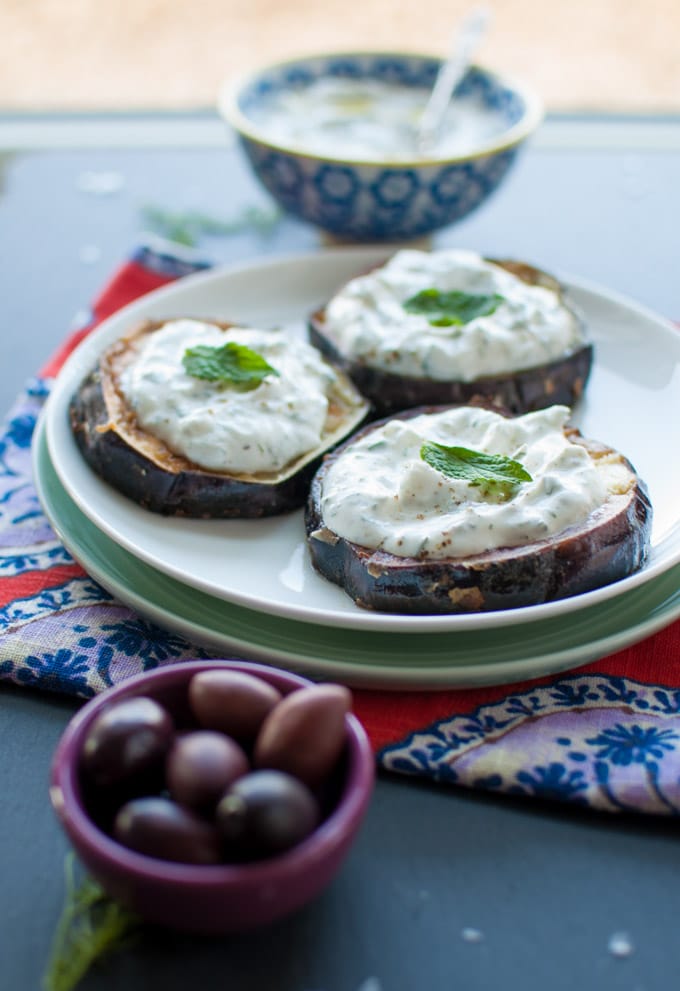 I grew up with this meal. I wasn't always excited to eat just vegetables for dinner when I was a kid (and really I still am not), but fried eggplant with tzatziki is an exception.
The eggplant is crispy on the outside and soft on the inside, and full of flavor.
And I can't resist kalamata olives - they go perfectly with this recipe.
I love to make my own tzatziki (click for my recipe if you wish). It's so easy to make at home and you can add your own twist to it (I love to put mint in mine).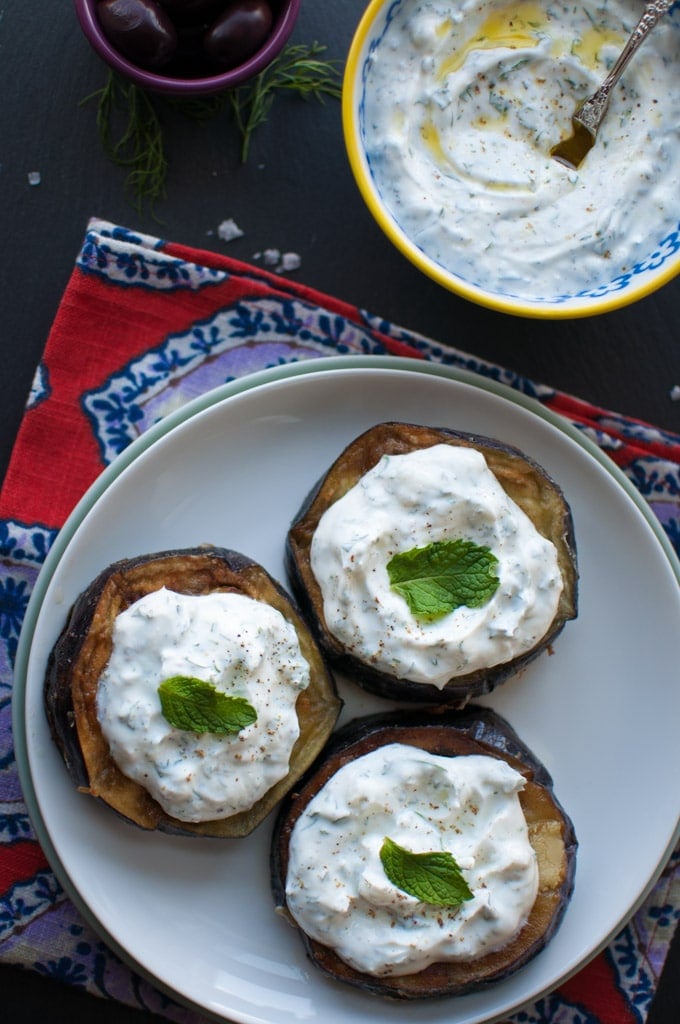 I hope you'll give this fried eggplant recipe a try!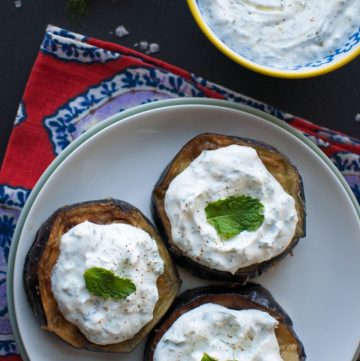 Fried Eggplant with Tzatziki
Delicious fried eggplant with cool and creamy tzatziki.
Ingredients
Tzatziki

to taste

1

large or 2 small eggplants

Salt

Flour

for dredging

Olive oil

for frying
Instructions
Make tzatziki a few hours ahead of time, if you can, so the flavors meld together. If you can't, make it while the eggplant is sitting. Or, you can use store-bought tzatziki if you wish.

Slice eggplant into 1/2 inch circles.

Salt each slice of eggplant on both sides and place in a large bowl so they can "sweat" out the bitter juices. A general sprinkling of salt is ok, it doesn't have to be a lot or too precise. Let eggplant sit for 20 minutes. I try to position the slices in a way that any juices will easily run down and pool at the bottom of the bowl.

While eggplant is sitting, prepare tzatziki. Refrigerate until needed.

Prepare small bowl of flour for dredging.

Once 20 minutes have passed, remove eggplant slices from bowl one by one and dredge in flour on both sides. I don't wash the salt off of the eggplant... I find what is left of the salt seasons them perfectly. If you're concerned about salt intake, you can rinse the slices prior to dredging.

Cover bottom of frying pan or skillet with a layer of olive oil. Heat on medium high/medium heat (you may need to adjust as you're frying).

Once oil is heated, add eggplant and cook on each side for approximately 3-4 minutes or until cooked through and nicely browned. You will likely have to work in batches. You may need to add more oil for each batch as the eggplant tends to soak it up.

Top eggplant with tzatziki and serve immediately.
Notes
You can slice the eggplant lengthwise as well - I just find the smaller slices easier to work with.