This grilled corn and zucchini salad is fresh, fast, and bursting with flavor! Only a few simple ingredients are needed to make this delicious summer salad.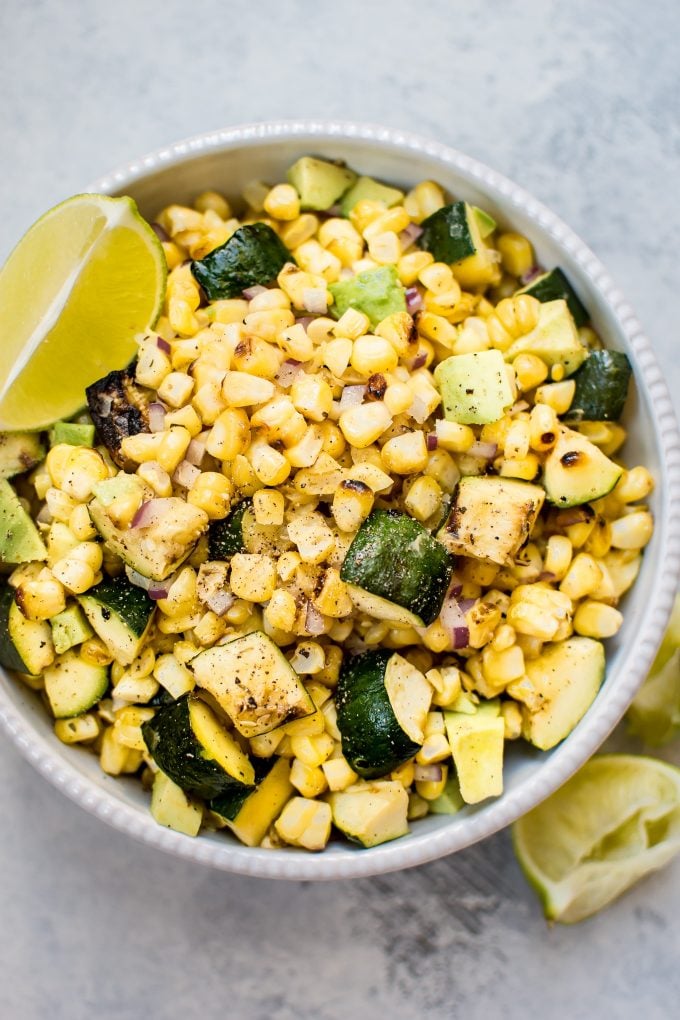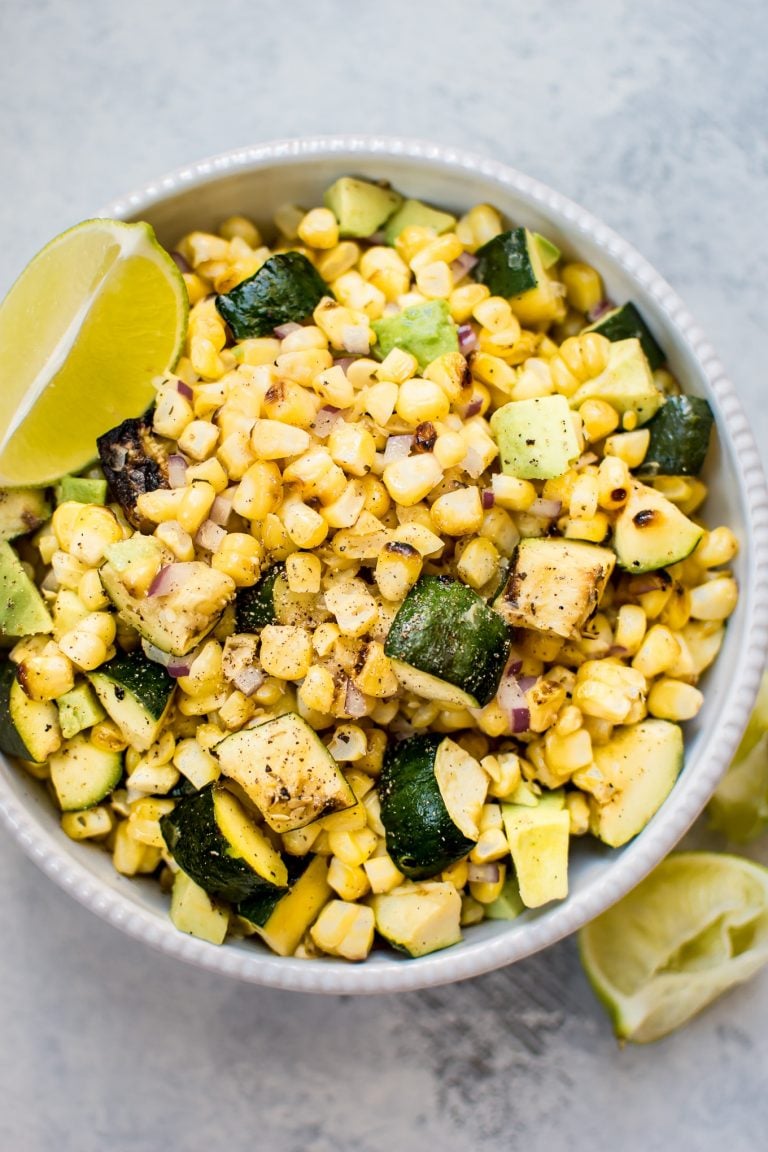 I use my grill year-round, but I want to eke out every last bit of summer here on the blog.
This grilled zucchini and corn salad is perfect for late summer since many of us have plenty of zucchini that needs using up, and corn is everywhere right now.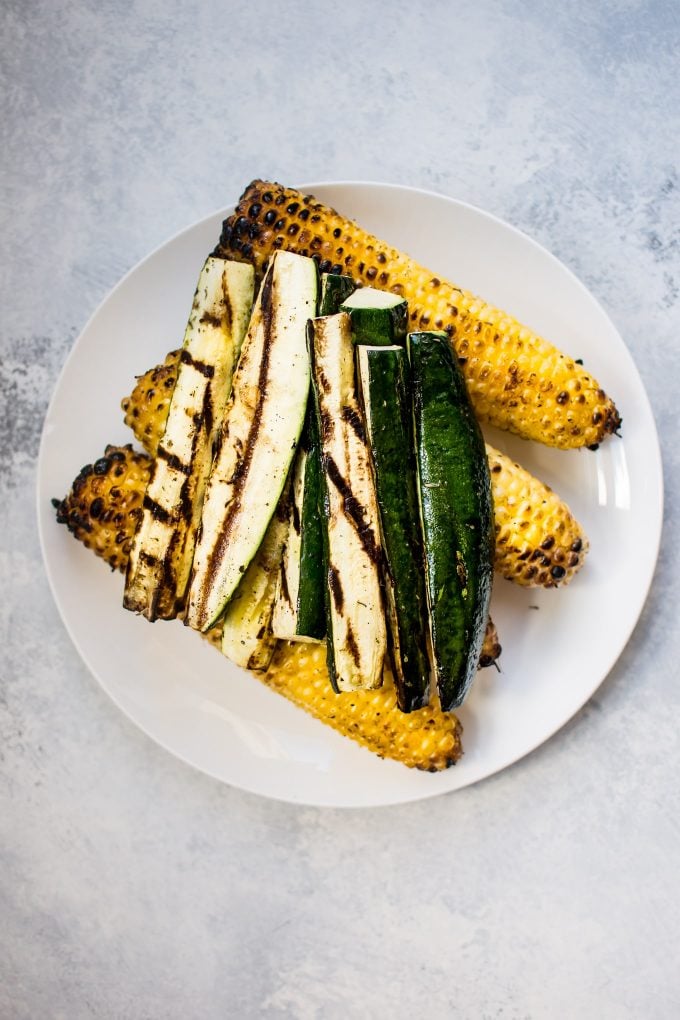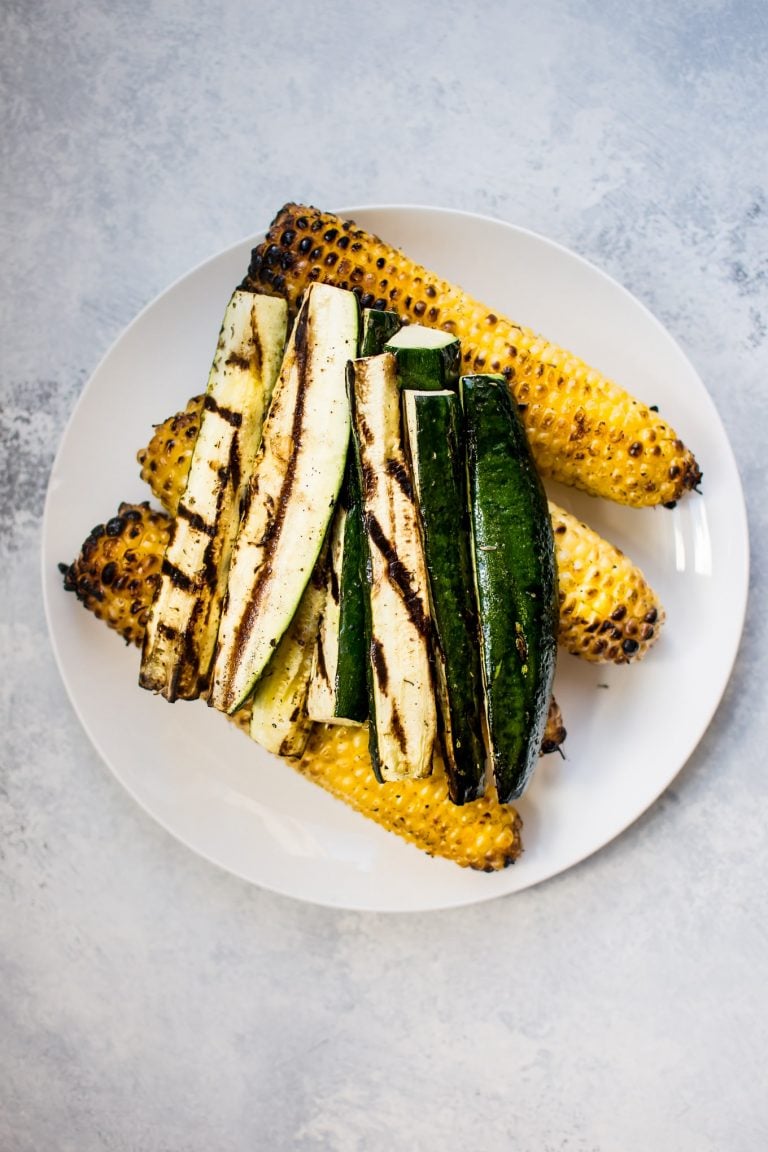 I really wanted to let the simple grilled vegetable flavors shine through here, so there's really not much to this corn avocado salad. The dressing is simply lime juice! I find the oil that the corn and zucchini are coated in prior to grilling is enough.
Of course, it's up to you if you wish to add more. You really can't go wrong with this easy summer salad recipe!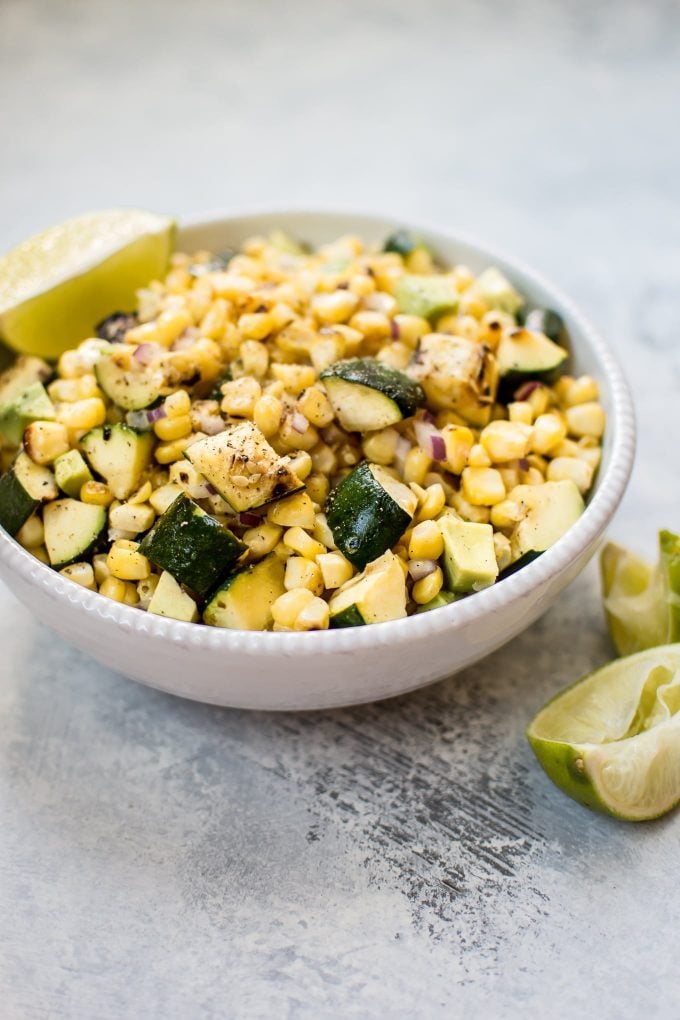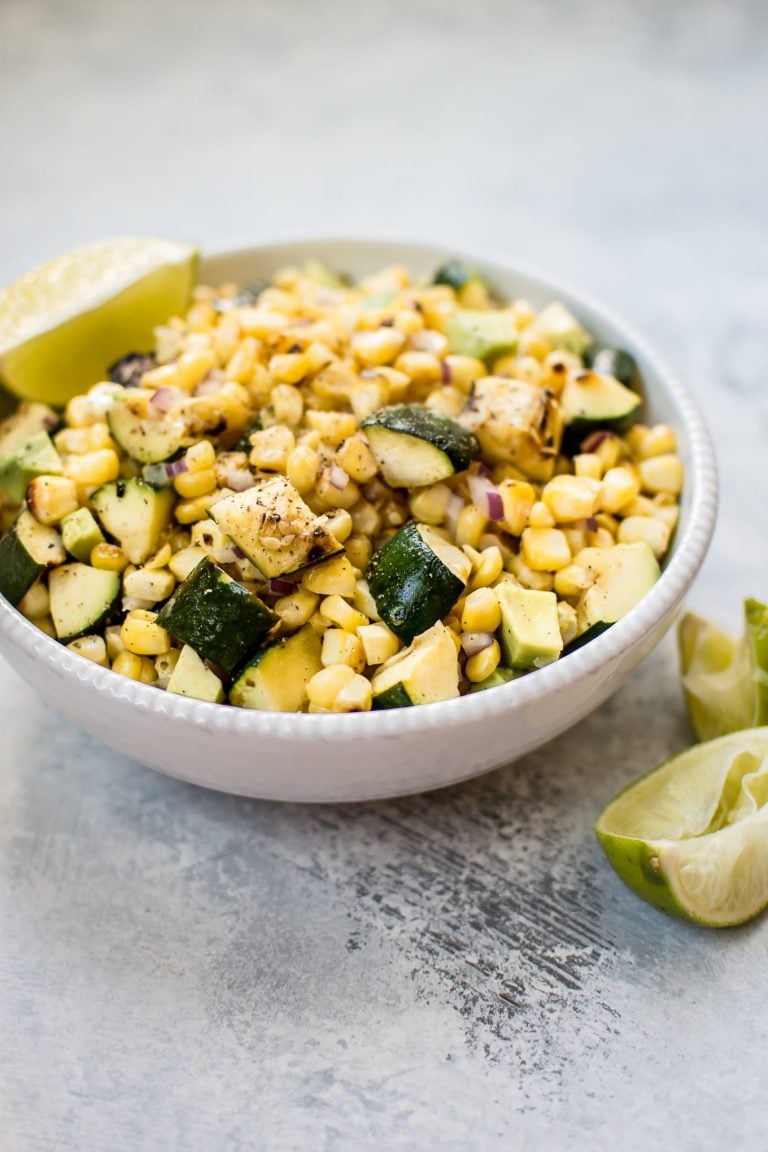 A bit of red onion and some creamy avocado make this wonderful salad complete. I had to fight my husband for this salad.
There's plenty to go around (it serves about 4 as a side), but he wanted the leftovers all to himself (I lost this time).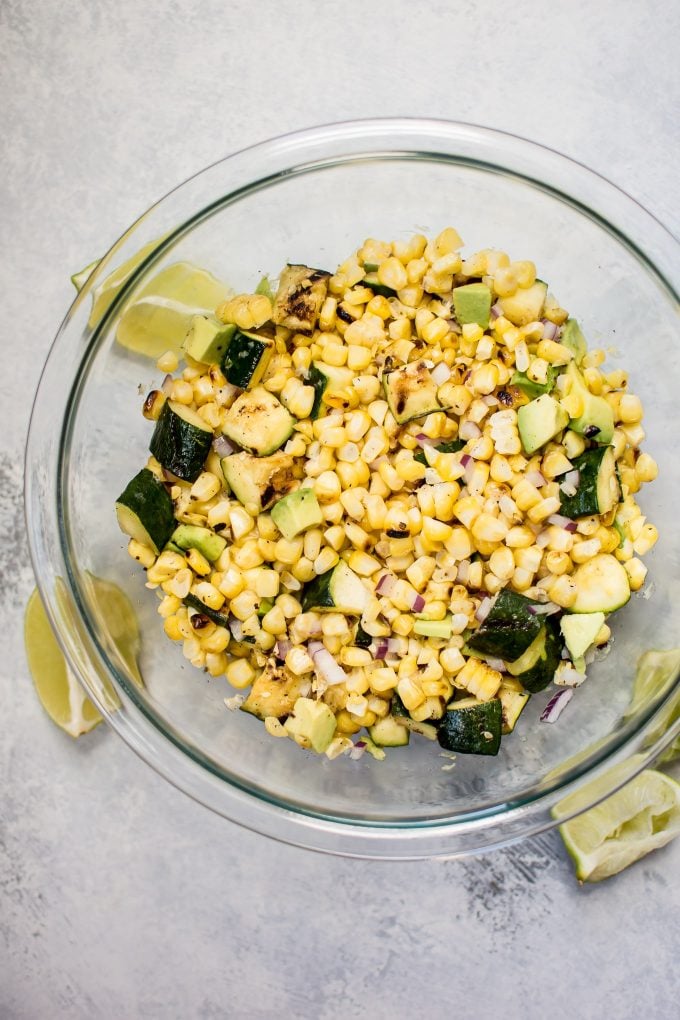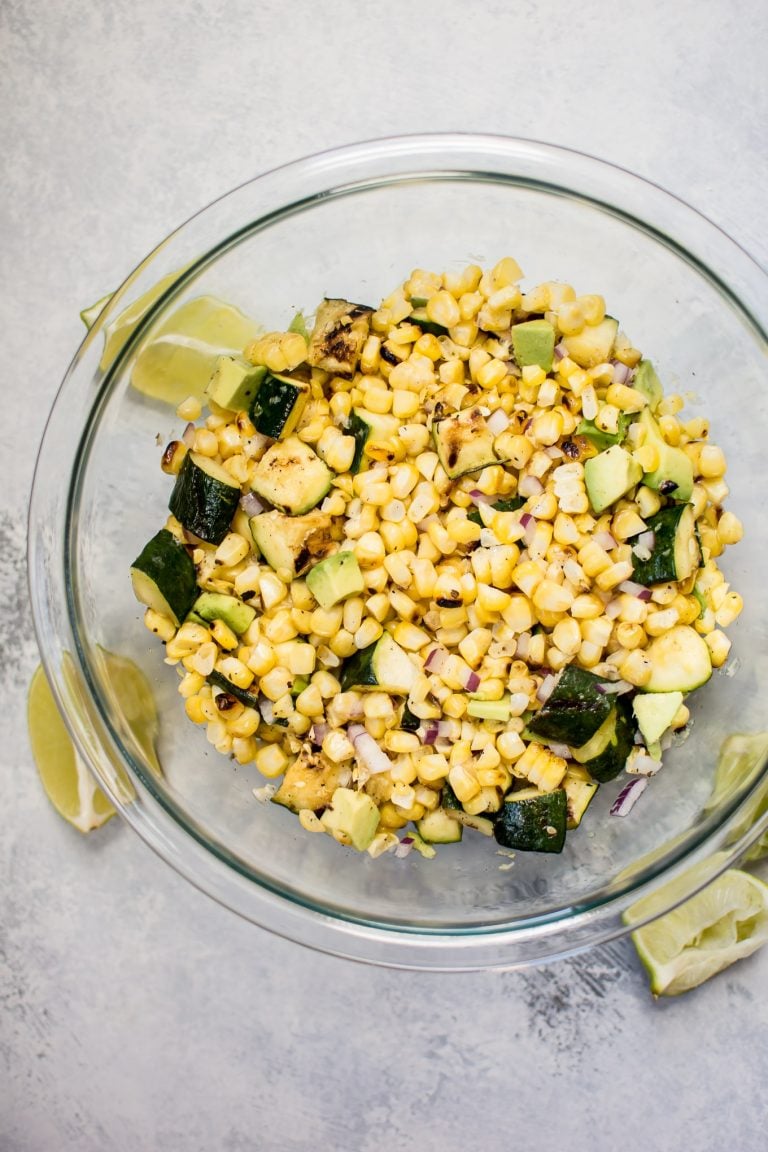 As with any BBQ or grill, cooking time and temperature will vary. We have a gas BBQ and grilled the corn and zucchini on high heat, turning a few times. The corn needed a little more time, so we put it on first, followed by the zucchini. When you have nice grill marks is when you know it's done, basically.
This grilled corn and zucchini salad is the perfect side dish for any and all summer occasions... BBQs, potlucks, picnics, light work lunches... you name it! It's also one of those fabulous dishes that is a great accompaniment to meat dishes... but it'll also please the vegans and vegetarians out there. Win-win.
If you like this recipe, you may also like my grilled veggie pasta salad or my grilled corn and chickpea salad.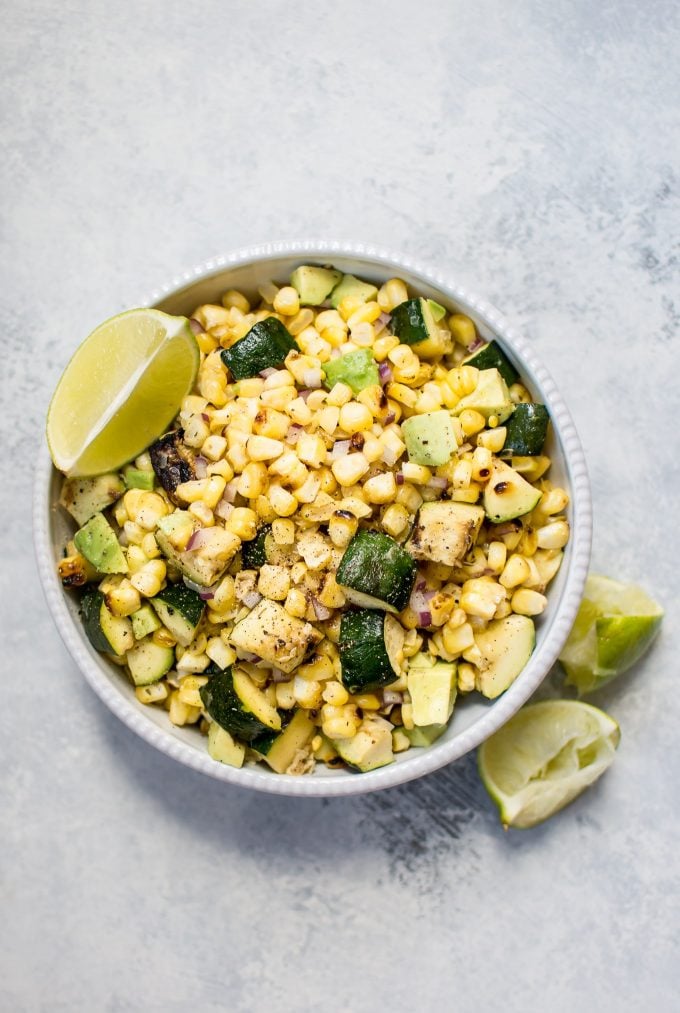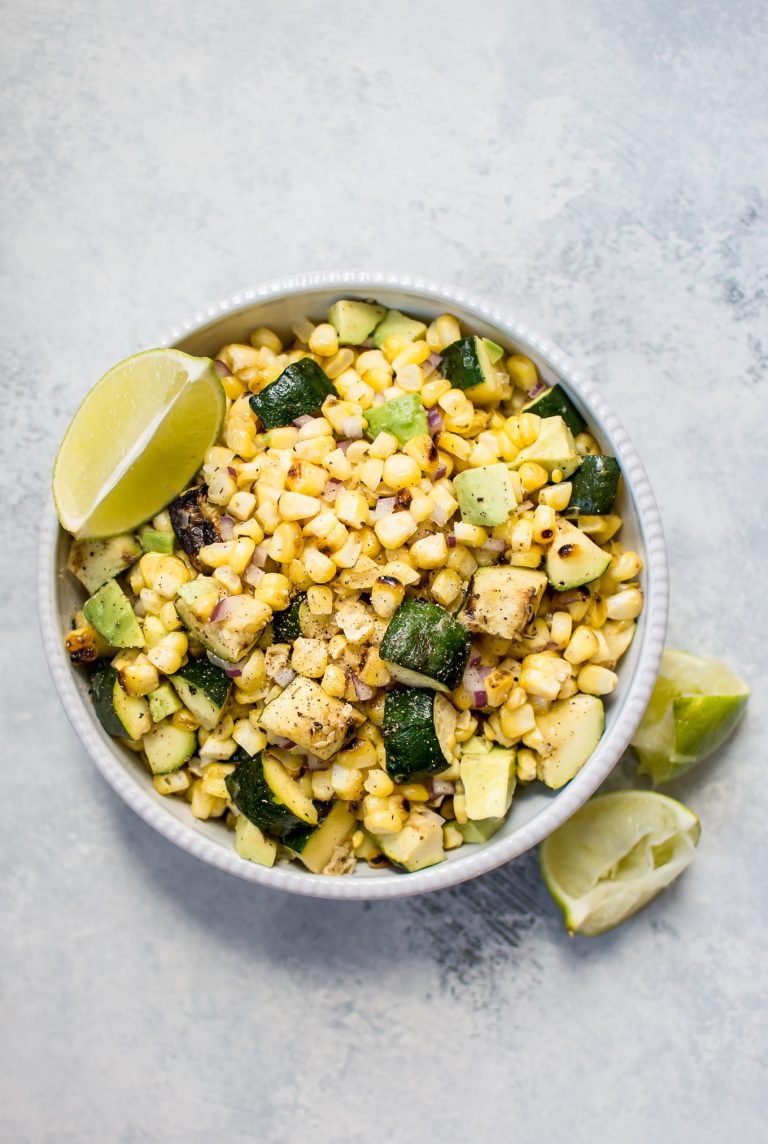 If you're making this ahead, I do suggest adding the avocado in right before serving so it doesn't brown, but other than that, this salad can easily be made ahead a day.
I hope you enjoy this grilled vegetable summer salad! Questions? Don't hesitate to ask.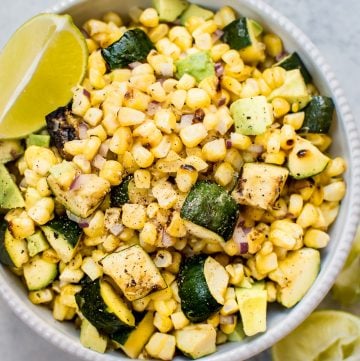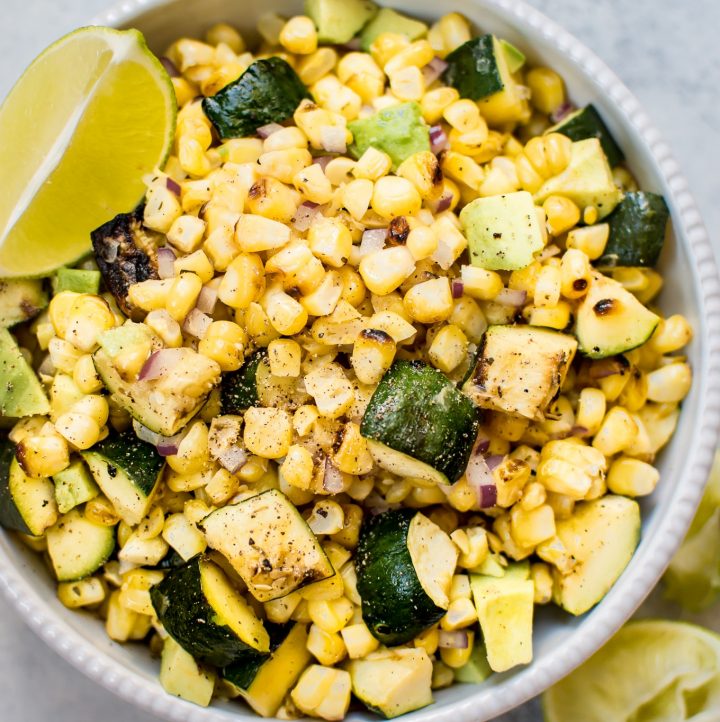 Grilled Corn and Zucchini Salad
This grilled corn and zucchini salad is fresh, fast, and bursting with flavor! Only a few simple ingredients are needed to make this delicious summer salad.
Ingredients
2

small-to-medium zucchini

cut into quarters lengthwise

4

cobs of corn

husked

Olive oil

Italian seasoning

Salt & pepper

Juice of 1/2 lime

1

avocado

diced

1

tablespoon

red onion

chopped finely
Instructions
Preheat grill to high.

Coat the zucchini and corn in olive oil. Sprinkle lightly with Italian seasoning and salt & pepper.

Grill the corn for about 10-12 minutes, turning every few minutes until you've got nice char marks. Grill the zucchini for about 6 minutes total, turning every 2 minutes or so. We use a gas BBQ with the lid down.

Let the zucchini and corn cool for a while. Meanwhile, chop the onion and avocado.

Cut the zucchini into smaller pieces, and cut the kernels off the cob (I like to do this in a large bowl so the kernels don't fly everywhere). Toss the corn and zucchini with the lime juice, avocado, and onion. Season with extra salt, pepper, and additional olive oil and/or lime juice if desired. Enjoy immediately or chill the salad for a while if you want it really cold.
Notes
Please note that every BBQ/grill/grill pan will vary. We use a gas BBQ. Adjust cooking time as needed to achieve your desired doneness.
If making this recipe ahead, cut up and add the avocado in just prior to serving to avoid it browning.
Serves 4+ as a side.