My guilt-free eggless chocolate chip cookie dough for one is the perfect portion-controlled treat. Ready in only 5 minutes!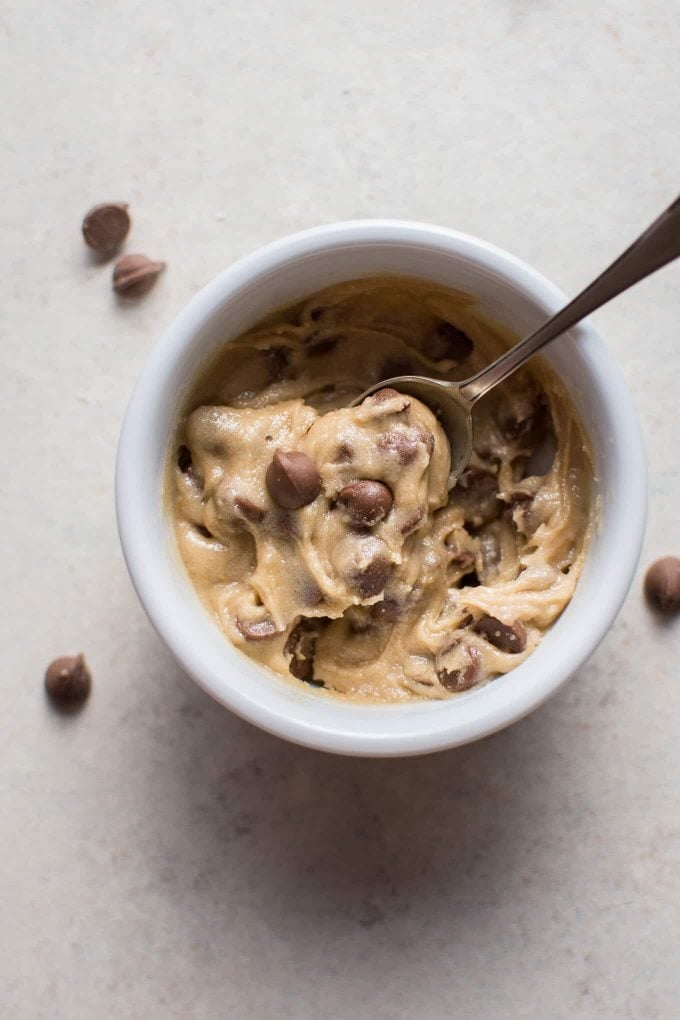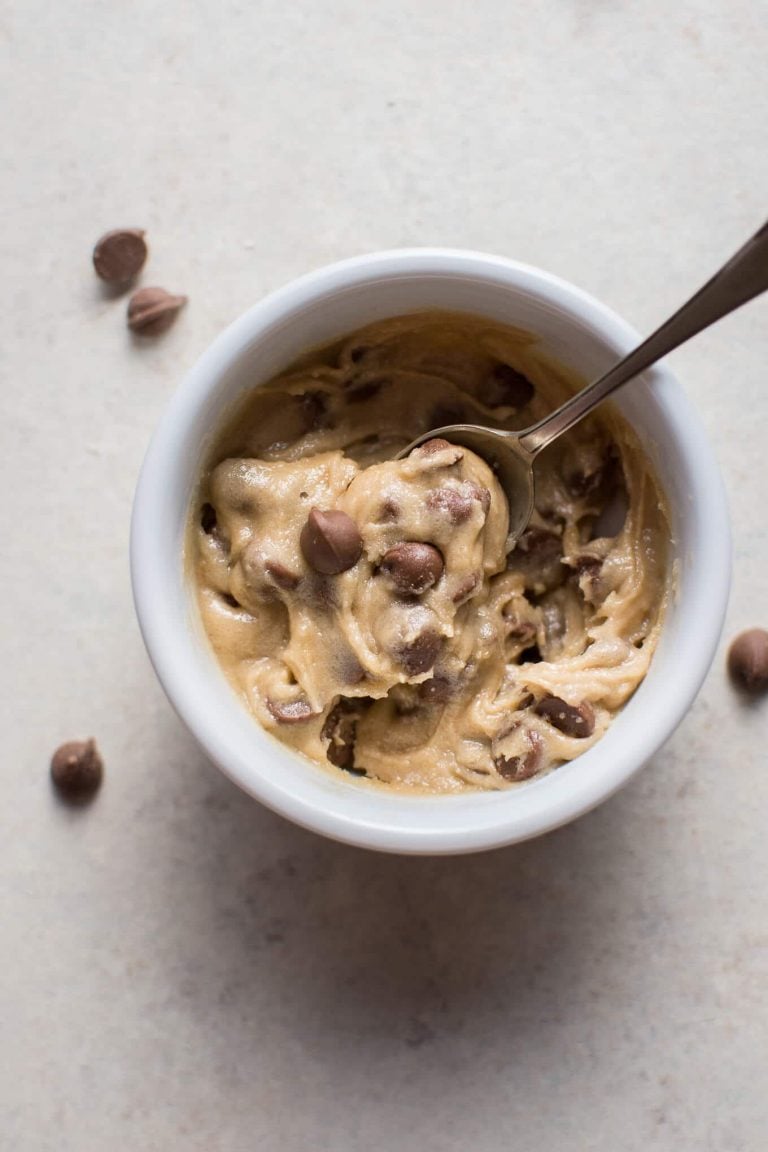 This cookie batter is really tasty. I spent quite a few hours adjusting the ingredient quantities and re-testing. It really wasn't as fun as it sounds. It turned into an exercise of self-restraint more than anything.
My thoughts on homemade chocolate chip cookies have always been this: the raw batter is the best part. Baking them = overrated. I grew up eating raw cookie dough, and I never got salmonella. I now hear that uncooked flour is something to watch out for as well. Call me old-fashioned, but really?! I used raw egg in my marzipan recipe like you should. I've never heard of anyone getting sick from raw flour, but consider that my disclaimer. 😛 With that said, I don't think this teeny tiny batch of "edible" cookie dough is missing anything by not including the egg. One egg would be too much, and dividing an egg just ain't practical.
The irony here is that there's this treat that's making the rounds on the internet again called snow ice cream. Like yeah, a dessert as pure as freshly driven snow. Everyone's excited about it. I'm like wait a sec… something about that just screams unsanitary to me. *clutches pearls* I keep thinking of acid rain. And God only knows what else makes its way in there. My top tip: don't eat yellow snow. Oh and stay tuned for a snow ice cream recipe coming to this blog soon. Just kidding.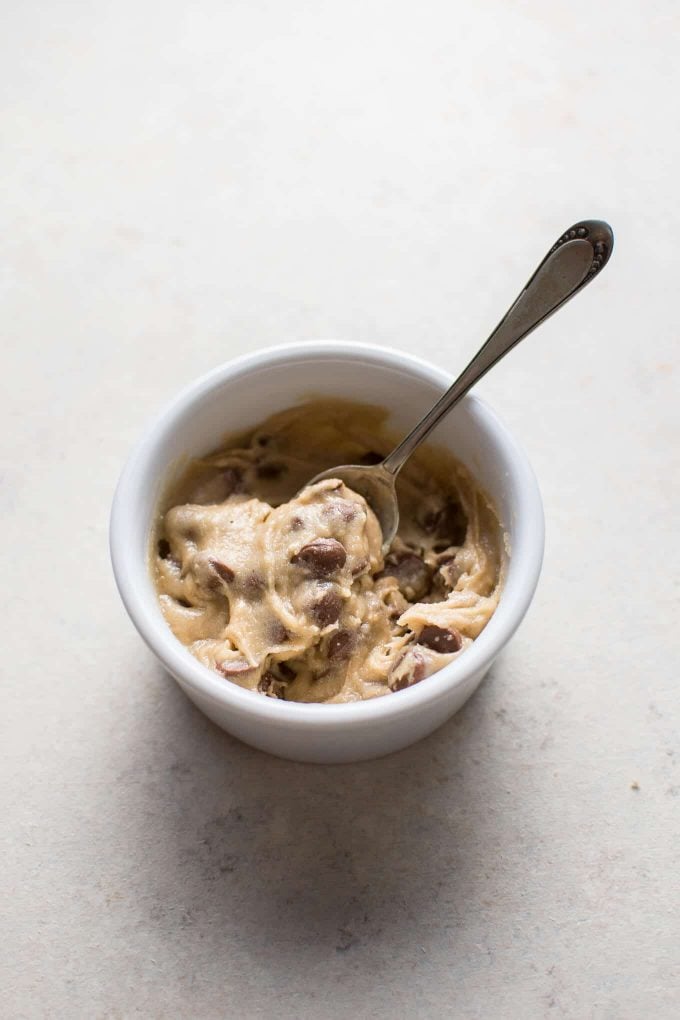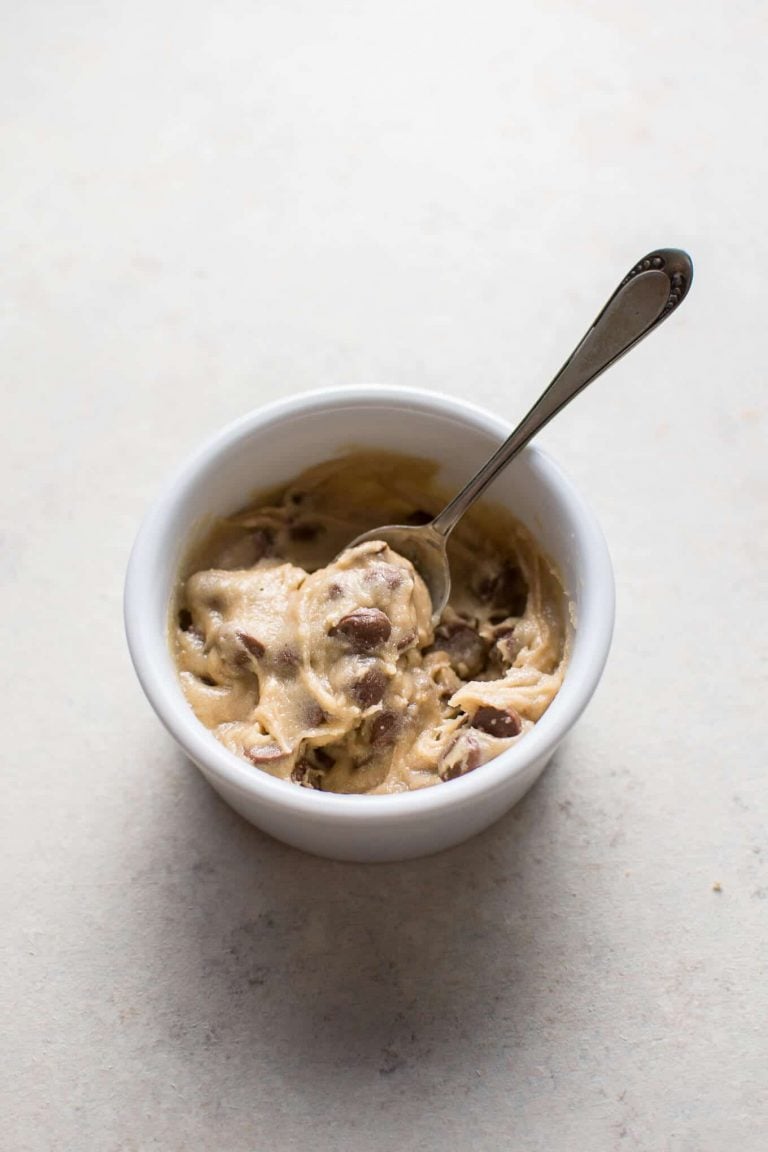 Aaaaanyway, back to this edible eggless cookie dough recipe. This really is portioned for one, so you really don't need to feel guilty about calories assuming you only make one batch (recipe easily doubles or triples or quadruples by the way). 😉
I don't know about you, but when I bake cookies I consume WAY more than this little portion of cookie dough, and that's before I even bake the cookies. With this recipe, you know what you're getting: a 400 calorie treat.
You'll like this recipe if:
You like very sweet cookie dough
You prefer your cookie dough on the softer/creamier/smooth side. If you prefer a more "doughy" texture, you could try adding more flour or reducing the amount of milk
Here's a quick video on how to make this cookie dough if you're interested: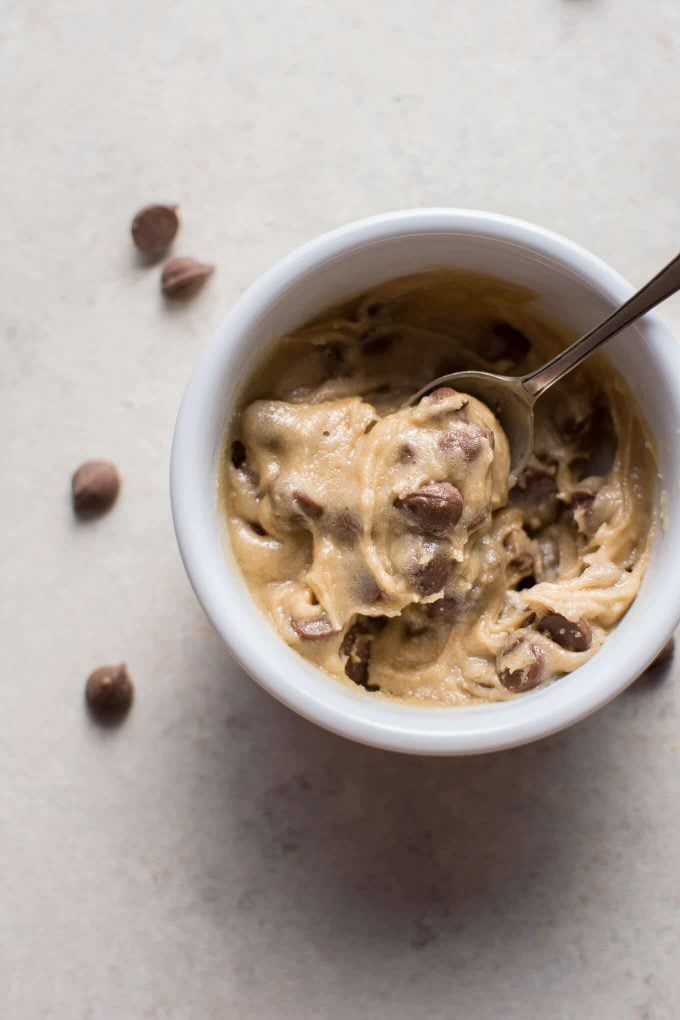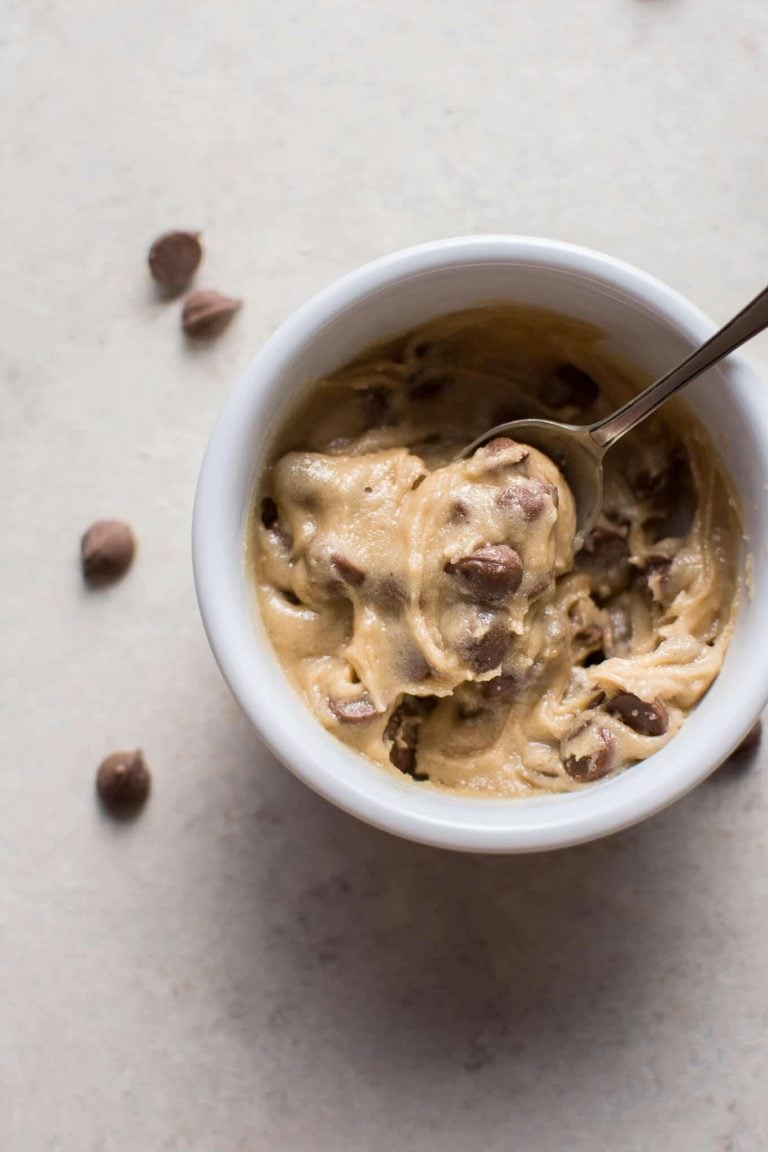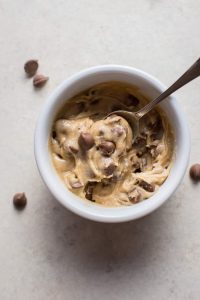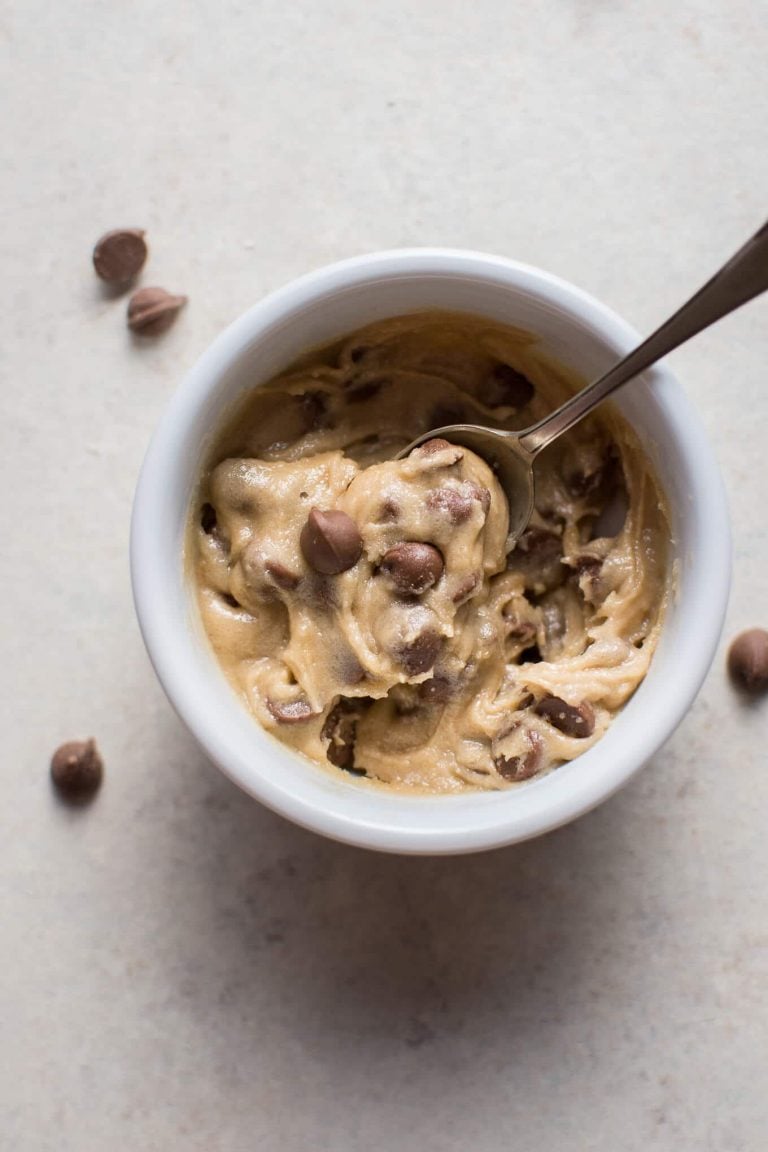 Print
Guilt-Free Eggless Chocolate Chip Cookie Dough for One
Yield 1
My guilt-free eggless chocolate chip cookie dough for one is the perfect portion-controlled treat. Ready in only 5 minutes!
Ingredients
1 tablespoon butter, softened
1 tablespoon packed brown sugar
1 tablespoon granulated sugar
2 tablespoons flour
1 tablespoon milk or water
1/4 teaspoon pure vanilla extract
2 tablespoons chocolate chips
Instructions
In a medium bowl, mix the butter and sugar together using an electric hand mixer.
Add in all other ingredients except for the chocolate chips, and continue mixing.
Stir in the chocolate chips.
Enjoy immediately, or you can put it in the fridge or freezer if you prefer it to be more firm.
Notes
This recipe yields a sweet, creamy, soft cookie dough.
This is the hand mixer I use for this recipe. 
Calorie information is provided as a courtesy only and should be construed as an estimate rather than a guarantee. 
Courses Dessert
Cuisine American
Nutrition Facts
Amount Per Serving
Calories 400
% Daily Value
* Percent Daily Values are based on a 2,000 calorie diet. Your daily values may be higher or lower depending on your calorie needs.
Try more of my tasty recipes: