These pork chops with white wine, carrots, and celeriac make an elegant and healthy dinner. My favorite Czech pork recipe!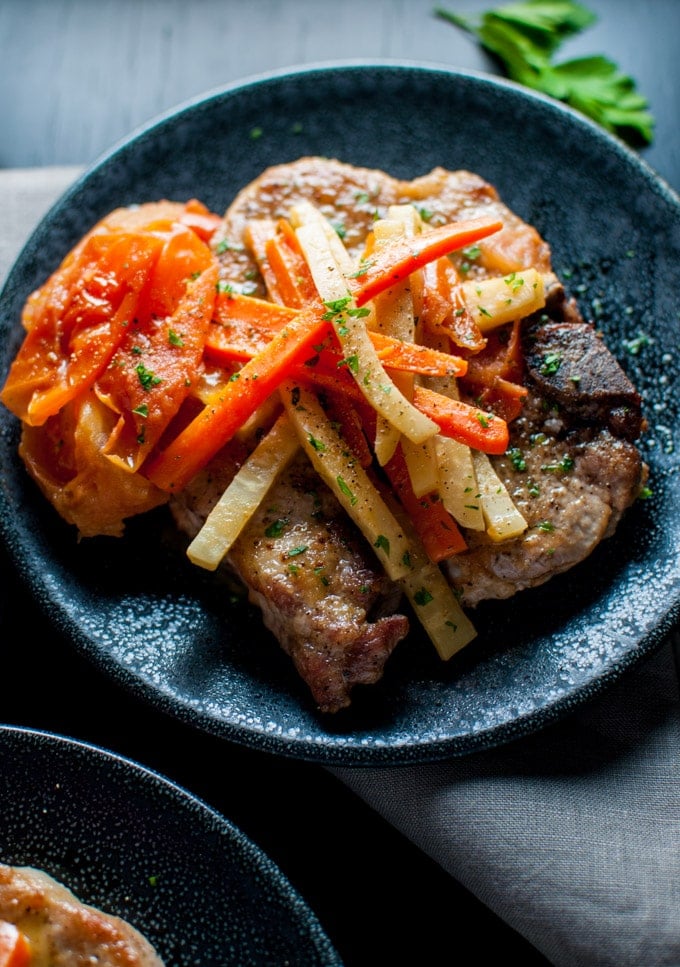 Happy new year!! Let's start 2016 off with one of my favorite dishes. It reminds me of my mom since she has been making it for me forever. It's a Czech dish that's actually called Po Bzenecku or Pork Chops Bzenec Style. Bzenec is a town in southern Moravia's wine region. Apparently I spent a night there when I was little, but I have no recollection of that. I lived in the Czech Republic for a year and a half when I was a kid. I was just old enough to remember everything. It was strange being uprooted from my life in Canada and being immersed into a totally new language and culture, but before long my sister and I were arguing in Czech 🙂 It's funny how fast little kids pick up languages. Of all things, I probably miss Czech food the most. It's nice to have the home cooking once in a while, but in Europe I find the food selection to be way more varied than here in Canada.
I think celeriac is an underrated vegetable. I shamefully admit that the first time I actually bought it was recently, to cook this dish myself for the first time. Yeah, it tastes better when mom makes it. Isn't that how it always goes? Anyway, I didn't actually realize that celeriac was celery root and had to google it when I was having a hard time finding it in the grocery store. Once I got it home I texted my mom asking her how the heck to get into it. It intimidated me a little, ok? She said she peels it with a knife... so I tried that. I basically just cut the rough exterior off and the process was actually quicker than I anticipated.
My mom makes a fabulous celeriac puree that I will have to put on the blog sometime. Think mashed potatoes but lighter, better, and silkier. It's hard to describe how good it is. I don't often see celeriac recipes so I would love to experiment with it a bit.
The best part of this simple pork chop recipe (other than the fact it's totally scrumptious) is that you don't have to bother making a side of vegetables with it. Trust me. There are more than enough vegetables in this recipe for two people. I made this with rice last time, but I think I would be ok just eating it without anything else. I barely touched the rice but my husband loves rice so he was happy.
More tasty pork chop recipes to try: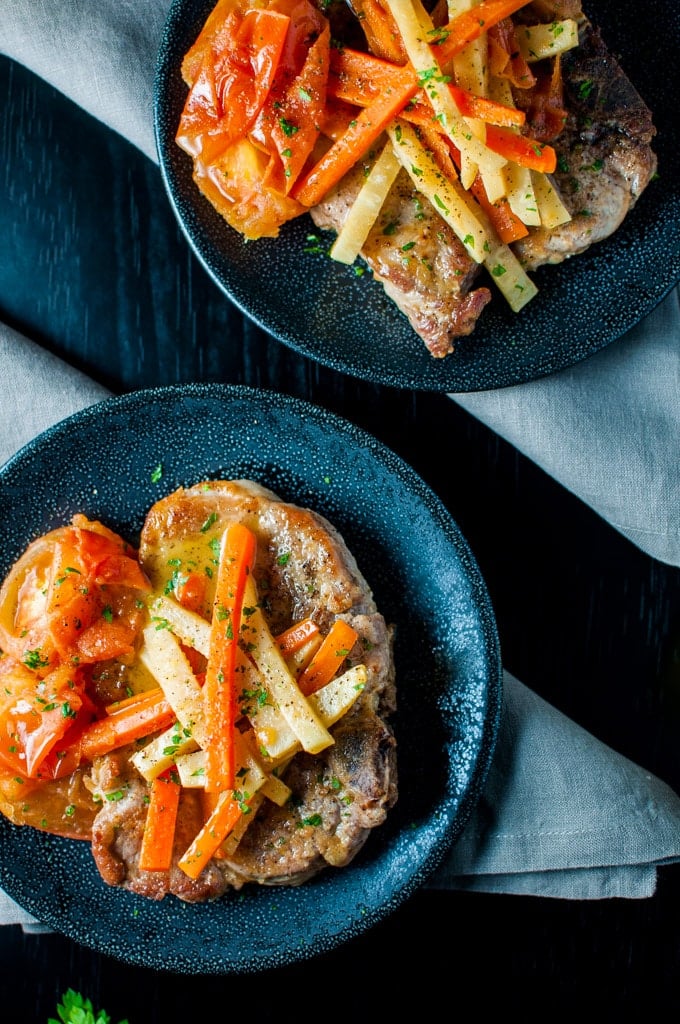 Will you make these Czech pork chops?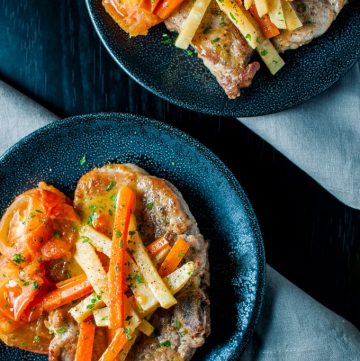 Pork Chops with White Wine, Carrots and Celeriac (Czech Pork Chops Bzenec Style)
A delicious pork chop recipe with carrots, celeriac, tomatoes, lemon, and white wine.
Ingredients
2

pork chops (fairly thin ones work best)

2

tablespoons

olive oil

divided

1

large carrot

peeled and cut into sticks

1

small celeriac (celery root)

peeled and cut into sticks

3

tomatoes

quartered

Juice of 1/2 lemon

3/4

cup

white wine

Salt & pepper
Instructions
Peel carrot and celeriac (I use a knife for the celeriac) and cut into sticks. Cut tomatoes into quarters.

Warm 1 tbsp of olive oil in a skillet on medium high heat. Season pork chops with salt & pepper then add to hot skillet. Fry chops for a few minutes on each side until golden and then put on a plate and set aside.

Add the remaining 1 tbsp of oil, and the carrot and celeriac sticks into the pan and fry for about five minutes, stirring frequently.

Adjust heat to medium and add tomatoes, lemon juice, and white wine to skillet and then cover with lid for about five minutes.

Add pork chops and any juices from plate back into the skillet to finish cooking them, with the lid on, about five minutes. Be careful not to overcook chops or they will be leathery. Serve immediately.
Notes
The root veggies are slightly crisp with the cooking times I list. I would suggest frying them for a bit longer if you prefer them softer.
Translated and adapted from a Czech recipe.