Learn how to cook perfectly juicy pan seared pork chops with this simple recipe! Say goodbye to overcooked, dry pork with my comprehensive guide.
After you've tried this one, you'll also enjoy my Easy Smothered Pork Chops and Gravy or Creamy Garlic Pork Chops next.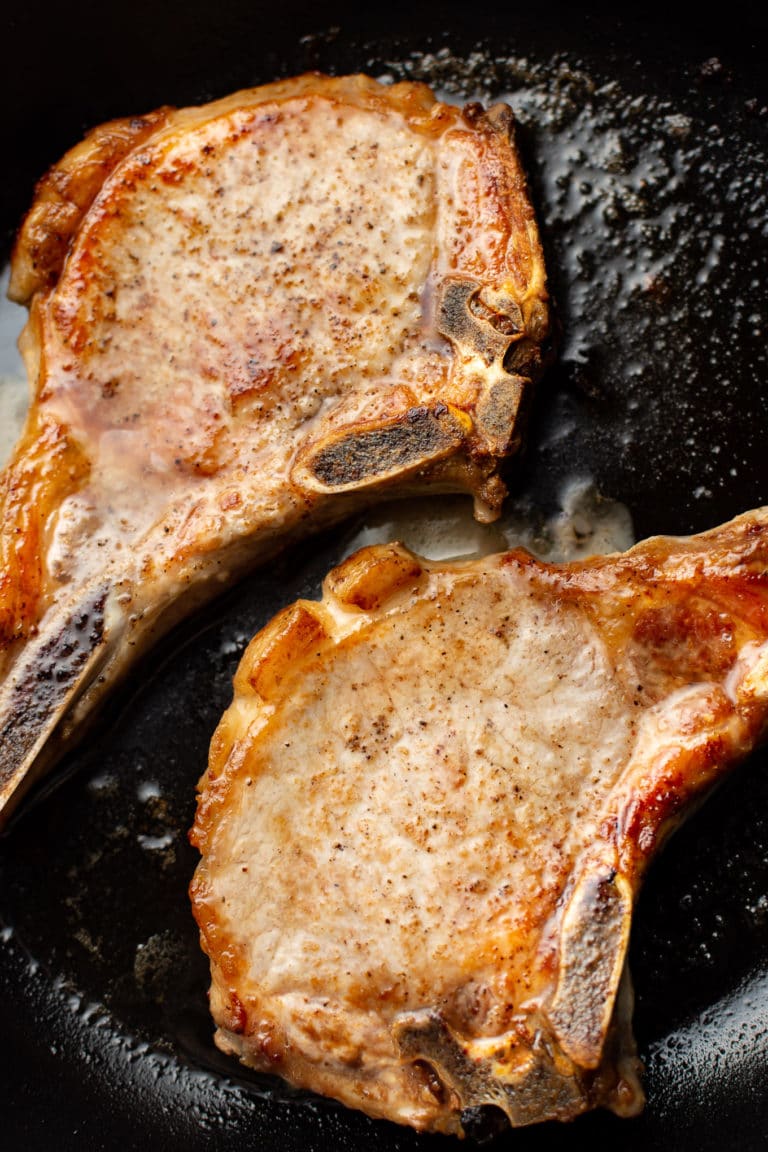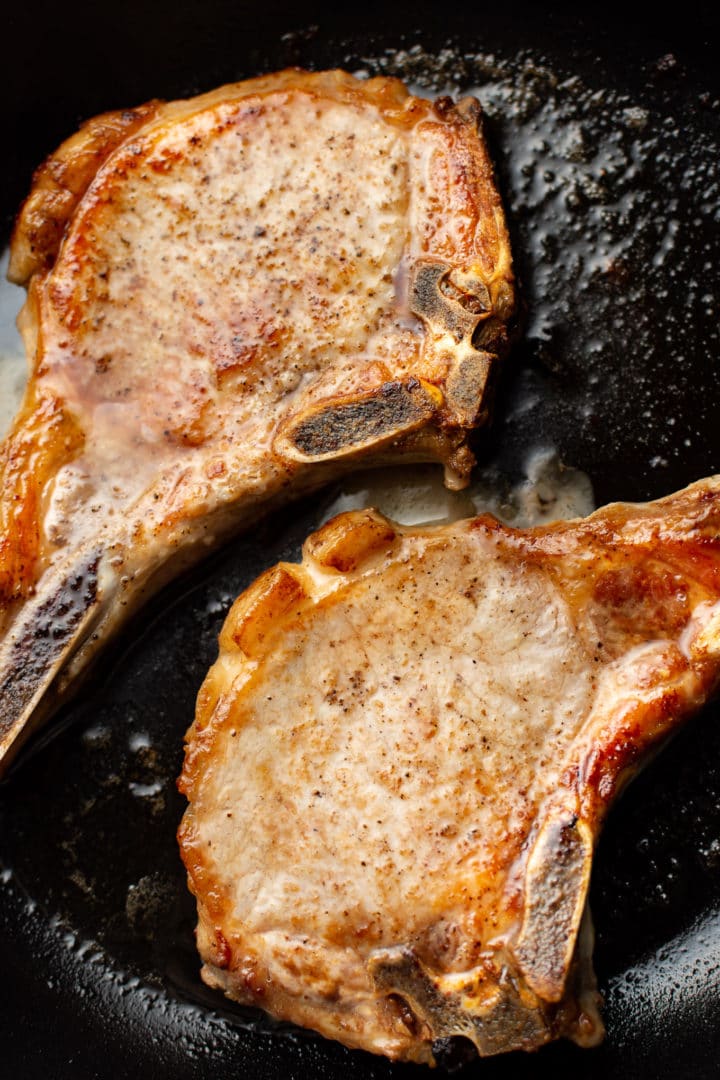 Why you'll love it
If you've ever had leathery pork chops and vowed to never make them again, you're in good company. It's a very common thing. Fortunately, it doesn't have to be that way! I've packed this blog post with fantastic tips so that you can master this easy technique for how to cook pork chops.
The biggest mistake is overcooking pork, so we're definitely avoiding that here. That means you'll have another easy weeknight option since pan fried pork chops are delicious and healthy, a change from chicken and beef, and they go with practically every side dish. You'll wish you had put them in the dinner rotation sooner.
What temperature is pork safe to eat?
In the old days, for safety reasons, we had to cook pork more thoroughly. Through improved farming practices, pork is now safe to eat at 145F, when it's a little pink in the middle. That means today's pork is a lot more juicy and tender than before when cooked right!
What you'll need
Pork chops – it's a personal preference whether you use bone-in or boneless, and either will work. I prefer bone-in for this recipe because they're typically more flavorful and tend to dry out less quickly. I'll often buy the smaller boneless ones when I'm making them with a creamy sauce and don't want to take the extra time to fry them in two batches, though.
Salt & pepper – it's important to be generous with seasoning to bring out the flavor of the meat and to create a great crust on the outside.
Olive oil – what we're pan frying them in
Butter – a pat of butter is all we need to top them off!
How do you stop pork chops from curling?
Sometimes pork chops will curl up when you pan fry them, and this can be a bit annoying because then they don't sear evenly. To prevent or at least somewhat mitigate this, you can score them, which means making cuts in the fat rind so they lay flat instead of curling up (see graphic below).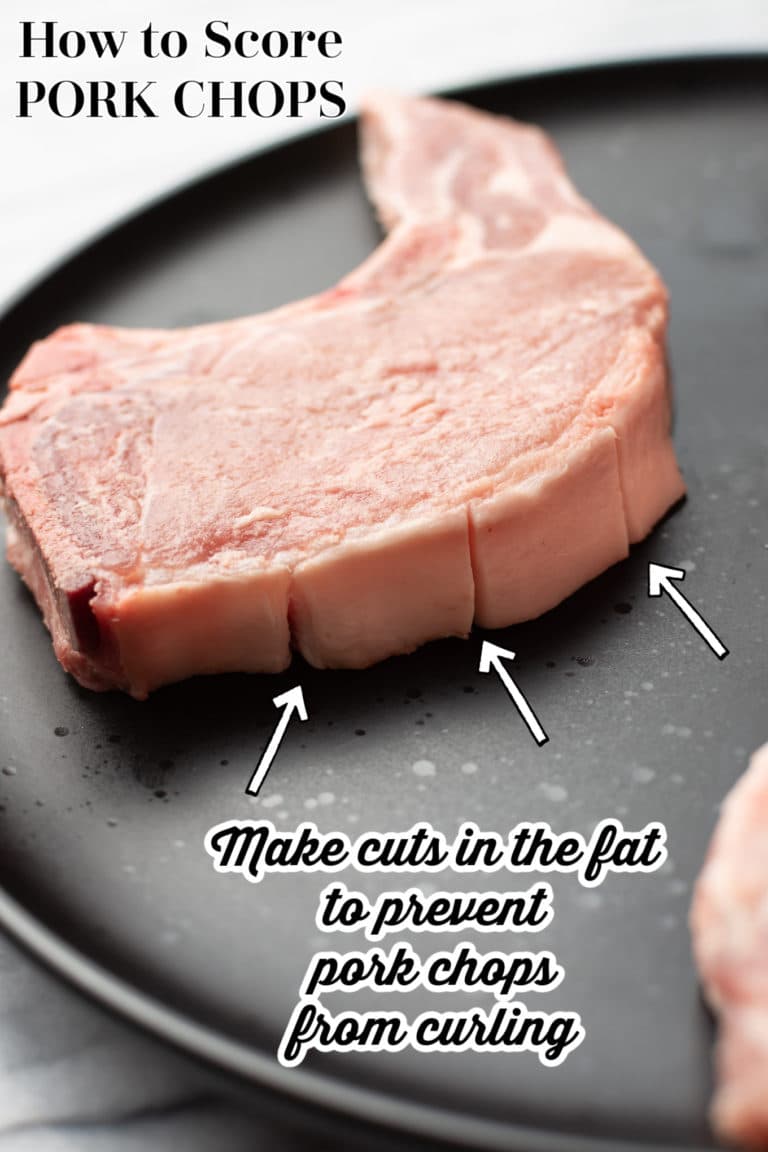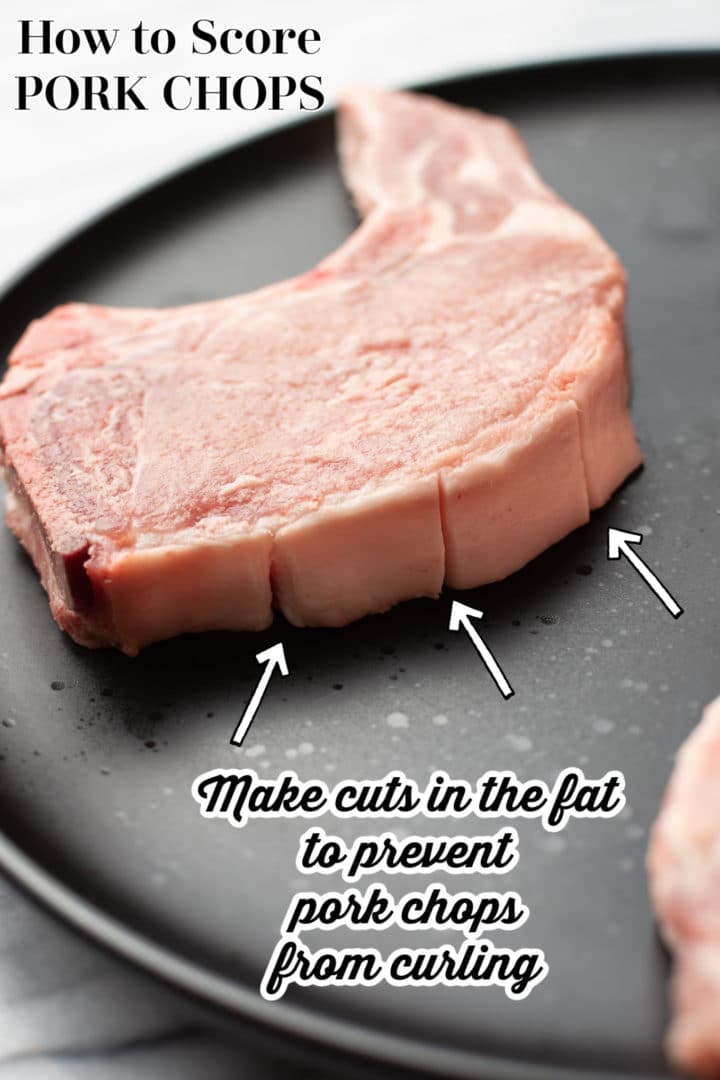 How long do you sear pork chops?
These are just guidelines. Keep in mind that the actual thickness of the pork, how cold it is (ideally let it warm up a bit first), how hot your pan is, etc. all factor in:
For chops 1″ thick: about 5 minutes/side
For chops 3/4″ thick: 5 minutes first side, 3 minutes second side
For chops 1/2″ thick: about 3 minutes/side
For chops over 1″ thick: I recommend searing them for 5-6 minutes/side and then finishing them in the oven. Try 350F, and check the internal temperature after 10-15 minutes.
Tools for this recipe
Check out Natasha's favorite kitchen essentials, gadgets, and cookware!
The skillet needs to be very hot to get a good sear on the pork. I preheated my cast iron skillet until it was lightly smoking. If you're finding the chops aren't done within the suggested timeframes, your skillet probably isn't hot enough.
A pair of cooking tongs make flipping the pork a cinch.
This is one of those recipes where an instant read meat thermometer goes a long way towards recipe success. The difference in timing between undercooked and overcook pork isn't much. Pork is safe to eat at 145F, and by the time it reaches 165F, it gets into dry and chewy territory. It only takes a few seconds to use one of these thermometers, and it's well worth it!
Pro tips
This recipe will make as many pork chops as you need. You don't need to do 4. If you're making more than 4, you may need to add more oil to the pan as needed or replace the oil if it gets too dark.
Letting meat rest for a few minutes prior to serving lets the juices redistribute and ensures it's more tender/juicy, just like you'd do with a steak.
Do not crowd the skillet. When in doubt, do two batches for the best browning.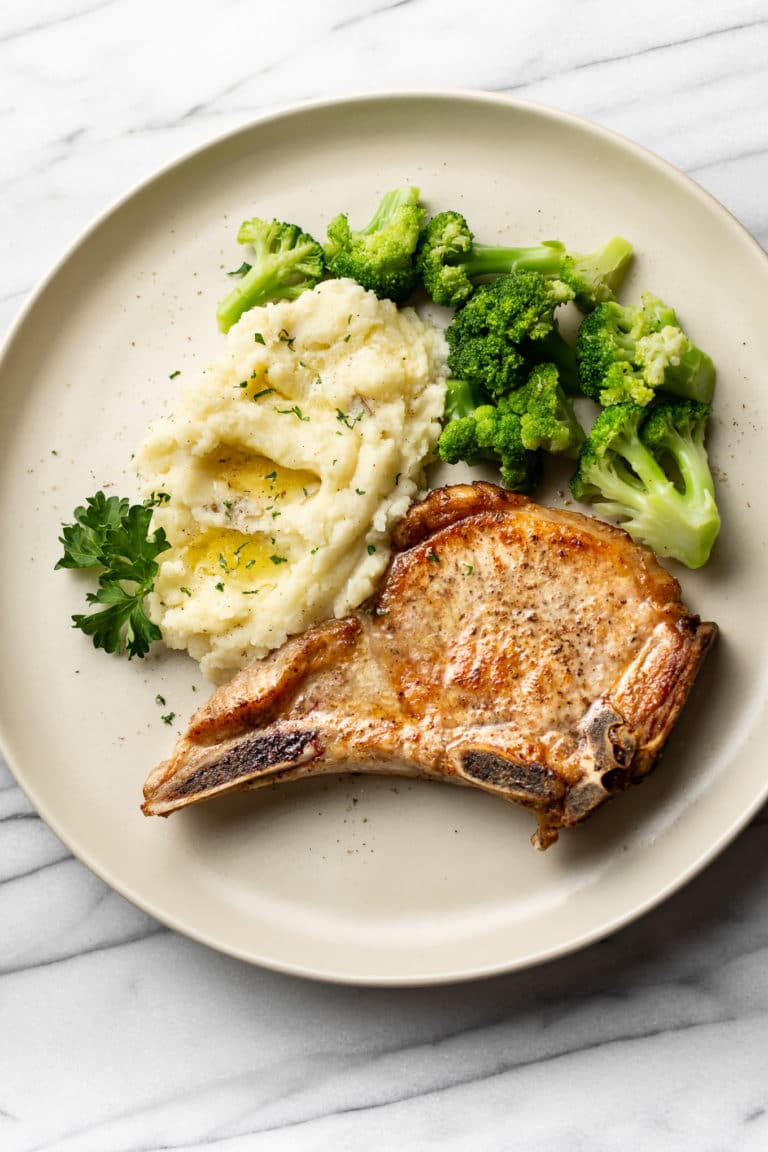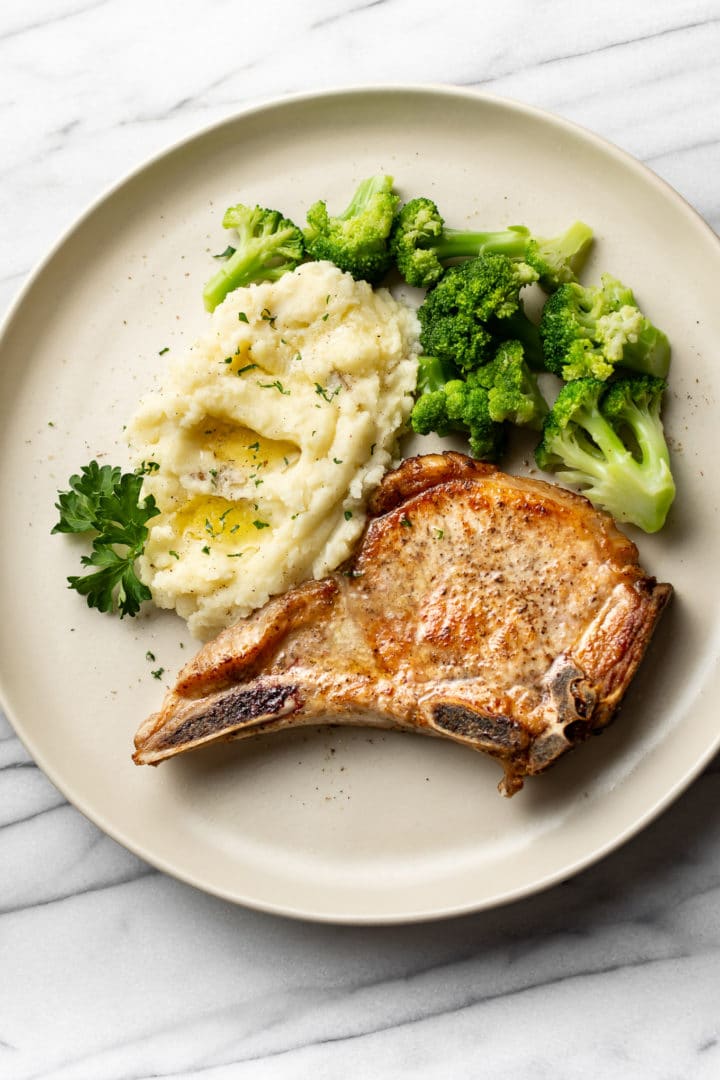 Substitutions and variations
You can definitely use other seasonings besides simple salt and pepper. I have a sea salt grinder and use that in most of my cooking. Try your favorite seasoned salt, poultry seasoning, or even something like Montreal steak seasoning.
What to serve with pork chops
Leftovers and storage
Leftover pork chops will keep in a covered container in the fridge for 3-4 days.
Reheat them in the oven with a splash of water or chicken broth at 350F until heated through, about 10 minutes, for best results.
You can freeze them for up to 3 months, but it's not my preference since the texture is likely to change. Make sure to cover them tightly with foil and then place in an airtight container.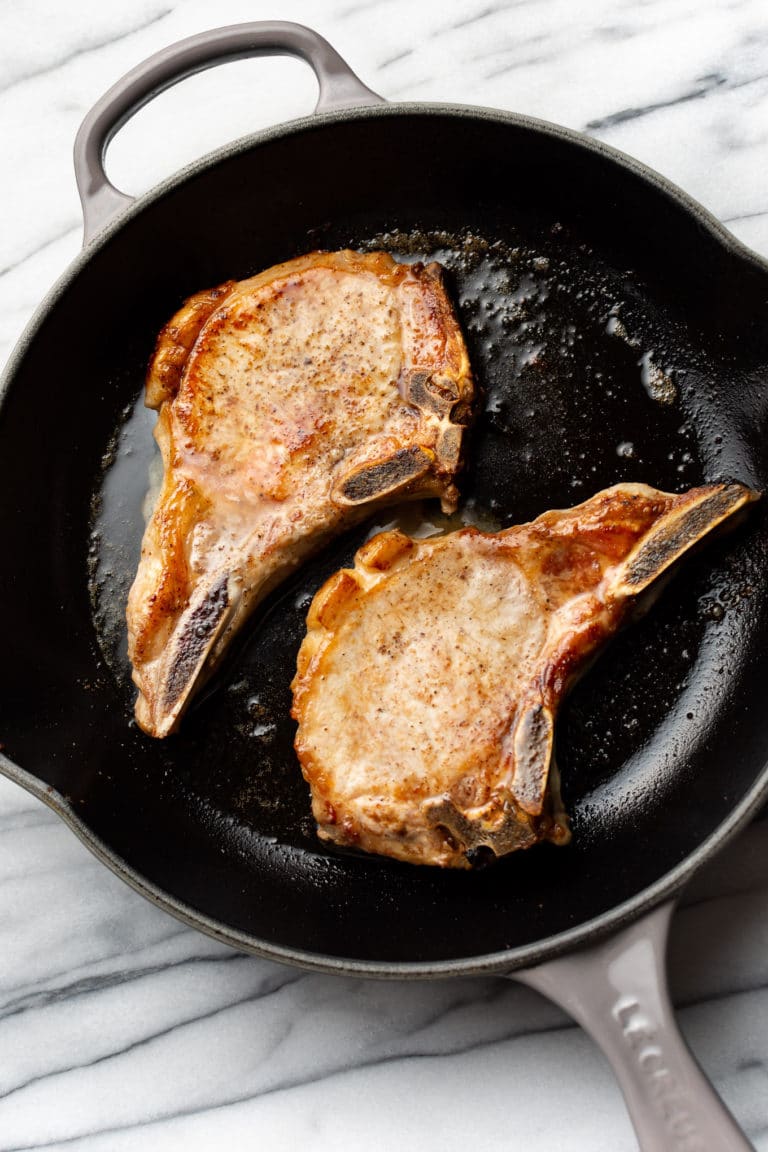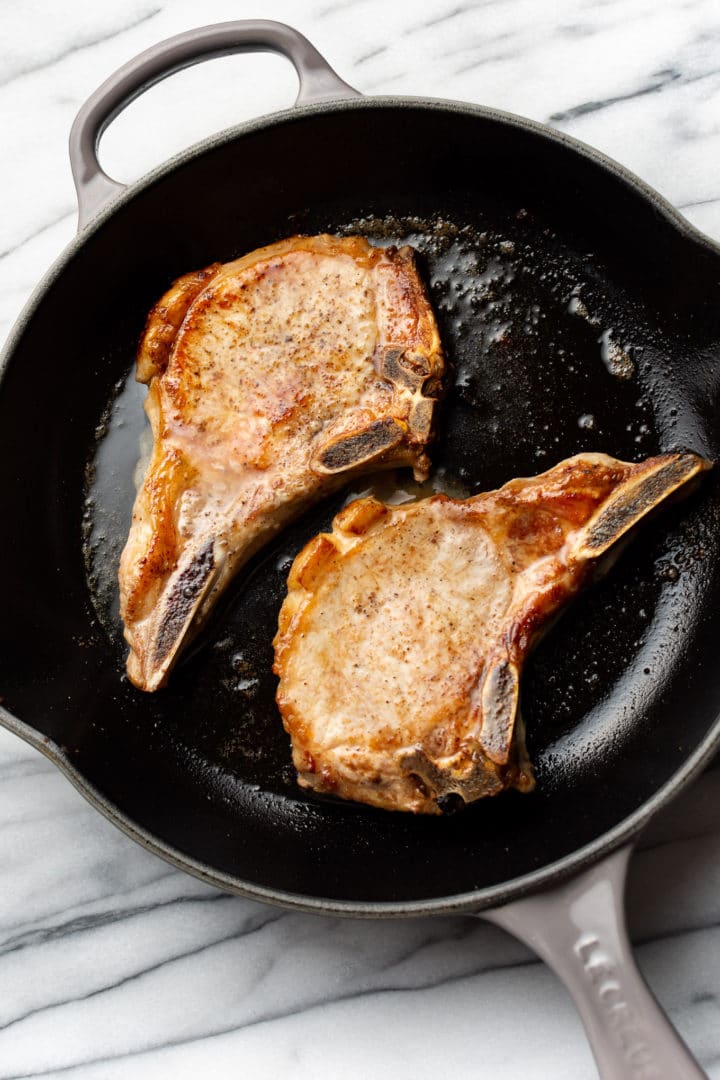 Questions about these pan fried pork chops, or want to leave a review? Let me know in the comments below! You can also tag me #saltandlavender on Instagram with your creations.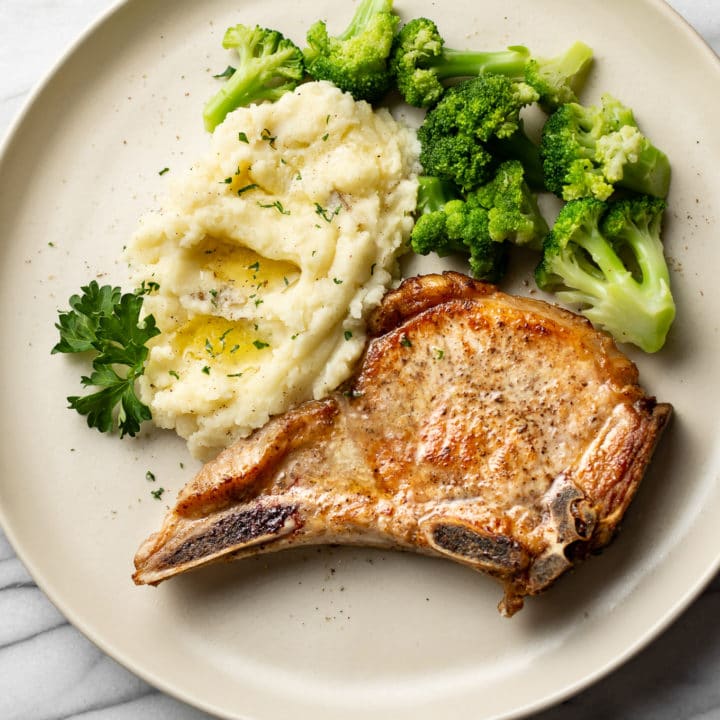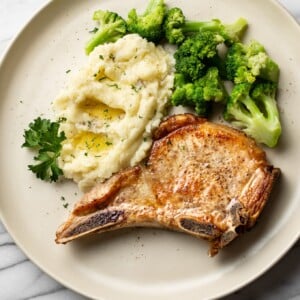 Easy Pan Seared Pork Chops
Learn how to cook perfectly juicy pan seared pork chops with this simple recipe! Say goodbye to overcooked, dry pork with my comprehensive guide.
Ingredients
4

pork chops

see note

Salt & pepper

to taste

2

tablespoons

olive oil

Butter

optional, to taste
Instructions
Take the pork chops out of the fridge at least 15-30 minutes prior to starting the recipe (ideally an hour).

Add the oil to a skillet over medium-high heat. Heat the pan for a few minutes (I heated my cast iron for 5 min). It needs to be HOT for the pork chops to get a good sear and cook through quickly.

Meanwhile, pat the pork chops dry with paper towel. If you wish, cut into the fat rind to score the pork chops (see blog post for how-to) so they cook more evenly. Season each pork chop generously with salt & pepper on both sides.

Add the pork to the pan and cook for 3-5 minutes/side (3 minutes for thinner chops and 5 minutes for pork chops that are up to 1" thick). Pork should be golden brown and cooked through. Test for doneness at this point. It's safe to eat at 145F (a bit pink inside), and the temperature will rise a bit as it rests, so if it's close, remove it from the skillet. If the pork chops aren't quite cooked through yet, sear them for a little longer (don't overcook). I like to top each pork chop with a piece of butter when I take them out of the pan (about 1/2 tablespoon each). Let the pork chops rest for a few minutes prior to serving.If the pork chops are particularly large, sear them in two batches (don't crowd the pan or they'll steam).If the fat rim on the side isn't quite cooked enough, hold the pork chop with tongs and place the fat directly into the hot oil until it's browned.
Notes
Use bone-in or boneless pork chops. I used bone-in pork chops that were about 3/4″ thick and cooked them for 5 minutes on the first side and 3 minutes on the second side.
Pork is easy to overcook. It's safe to eat at 145F. I recommend using an instant read meat thermometer to test doneness.
Troubleshooting tip: the skillet needs to be very hot to get a good sear on the pork (I preheated my cast iron skillet until it was lightly smoking). If you're finding it isn't cooked after the suggested time, your pan probably isn't hot enough.
Nutrition
Calories:
264
kcal
,
Carbohydrates:
1
g
,
Protein:
29
g
,
Fat:
16
g
,
Saturated Fat:
6
g
,
Trans Fat:
1
g
,
Cholesterol:
97
mg
,
Sodium:
89
mg
,
Potassium:
501
mg
,
Sugar:
1
g
,
Vitamin A:
93
IU
,
Calcium:
10
mg
,
Iron:
1
mg
Nutrition information is automatically calculated, so should only be used as an approximation.
© Salt & Lavender Inc. Content and photographs are copyrighted. Sharing this blog post is much appreciated, but copying and pasting full recipes without authorization to social media is strictly prohibited.
Leave a star rating and comment below!