This potato and green bean salad with eggs is a light, fresh and healthy vegetarian summer side dish that you'll want to make all season long! The lemon-herb vinaigrette makes it a great option for those who don't like mayo in their potato salad.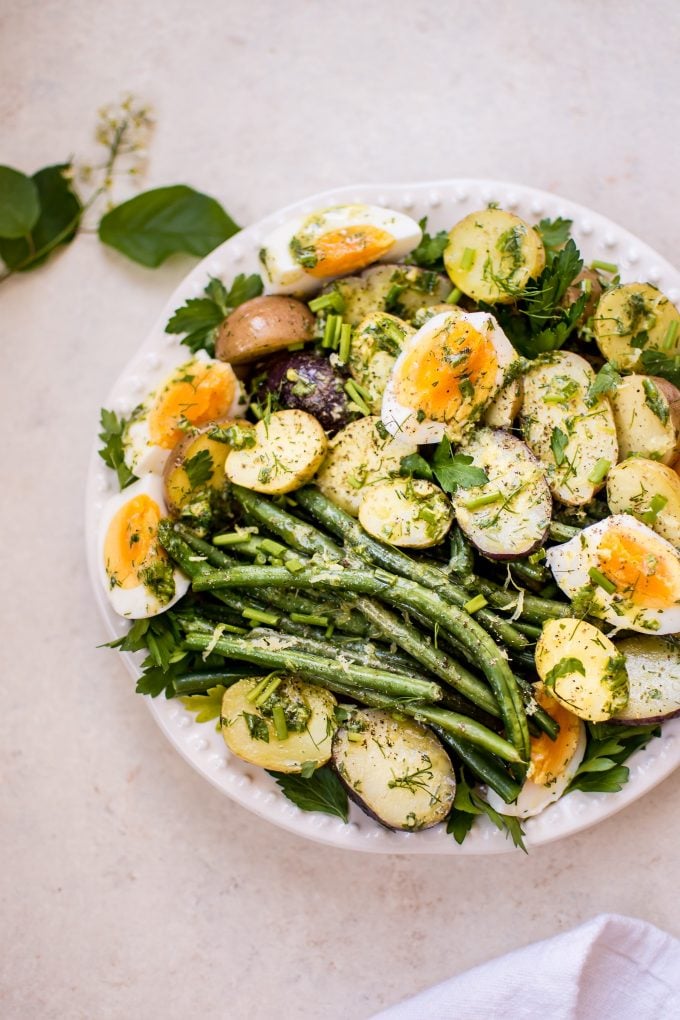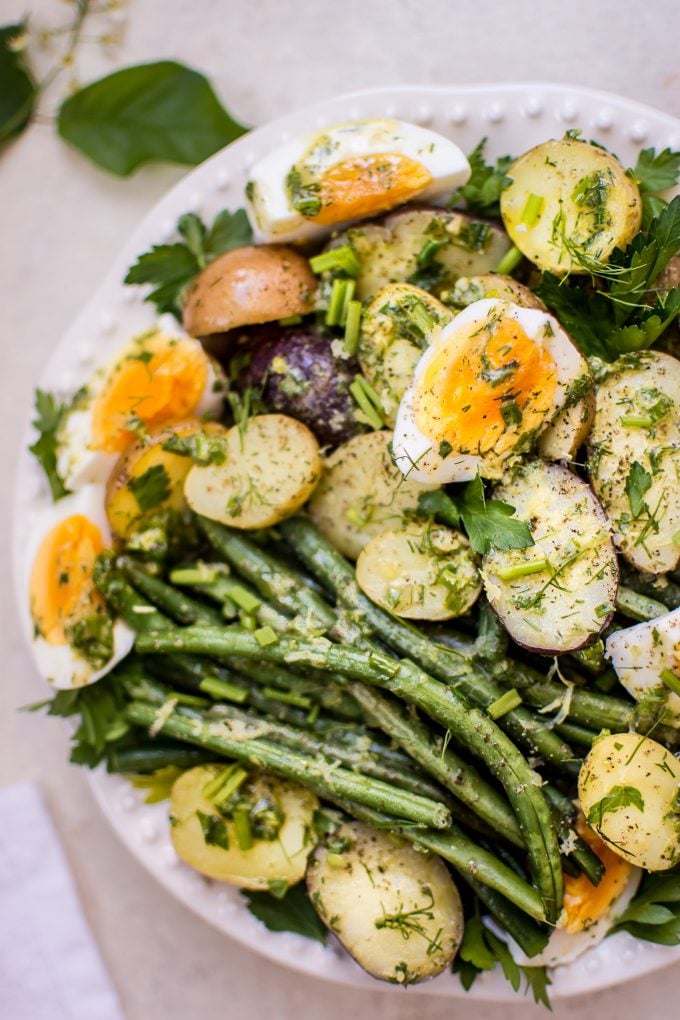 I just love this potato salad with egg. And fresh herbs are one of my most favorite ways of adding flavor to dishes. For this salad I chose fresh dill, parsley, and chives. They make the perfect addition to the easy lemon vinaigrette dressing, which coats everything in summery deliciousness.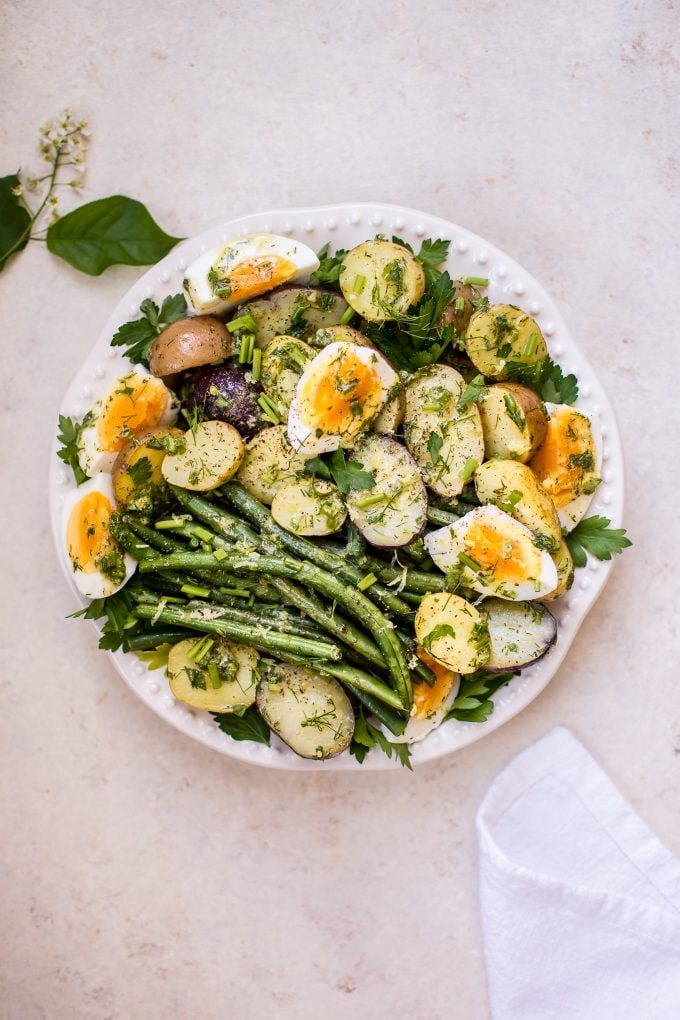 Making this salad is straightforward. Cook the little potatoes, green beans (I steamed them in the handy microwave-safe bag for 2 minutes), and eggs (I did an 8 minute boil), then let everything cool and toss it with the dressing. You can make the dressing while everything is cooking, and you're well on your way to having this flavorful side on your table in no time.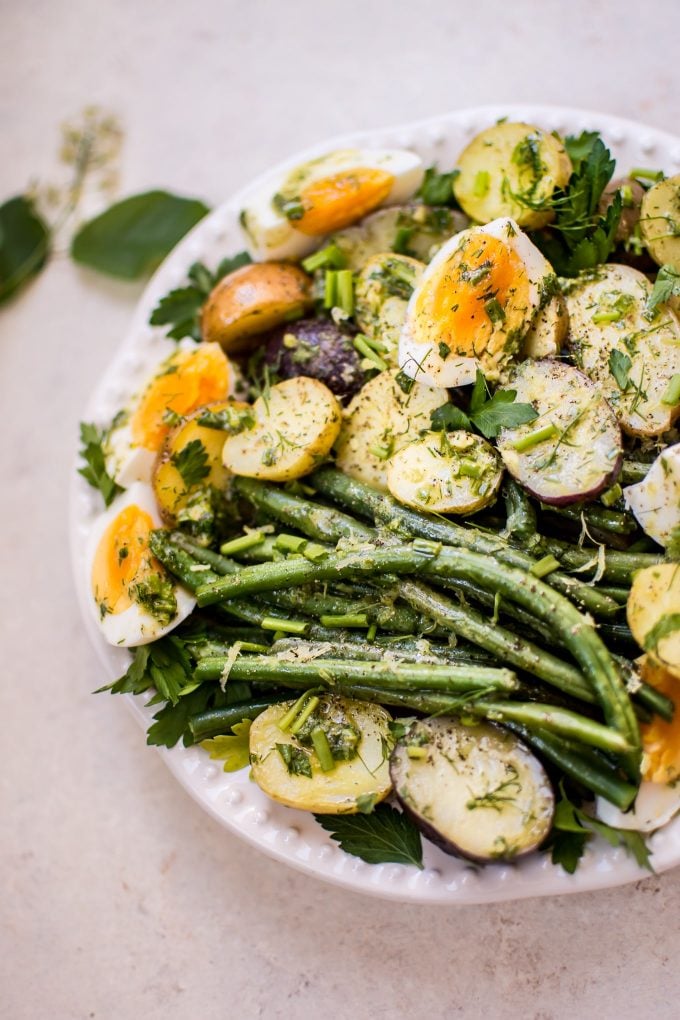 I used little potatoes in assorted colors, but you could also use new potatoes or any kind of potato really, as long as they total about 1.5 pounds.
I like this potato and green bean salad with eggs best when it's first made, but I did eat the leftovers for the next two days and still enjoyed it. 🙂
Hope you love this recipe and have a great weekend!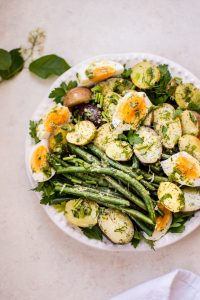 Print
Potato and Green Bean Salad with Eggs
Yield 4+
Ingredients
1.5 pounds little potatoes, cut into halves
8 ounces French or green beans, steamed or boiled
2 eggs, hard boiled
Salt & pepper, to taste
Dressing:
1/4 cup olive oil
1 tablespoon lemon juice + zest from 1/2 lemon
2 teaspoons Dijon mustard
1 tablespoon fresh chives, chopped
1 tablespoon fresh parsley, chopped
1 tablespoon fresh dill, chopped
1 clove garlic, minced
Salt & pepper, to taste
Instructions
Prep your little potatoes (boil them for about 15 min or until they're cooked), steam the beans or boil them until they're tender-crisp (I steamed them for 2 minutes in the microwave-friendly bag they came in), and hard boil your eggs (I did an 8 minute boil). You can do this all at once if you're coordinated. 😉
Meanwhile, add all the dressing ingredients to a jar and shake to combine.
Allow your potatoes to cool for at least 15 minutes.
Assemble the salad and gently toss with the dressing. Add extra salt & pepper if desired. 
Notes
Serves 4+ as a side dish. 
Courses Side Dish
Try more of my tasty recipes: