This summer vegetable pasta with roasted radishes is a super flavorful vegetarian dish with a delicious cream sauce!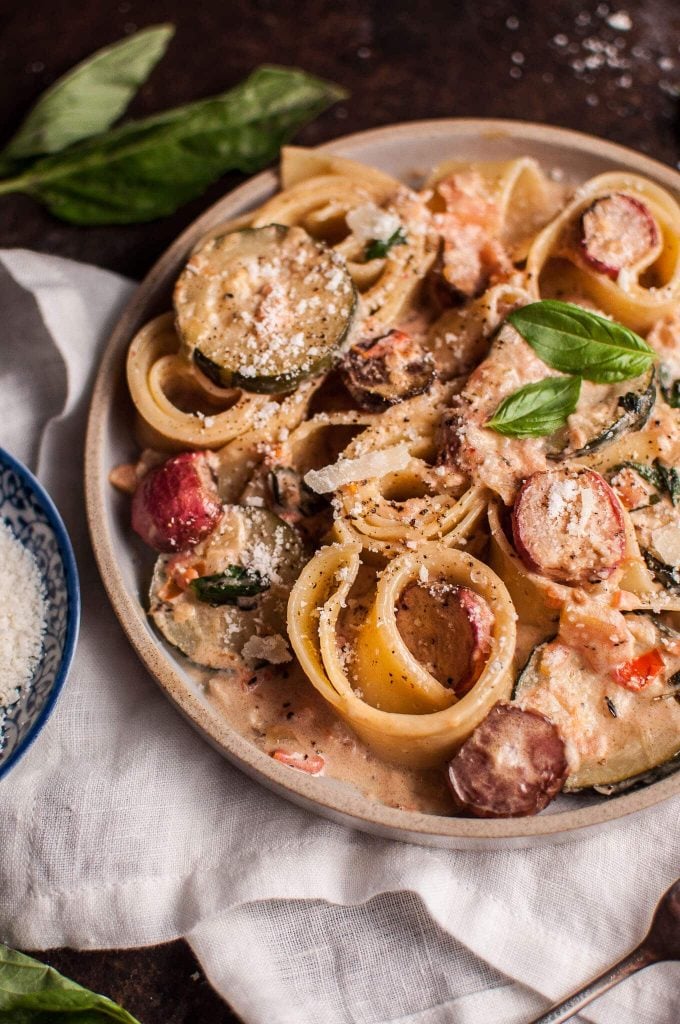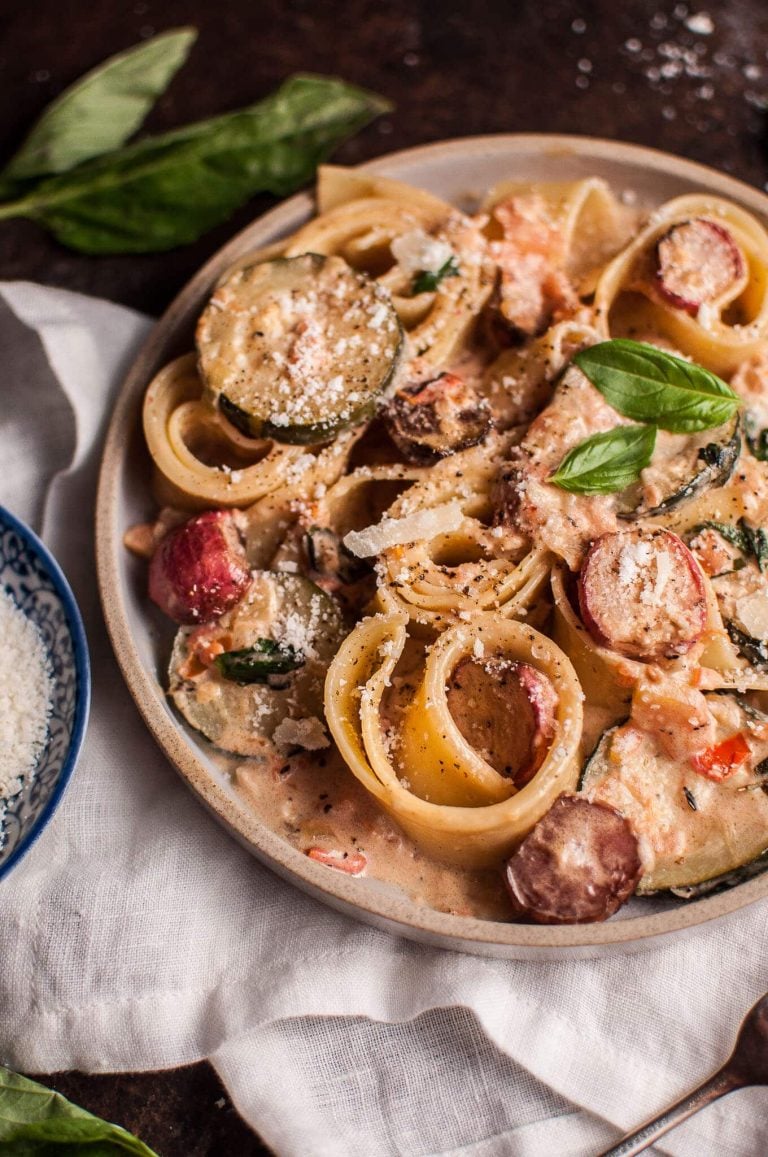 Ok, so not all the veggies are roasted in here, but the radishes are. Have you ever tried roasted radishes? Roasting makes them tender and sweet, and it takes off that harsh edge (the reason I usually avoid radishes). I roasted them with a bit of olive oil and balsamic vinegar. It was a good idea.
I decided that pappardelle would be the perfect pasta to complement the substantial vegetables. It took me like five tries to spell that right. Yikes.
The zucchini is sweated with the onions until it's soft and tender, and then fresh tomato, garlic, and cream is added to the sauce. Fresh basil and a generous sprinkling of parmesan cheese are the finishing touches on this yumminess.
This roasted vegetable pasta recipe would be perfect for date night... or any night.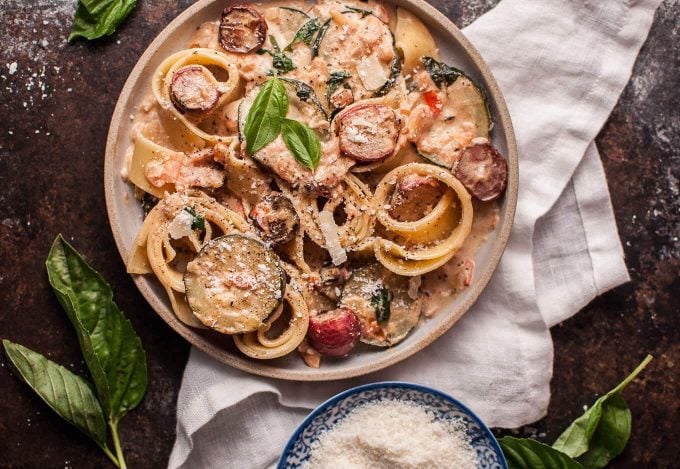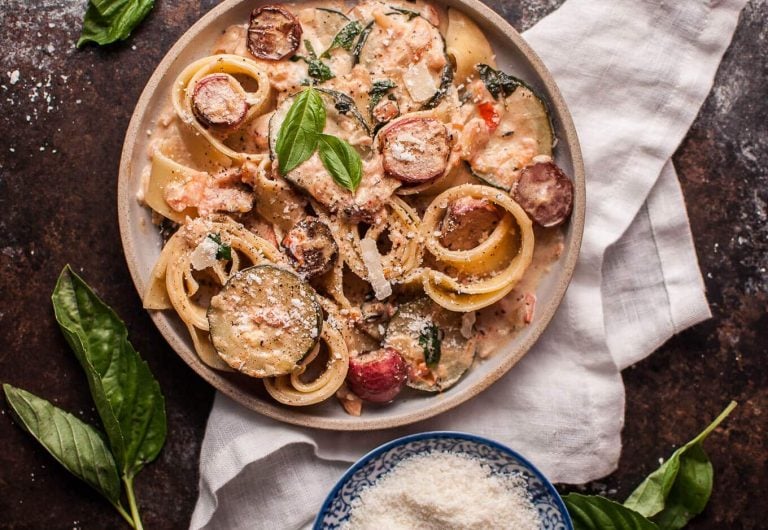 Will you make this easy summer vegetable pasta with roasted radishes?
Questions? Let me know!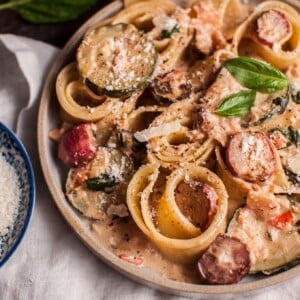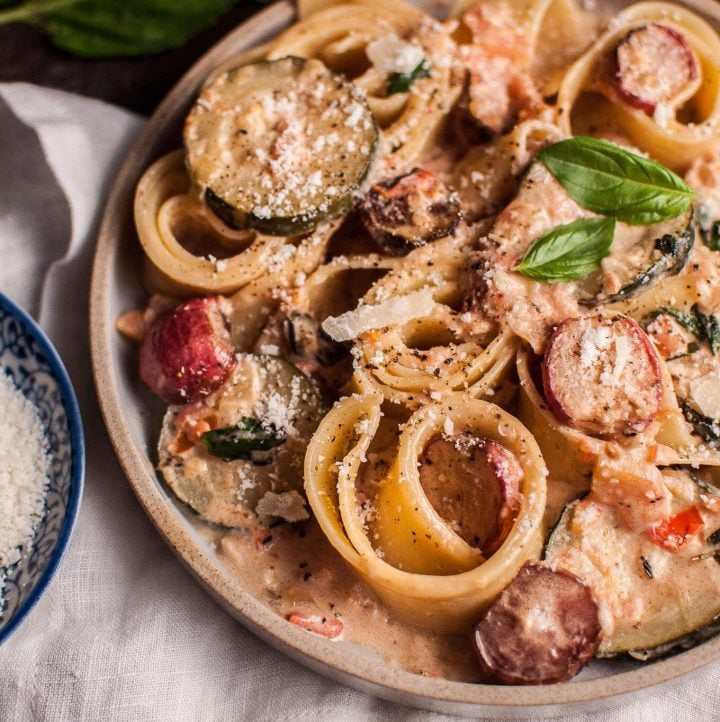 Summer Vegetable Pasta
This summer vegetable pasta is a super flavorful vegetarian dish with a delicious cream sauce.
Ingredients
1

bunch (about 16 ounces) radishes

2

tablespoons

olive oil

divided

1

tablespoon

balsamic vinegar

Salt & pepper

to taste

1

medium onion

1

medium zucchini

1

large tomato

2

cloves

garlic

minced

Pinch

Italian seasoning

1

cup

heavy/whipping cream

6

leaves

fresh basil

8

ounces

uncooked pappardelle pasta
Instructions
Pre-heat oven to 450F. Cut radishes in half and add to a baking dish with 1 tablespoon olive oil, balsamic vinegar, and salt & pepper. Toss so the radishes are coated. Roast for 20-30 minutes, depending on the size of the radishes. Mine were larger, so I left them for 30 minutes. They should be tender-crisp once they're done.

Meanwhile, bring a large pot of salted water to a boil. Cook pappardelle according to package directions as you're making the sauce.

Add 1 tablespoon of olive oil to a skillet or frying pan on medium heat. Chop the onion and add it to the pan. Cook for about five minutes, stirring occasionally.

Meanwhile, slice the zucchini and then add it to the pan. Cover and cook for 8-10 minutes on medium-low heat, stirring once halfway through, until it's tender.

Chop the tomato finely and add it to the pan along with the garlic, Italian seasoning, and the cream. Cook on medium heat for 8-10 minutes until the sauce is slightly thickened, stirring occasionally. Add the radishes once they're done. Add the fresh basil (tear it by hand). Add salt & pepper if desired.

When the pasta is cooked, add it to the pan and toss with the sauce. Serve with freshly grated parmesan cheese.