These sweet and smoky BBQ shrimp tacos are the perfect weeknight meal! The prep and cooking time is minimal, and they have a nice zip to them. The BBQ sauce adds a bit of sweetness and smoke. Ready in 20 minutes!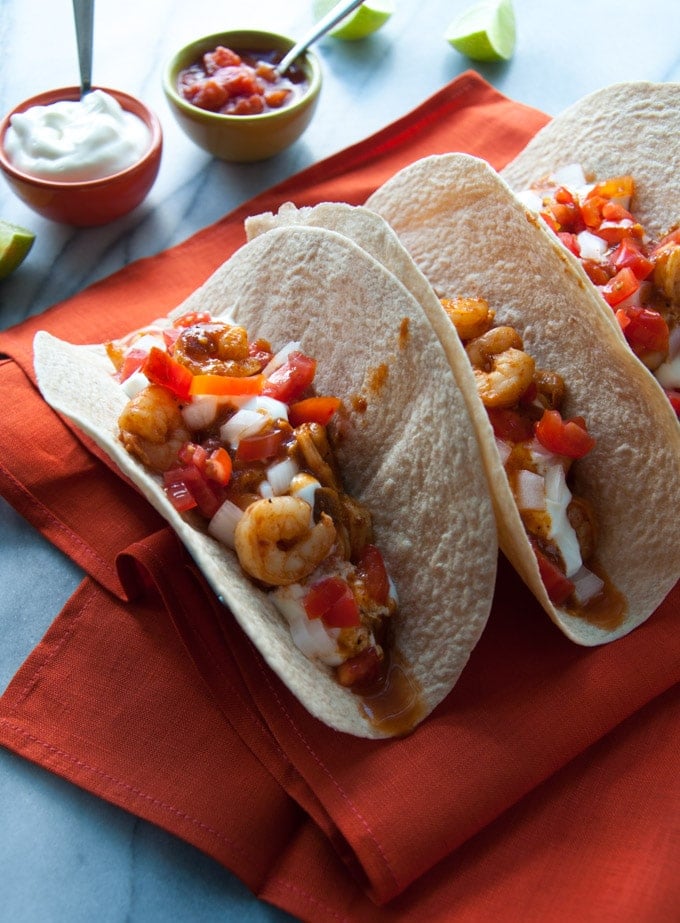 These are my lazy weeknight shrimp tacos. Sometimes making food entirely from scratch is overrated and you just want something quick on the table.
I will admit that I am a total lightweight when it comes to spice. I wish I was better at handling spicy foods because I feel like I am missing out. It's not like I haven't tried.
My mom used to cook a lot of East Indian cuisine when I was a kid so I definitely was exposed to it. My husband puts hot sauce on nearly everything. I just can't do it.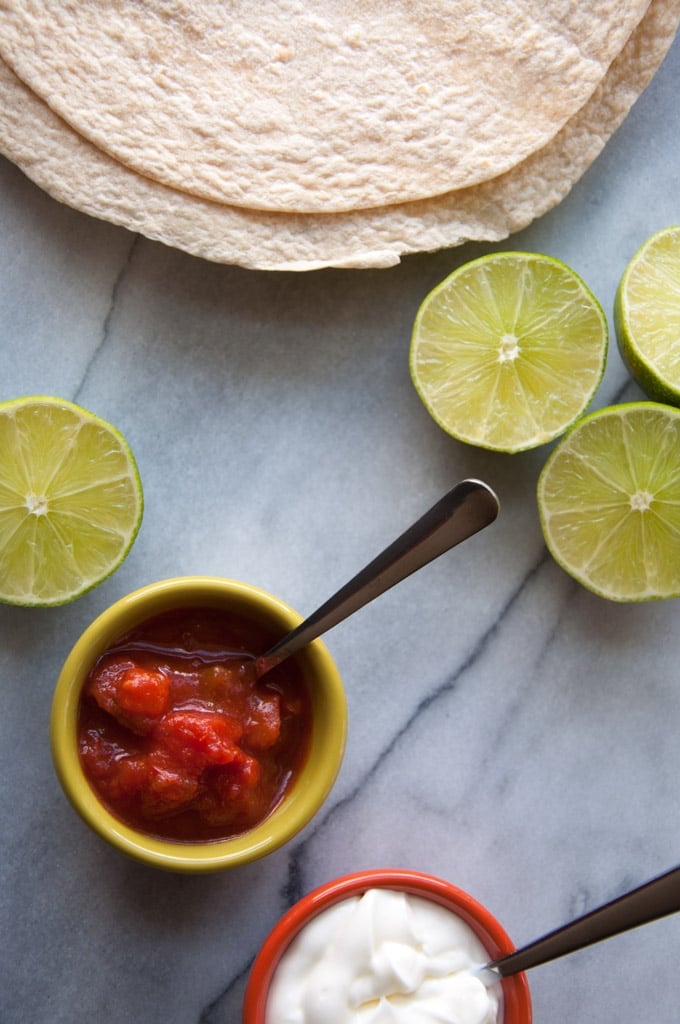 You can easily make these tacos a bit spicier if you're so inclined. I tried doubling the amount of southwest seasoning, and it was too much spice for me (it contains chipotle chili pepper). I can handle half the amount (as listed in the recipe), though.
I've had to stop ordering fish tacos in restaurants because I get sad when they inevitably are too spicy for me. Stay tuned for some less spicy fish taco recipes on this blog 🙂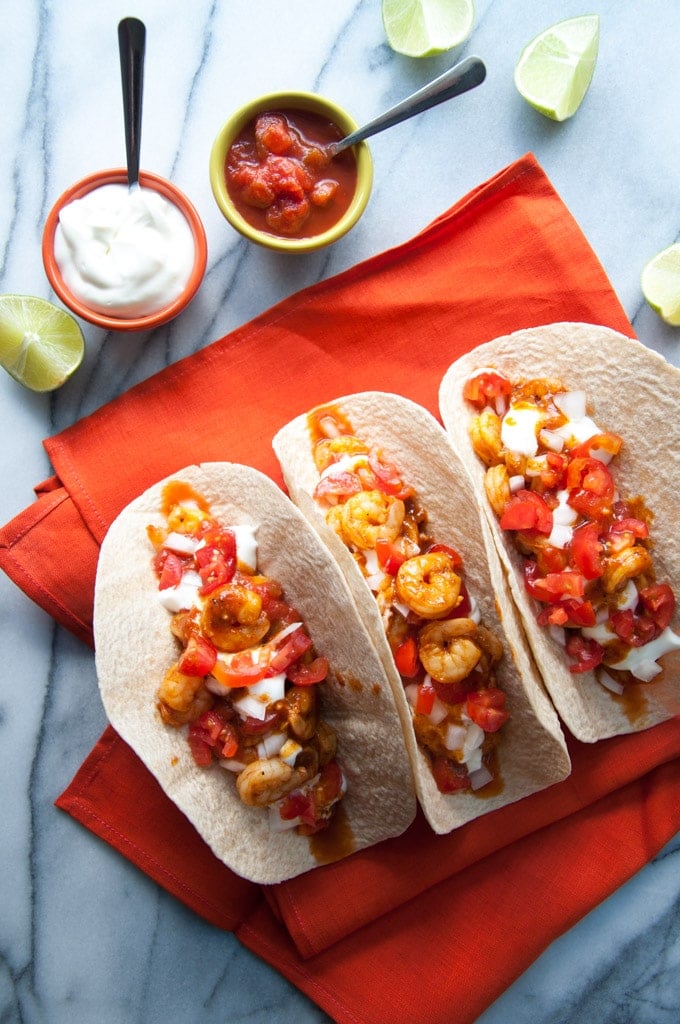 I hope you will give this easy shrimp tacos recipe a try!
Questions? Let me know!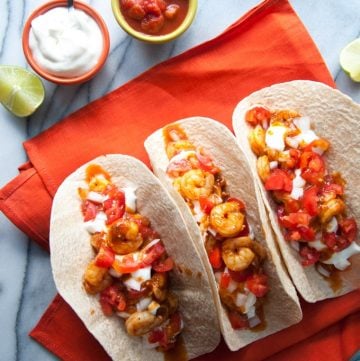 Sweet and Smoky BBQ Shrimp Tacos
These sweet and smoky BBQ shrimp tacos are the perfect weeknight meal! The prep and cooking time is minimal, and they have a nice zip to them.
Ingredients
1

(3/4 lb.) bag medium uncooked shrimp

8-12

medium flour tortillas

1/2

teaspoon

McCormick Southwest Seasoning*

1/2

tablespoon

Tex Mex seasoning

1/2

teaspoon

lemon pepper

1/2

teaspoon

garlic powder

5

dashes Worcestershire sauce

1

tablespoon

olive oil

2

tablespoons

BBQ sauce (I use Sweet Baby Ray's)
Garnish:
1

fresh lime

cut into quarters

Cherry tomatoes

cut into quarters or smaller

Half onion

diced

Sour cream

Salsa (I use Newman's Own Tequila Lime)
Instructions
Start by preparing the shrimp. If frozen, remove from bag and place in colander. Run cool water over them until they thaw. Peel and devein.

Pre-heat oven to 350F (to warm tortillas), wrap tortillas in foil and place in oven.

Chop the onion and tomatoes.

Pour olive oil into frying pan and add shrimp, southwest seasoning, Tex Mex seasoning, lemon pepper, garlic powder, Worcestershire sauce, and BBQ sauce. Since shrimp cook really fast I like to add everything to the pan before I turn on the heat. Once you have all the ingredients in the pan, mix them up and spread the shrimp out so none are on top of each other.

Cook the shrimp on medium-high heat for about 5 minutes, until the sauce reduces a bit.

Top tacos with shrimp, sour cream, salsa, onions, and tomatoes.
Notes
*You probably won't be able to find McCormick Southwest Seasoning here in Canada (I pick some up from Safeway when I visit the States). I am not sure if anywhere besides the States sells it. You can omit it or substitute with a bit of chipotle chili pepper (perhaps start with 1/8 tsp). If you're not good with spice, omit it altogether. I used whole wheat tortillas in the photos.
You may also like my easy blackened shrimp tacos.